This post may contains affiliate links for your convenience. If you make a purchase after clicking a link we may earn a small commission but it won't cost you a penny more! Read our full disclosure policy here.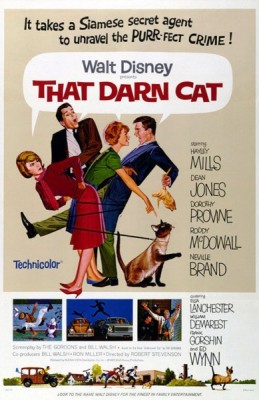 Image Copyright Disney
Based on The Gordons's 1963 novel Undercover Cat, That Darn Cat was theatrically released on December 2, 1965. The 116-minute live action mystery comedy inspired a 1997 remake of the same name.
Plot Summary
In an otherwise sleepy 1960s American town, a pair of bandits, Iggy (Frank Gorshin) and Dan (Neville Brand), pull off a massive bank heist while also kidnapping and holding hostage a teller, Margaret Miller (Grayson Hall). On the precipice of death, Miller manages to carve an inscription onto her watch, which she dispatches via a black cat—named D.C. for "Darn Cat"—that fortuitously happened to wander into the robbers' apartment behind Iggy.
The feline's de facto owner, a teenage girl named Patti Randall (Hayley Mills), somehow correlates the watch and its inscription to the highly-publicized robbery, and she successfully convinces a Federal Bureau of Investigation (FBI) agent, Zeke Kelso (Dean Jones), to assume control of the case. If this story is going to conclude happily, D.C., who is essentially Einstein in a cat's body, will have to lead Kelso and other FBI agents to the perpetrators. Will D.C. succeed?
The story is largely hilarious and engaging, but it could have benefited from some editing; the segment where Kelso is introduced to D.C., for example, drags without enough humor.
Reviews
Joseph Gelmis lauded That Darn Cat in his Newsday column, deeming the movie a fun adventure for adults and children alike. Said Gelmis: "Walt Disney has made more money out of cats than Dick Whittington or the guy who owned Puss in Boots. 'That Darn Cat,' which opened yesterday as the Christmas attraction at Radio City Music Hall, is a crowd-pleaser that is going to make Disney an even richer man.
How can a vast public that buys gourmet cook books to feed better the estimated 1,000,000 cats in American homes pass up a movie about a Siamese feline who is smarter than both a pair of bank robbers and the FBI? The answer is, of course, that they can't and they won't. And, happily, they shouldn't.
'That Darn Cat' is a film (two hours, in color) in which even those of us who normally think of felines as unaffectionate, furniture-destroying felons will find something to chuckle over. Nothing to tax the brain, you understand. But the family can see a suspense-comedy together, since there's not a single blonde seduced nor a spy slaughtered.
Will your children let you rest in peace if you don't take them to see the movie while Disney keeps plugging it on TV? Don't ask. Find out for yourself." (1)
Though less ecstatic about the effort than Gelmis, Bosley Crowther of the New York Times likewise afforded That Darn Cat a positive review, feeling the cat's role outweighed the irrationality of the human characters, a common trait in Disney comedies. Said Crowther: "It is not surprising to find the cat the coolest, most controlled, intelligent and, indeed, believable participant. The feline that plays the informant, as the F.B.I. puts it, is superb. Clark Gable at the peak of his performing never played a tom cat more winningly. This elegant, blue-eyed creature is a paragon of suavity and grace. And what is most commendable about him is that he doesn't deign to converse. That has got to be the most offensive disposition of animals in films." (2)
Jones In; Mills Out
That Darn Cat was the only Disney film to feature both Dean Jones and Hayley Mills, who were named Disney Legends in 1995 and 1998, respectively. Significantly, That Darn Cat simultaneously marked Jones's first appearance in a theatrically-released Disney film and Mills's last such appearance.
Not including made-for-television films, Jones would subsequently appear in ten Disney movies: The Ugly Dachshund (1966), Monkeys, Go Home! (1967), Blackbeard's Ghost (1968), The Horse in the Gray Flannel Suit (1968), The Love Bug (1968), The Million Dollar Duck (1971), Snowball Express (1972), The Shaggy D.A. (1976), Herbie Goes to Monte Carlo (1977), and, after a twenty-year gap, the remake of That Darn Cat.
Mills had previously appeared in five Disney films in as many years: Pollyanna (1960), The Parent Trap (1961), In Search of the Castaways (1962), Summer Magic (1963), and The Moon-Spinners (1964).
Media
The power of the press, for better or for worse, is extraordinary, influencing people's actions in numerous ways. In That Darn Cat, Iggy is enamored by the coverage of the bank robbery by three newspapers, and Mr. Hofstedder (Ed Wynn), owner of the local jewelry store, only agrees to aid Patti's investigation after the latter ensures him of negative headlines if he remains aloof.
FBI
Although Walt Disney maintained a friendly personal relationship with the FBI because of their mutual interest in combatting communism during the Cold War, the agency is not flatteringly portrayed in That Darn Cat. On the contrary, Kelso and the other agents demonstrate incompetency throughout the flick, being outwitted by a cat and a teenage girl. A similar negative depiction of the FBI was previously incorporated by Disney in Moon Pilot (1962). (3)
Antagonists
Interestingly, Iggy and Dan are not the most annoying antagonists in the film. The trio of Mrs. MacDougall (Elsa Lanchester), the Randall's elderly neighbor; Gregory Benson (Roddy McDowall), the boyfriend of Patti's older sister, Ingrid Randall (Dorothy Provine); and Canoe (Tom Lowell), Patti's boyfriend takes this prize with their repeated snooping into the Randalls's business. Their activities surpass the threshold of stalking and receive more attention than those of the bank robbers.
Visuals
The title card is creatively introduced through a bull dog's mouth after the canine is duped by D.C. for a large portion of dog food.
For American history buffs, the Declaration of Independence and a portrait of James Monroe, the fifth president of the United States, are on display in the FBI building.
Music
A theme song written by the legendary Disney composers Richard and Robert Sherman, and sung by the legendary Bobby Darin bookends the flick. The number, reprised instrumentally from time to time during the course of the movie, exudes a jazzy, mysterious vibe, which well suits the film and reminds me somewhat of The Pink Panther theme.
Humor
Though he seemingly has no problem with the prospect of murdering Miller, Iggy prefers his
steak well done because he "can't stand the sight of blood."
Patti is almost as sly as D.C. She is able to melodramatically assume various roles depending on the situation.
Patti and Canoe frequently attend surfing movies, which seem extraordinarily similar until they don't. Ahh, mad cat in the projection room!
With Patti's parents on vacation in Italy, the Randall household receives much uplifting mail, including a postcard from Mr. Randall detailing his recovery from clam sauce-induced indigestion and, of course, bills, bills, and more bills. At least the family's tax money is being put to good use through the FBI.
Mr. MacDougall (William Demarest) is a perfect counterweight to his overbearing wife. The stunt he utilizes near the end of the movie to foil his wife's snooping is classic.
Kelso literally walks into a drive-in movie, and a theater employee literally car hops in hopes of catching…that darn cat!
The concluding scenes, with nonstop interaction between the various humans and D.C., are the film's funniest.
Relationship to Other Disney Films
Cats also play pivotal roles in The Aristocats (1970), The Cat from Outer Space (1978), and Oliver and Company (1988).  The Cat from Outer Space is a live action film; the other two are animated movies.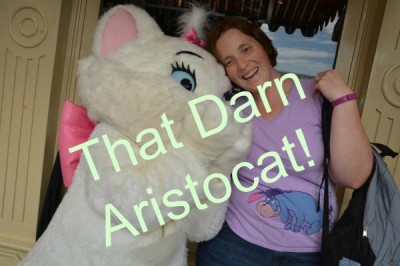 Photo Copyright Tim Rogers
Mr. Hofstedder's voice will likely throw you into Wonderland because this jewelry store owner is portrayed by Ed Wynn, the voice of the Mad Hatter in Alice in Wonderland (1951), who also played Uncle Albert in Mary Poppins (1964).
The landlady (Iris Adrian) of the burglars' residence mentions Pocahontas. Pocahontas was released as Disney's thirty-third full length animated feature in 1995.
In the Parks
At Walt Disney World, guests can enjoy a buffet breakfast with the Mad Hatter and other Disney characters at the Grand Floridian Resort's 1900 Park Fare restaurant.
Overall
With suspense, laughs, and the typical great performances by Dean Jones and Hayley Mills, That Darn Cat is highly recommended in spite of its occasional plodding moments.
Notes
1) Gelmis, J. (1965, December 3). The Picture. Newsday, p. 3C. Retrieved May 2, 2016, from http://0-search.proquest.com.alpha1.suffolk.lib.ny.us/docview/914434530?accountid=35174
2) Crowther, B. (1965, December 3). The Screen: Walt Disney's 'Darn Cat': Hayley Mills and Feline Star at Music Hall They Help F.B.I. Catch a Pair of Robbers. New York Times, p. 44. Retrieved May 2, 2016, from http://www.nytimes.com/movie/review?res=950DE1DC143EE03ABC4B53DFB467838E679EDE
Page number via ProQuest Historical Newspapers: The New York Times with Index.
3) Watts, S. (1997). The Magic Kingdom: Walt Disney and the American Way of Life (p. 349). Columbia, Missouri: University of Missouri Press.
What do you think of That Darn Cat? Let me know in the comments!
Sponsored Ad:  Would you like to help support The Mouse For Less website in continuing their mission of being THE Disney vacation planning resource?  You can do so by purchasing That Darn Cat from our Affiliate Link through Amazon. Thanks so much for your support!
Incoming search terms:
https://www themouseforless com/blog_world/movie-review-darn-cat/
That Darn Cat!