This post may contains affiliate links for your convenience. If you make a purchase after clicking a link we may earn a small commission but it won't cost you a penny more! Read our full disclosure policy here.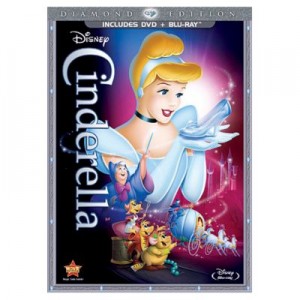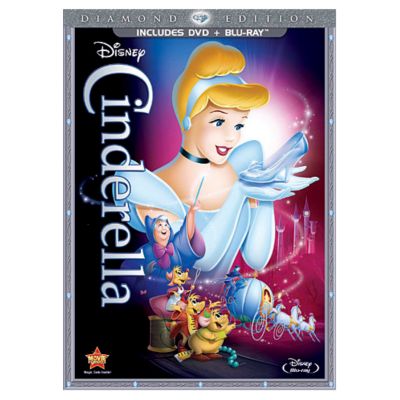 Based on a fairy tale by French writer Charles Perrault, Cinderella was released on Feb. 15, 1950. The 74-minute film was the 12th full-length animated feature in Disney history.
Cinderella broke a string of six consecutive package films released by Disney. The package films, which included flicks such as Saludos Amigos (1942) and The Three Caballeros (1944), incorporated numerous shorts based around a common theme such as South America as opposed to a single story. Prior to Cinderella, Disney hadn't produced a more traditional animated film since Bambi (1942).
Plot Summary
Cinderella, a decent young woman, is mired in a difficult situation. Her father has died, and her stepmother (Lady Tremaine) and stepsisters (Anastasia and Drizella) treat her terribly. They force her to do a multitude of chores while frequently berating her for working too slowly.
Nonetheless, there is hope for the title character. Cinderella has allies in numerous animals—a plethora of mice, birds, a dog, and a horse—as well as a kind Fairy Godmother, who can make magic happen for a few hours.
With the help of her friends, Cinderella finds herself in a prime position to change her fate. Soon after arriving at Prince Charming's ball, a heartwarming reality becomes obvious: the Prince loves Cinderella, and she loves him. Only Cinderella's "family" can stand in the way of a happy ending.
Family
Intra-family relationships play a major, and often negative, role in Cinderella.
Lady Tremaine and her daughters hate Cinderella with a passion. They treat her terribly and do everything in their respective powers to make her miserable. Even when they appear to do something "nice" for her—agreeing to let her attend the ball if she finishes her chores and finds a suitable outfit, for example—it's a mirage. They're just trying to set her up for disappointment.
Regarding Cinderella's late father, I question his morality to an extent. Though we never get to meet him, the narrator reveals that he married Lady Tremaine such as to afford Cinderella a motherly presence; it certainly doesn't turn out to be a positive presence. I wonder if he knew the type of woman Lady Tremaine really was or if he was duped.
The King, Prince Charming's father, is an interesting character. He possesses questionable morals in that he appears to be out for himself. The King wants to force his son to marry so that he (the King) can have grandchildren. The results of the scheme turn out to be positive, but the overall process is debatable.
Animals
Animals take on significant roles throughout the film.
A majority of these critters are on Cinderella's side and will do anything they can to help her. The mice, for example, work tirelessly to make Cinderella a dress for the ball. Also, at the end of the film, the creatures work together to help their friend escape from the locked tower.
The one animal that favors Lady Tremaine and the stepsisters over Cinderella is the cat, Lucifer…well, that isn't entirely true, actually, because Lucifer hates when Lady Tremaine orders Cinderella to give him a bath and when Anastasia and Drizella practice their singing and flute playing; yikes, they're bad musicians! In general, though, Lucifer strives to torture Cinderella.
Music
As is the case in most Disney films, the music in Cinderella is excellent.
A majority of the songs are beautiful numbers. The movie's flagship song, "A Dream is a Wish Your Heart Makes," falls into this category. This song is introduced at the beginning of the film before being reprised several times thereafter.
In my opinion, the most heartwarming song in Cinderella is "So This Is Love." The title character performs this tune at the ball as a duet with Prince Charming. The lyrics are sweet, and the song comes at a point in the film where Cinderella seems genuinely happy after an extended period of torment.
Other songs in the movie, including "Bibbidi-Bobbidi-Boo" and "The Work Song," are more energetic. The latter number, which is sung by the mice, reminds me of the Alvin and the Chipmunks Christmas song "Christmas Don't be Late" due to the squeaky voices of the performers.
In the Parks
Guests at Walt Disney World's Magic Kingdom can enjoy breakfast, lunch, and dinner daily at Cinderella's Royal Table. Meals at this restaurant, which is located inside Cinderella Castle, feature interaction with Cinderella and the Fairy Godmother, in addition to other Disney characters.
Children between three and 12 years of age can receive a makeover at the "Bibbidi Bobbidi Boutique." Based on the Fairy Godmother scene from Cinderella, locations of this experience can be found at Walt Disney World's Magic Kingdom and Downtown Disney, and at Disneyland Park in California.
Finally, the Magic Kingdom's Fantasyland is home to the "Prince Charming Regal Carrousel." Named after Cinderella's lover, this attraction was previously known as "Cinderella's Golden Carrousel."
Overall
Cinderella is a Disney classic. The music didn't increase my enjoyment of the film as much as it did with Pinocchio (1940) and Alice in Wonderland (1951), but this is more of a testament to Cinderella's enjoyable plot than it is an indictment of the music.
What do you think of Cinderella? Let me know in a comment!
Sponsored Ad:  Would you like to help support The Mouse For Less website in continuing their mission of being THE Disney vacation planning resource?  You can do so by purchasing Cinderella from our affiliate link through Amazon.