This post may contains affiliate links for your convenience. If you make a purchase after clicking a link we may earn a small commission but it won't cost you a penny more! Read our full disclosure policy here.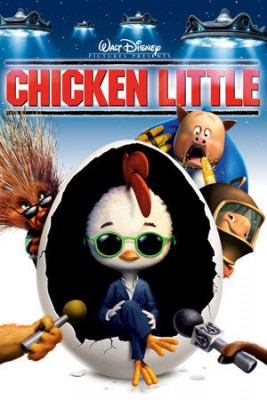 DVD Cover Copyright Disney
Chicken Little was theatrically released as the forty-sixth full length animated feature in Disney history on November 4, 2005. It is based on the fable of the same name and clocks in at 81 minutes.
The film was released amidst immense pressure for Disney, as a poor reception could have destroyed the company's chances to acquire Pixar. (1) As it turned out, the film was generally well received by moviegoers despite mediocre reviews from critics. (2)
Computers
Chicken Little was the first animated feature in Disney history to utilize solely computer-generated animation, with no original hand drawn animation or live action elements whatsoever. (3) Said development culminated a tumultuous affair between Disney management and the animators.
Animator Glen Keane proved essential in Disney's transition to computer animation. Infuriated in February 2003 when his proposal for "Rapunzel Unbraided," the eventual Tangled (2010), was only approved with the caveat that it be computer animated, Keane acquiesced on a new challenge. Animation president David Stanton said to Keane, "Glen, I'm not asking you to go make a movie with humans that look like 'Final Fantasy.' I'm asking that you—and I know it doesn't exist out there—I'm asking you to create it. You have to create something new." (4)
Seemingly more enthusiastic, Keane responded that while he "loved" DreamWorks' Shrek (2001), he deemed the animation of that film terrible. (5) Perhaps Disney could become the best in a new medium. The company's namesake, after all, had always embraced new ventures.
With Keane onboard, Disney's de-emphasis of hand drawn animation became easier to implement, though the change was still not overly popular with the animators. (6)
3-D
Chicken Little was also the first animated feature in Disney history to be released to theatres in 3-D, and on very short notice. Disney first consulted George Lucas's "Industrial Light & Magic" about a possible 3-D conversion of the film in March 2005 and managed to convince the skeptical company to, successfully, attempt the process. (7)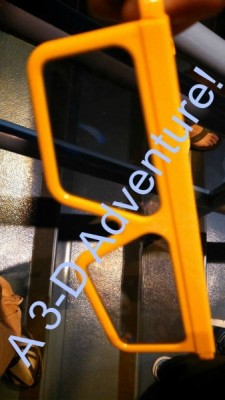 Photo Copyright Tim Rogers
Plot Summary
The residents of Oakey Oaks are excited for an upcoming movie, "Crazy Little Chicken," which is based on a true incident. Unfortunately for the Cluck family—Chicken Little and his widower father, Buck Cluck—this flick is not endearing. You see, a year earlier, Chicken Little alerted the town that the sky was falling with no evidence to prove his contention. Mr. Cluck, a local hero because of his stellar high school baseball career, is especially humiliated and subconsciously loses faith in his son.
Chicken Little wants more than anything to impress his father. He joins the school baseball team, and despite not playing all season, he miraculously wins the pennant for Oakey Oaks with a pinch hit inside-the-park home run. His father is indeed now proud of him but only for the moment. When Chicken Little and his best friends, Abby, Runt, and Fish, proclaim an alien invasion later that night, the town and Mr. Cluck turn their backs on the new baseball hero. Can Chicken Little prove he is not crying wolf?
Family
When a child is troubled, it is often better for said child to discuss the problem with a parent than to remain silent on the issue. The title character in this flick encounters such a situation, when he feels his father does not support him, yet Chicken Little struggles to actually tell his father.
Mr. Cluck clearly loves his son; he is just ignorant of the situation. Communication in this case would have likely solved the problem quickly.
Questions
The plot of Chicken Little is not perfect, and I have some questions based on ambiguities.
First, is Chicken Little in middle school or high school? The evidence, especially the excitement surrounding the baseball game, would indicate the latter, but a sign in the gym during the dodgeball scene reads "middle school."
Second, why was the baseball announcer so melancholy when it was initially thought that Chicken Little was out at the plate? Even if the run had not been awarded, the tying run had scored on the hit, so the game was not lost. I guess it was assumed that the on-deck hitter, the team's best player, Foxy Loxy, would have driven in the winning run.
Finally, was Chicken Little planning to attend Abby's karaoke party on the evening of the game? She was clearly expecting him, but the title character was late, and Mr. Cluck had already wished his son goodnight.
Music
In a word, Chicken Little's soundtrack is "interesting." I found the original songs, including the fast paced country tune "One Little Slip," mediocre and forgettable, but I enjoyed the inclusion of popular music. Throughout the course of the movie and the end credits, notable songs, including "Ain't No Mountain High Enough," "Don't Go Breaking My Heart," "We are the Champions," "I Will Survive," "Stayin' Alive," and "It's Too Late," are incorporated either as vocal music or bizarre poetry.
The utilization of "Ain't No Mountain High Enough" in the final scene perfectly concludes the movie.
Humor
Chicken Little is consistently funny and downright hilarious at points.
The two funniest characters, in my opinion, are Runt the pig and Mayor Turkey Lurkey. The former sings, dances, and plays thesaurus, while the latter makes his decisions from cue cards and puts pennies ahead of his official duties.
The Aliens have arrived! They have not come for tic tacs, the key to the city, or a trip to the mall. They seem to enjoy Disney merchandise, though.
Chicken Little may be a baseball champion, but he is not winning American Idol.
Many of the characters possess rhyming names: Buck Cluck, Foxy Loxy, Morkubine Porcupine, and Goosey Loosey. Donald Duck's nephews, Huey, Dewey, and Louie, are, fortunately or otherwise, not included.
Pop culture references are inserted throughout the movie. Baseball for Dummies makes an appearance as do numerous movies and movie franchises, including Star Wars (1977 et al.), Raiders of the Lost Ark (1981 et al.), and The Lion King (1994).
Relationship to Other Disney Films
Walt Disney released an approximately nine-minute short of the same name in 1943.
Chicken Little wishes upon a star, following the lead of Geppetto from Pinocchio (1940).
A bell tower was previously featured in The Hunchback of Notre Dame (1996).
A science fiction theme also pervaded Atlantis: The Lost Empire (2001), Lilo and Stitch (2002), and Treasure Planet (2002).
Having been featured in the live action sports drama Remember the Titans (2000), "Ain't No Mountain High Enough" was heard in a Disney movie for the second time in five years.
Disney had previously included "We are the Champions" in The Mighty Ducks (1992) and D2: The Mighty Ducks (1994).
Don Knotts, the voice Mayor Turkey Lurkey, starred in The Apple Dumpling Gang (1975) and The Apple Dumpling Gang Rides Again (1979).
Baseball was highlighted in the "Casey at the Bat" segment of Make Mine Music (1946).
In the Parks
At Walt Disney World's Magic Kingdom, guests can enjoy hot dogs in the baseball-themed restaurant "Casey's Corner."
Attractions based on Indiana Jones are housed at Disney parks across the globe: "Indiana Jones Adventure" at both Disneyland Park in California and Tokyo DisneySea, "Indiana Jones Epic Stunt Spectacular!" at Florida's Disney's Hollywood Studios theme park, and "Indiana Jones et le Temple du Péril" at Disneyland Park Paris. These attractions are a bucking bronco-like motion simulator, a stunt show, and a roller coaster, respectively. "Indiana Jones et le Temple du Péril" became Disney's first looping coaster upon its 1993 debut.
A motion simulator based on the Star Wars franchise, "Star Tours—The Adventures Continue," can be found at Florida's Magic Kingdom, Disneyland Park in California, and Disneyland Park in Tokyo.
Overall
Chicken Little is consistently entertaining, though the plot has indeed been pulled from outer space.
Notes
1) Holson, L. (2005, October 31). For Disney and Pixar, a Deal Is a Game of 'Chicken' New York Times, p. C5. Retrieved May 18, 2015, from http://0-search.proquest.com.alpha1.suffolk.lib.ny.us/docview/92890709?accountid=35174
2) Billey, C. (2005, November 14). 'Chicken Little' Still No. 1 at Box Office. New York Times. Retrieved May 18, 2015, from http://0-search.proquest.com.alpha1.suffolk.lib.ny.us/docview/433209325?accountid=35174
3) Scott, A. (2005, November 4). A Chick Flick With Aliens Falling From the Sky: [Review]. New York Times, p. E. 19. Retrieved May 18, 2015, from http://0-search.proquest.com.alpha1.suffolk.lib.ny.us/docview/433214473?accountid=35174
Clips from previous animated and live action films, most notably Raiders of the Lost Ark and The Lion King, are inserted, though.
4) Holson, L. (2005, September 18). Has the Sky Stopped Falling at Disney?: Goodbye, Pencils. Hello, Computers. A Studio Reanimates. New York Times, p. B10. Retrieved May 18, 2015, from http://0-search.proquest.com.alpha1.suffolk.lib.ny.us/docview/93038254?accountid=35174
5) Ibid.
6) Ibid.
7) Halbfinger, D. (2005, September 26). A Bet on 3-D Movies to Push Theaters Beyond Celluloid. New York Times, p. C.1. Retrieved May 18, 2015, from http://0-search.proquest.com.alpha1.suffolk.lib.ny.us/docview/433151876?accountid=35174
What do you think of Chicken Little? Let me know in the comments!
Sponsored Ad:  Would you like to help support The Mouse For Less website in continuing their mission of being THE Disney vacation planning resource?  You can do so by purchasing Chicken Little from our Affiliate Link through Amazon. Thanks so much for your support!
Incoming search terms:
dodgeball chicken little 2005