This post may contains affiliate links for your convenience. If you make a purchase after clicking a link we may earn a small commission but it won't cost you a penny more! Read our full disclosure policy here.
DVD Cover Copyright Disney
Based on a novel by Joseph and Marrijane Hayes, Bon Voyage! was theatrically released on May 17, 1962. The live action flick is 130 minutes in length.
Plot Summary
In New York City, the Willard family of Terre Haute, Indiana prepares to embark on a cruise to France, a long-awaited adventure for Harry Willard (Fred MacMurray) and his wife, Katie Willard (Jane Wyman). Along with the couple are its three children: a teenage girl, Amy Willard (Deborah Walley); a teenage boy, Elliott Willard (Tommy Kirk); and a preteen boy, Skipper Willard (Kevin Corcoran). Upon arriving in France, the clan plans to tour both Paris and the French Riviera.
Mr. Willard wants this vacation to be a family bonding experience, but he quickly receives an unwelcome edict of Murphy's Law—anything that can go wrong will go wrong. He is frequently ignored by his wife; his son Skipper gets lost in both the New York port building and the Paris sewers; and his older children run wild with questionable characters. Mr. Willard especially distrusts Amy's new boyfriend, Nick O'Mara (Michael Callan), who met Amy in the New York port elevator and now seems to be chasing the family across France. The trip is becoming a disaster. Can it be salvaged?
At Sea
With filming conducted from New York City to Paris, the locales seen throughout Bon Voyage! are largely authentic. Production commenced in Manhattan on August 14, 1961, when the cast, surrounded by actual tourists, arrived via taxi at Pier 86 on the Hudson River. Four days later, the cast boarded the United States for a cruise to Paris.
Walt Disney achieved an impressively realistic product, but he was nonetheless disappointed in the level of authenticity. Reported Eugene Archer on this disappointment in an August 20, 1961 New York Times piece: "If Mr. Disney and company had had their way, the voyaging filmgoers would scarcely have time to emerge from the screening room before they found themselves treading the cuelines before a vigorously grinding movie camera. At this ambitious blueprint, alas, the otherwise cooperative United States Line, deciding their paying passengers have a right to a certain amount of privacy, drew some inanimate lines of their own.  As a result, to the producer's chagrin, the transoceanic movie crew is skeletal, and their activities are restricted to the first-class decks. The added fares may have pleased the shipowners, but they added to the problems of the scenarist, whose comedy is about a Terre Haute carpenter on his first trip abroad with a family of five. 'We wanted him to travel cabin class,' Mr. [Bill] Walsh sadly explained, 'but now we have to make him a rich carpenter.'" (1)
Thirty-seven years later, in 1998, the Walt Disney Company christened its own cruise line, which is still sailing strong. Disney's ships, incidentally, omit one notable feature seen on the vessel in Bon Voyage!: a library.
Sewers
Some scenes of Bon Voyage!, most notably the Paris sewer segment, were engineered at Disney's Burbank, California studios.
Regarding Disney's sewer recreation, Murray Schumach in a November 1, 1961 New York Times article reported: "[Set designer] Mr. [William] Tunke, who had studied the Paris sewers at the University of Hamburg as part of his architectural courses, was proud of the imitation at the Walt Disney Studios. It took three weeks to build. He and [his partner] Mr. [Carroll] Clark worked from still photographs, blueprints and cross-sections of the original sewer….Liberties were taken with the original sewer by Mr. [James] Neilson [the film's director] to make Mr. MacMurray's adventure more exacting. Mr. Neilson's favorite adaptation was to have the overhead pipes lowered so that the tall star would have to bend his body when he walked. 'By adding to Fred MacMurray's discomfiture,' he said, 'we add to the comedy of the scene.'" (2)
Characterization
Bon Voyage!'s characterization is hampered by excessive romantic subplots, the proverbial "too many cooks spoil the soup" scenario. Superficial treatment is forced upon the concurrent relationship troubles of Mr. Willard, Mrs. Willard, Amy, and Elliott such that we never come to understand the true motives of any player.
The inclusion of Elliott and Skipper add little to the plot, though these characters provide excellent comic relief. Bon Voyage! suffers from an identity crisis in this regard, vacillating between a comedy and a drama. The Willard boys are essential if the film is a comedy but unnecessary if the flick is a drama. More attention could have been afforded Amy and O'Mara under the latter scenario, though such a focus likely would have obviated Bon Voyage!'s status as a family movie.
Villains
Nick O'Mara emerges as one of the most complex characters in Disney history, an insecure wanderer who struggles for stability and purpose. A triumph in said quest would feel glorious under most scenarios, but O'Mara's actions during the French Riviera beach scene, combined with the lack of repercussions for these actions, destroyed my concern for his prospects and hampered an otherwise splendid conclusion. O'Mara's exploits would never enter a family movie nowadays, and their inclusion here feels unsavory.
The womanizing Rudolph Hunschak (Ivan Desny), conversely, does receive a harsh fate, but his character is superficial. Only O'Mara feels significant among the film's antagonists.
Family Feud
As the Willard family members fight among themselves in Paris, so too did their actors on the set. Tommy Kirk recalled that Fred MacMurray rightly gave him "the biggest dressing-down of my life" during the production of Bon Voyage! (3)
I cannot comment on Kirk and MacMurray, but Elliott's exploits definitely warranted some discipline from Mr. Willard!
A Legendary Cast
On a more positive note, the three males of the Willard family, or at least the actors who portrayed them, are literally legendary. In 1987, Fred MacMurray was named the first Disney Legend, and Kirk and Corcoran followed suit together in 2006.
Plot Elements
In the opening minutes of the film, the Willards' taxi driver in New York foreshadows the course of the family's upcoming vacation, telling Mr. Willard, "What's going to happen to you from here on, I wouldn't go through for a million dollars."
Later, as the ship approaches France, Mrs. Willard utters a line of dramatic irony to her husband: "La Belle France! Not a picture in a girdle ad, not a movie in glorious Technicolor, but the real, genuine article." Alas, the view is a movie in glorious Technicolor.
Music
An upbeat, whimsical song, written by the legendary Disney duo of Richard and Robert Sherman, is played over the opening credits. This number, fun if not memorable, highlights the upcoming vacation. Locations such as the Seine, the Eiffel Tower, and Marseille are mentioned in the lyrics.
Humor
Though it is not a strict comedy, hysterical moments frequently occur during Bon Voyage!
The fun commences during the theme song, when a cat gets into the luggage. Then, during the opening scene, the Willards conduct an awkward conversation with their taxi driver, despite pleadings from Elliott that the driver is not interested in their "personal family history."
Mr. Willard and Skipper are literally lifted aboard the ship, though not by an elevator, which is nonetheless a crucial location.
Skipper pretends to enjoy playing with his father, even when he would rather be elsewhere. Unfortunately or otherwise for father and son, this feeling is mutual.
Rudolph Hunschak may be the "master of karate," but Harry Willard is the king of boxing!
Mr. Willard's funniest act comes via a sarcastic tirade in the aftermath of a party given by La Comtesse DuFresne (Jessie Royce Landis), Nick O'Mara's mother. In delivering this rant, Mr. Willard feels, not without reason, underappreciated.
Elliott is frequently bizarre in his behavior. He wants to be unrealistically more important than he is and cannot enjoy himself without resembling a caricature. Though he would have you believe otherwise, he is a modest tourist, not a rich Frenchman with inside information on local happenings.
Relationship to Other Disney Films
Bon Voyage! premiered at Radio City Music Hall on May 17, 1962 as a double bill with Moon Pilot, which was released one month earlier and also starred Kirk. (4)
130 minutes in duration, Bon Voyage! was the second-longest Disney film at the time of its release, four minutes shorter than  Pollyanna (1960). Kevin Corcoran appeared in both films.
Bon Voyage! was the fourth Disney film to feature both Kirk and Corcoran, after Old Yeller (1957), Swiss Family Robinson (1960), and Babes in Toyland (1961).
Bon Voyage! was the third Disney film to feature both Kirk and MacMurray, after The Shaggy Dog (1959) and The Absent-Minded Professor (1960).
Sewers were also prominently featured in The Great Mouse Detective (1986).
In the Parks
Guests can experience the culture, cuisine, and architecture of Paris in the France Pavilion of Epcot's World Showcase.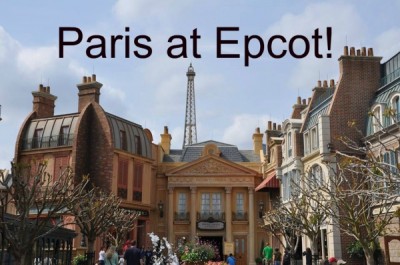 Photo Copyright Pam Forrester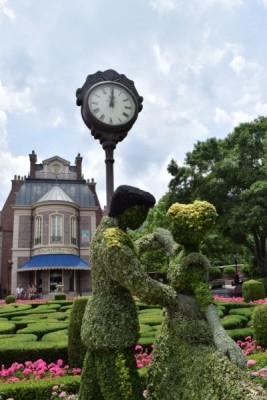 Photo Copyright Tim Rogers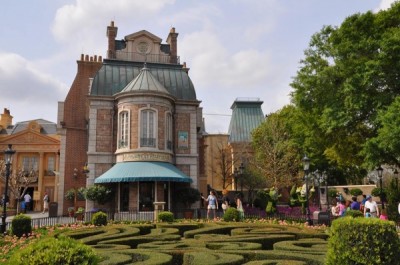 Photo Copyright Pam Forrester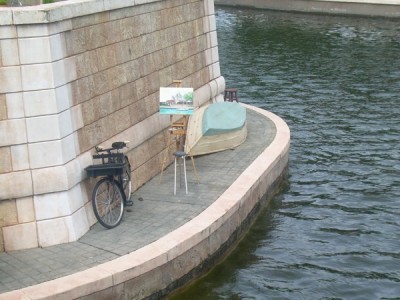 Photo Copyright Kelly Nobles
In 1992, Disney opened the Euro Disney Resort, now Disneyland Resort Paris, in Marne-la-Vallée, France, approximately twenty miles east of Paris proper. Disneyland Resort Paris currently features two theme parks, Disneyland Park and Walt Disney Studios Park; the Disney Village entertainment district; and seven official hotels.
If you enjoyed the firework display over Paris in the film's final scene, be sure to check out the various firework displays at Walt Disney World and Disneyland: "Wishes" at Walt Disney World's Magic Kingdom, "Illuminations" at Epcot, "Symphony in the Stars: A Galactic Spectacular" and "Fantasmic" at Disney's Hollywood Studios, and both a unique "Fantasmic" as well as rotating firework spectacles at Disneyland Park.
Overall
Bon Voyage! is a convoluted but entertaining journey hindered by superficial characterization and the lenient final treatment of O'Mara. It is a solid two out of four star effort and worth watching in spite of its flaws.
Notes
1) Archer, E. (1961, August 20). DISNEY & FAMILY ROLL ON THE HIGH SEAS. New York Times, p. X5. Retrieved March 30, 2016, from http://0-search.proquest.com.alpha1.suffolk.lib.ny.us/docview/115518376?accountid=35174
2) Schumach, M. (1961, November 2). M'MURRAY TESTS LIFE IN A 'SEWER': Winds Way Through Disney Set in 'Bon Voyage' New York Times, p. 43. Retrieved March 30, 2016, from http://0-search.proquest.com.alpha1.suffolk.lib.ny.us/docview/115301954?accountid=35174
3) Tommy Kirk. (n.d.). Retrieved April 4, 2016, from https://d23.com/walt-disney-legend/tommy-kirk/
4) Crowther, B. (1962, May 18). Screen: 'Bon Voyage!' at Music Hall: Film About a Vacation in Paris Opens Disney Comedy Stars Fred MacMurray The Cast. New York Times, p. 34. Retrieved March 30, 2016, from http://0-search.proquest.com.alpha1.suffolk.lib.ny.us/docview/116070603?accountid=35174
What do you think of Bon Voyage!? Let me know in the comments!
Sponsored Ad:  Would you like to help support The Mouse For Less website in continuing their mission of being THE Disney vacation planning resource?  You can do so by purchasing Bon Voyage! from our Affiliate Link through Amazon. Thanks so much for your support!
Incoming search terms:
https://www themouseforless com/blog_world/movie-review-bon-voyage/
who is the cab driver at the beginning of 1962 bon voyage