This post may contains affiliate links for your convenience. If you make a purchase after clicking a link we may earn a small commission but it won't cost you a penny more! Read our full disclosure policy here.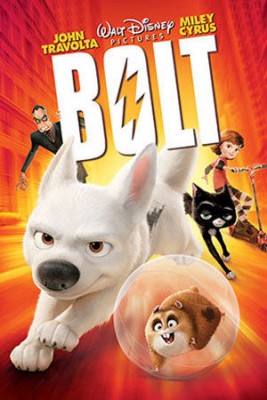 DVD Cover Copyright Disney
 Bolt was theatrically released on November 21, 2008 as the forty-eighth full length animated feature in Disney history. It is ninety-six minutes in length.
Changing Direction
The creation of Bolt was hardly a straightforward process. In the midst of a project called "American Dog," which sought to tell the tale of a dog from Hollywood getting lost in the desert, Director Chris Sanders elected to leave Disney rather than implement changes suggested by Chief Creative Officer John Lasseter, who had taken control of Disney animation following the company's 2006 acquisition of Pixar. On Sanders's decision, Lasseter said, "Chris Sanders is extremely talented, but he couldn't take [the project] to the place it had to be." (1) Lasseter also said director changes were not uncommon at Pixar when a project needed help. (2)
Sanders was replaced by the duo of Chris Williams and Byron Howard, who teamed to morph "American Dog" into Bolt. Lasseter had high praise for his new directors, saying, "They have huge hearts." (3)
Heart was crucial for Lasseter, who deems the trait an essential ingredient to great films. "Walt Disney always said for every laugh there should be a tear. I have always believed in that," said the chief creative officer. (4) Whether it be Up (2009), Toy Story 3 (2010), or Frozen (2014), chuckles and sobs have indeed worked together in recent years to create classic films for Disney and Pixar.
Plot Summary
Everybody needs a hero, and for thousands of people and assorted animals, Bolt fills that role. The title canine stars as a superhero dog on a popular television show, where he strives to save a teenage girl named Penny, who is also his owner.
Ah, Hollywood, the land of lights, cameras, glamor, and fame. Bolt has it made…or at least thought he did.  You see, Bolt thinks that he really is a superdog, and when he incorrectly believes Penny to be in danger, he inadvertently jumps into a box and finds himself in a neighborhood kind of far from his familiar surroundings: New York City.
Now, Bolt is far away from home, erroneously believing he has superpowers. Can this canine find direction, both literally and figuratively?
Universal Studios Hollywood on April 6, 2009
Development
Bolt is exciting throughout, but I think the relationship between Penny and Bolt could have been emphasized more in the opening segments of the film such as to get the viewer more emotionally attached to the duo's camaraderie. Penny clearly loves her dog, but instances of major affection between the two are largely held until the end of the movie, and the flick is somewhat unevenly paced as a result.
Life
Few feelings are more depressing than that of not knowing who you really are. What is your place in this world? Are you worth anything? Bolt faces this conundrum in the movie.
Power
The hardest throwing pitchers in baseball are not necessarily the most successful hurlers. Power can be a great benefit, but it neither guarantees success nor serves as a prerequisite for a long career. Many of the game's greatest pitchers have, in fact, thrived through finesse, substituting precision for velocity. Bolt, in this vein, may not be able to defeat antagonists with a sonic bark in his real life, but he can solve problems by carrying out a rationally developed plan.
Animation
The animation quality of Bolt is outstanding. The computer imagery is crisp enough to make many segments, especially the opening scene in the animal shelter and those involving highways, appear to be live action.
Acting
Bolt features an eclectic array of voice actors. Whereas big name stars John Travolta and Miley Cyrus play Bolt and Penny, respectively, Rhino the hamster is voiced by Disney animator Mark Walton.
Defending the unique selection, Byron Howard said, "Mark [Walton] is emotional and excitable and has a big personality, which is exactly like Rhino. All that enthusiasm that you hear in Rhino is Mark's everyday persona. It's not put on at all. Every time we'd hear a new recording with him we'd just crack up." (5)
Walton was clearly excited about getting the opportunity, saying, "Who cares about fame and fortune? I'm going to be a plush animal." (6)
For what it is worth, I think Walton did an excellent job, because of the reasons stated by Howard. Walton's energy indeed renders Rhino a hilarious character.
Music
Triumphant background music successfully complements the plot. Dealing with the journey that is life, the film's major lyrical number, "Barking at the Moon," is solid but unmemorable in my opinion.
Humor
Comical moments pervade Bolt.
The title dog is extremely oblivious for much of the movie, thinking he really has the powers featured on his television show. Rhino the hamster wishes this was the case.
The executives from the production studio and television network bring much passion to their jobs and engage in awkward conversations.
The major cat, Mittens, utilizes sarcasm, endures frequent changes of fate, has a thorough knowledge of geography, and enjoys everything bagels. She naturally loves bagels as a New Yorker!
Relationship to Other Disney Films
Directors Williams and Howard were subsequently involved with other Disney flicks. The former directed Big Hero 6 (2014), and the latter did the same for Tangled (2010). (7) (8)
Bolt relates in numerous ways to The Rescuers (1977) and Oliver and Company (1988). All three films are at least partially set in New York City and feature female human protagonists with similar names. Said protagonist is named "Penny" in both The Rescuers and Bolt, and "Jenny" in Oliver and Company. Additionally, Oliver and Company and Bolt incorporate adopted pets that are sincerely loved by their owners.
Highways, a key feature in Bolt, are a central element in Pixar's Cars (2006).
Lost animals are the protagonists in a pair of Disney live action films from the 1990s: Homeward Bound: The Incredible Journey (1993) and Homeward Bound II: Lost in San Francisco (1996).
Big Hero 6 (2014) also features a dramatic fire scene. I think the version in Big Hero 6 is superior to its counterpart in Bolt, but both segments exude great emotion.
In the Parks
Ah, showbiz! It is Bolt's profession and also the theme of Florida's Disney's Hollywood Studios theme park. Be advised, though, that this park is undergoing major renovation at the moment.
As the animals encountered a train in Bolt, guests can ride the rails at Walt Disney World's Magic Kingdom, and the Disneyland parks in Anaheim, Paris, and Tokyo. The Tokyo railroad attraction, "Western River Railroad," encompasses only the left side of the park on an express route, while the other three versions travel the circumference of the respective parks with multiple stops.
Attractions involving highways are also featured at numerous Disney parks around the world: "Autopia" at Disneyland, Disneyland Paris, and Hong Kong Disneyland; "Tomorrowland Speedway" at the Magic Kingdom; "Grand Circuit Raceway" at Tokyo Disneyland; "Test Track" at Epcot; and "Radiator Springs Racers" at Disney's California Adventure. The latter two attractions are high-speed thrill rides, while the others are tame journeys around a track.
Overall
Bolt features excellent animation, humor, action, and emotion. The development has some speed bumps, but in the end, this flick exudes much heart.
Notes
1) Holson, L. (2007, March 4). He Runs That Mickey Mouse Outfit. New York Times, p. A13. Retrieved June 15, 2015, from http://0-search.proquest.com.alpha1.suffolk.lib.ny.us/docview/848114836?accountid=35174
2) Ibid.
3) King, S. (2008, December 3). Animation evolution; 'Bolt': Barking back to Disney's philosophy. Los Angeles Times, p. S.20. Retrieved June 16, 2015, from http://0-search.proquest.com.alpha1.suffolk.lib.ny.us/docview/422226605?accountid=35174
4) Ibid.
5) Barnes, B. (2008, November 16). The Voice Behind the Drawing Board. New York Times, p. AR14. Retrieved June 17, 2015, from http://0-search.proquest.com.alpha1.suffolk.lib.ny.us/docview/903341868?accountid=35174
6) Ibid.
7) Hamedy, S. (2014, November 10). 'Hero,' space drama eclipse $50M; Disney's animated flick and 'Interstellar' numbers could put them in elite class. Los Angeles Times, p. D.1. Retrieved June 17, 2015, from http://0-search.proquest.com.alpha1.suffolk.lib.ny.us/docview/1622017268?accountid=35174
8) Chmielewski, D., & Eller, C. (2010, November 23). Disney closing the book on fairy tales: 'Tangled' the last, as studio seeks wider audience. Chicago Tribune, p. 3. Retrieved June 16, 2015, from http://0-search.proquest.com.alpha1.suffolk.lib.ny.us/docview/807727895?accountid=35174
What do you think of Bolt? Let me know in the comments!
Sponsored Ad:  Would you like to help support The Mouse For Less website in continuing their mission of being THE Disney vacation planning resource?  You can do so by purchasing Bolt from our Affiliate Link through Amazon. Thanks so much for your support!
Incoming search terms:
https://www themouseforless com/blog_world/movie-review-bolt/