This post may contains affiliate links for your convenience. If you make a purchase after clicking a link we may earn a small commission but it won't cost you a penny more! Read our full disclosure policy here.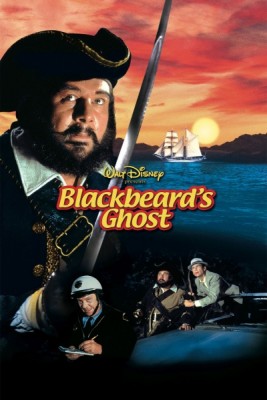 DVD Cover Copyright Disney
Based on Ben Stahl's 1965 novel of the same name, Blackbeard's Ghost was theatrically released on February 8, 1968. The live action comedy is 106 minutes in length.
Plot Summary
Upon arriving in the seacoast town of Godolphin, Steve Walker (Dean Jones) believes that his biggest challenge will be coaching Godolphin College's track team, which has endured sixty years of ineptitude. That sentiment does not last until midnight.
Prior to checking into his room at Blackbeard's Inn, Walker purchases the bed warmer of Blackbeard the Pirate's tenth wife,  Aldetha, for $200 at an auction designed to save the inn, currently owned by elderly female descendants of Blackbeard, from falling into the hands of a bigwig gambler, Silky Seymour (Joby Baker). Before being executed for witchcraft, Aldetha laid a curse on Blackbeard, whereby the latter would remain in limbo between human life and the afterlife until he performed a single good deed. Walker locates a related spell inscribed inside the warming pad, and upon reading it aloud, the ghost of Blackbeard (Peter Ustinov) appears.
Walker is now stuck with the late pirate's apparition, a completely undesirable situation. In addition to the general nuisance of the companionship, Blackbeard is only visible to Walker. Thus, everyone in town, from a police officer (Kelly Thordsen) to Jo Anne Baker (Suzanne Pleshette), a psychology professor at Godolphin who genuinely likes Walker, is flabbergasted by the coach's behavior. Walker's only hope for sanity is for Blackbeard to perform the elusive good deed. Is he capable of such an act?
Reviews
Howard Thompson of the New York Times lauded Blackbeard's Ghost, deeming the film innocent fun. Said Thompson: "The Walt Disney people have delivered a delightful seasonal goody for the young and young-hearted, called 'Blackbeard's Ghost.' After a couple of limp herrings, the master's live-action unit is back on sure footing with the neat, perky and flavorsome little comedy-fantasy that arrived yesterday at neighborhood theaters." (1)
Newsday's film critic was less enthralled with the effort, though he or she found it passable. In a blurb, this critic said, "Peter Ustinov is pleasantly hammy as the ghost of a pirate accidentally summoned back to help Dean Jones deal with small town gamblers. A modest, okay film from the Disney studios." (2)
Deeds
Blackbeard's attempt to perform a good deed raises the question of what actually constitutes a good deed. Although the pirate's efforts to help Godolphin's track team win the Broxton Relays seemingly result in sufficient funds to save the inn, the sabotage of the other schools' chances is hardly righteous. As Professor Baker tells Walker on a related subject, "Your motives were good, even though your reasoning was perfectly idiotic." Cheating and poor sportsmanship are inherently immoral actions, so Blackbeard must procure the requisite money through other means.
Morals
Coach Walker brilliantly uses his team's minuscule chances of winning the Broxton Relays to voice life lessons to his players. Walker says, "I want you to look at this event not as an ordinary track meet but as a preparation for life. Some of you are going to be graduating soon. You're going to find the world out there full of nothing but trouble, frustration, and…and strife. And I tell you right now that nowhere will you find a better preparation for that world outside than to be a member of this particular track team."
During the competition itself, Walker, to his credit, objects, at least for a while, to Blackbeard's interference even though said obstruction helps his team.
Questions
What happened to Godolphin College's former track coach? Coupled with the film's later events, the description afforded Walker early in the movie by team captain Gudger Larkin (Hank Jones), namely that Walker's predecessor started talking to himself before becoming depressed and disappearing, may indicate an encounter with Blackbeard's ghost.
The television announcer at the Broxton Relays (Elliott Reid) says that Godolphin once had a great track team. What caused the program's decline?
Volume
Blackbeard's Ghost features an inordinate amount of yelling from various characters. One of the inn's co-owners, Emily Stowecroft (Elsa Lanchester), shrieks upon reading Walker's fortune and bellows the story of the curse inflicted upon Blackbeard by Aldetha.  Additionally, Walker and Blackbeard continually berate each other, and the coach engages in a verbal argument with Professor Baker. The shouting renders the film uncomfortable at points.
Humor
Though he is Godolphin's shot-putter, Gudger Larkin cannot lift the hood of Walker's car.
Godolphin's Dean, Wheaton (Richard Deacon), emerges as a frontrunner, moving from a proponent of cutting the track team at the beginning of the film to that squad's biggest cheerleader upon its shocking success at the Broxton Relays. Conversely, after lauding the winning tradition of Godolphin's football team early in the flick, Wheaton informs his stunned football coach, Pinetop Purvis (Michael Conrad),  at the Broxton Relays, "May I tell you something Mr. Purvis? YAY GODOLPHIN GO! I hate football. YAY GODOLPHIN! I've always hated football. GO, GO, GO!"
Emily Stowecroft is quite literal, responding to Walker's request for "living accommodations" with "We accommodate the living." Indeed, the inn accommodates the living, in addition to a certain pirate in limbo.
Walker overtly insults Blackbeard with the pirate standing right behind him.
Blackbeard may have been a great mariner, but he needs some more practice if he wants a driver's license. He should just let Walker drive, but that would not be any fun!
The waiter at Seymour's restaurant (Gil Lamb) repeatedly trips over Blackbeard, dropping large quantities of salad and ice cream, and falling into a lobster tank. He could be admonished to watch where he is walking, but such advice is useless here because Blackbeard is invisible.
Blackbeard, Walker, and Baker triumphantly march to a ballad.
Blackbeard's invisibility helps Walker win a faux shootout and fight against Seymour and his cronies.
The extended Broxton Relays segment is the film's comedic summit, with Blackbeard covertly interfering with the proceedings. His actions in the baton relay are especially uproarious.
Relationship to Other Disney Films
Blackbeard's Ghost was the second of three Disney films to star both Dean Jones and Suzanne Pleshette, following The Ugly Dachshund (1966) and preceding The Shaggy D.A. (1976).
Blackbeard is similar to the Beast from Beauty and the Beast (1991) in that both characters must atone for past misdeeds to attain happiness, removal from limbo in the case of the former and reversion to a prince in the case of the latter.
Pirate films are crucial to Disney history. The company's first live action effort was Treasure Island (1950), and, in recent years, Pirates of the Caribbean has emerged as one of Hollywood's most popular film franchises. Four flicks in the series have been released—Pirates of the Caribbean: The Curse of the Black Pearl (2003), Pirates of the Caribbean: Dead Man's Chest (2006), Pirates of the Caribbean: At World's End (2007), and Pirates of the Caribbean: On Stranger Tides (2011)—and another, Pirates of the Caribbean: Dead Men Tell No Tales, is scheduled to premiere in 2017. Additionally, two of Disney's animated films, Peter Pan (1953) and Treasure Planet (2003), incorporate significant pirates.
Godolphin College is unique among Disney's fictitious movie colleges of the 1960s and 1970s in that it does not start with the letter "M." The Absent-Minded Professor (1961), Son of Flubber (1963), The Computer Wore Tennis Shoes (1969), Now You See Him, Now You Don't (1972), and The Strongest Man in the World (1975) occurred at Medfield College; The Misadventures of Merlin Jones (1964) and The Monkey's Uncle (1965) took place at Midvale College; and Merrivale College was the setting for The World's Greatest Athlete (1973). (3)
The track competition scene in Blackbeard's Ghost is similar, albeit more slowly paced, to the basketball scene in The Absent-Minded Professor and the football scene in Son of Flubber.
In the Parks
Do you want to see pirates? Do you want to see ghosts? Well, you can see both by riding a pair of classic Disney attractions, "Pirates of the Caribbean" and the "Haunted Mansion," at California's Disneyland Park and Walt Disney World's Magic Kingdom.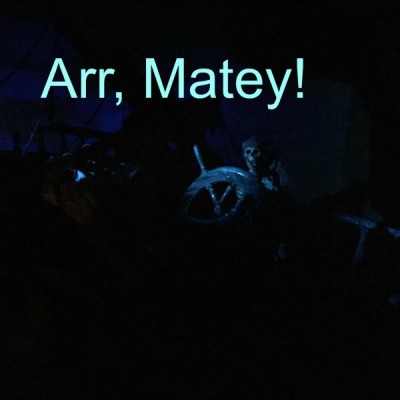 Photo Copyright Rikki Niblett
When, during the movie's opening scene, the gas station attendant, Gudger Larkin, tells the just-arrived Walker that he is the captain of the track team, Walker responds, "Small world, isn't it!" "It's a Small World" is a classic boat ride at both Disneyland Park and Walt Disney World's Magic Kingdom.
Struggling to sleep with Blackbeard, Walker explodes, "That is absolutely it! Figment of my imagination or no figment, he can have his room, he can have his bed! I don't need it!" At Epcot, guests can experience "Journey into Imagination with Figment," a whimsical track ride hosted by a mischievous purple dragon, Figment.
Overall
It is not Disney's funniest comedy, but Blackbeard's Ghost features enough laughs and a sufficiently intriguing plot to keep viewers entertained.
Notes
1) Thompson, H. (1968, April 11). Article 3 — No Title. New York Times, p. 51. Retrieved June 19, 2016, from http://0-search.proquest.com.alpha1.suffolk.lib.ny.us/docview/118194545?accountid=35174
2) Other 30 — No Title. (1968, April 13). Newsday, p. 37W. Retrieved June 19, 2016, from http://0-search.proquest.com.alpha1.suffolk.lib.ny.us/docview/917786122?accountid=35174
3) Smith, D. (2012). Live-Action Films. In Disney Trivia from the Vault: Secrets Revealed and Questions Answered (pp. 133-134). New York: Disney Editions.
What do you think of Blackbeard's Ghost? Let me know in the comments!
Sponsored Ad:  Would you like to help support The Mouse For Less website in continuing their mission of being THE Disney vacation planning resource?  You can do so by purchasing Blackbeard's Ghost from our Affiliate Link through Amazon. Thanks so much for your support!
Incoming search terms:
https://www themouseforless com/blog_world/movie-review-blackbeards-ghost/