This post may contains affiliate links for your convenience. If you make a purchase after clicking a link we may earn a small commission but it won't cost you a penny more! Read our full disclosure policy here.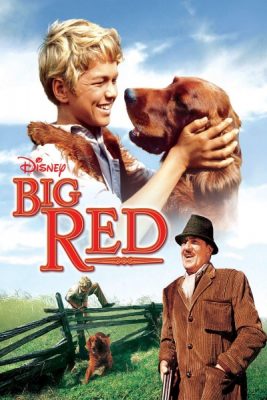 Based on Jim Kjelgaard's 1945 novel of the same name, Disney's Big Red was theatrically released on June 6, 1962. The live action nature drama is eighty-nine minutes in length. Big Red is essentially a poor man's version of Old Yeller (1957), emotional ties between a young boy and a dog being the main plotline in both films.
Plot Summary
At a dog show in Montreal, James Haggin (Walter Pidgeon), the owner of an estate called Wintapi elsewhere in the province of Quebec, purchases for $5,000 an Irish Setter named Big Red, which Haggin plans to train for a forthcoming dog show in New York City. Back at Wintapi, while Haggin is hunting with his handler, Emile Fornet (Emile Genest), Big Red sprints past the duo, followed by a young boy named Rene Dumont (Gilles Payant). Dumont, an orphan whose uncle has recently passed away and whose first language is French, explains to the perplexed men that he is looking for work and that he released Big Red from his cage near the men's respective houses because the dog's paw was caught in the cage's wiring. Haggin instantly hires Dumont to work with Fornet as an assistant dog handler, and the boy enthusiastically engages himself with Haggin's many canines while also laboring to perfect his English.
Unfortunately for all parties, however, Big Red becomes so attached to the lad that the canine refuses to follow orders from Haggin, a serious problem considering the upcoming competition in New York. Desperate to correct the situation, Haggin forbids Dumont from working with Big Red until the show. The rule fails to prevent interactions, however, and when Dumont attempts to run back to his bed in Fornet's house after saying goodbye to Big Red through the backdoor of Haggin's residence, Big Red daringly jumps out of Haggin's kitchen window, shattering the window's glass and severely injuring himself in the process. Now, in addition to being unfit for a dog competition, Big Red is so badly injured that Haggin orders Fornet to put the dog to sleep. With the dog's life on the line, Dumont hastens Big Red out of the house and brings him to his late uncle's abandoned cabin, about twenty-five miles north of Haggin's house. Away from Haggin and Fornet, can Dumont nurse Big Red back to health? Furthermore, can the boy survive in the wilderness with no adult care?
Responsibility
Responsibility is the major theme of Big Red. The title canine, Dumont, and Haggin deal with related pressures throughout the film.
Big Red struggles to prove to Haggin that Irish Setters have not, in fact, "lost their most important point, [their] sense of responsibility," that they are worth more than a blue ribbon and prize money from a dog show. The results of Big Red's efforts are shown in the movie's closing moments.
In tandem with Big Red, Dumont undertakes his own quest for responsibility. Undeterred by the loss of his uncle, the orphan strives to make himself "useful" to society. To this end, Dumont seeks out work; diligently studies his reader to learn English; tirelessly trains Big Red; and admits to and learns from his mistakes, never blaming others for his own errors.
Finally, in contrast to his outwardly cold personality, Haggin demonstrates genuine concern for Dumont's welfare. Upon learning that Dumont has not been seen in two weeks, Haggin hastens after the lad and thereafter makes plans to care for the child and provide for the youth's formal education.
Determination
Another major theme of Big Red is determination. Guided by childhood innocence, Dumont never loses hope concerning the fate of the title dog, nursing him back to health when Haggin deems him incurable and embarking on a mission to the depths of the forest to find Big Red and his female companion, Molly, after they escape from a baggage car on the train between Wintapi and Montreal. This escape having occurred two weeks prior, the railroad baggageman (Georges Bouvier) deems Dumont's goal "impossible," but the lad disagrees.
Characterization
Big Red would have been more enjoyable with better character development. The relationships among Haggin, Dumont, and Big Red are meant to be heartwarming, but Haggin lacks sufficient depth for the story to become truly emotional. Haggin, his rough demeanor notwithstanding, clearly cares about Dumont's welfare, but the boss is never superficially likeable.
Haggin's gruff personality may have arisen from personal tragedy, a possibility that is hinted at several times during the film. In one scene, for example, Fornet's wife, Therese (Janette Bertrand), tells Haggin that "one should never be alone, even when one has great wealth, big house…one must forget that which is past, one must go forward." Later, after Haggin decides to sell Big Red and Molly and bluntly tells Therese that the situation is "a closed subject," Mrs. Fornet somberly glances at a photograph of a man in uniform and laments, "there are many closed subjects in this house." If Haggin indeed endured a personal tragedy, any exploration of this subplot would have allowed viewers to become emotionally attached to Haggin.
My complaints about Haggin's character, it should be noted, do not extend to Pidgeon's performance, which is excellent. In fact, all of the actors in Big Red give solid performances; cringeworthy moments or scenes of unintentional comedy are not the norm here. Pavant's performance is the weakest of the bunch, but his occasional awkwardness can be rationalized by Dumont's efforts to translate his native French into English.
Peril
Besides characterization, the film could have been improved had stronger scenes of peril been incorporated. Old Yeller is in part so emotional because the title dog's life is overtly threatened. So serious a threat never arises in Big Red, the window incident occurring too early in the film to afford the viewer thoughts about the canine dying, and an exciting scene involving a mountain lion at the end of the movie being quickly resolved with no harm to the major players. Furthermore, although Dumont wanders alone in the wilderness, he never loses command of his poise such as to hint that his life is truly endangered.
Sequel
Big Red offers plenty of openings for a sequel should Disney decide to make one. Haggin's past; Dumont's subsequent life with Haggin; preparations for future dog shows; stories about the Fornets; and exploits by Haggin's obnoxious neighbor, Farmer Mariot (Doris Lussier), could serve as plotlines for a potential Big Red sequel.
Visuals
Occasionally breathtaking views of the sprawling Canadian countryside rank among Big Red's strengths. The scenes at Wintapi were clearly constructed in a studio, but this artificiality does little to hamper the generally authentic feel of the effort.
Music
Richard and Robert Sherman, the legendary songwriting brothers who were named Disney Legends in 1990, wrote a heartwarming theme song, "Mon Amour Perdu," for Big Red. The song is performed lyrically early in the film as the Fornets and Dumont relax in the kitchen and instrumentally, including via Dumont's harmonica, elsewhere. This number is not nearly as memorable as some of the Sherman Brothers' more famous songs, such as "Ugly Bug Ball" from Summer Magic (1963) and "Chim-Chim-Cheree" from Mary Poppins (1964), but it serves its purpose well.
Humor
Funny moments are sprinkled throughout Big Red. Along the way, Mr. Fornet reminds Dumont to put his belt back on such that the lad's "trousers do not descend"; Dumont playfully bows to Big Red like a subject would bow to his king; Dumont leads Big Red to his cage through a back door; Mr. Fornet plays a spoon while Dumont plays the harmonica; Haggin, annoyed at Therese's pestering, playfully tells his worker's wife "Therese, you know something? I should have gotten rid of you five years ago, before you learned to cook"; the baggageman reluctantly agrees to imitate a moose's mating call to clear the tracks; and Mr. and Mrs. Fornet have an awkward conversation about Haggin's decision to search for Dumont.
Relationship to Other Disney Films
Dogs also played major roles in Lady and the Tramp (1955), Old Yeller, The Shaggy Dog (1959, 2006), Nikki, Wild Dog of the North (1961), One Hundred and One Dalmatians (1961), Greyfriars Bobby (1961), The Incredible Journey (1963), The Ugly Dachshund (1966), The Biscuit Eater (1972), The Shaggy D.A. (1976), The Fox and the Hound (1981), Oliver and Company (1988), White Fang (1991), Homeward Bound: The Incredible Journey (1993), White Fang 2: Myth of the White Wolf (1994), Homeward Bound II: Lost in San Francisco (1996), 101 Dalmatians (1996), Air Bud (1997), Air Bud: Golden Receiver (1998), 102 Dalmatians (2000), Snow Dogs (2002), Beverly Hills Chihuahua (2008), and Bolt (2008).
Big Red was one of two Disney films to be named after a big color, The Big Green (1995) being the other.
Walter Pidgeon subsequently contributed to The Legend of Lobo (1962) and Rascal (1969) for Disney.
Emile Genest also contributed to Nikki, Wild Dog of the North, The Legend of Lobo, and The Incredible Journey for Disney.
In the Parks
Canada is among eleven countries to be represented by a pavilion in the World Showcase section of Epcot. A Circle-Vision 360° film, "O Canada!"; the "Le Cellier" steakhouse; and beautiful gardens are the highlights of this pavilion.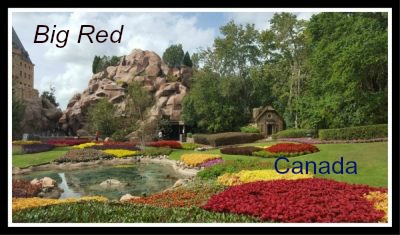 Overall
Big Red features a solid cast and a suspenseful story, but poor character development hampers the overall effort. The film has heartwarming elements, but we are ultimately not given enough incentive to care about the characters, and the level of peril never reaches sufficient heights for Big Red to favorably compare to such tear-jerking efforts as Old Yeller.
What do you think of Big Red? Let me know in the comments!
Sponsored Ad:  Would you like to help support The Mouse For Less website in continuing their mission of being THE Disney vacation planning resource?  You can do so by purchasing Big Red  from our Affiliate Link through Amazon. Thanks so much for your support!
Did you like this article? Make sure to share it with your friends! Check below for easy ways to share!
Incoming search terms:
harmonica tunes in big red movie
https://www themouseforless com/blog_world/movie-review-big-red/