This post may contains affiliate links for your convenience. If you make a purchase after clicking a link we may earn a small commission but it won't cost you a penny more! Read our full disclosure policy here.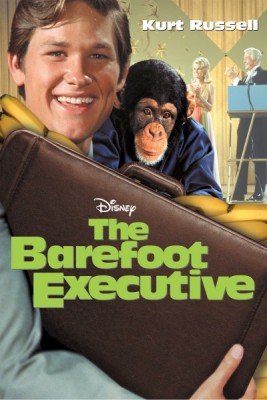 DVD Cover Copyright Disney
A live action comedy, The Barefoot Executive was theatrically released on March 17, 1971. The film is ninety-six minutes in length.
Plot Summary
The United Broadcasting Corporation (UBC) television network is struggling, consistently finishing third among three networks in the ratings, and neither Vice President of Programming Francis Wilbanks (Joe Flynn) nor Network President E.J. Crampton (Harry Morgan) seem to have a solution to this problem. Fortunately for UBC, Steven Post (Kurt Russell), the mail delivery boy at the network's studios, finds the quintessential answer to UBC's conundrum in the apartment of his girlfriend and studio secretary, Jennifer Scott (Heather North). Steve has not uncovered a magic lamp, but he has found the next best thing, a chimpanzee named Raffles, which Jennifer adopted from her neighbors, who are moving to San Francisco.
After initially detesting Raffles because of his preference for boring programming, Steve realizes that the shows preferred by the chimpanzee in the various timeslots were the highest-rated programs of the night. Without revealing Raffles, Steve demonstrates the chimpanzee's competence to Crampton and quickly emerges as a national sensation. He is promoted to Wilbanks's former role, afforded a penthouse, and charged with evaluating pilot episodes for the network. Steve is at the top of the world, but the chimpanzee is making the picks. Can the young man continue to keep Raffles a secret?
Reviews
Columnist H.T. of the New York Times gave The Barefoot Executive a mediocre review, finding the film pleasant but not especially funny, a sentiment that I completely disagree with.  H.T. said, "Clean is one thing—it's a lot now, in fact—but funny is another. And the Walt Disney outfit only gets medium mileage out of a live-action satire titled 'The Barefoot Executive.' In this genial but strained and arch frolic, the one real joke is not only 'in' but it wears thin and even frantic. Does anybody out front really care about television-program ratings—how many people watch what?
At any rate, not the chimpanzee who causes all the commotion here. He's a house pet, an avid TV fan who does wonders with pilot series, immediately spotting a stinker and a smash hit. A shrewd television company mail boy uses Raffles, the hairy wonder, in his climb up the executive ladder.
Slapstick and downright infantile dialogue flatten the fun, with such people as young Kurt Russell, Joe Flynn, Heather North and Wally Cox striving mightily. We liked Raffles, especially draining a beer during commercials, giving a lippy raspberry to 'Swan Lake' and jubilantly switching on a rootin'-tootin' Western. Say, who's behind all that programming anyway?" (1)
In Newsday, film critic Jerry Parker offered some sarcasm in lieu of an actual review, saying, "The chimp is discovered to have an infallible knack for picking TV shows that will get the highest ratings. And we thought they tossed a coin!" (2)
Missed Opportunity
Disney-owned ABC-TV has endured its share of programming flops, such as "Push, Nevada" in 2002. (3) These failures are inexcusable because the company has Raffles at its disposal to evaluate pilots! Then again, Raffles is a fictitious character, so this strategy is not an option, and I am badly digressing into Fantasyland, so let's move on.
John Ritter
The Barefoot Executive marked the film debut of John Ritter, who played Wilbanks's snooty nephew Roger. Ritter tragically died while filming an episode of ABC's "8 Simple Rules" on September 11, 2003.
Youth
In The Barefoot Executive, Steve demonstrates that competence and age are not always directly proportional traits. Steve may be only twenty-one years old, but his vision and ability to reason make him more successful in programming UBC than the much older duo of Crampton and Wilbanks. Granted, Raffles is the genius, but, as Steve discusses with Jennifer, the chimpanzee's talent had to be discovered and applied, and Steve took this initiative for the benefit of the network.
Additionally, despite being mocked for attending the uninspiring Moonrise Night School, Steve exudes greater academic intelligence than either Crampton or Wilbanks. In defending the potential of youth to Mr. Wilbanks's chauffeur, Mertons (Wally Cox), Steve accurately mentions that William Pitt became British Prime Minister at the age of twenty four; that Louis XIV became king of France at the age of four; and that there was a British king, Henry VI, who succeeded to the throne at nine months of age. Steve incorrectly asserts that Alexander Hamilton signed the Declaration of Independence at age nineteen—Hamilton did not sign the document—but, if one accepts Hamilton's contested birth year as 1757 rather than 1755, that founder was nineteen in the summer of 1776.
Music
The film is bookended with a catchy theme song, "He's Gonna Make It." This upbeat lyrical number, which is reprised instrumentally throughout the movie, voices Steve's desire to prove his numerous doubters wrong by becoming a prominent figure.
Humor
Saturated with random comments and visual gags, The Barefoot Executive is one of the funniest movies in Disney history.
The dialogue may be considered "infantile," (4) but I found it hysterical. In particular, Steve's comments about the benefits of creating a new show called "Abe Lincoln's Doctor's Dog" had me rolling around in my bed in laughter. This bizarre idea, which was initiated by E.Z. Potter, a guest speaker involved in radio management, the previous night at Moonrise Night School, is actually logical, albeit too logical.
Although the dialogue is silly, many of the laughs arise from Steve disclosing the truth. For example, when UBC's morning programming director, Harry (Chet Stratton), tells Mr. Wilbanks that his seemingly lukewarm feeling on a pilot episode was a result of him "not liking TV very much," Steve tells Jennifer, "He doesn't like TV!? He's the morning program director!" Later, after Steve explains the utility of "Abe Lincoln's Doctor's Dog" to Wilbanks, the latter explodes, "I am not interested in your quacky theories that come from your quacky teachers that teach in your quacky night school!" Noting that the idea came from a radio executive, not a teacher, Steve replies, "But, actually, in this case it wasn't a teacher." Moments later, after Jennifer tells Wilbanks that Crampton called from network headquarters in New York, the discombobulated executive replies, "Well, why didn't you tell me that?! When the president of the network calls, you don't let me stand around talking about Abraham Lincoln's Dog's Doctor!" Realizing that Wilbanks misspoke, Steve retorts, "Abe Lincoln's Doctor's Dog, sir. There's a difference." Indeed there is; Wilbanks's version highlights a veterinarian, while Steve's concept concerns a dog.
Sorry sports fans. Raffles dislikes football, baseball, and basketball, the latter violently so.
When Steve knows something, he makes sure that everybody else knows that he knows but not necessarily what he knows.
Mertons demonstrates awkward vocal mannerisms. His recital of Steve's historical tidbits to Wilbanks and Crampton, while accurate, is amusing because of his delivery. The effect of his wheezing on Wilbanks during a heist scene late in the film is also funny.
Relationship to Other Disney Films
The Barefoot Executive was the second of four Disney films to feature both Russell and Flynn, the other three being the respective installments of the "Medfield College Trilogy": The Computer Wore Tennis Shoes (1969), Now You See Him, Now You Don't (1972), and The Strongest Man in the World (1975). In these flicks, Russell played a college student, Dexter Riley, while Flynn played the Medfield College dean, Eugene Higgins.
Farnsworth, an executive from one of UBC's competitors, was played by Alan Hewitt, who also played a rival of Dean Higgins, Dean Collingsgood of Springfield State College, in the first two installments of the Medfield College Trilogy.
The different lyrics notwithstanding, "He's Gonna Make It" is eerily similar to the theme song from The Computer Wore Tennis Shoes.
In 2012, Disney's nature documentary label, Disneynature, released Chimpanzee.
In the Parks
No attractions or regular character meets directly related to The Barefoot Executive are featured in Disney's theme parks. No chimpanzees are seen at Disney's Animal Kingdom theme park.
Overall
Simply put, The Barefoot Executive is so bad that it is good. Everything about the movie is haphazard, but this randomness renders the effort consistently uproarious.
Notes
1) T, H. (1971, May 27). ' Barefoot Executive' New York Times, p. 33. Retrieved May 21, 2016, from http://0-search.proquest.com.alpha1.suffolk.lib.ny.us/docview/119157813?accountid=35174
2) Parker, J. (1971, May 27). A feast of flicks. Newsday, p. 9A. Retrieved May 21, 2016, from http://0-search.proquest.com.alpha1.suffolk.lib.ny.us/docview/917389315?accountid=35174
3) Stewart, J. B. (2005). Disenchanted Kingdom. In Disney War (pp. 392-393). New York: Simon & Schuster.
4) See note 1.
What do you think of The Barefoot Executive? Let me know in the comments!
Sponsored Ad:  Would you like to help support The Mouse For Less website in continuing their mission of being THE Disney vacation planning resource?  You can do so by purchasing The Barefoot Executive from our Affiliate Link through Amazon. Thanks so much for your support!
Incoming search terms:
https://www themouseforless com/blog_world/movie-review-barefoot-executive/