This post may contains affiliate links for your convenience. If you make a purchase after clicking a link we may earn a small commission but it won't cost you a penny more! Read our full disclosure policy here.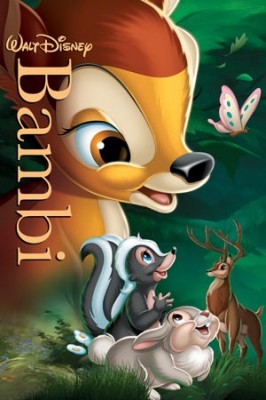 Based on Austrian author Felix Salten's 1923 novel Bambi, a Life in the Woods, Disney's Bambi was released on August 9, 1942. The 70-minute flick was the fifth full-length animated feature in Disney history.
Plot Summary
"It's the Circle of Life, and it moves us all through despair and hope, through faith and love." These lyrics didn't originate until the release of The Lion King in 1994, but they nonetheless summarize the plot of Bambi: life.
Bambi's plot is simple yet complex because life is a convoluted concept. A general story of the title deer from birth through fatherhood, the film delves into many of Bambi's adventures, both positive and negative. The story is told through animals, but most of the scenarios are applicable to human life.
Along the way, Bambi plays with his friends Thumper the rabbit and Flower the skunk, endures the tragic hunting death of his beloved mother, and falls in love with a female deer named Faline. Being the son of "The Great Prince of the Forest," Bambi also inherits some leadership responsibilities.
Pacing
Bambi flows nicely, alternating sad and happy moments. For example, immediately after Bambi and his mother discover grass emerging through the snow, the hunter shoots Bambi's mother. Conversely, images of a depressed Bambi are quickly brightened by sights of spring. These shifts kept me engaged.
Perspective
Though never shown by face, humans are negatively depicted in Bambi. By killing the deer and setting forest fires, "man," for better or worse, comprises the flick's main antagonist. We're human, but we are destined to side with the animals while watching Bambi because we get to know and appreciate the various critters.
Disney's 1981 movie The Fox and the Hound presents a more balanced view of hunting through Amos Slade.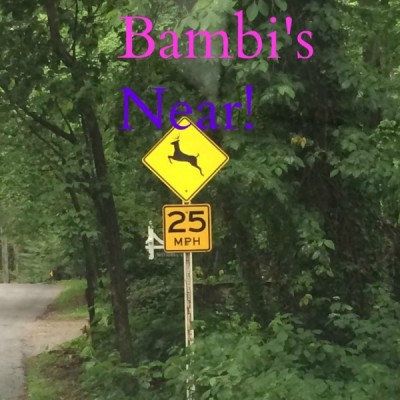 Responsibility
Exuding a somewhat arrogant attitude and a God-like voice—or at least what I envision said voice would sound like—The Great Prince of the Forest isn't the most likeable character in my opinion. Nonetheless, he is a great leader, because the animals of the forest respect him and trust his judgments. He's a wise deer who has the animals' best interests in mind.
For his part, Bambi risks his own life to protect Faline from a rival deer named Ronno and a group of hunting dogs, respectively.
Mother's Death
The fatal shooting of Bambi's mother is probably the most memorable moment in the film, a segment that will likely bring you to tears because, aside from the general sadness of death, Disney incorporated a pair of elements that enhance the situation. The winter setting and dearth of sound allow the viewer to focus on the moment without distraction.
Animation
The animation in Bambi incorporates much detail. We see aging bark, veins of leaves, and water dripping off various animals after they exit the water.
The coloring of different types of weather, including thunderstorms, evening skies, and snow, is beautiful and may induce nostalgic thoughts.
Several scenes, such as the sprint away from the hunters and Bambi's battle with Ronno, substitute bold colors for detailed animation. This differentiation may have been utilized to enhance already chaotic moments in the film.
Humor
Bambi is a drama, but several comedic moments are incorporated. These scenes probably won't initiate hysterical laughter, but they're fun.
When learning how to speak, the title character believes each object possesses the name of the previous object he learned. So, when he sees a skunk, he calls it "Flower." The skunk ironically uses that name for the remainder of the movie. I guess some skunks are roses!
Friend Owl exudes a sarcastic vibe that garnered a chuckle from me in the latter spring scene.
Thumper ice skates with Bambi, and he offers his views on eating a healthy diet. Like many youths, he doesn't like leafy greens. Sorry Thumper, no dessert!
Music
The background music excels at complementing the plot, with mood and tempo changes based on the situation. For example, when the animals move at a swift pace, the music tempo correspondingly accelerates.
The feature songs in the film fit solidly with plot context but are otherwise forgettable.
Performed during the opening credits, "Love Is a Song" is beautiful and soothing. It expresses how love persists through life's trials.
"Let's Sing a Gay Little Spring Song" is a fast-paced song about spring. The number turns louder with deeper sounds when a lightning storm commences.
Finally, the love song between Bambi and Faline, "Looking for Romance (I Bring You a Song)," is especially soothing. It reminds me of "Bella Notte" from Lady and the Tramp (1955), albeit with a faster pace.
In the Parks
At Walt Disney World's Animal Kingdom park, guests can encounter deer on the "Maharajah Jungle Trek" trail.
If you enjoyed Flower, a skunk is featured in Epcot's "Journey into Imagination with Figment" track ride. Unfortunately, your nose will remind you that "a skunk is not a rose." It's stinky stuff.
Overall
Bambi isn't Disney's most exciting or funny film, but it succeeds from an emotional standpoint. Life may be difficult at times, but it goes on.
What do you think of Bambi? Let me know in a comment.
Sponsored Ad:  Would you like to help support The Mouse For Less website in continuing their mission of being THE Disney vacation planning resource?  You can do so by purchasing Bambi from our affiliate link through Amazon.
Incoming search terms:
https://www themouseforless com/blog_world/movie-review-bambi/