This post may contains affiliate links for your convenience. If you make a purchase after clicking a link we may earn a small commission but it won't cost you a penny more! Read our full disclosure policy here.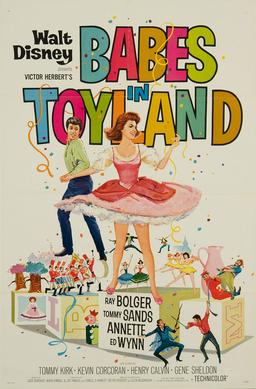 Based loosely on Victor Herbert's 1903 operetta of the same name, Disney's Babes in Toyland was theatrically released on December 14, 1961. The live action musical drama is 106 minutes in length.
Plot Summary
In the early autumn in Mother Goose Village, Mary Contrary (Annette Funicello) prepares to marry Tom Piper (Tommy Sands). Craving the money that Mary, unbeknownst to her, stands to inherit upon marrying, the evil Barnaby (Ray Bolger) convinces two henchmen, the bombastic Gonzorgo (Henry Calvin) and the mute Roderigo (Gene Sheldon), to kidnap Tom and to chase off the local sheep, without which Mary will have no income and will be forced to marry Barnaby, the only "suitable" bachelor in town. Fortunately for Mary, the kidnapping of Tom is partially botched, and the groom-to-be makes a triumphant return among a band of gypsies. Unfortunately for Mary, however, the sheep were chased off into the Forest of No Return, and the local children, including Boy Blue (Kevin Corcoran), Bo Peep (Ann Jillian), and Willie Winkie (Brian Corcoran), have hastened after them, risking their own lives in the process.
At this point, the story, which largely plods amidst mediocre musical numbers during the movie's first half, picks up some steam. Cited by the forest's talking trees for trespassing on private property, Mary, Tom, and the children are forced to report to the home of the jurisdiction's chief magistrate: the Toymaker (Ed Wynn). Indeed, the characters have wandered into the boundaries of Toyland, and they get to meet the very man who makes the toys for Santa Claus!
Just before his new friends arrive, the Toymaker, getting carried away with a new invention by his assistant, Grumio (Tommy Kirk), accidentally destroys all of the toys and is left to despair. Fortunately for this elderly artisan, however, Mary, Tom, and the children enthusiastically volunteer to help make new toys, and after a hard day's work, Christmas appears to be saved. Still, Barnaby and his henchmen are nearby, and these antagonists have not exhausted the schemes in their bag of tricks. Will Christmas really be saved, and will Mary and Tom finally marry?
Stage
The overt performance of the film on a stage—a curtain is raised following the opening segment, and the backdrops look more appropriate for a Broadway production than for a film—cheapens the feel of the movie's early scenes. After a while, however, one gets immersed in the setting, and this blemish is mitigated, though not obviated.
Production
Disney originally announced plans to make an animated version of Babes in Toyland in 1953, but for various reasons, including other movie projects, television programs, and the opening of Disneyland Park, production was delayed for several years, and the project was changed from an animated feature to a live action movie. (1)
Concerning the commencement of production, Ward Kimball, one of Walt Disney's "Nine Old Men," who was named a Disney Legend in 1989, recalled: "About 1958 or '59, Walt called me up to his office and explained he had the rights to Babes in Toyland. Walt wanted to know if I'd like to take a crack at it because it would go into the public domain in 1960. There had already been two or three attempts at the Disney Studio to write some sort of story, but Walt figured that maybe I would have a different angle on it. I never agreed with the original Victor Herbert plot structure because the relationships between the characters seemed confusing. I forgot about what had been done before and worked out a plot where there was no doubt about what Barnaby was up to. Then I sat down with [veteran story artist] Joe Rinaldi and we did the storyboards. That's what Walt saw and he liked it. Next, I got Mel Leven to write some new 'Gilbert and Sullivan' type lyrics. Walt always thought that a song should advance the plot. That was the big change in Babes, and Walt liked it." (2) Kimball did an excellent job in constructing Barnaby's character; the film's primary antagonist is both cartoonishly whimsical and menacingly sly, so he will entertain you while you root for his demise.
Filming for Babes in Toyland occurred at Disney's Burbank studio. There, grandiose sets and whimsical toy creations, which moved through either intricate mechanisms or through stop-motion photography, a process termed "animotion," were housed. The film's many toys and various special effects, including the process of Jack-Be-Nimble (John Perri) thrice jumping over a candlestick; the process of Simple Simon (Jerry Glenn) miraculously balancing a huge stack of pies on his head, hands, and feet; the contents of Barnaby's magical piggy bank; the starry results of Roderigo hammering Tom in the head; the huge puddle that arises when Roderigo and Gonzorgo unburden their waterlogged clothes while informing Mary of Tom's supposed fate; the ability of Mary to walk on her hands; the talking trees in the Forest of No Return; the crying for "help" of Grumio's impressive toymaking machine; the shrinking of various characters; and the components of the epic final battle sequences between the toy soldiers and Barnaby, were created by a team of Kimball, Eustace Lycett, Robert Mattey, Joshua Meador, Bill Justice, and X. Atencio. (3)
Partially Blue Christmas
Memories of Babes in Toyland brought mixed emotions for Ward Kimball. The Disney veteran headed the unit that created the movie's amazing mechanical toys, but he was removed as the film's director in favor of Jack Donohue after giving Ray Bolger an audition and approving set designs without Walt Disney's permission. (4) Previously, with Walt Disney focused on Disneyland Park and with German rocket scientists Wernher von Braun, Willy Ley, and Heinz Haber working closely as correspondents, Kimball had enjoyed great autonomy in producing the three-part "Man in Space" series for ABC-TV's weekly "Disneyland" program, and this leeway perhaps caused Kimball to get carried away in the leadup to Babes in Toyland. (5)
Years later, Kimball recalled of the Babes in Toyland incident: "That was kind of a low period. Unfortunately, [Walt Disney's] gofers and yes-men, like [Bill] Anderson and the rest of them, didn't like my taking responsibility while Walt was away. I had the sets designed, we decided on Ray Bolger, things like that, and those were the province of Walt. I stepped over, but I had learned this from the space pictures. I should have analyzed it; maybe we're getting into a different territory. So, it was bad, and he was going to teach me a lesson, and I was a naughty boy, I suppose, but it wasn't my fault. This publicity guy, who knew that our rights to Babes in Toyland were about to expire in a year or so, didn't want any other studio starting the project, so he took this ad in the Variety and Hollywood Reporter: "Congratulations, Ward Kimball assigned to direct Babes in Toyland." I was embarrassed; I opened it and I called him: "What the hell did you do this for, what's Walt going to say?" "Well, we had to, it's for our own protection." Walt heard about it—of course, Anderson and the rest showed him— "We've got to do something about Kimball here." Walt thought that I put that in, and that was bad, and I don't think that I ever convinced him that I didn't." (6)
Promotion
Babes in Toyland, though both a critical and a commercial flop, was heavily promoted through numerous means, including a December 17, 1961 "Cast Party" episode of Walt Disney's weekly "Wonderful World of Color" series on NBC-TV; toy advertisements and sales in both the Sears Roebuck and Company Christmas catalog and Sears's brick-and-mortar stores; and entertainment offerings at Disneyland Park. (7) Regarding the Disneyland Park offerings, Walt Disney opened an exhibit featuring some of the film's sets and props in the Main Street Opera House, and the movie's toy soldiers were made the centerpiece of the park's Christmas parade. (8)
Years later, in an interview with Disney historian Jim Korkis, Bill Justice recalled the circumstances surrounding the 1961 Christmas parade: "X [Atencio] and I along with Ward Kimball built all the toys and everything for [Babes in Toyland]. I think it was around late August, the picture was to be released in the fall, that Walt came down and said, 'I think we ought to have a giant toy parade at Disneyland.'
Walt felt we needed publicity for Babes in Toyland and, believe me, it needed publicity because it didn't turn out the way it should have. Anyway, X and I were proud of the toys and the stop-motion stuff that we did for the picture. Walt said, 'Why don't…since we need to get control of the parade anyway….why don't we make a giant toy parade?' He told me that I was to take charge and to supervise the building of all the toys and the floats and the costumes and so forth.
I had no experience in any of that but you never said 'no' to Walt when he told you to do something. He thought you could do it so you did it and usually it turned out surprisingly well. I guess he picked me because it was going to be a toy parade and X and I had designed all the toys in the picture and he wanted the same type of toys.
It was tough. We had to take the soldiers we designed down there and put somebody in them to wear. So we had to make compromises. They needed to look exactly like our toy soldiers in the film. They're still using those soldiers today in the parade, although they have had to occasionally rebuild them." (9)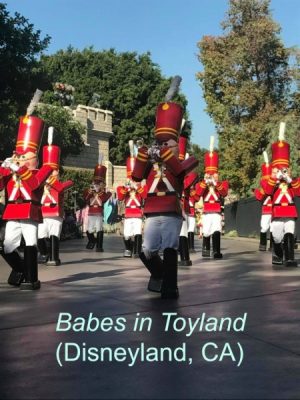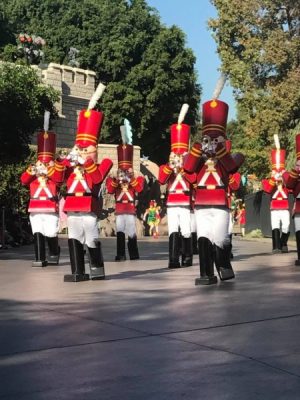 Atencio and Justice thereafter emerged among Disney's leading Imagineers, contributing to such classic attractions as "Pirates of the Caribbean," "The Haunted Mansion," "Country Bear Jamboree," "Hall of Presidents," "Space Mountain," "Mickey Mouse Revue," "Spaceship Earth," and "World of Motion." They were both named Disney Legends in 1996.
Music
On the film's soundtrack, Walt Disney said, "The music for our motion picture Babes in Toyland is based on Victor Herbert's original score, which he wrote more than half a century ago. We have updated the music and lyrics to fit current trends, but the melodies remain the same." (10) Disney composer George Bruns "adapted Herbert's score, changing the tempo of many songs, making new arrangements, transforming some themes into complete songs, and composing three new tunes," (11) and colleague Mel Leven developed lyrics for these numbers. Bruns was named a Disney Legend in 2001. (12)
Babes in Toyland was Disney's first completely live action musical. The studio's previous musicals had either been animated films—Snow White and the Seven Dwarfs (1937), Pinocchio (1940), and Cinderella (1950), for example—or animation-live action hybrid films, such as Song of the South (1946) and So Dear to My Heart (1948). Subsequent completely live action Disney musicals included Summer Magic (1963), The Happiest Millionaire (1967), and Newsies (1992). Babes in Toyland's songs include: "Mother Goose Village and Lemonade," "We Won't Be Happy Till We Get It," "Just A Whisper Away," "Slowly He Sank To The Bottom of the Sea," "Castle in Spain," "Never Mind, Bo-Peep," "I Can't Do The Sum," "Floretta," "Forest of No Return," "Go to Sleep," "Toyland," "Workshop Song," "Just a Toy," and "Tom and Mary."
Performed as Mary, Tom, and the children approach the toy factory with the talking trees, "Toyland" is the best song in Babes in Toyland. The number is catchy, and you will not be able to get it out of your head for a while; the primary villain song, "We Won't Be Happy Till We Get It," is a close second in this regard. The grandiose opening number, "Mother Goose Village and Lemonade," is also very catchy, but the remainder of the soundtrack is mediocre. All of the songs, as Walt Disney wanted, advance the plot, but the tunes are largely unmemorable. The dancing that accompanies some of the songs, especially "Mother Goose Village and Lemonade," "Castle in Spain," and "Floretta," is excellent.
Humor
Four characters in Babes in Toyland are bound to make you laugh: Mother Goose's goose puppet, Sylvester J. Goose (voiced by Jack Donohue); Roderigo; Gonzorgo; and the Toymaker.
Sylvester, whose "friends call [him] 'Syl' or sometimes 'Silly,'" offers numerous blunt and witty lines early in the film. For example, before the opening of the curtain, Sylvester responds to Mother Goose's plea to "talk faster" by saying "Talk faster?! You're lucky to find a goose who can talk at all." Later, after Roderigo and Gonzorgo notify Mary in song that "Tom sank into the sea" and Mary and Mother Goose (Mary McCarty) exclaim in horror "Tom sank!," the goose nonchalantly asks, "Who's Tom Sank?"
The Toymaker provides the bulk of the humor near the end of the movie. With his first appearance, the Toymaker proudly showcases a broken toy to Grumio, because knowing that children like to break toys apart to see how they work, the elderly artisan decided to eliminate the need for happy youths to exert themselves!
Later, the Toymaker exudes great enthusiasm for Grumio's new shrinking ray, even calling the assistant a "genius" for inventing the product. The Toymaker's good mood quickly evaporates, however, upon hearing Grumio's response to Tom's query about how the factory will acquire goods to shrink. To this question, Grumio replies, "I don't know."
Additionally, the Toymaker incorporates hilarious stalling tactics while performing Mary and Barnaby's wedding ceremony. For example, the Toymaker begins the ceremony by saying "We are gathered here to witness this young lady making her first step towards unhappiness." Later in the ceremony, the Toymaker plays with the different meanings of the verb "marry" by telling Barnaby "I'm glad I'm not marrying you!…Oh, I am marrying you, but I'm marrying you to her."
For their part, Roderigo and Gonzorgo engage in amusing blunders throughout the film. At one point, for example, Gonzorgo tells his silent partner to "tip" the child who brought them to Mary's cottage. After initially attempting to hammer the lad in the head, Roderigo realizes his mistake and hands the boy a gigantic lollypop! Unfortunately for the child, Roderigo proceeds to rip off the edible part of the candy and leaves the boy with only the stick. Lousy tipper!
Relationship to Other Disney Films
Babes in Toyland was the fifth of eleven Disney films to feature Tommy Kirk, who was named a Disney Legend in 2006. Kirk had previously appeared in Old Yeller (1957), The Shaggy Dog (1959), Swiss Family Robinson (1960), and The Absent-Minded Professor (1961) for Disney; and he subsequently contributed to Moon Pilot (1962), Bon Voyage! (1962), Son of Flubber (1963), Savage Sam (1963), The Misadventures of Merlin Jones (1964), and The Monkey's Uncle (1965) for the studio.
Babes in Toyland was the second of four Disney films to feature Annette Funicello, who rose to prominence through her role as a Mouseketeer on the Disney television series "The Mickey Mouse Club" from 1955 to 1959 and was named a Disney Legend in 1992. Funicello had previously appeared in The Shaggy Dog for Disney; and she subsequently co-starred with Tommy Kirk in The Misadventures of Merlin Jones and The Monkey's Uncle for the studio.
Babes in Toyland was the sixth of nine Disney films to feature Kevin Corcoran, who, like Tommy Kirk, was named a Disney Legend in 2006. Corcoran had previously appeared in Old Yeller, The Shaggy Dog, Toby Tyler (1960), Pollyanna (1960), and Swiss Family Robinson for Disney; and he thereafter contributed to Bon Voyage!, Savage Sam, and A Tiger Walks (1964) for the studio. Of the six films that featured both Kirk and Corcoran, Babes in Toyland was unique in that Kirk did not play the part of the older brother to Corcoran's character.
Babes in Toyland was the third of eight Disney films to feature Ed Wynn, who was named a Disney Legend in 2013. Wynn had previously contributed to Alice in Wonderland (1951) and The Absent-Minded Professor for Disney; and he subsequently appeared in Son of Flubber, Mary Poppins (1964), Those Calloways (1965), That Darn Cat! (1965), and The Gnome-Mobile (1967) for the studio.
Henry Calvin and Gene Sheldon regularly contributed to Disney's popular ABC-TV series "Zorro," and they both appeared in Toby Tyler.
A toymaker is also incorporated in The Great Mouse Detective (1986). More notably, toys form the basis of Pixar's ongoing Toy Story series (1995, 1999, 2010, 2019).
Physically, Gonzorgo and Roderigo bear resemblance to, respectively, the Walrus and the Carpenter from Alice in Wonderland, though Roderigo is taller than the Carpenter. Furthermore, upon deciding to sell Tom to the gypsies, Gonzorgo hums "Twiddle Dee Dee Di Dee Dum," which is close to the names of the characters, Tweedledee and Tweedledum, who relayed the Walrus and the Carpenter story to Alice.
Gypsies are also featured in The Hunchback of Notre Dame (1996).
Christmas is also an important aspect of Lady and the Tramp (1955), The Muppet Christmas Carol (1992), The Nightmare Before Christmas (1993), The Santa Clause (1994), The Santa Clause 2 (2002), The Santa Clause 3: The Escape Clause (2006), A Christmas Carol (2009), and The Nutcracker and the Four Realms (2018).
Incorporating a series of scenes where numerous characters are shrunk, Babes in Toyland is one of several Disney films where characters' heights are manipulated with forced perspective. Such alterations also occurred in Darby O'Gill and the Little People (1959), The Gnome-Mobile, The World's Greatest Athlete (1973), Honey, I Shrunk the Kids (1989), Honey, I Blew Up the Kid (1992), and Honey, We Shrunk Ourselves (1997).
In the Parks
The toy soldiers from Babes in Toyland remain a staple in the Christmas parades at Disney's theme parks around the world.
A punny tribute to Annette Funicello, a net full of jello, appears in the preshow to "Muppet*Vision 3D" at Walt Disney World's Disney's Hollywood Studios theme park.
Overall
The first half of Babes in Toyland largely plods through a series of forgettable songs. Fortunately, once the characters enter Toyland, the story becomes much more engaging. Disney history buffs should watch the film if only because it incorporates the work of an immense number of both Disney Legends and regular Disney contributors.
Notes
1) A. H. Weiler, "By Way of Report: Disney Plans 'Babes in Toyland'—Other Items," New York Times, October 11, 1953, accessed December 15, 2018, ProQuest Historical Newspapers: The New York Times with Index; Tom Jones, "Disney Live 'Toyland': Victor Herbert Musical is Re-created in Manufactured Never-Never Land," New York Times, June 11, 1961, accessed December 15, 2018, ProQuest Historical Newspapers: The New York Times with Index.
2) Jim Fanning, "A Very Merry Musical: Walt Disney's Babes in Toyland," The Disney History, December 2, 2011, accessed December 15, 2018, http://thehistoryofdisney.blogspot.com/2011/12/very-merry-musical-walt-disneys-babes.html.
3) Ibid.; Jones, "Disney Live 'Toyland'"; "Babes in Toyland (film)," D23: The Official Disney Fan Club, accessed December 15, 2018, https://d23.com/a-to-z/babes-in-toyland-film/.
4) Ibid.; Babes in Toyland," Turner Classic Movies, accessed December 15, 2018, http://www.tcm.com/this-month/article/1148365%7C0/Babes-in-Toyland.html; "Ward Kimball [December 12, 1986]," interview by Michael Barrier, Michael Barrier.com: Exploring the World of Animated Films and Comic Art, August 2003, accessed December 15, 2018, http://www.michaelbarrier.com/Interviews/Kimball/interview_ward_kimball.htm.
5) Ibid.; Steven Watts, Walt Disney: The Magic Kingdom and the American Way of Life (Columbia, Mo.: University of Missouri Press, 1997), 308-12.
6) Barrier interview of Kimball.
7) "Babes in Toyland," Turner Classic Movies; "Babes in Toyland (film)," D23; Jim Korkis, "The First Disneyland Christmas Parade," Mouse Planet, December 19, 2012, accessed December 15, 2018, https://www.mouseplanet.com/10197/The_First_Disneyland_Christmas_Parade.
8) Ibid.
9) Ibid.
10) Fanning, "Walt Disney's Babes in Toyland."
11) Ibid.
12) Ibid.
What do you think of Babes in Toyland? Let me know in the comments!
Incoming search terms:
babes in toyland automated destroys help
https://www themouseforless com/blog_world/movie-review-babes-in-toyland/