This post may contains affiliate links for your convenience. If you make a purchase after clicking a link we may earn a small commission but it won't cost you a penny more! Read our full disclosure policy here.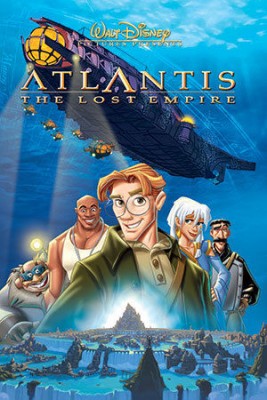 DVD Cover Copyright Disney
Atlantis: The Lost Empire was theatrically released as the forty-first full-length animated feature in Disney history on June 15, 2001. It is based on Plato's legendary utopia and clocks in at ninety-five minutes. A direct-to-DVD sequel, Atlantis: Milo's Return, was released on May 20, 2003.
Disappointment
Atlantis received mediocre reviews from critics and performed disappointingly at the box office. To compound Disney's troubles, the company's epic summer film for 2001, Pearl Harbor, flopped considering that movie's expectations, and Atlantis was overshadowed by Shrek, the animated hit from Disney-enemy Jeffrey Katzenberg's DreamWorks. (1) Truth be told, I saw Shrek in theatres but not Atlantis.
Plot Summary
Washington D.C. The Wilson administration. A brilliant young linguist, Milo Thatch, is preparing to give a presentation to the board of directors at the Smithsonian Institute in hope of receiving funding to locate the Shepard's Journal, a firsthand account of Atlantis that supposedly contains the whereabouts of the utopian paradise. Thatch is disappointed, however, when the directors, tired of his Atlantis obsession, abruptly postpone the meeting so that Milo cannot present.
Milo's sadness proves short lived. Upon returning home, a mysterious woman named Helga Sinclair informs Thatch that her employer, Preston Whitmore, wants to see him. Before the ensuing meeting is over, Milo is in possession of the Shepard's Journal and is set to embark on a mission to find Atlantis itself. A submarine and a crew of specialists are provided by Whitmore.
The belief of Milo's grandfather, Thaddeus Thatch, in Atlantis had made him a laughingstock, and Milo is in a similar conundrum. If the mission succeeds, he can have the last laugh. Will that happen, though?
On the whole, I found the plot convoluted but exciting.
Content
Atlantis became only the third Disney animated feature to receive a "PG" rating, after The Black Cauldron (1985) and Dinosaur (2000). I would not say that Atlantis is any more violent than The Hunchback of Notre Dame (1996), but there are scenes of intense action, and Wilhelmina Packard, the submarine's radio operator, smokes throughout.
Themes
Key themes in Atlantis: The Lost Empire include power, knowledge, and morality.
Atlantis' king, Kashekim Nedakh, abuses his power and harms his empire in the process. He realizes his mistake afterwards with the loss of his wife, but the damage had been done.
One major ramification of Nedakh's greediness is the loss of the empire's knowledge. Atlantis persists, but without a means for improvement, it is just a mundane locale.
As for morality, Milo and the rest of the crew must decide whether to aid Atlantis and lose any chance of fame; or to kidnap Princess Kida, let Atlantis perish, and achieve figurative immortality at home. Leadership abilities are crucial to this decision.
Animation
For the most part, Atlantis features excellent animation. Many scenes, especially those directly involving the water, and the underground mural scene in Atlantis, are breathtakingly beautiful.
Action
People seeking battle scenes will probably enjoy Atlantis. Three battle segments, including one featuring a gigantic mechanical lobster called Leviathan, are included.
Music
In contrast to the films of the "Disney Renaissance," Atlantis is in no way a musical. The flick's one song, "Where the Dream Takes You," which is an upbeat yet soothing number based on the theme of following your dreams regardless of what others think, does not commence until the end credits. I found this song to be solid but not especially inspired.
From an enjoyability standpoint, I do not think the dearth of music severely hurts Atlantis, but feature songs usually augment Disney's animated movies.  In other words, lyrical music would probably have made the film better than it is.
Suspense
Without revealing any specifics, I will say that I found Atlantis suspenseful and unpredictable. The plot did not develop as I thought it would.
Historical References
Numerous historical figures and groups are mentioned throughout the movie, including Plato, Jefferson Davis, the Rough Riders, and P.T. Barnum.
Humor
Atlantis is hysterical at times.
Milo wears oversized hats, enjoys playing with horns, and can hold in neither his excitement nor his carrots. Lunch overboard!
While we are discussing food, Mrs. Packard's meatloaf is apparently unpopular, but I would rather eat that than the concoctions of Cookie, the expedition's chef. His Caesar salad and escargot look kind of slimy. Eww! For better or worse, Cookie seems to be scared of vegetables.
Mrs. Packard is an interesting character. Her monotone voice notwithstanding, she is frequently bizarre in both her words and her actions.
Gaetan Moliére, the expedition's mineralogist, enjoys dirt, stuffed animals, and volunteering for assignments he is not qualified for.
Relationship to Other Disney Films
The Little Mermaid (1989) also features an underwater kingdom.
An expedition theme is also found in Tarzan (1999).
A sub-aqueous adventure occurs in the live-action 20,000 Leagues Under the Sea (1954).
Upon her entrance, Helga Sinclair reminded me of Jessica Rabbit from Who Framed Roger Rabbit (1988) because of her somewhat sleazy demeanor.
Moliére is similar to Stitch from Lilo and Stitch (2002) in his eccentric mannerisms.
The flickering crystals that appear prior to the nighttime fire scene are similar in effect to the fairies in The Black Cauldron.
Finally, the physical appearance of Commander Lyle Rourke reminded me of Professor Robert Callaghan from Big Hero 6 (2014).
In the Parks
Although no attractions or regular character meets directly concerning Atlantis: The Lost Empire are featured at Disney parks, several attractions based on adventure and the ocean are offered.
At Disneyland Park in California, guests can experience a submarine journey on "Finding Nemo Submarine Voyage."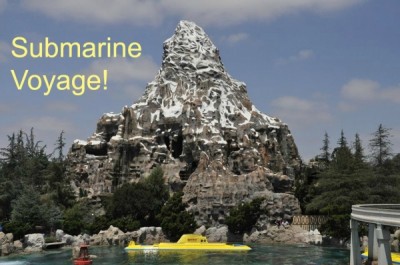 Photo copyright Pam Forrester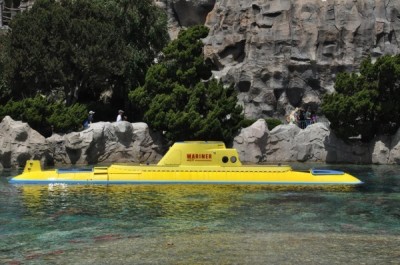 Photo Copyright Pam Forrester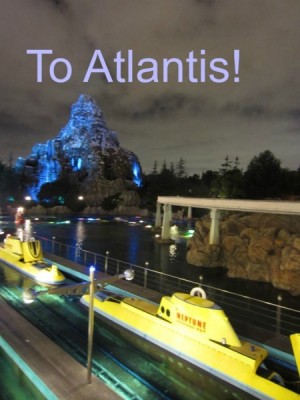 Photo Copyright Rikki Niblett
Tokyo DisneySea features "Aquatopia," a water-based attraction where riders guide trackless vehicles through a lagoon.
Attractions based on another academic explorer, the famed Indiana Jones, are housed at Disney parks across the globe: "Indiana Jones Adventure" at both Disneyland Park in California and Tokyo DisneySea, "Indiana Jones Epic Stunt Spectacular!" at Florida's Disney's Hollywood Studios theme park, and "Indiana Jones et le Temple du Péril" at Disneyland Park Paris. These attractions are a bucking bronco-like motion simulator, a stunt show, and a roller coaster, respectively. "Indiana Jones et le Temple du Péril" became Disney's first looping coaster upon its 1993 debut.
The interactive "50's Primetime Café" at Disney's Hollywood Studios serves Mrs. Packard's favorite food, meatloaf. You will probably not find Cookie at this restaurant because the servers, who are known to "play" with the diners, force you to eat your vegetables.
Overall
The suspense, humor, and action of Atlantis: The Lost Empire almost atone for the movie's confusing story and dearth of music. The film is not a classic, but it is an enjoyable watch.
Notes
1) Stewart, J. (2005). Disenchanted Kingdom. In Disney War (pp. 362-63). New York: Simon & Schuster.
What do you think of Atlantis: The Lost Empire? Let me know in the comments!
Sponsored Ad:  Would you like to help support The Mouse For Less website in continuing their mission of being THE Disney vacation planning resource?  You can do so by purchasing Atlantis – The Lost Empire from our Affiliate Link through Amazon. Thanks so much for your support!
Incoming search terms:
https://www themouseforless com/blog_world/movie-review-atlantis-lost-empire/#:~:text=Key themes in Atlantis: The the damage had been done
https://www themouseforless com/blog_world/movie-review-atlantis-lost-empire/
lost in atlantis
Shrek 2001 Pearl Harbor 2001 The Animal 2001
Atlantis: The Lost Empire