This post may contains affiliate links for your convenience. If you make a purchase after clicking a link we may earn a small commission but it won't cost you a penny more! Read our full disclosure policy here.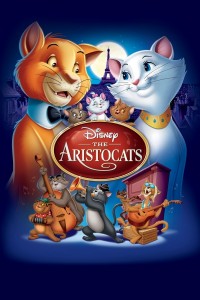 The 20th full-length animated feature in Disney history, The Aristocats was released on December 24, 1970. Based on a story idea by authors Tom McGowan and Tom Rowe, which Walt Disney bought in 1963, the 78-minute film was the final animated flick to be approved by Disney prior to his 1966 death, though it was mainly created after his passing.
Plot Summary
In 1910 Paris, the elderly Madame Adelaide Bonfamille is drafting her will. Because she has no living family members, her butler, Edgar, naturally expects to inherit much of her wealth.
It is not to be for Edgar, though; at least not immediately. Madame Bonfamille loves her four cats—the mother, Duchess, and her three kittens, Toulouse, Marie, and Berlioz, respectively—more than anything, and she will only give the butler his inheritance once all the cats are deceased.
Edgar is infuriated by the situation, and he tries to eliminate the felines from the picture, driving them off to and stranding them in the middle of nowhere in the French countryside.
Fortunately for the lost cats, a kind, energetic, and well-traveled alley cat named Thomas O' Malley comes along. Indeed, he's more than willing to help his new friends find their way home. Will they make it, though?
Duchess and the Kittens
Duchess is a good mother to her three kittens. She instills positive values such as manners in them and even cultures them. On the latter point, each of her three kittens partakes in a specific art form—Toulouse paints, Marie sings, and Berlioz plays the piano. Marie and Berlioz aren't just haphazard musicians, either, because Duchess knows that to improve, her children must practice their scales and their arpeggios! Ah, yes. Practice is boring, but necessary.
Additionally, and on a crucial note for the prospects of world peace among animals, Duchess and the kittens are friends with a mouse! Yes, you heard that right. The cats and Roquefort the mouse have a great relationship and help each other when needed.
Thomas O'Malley
Before we delve into a discussion of our alley cat friend, it should be noted that O'Malley's full name is Abraham deLacey Giuseppe Casey Thomas O'Malley. This name works better in song than on paper, though. Trust me.
Unlike Duchess and the kittens, who essentially only know upscale Paris, O'Malley has traveled the world. He's seen the good and the bad, and nothing flusters him as a result. Well, actually, British geese do seem to annoy him. The twin geese in the film, Abigail and Amelia Gabble, are presumptuous, and although O'Malley admits to liking their uncle Waldo, I think this is only because Waldo forced his nieces to take him home for the night.
O'Malley loves the abandoned felines and tries to help them find their way home. Though he fell in love with Duchess at first sight, I don't feel like this admiration was initially mutual. I think Duchess was a bit perplexed by O'Malley at first, although her kittens definitely took to him. She quickly comes around, however, and a love story commences.
Edgar
The butler is definitely the main villain in the film. Still, I question his true personality. Is he really generally evil, or is he simply jealous that Madame Bonfamille loves the cats more than him? I wonder if he's typically as bad as he is around the cats in the film.
Edgar is the centerpiece behind the more comical scenes in the movie. He and his motorcycle go on wilder rides than Mr. Toad!
Curiously, Edgar seems to be able to understand Roquefort, freezing at one point when the mouse yells "quiet!" This ability may just represent a lapse in plot development, however.
Music
The Aristocats' soundtrack is outstanding. It's the highlight of the film in my opinion and perhaps the most underrated soundtrack of any Disney movie.
The music commences during the opening credits with a rendition of "The Aristocats." This number is performed with a French accent and sets the stage for the film's setting.
My favorite tune in the movie is "Scales and Arpeggios." Performed during the kittens' music lesson, I just find this song catchy, especially the closing duet with Duchess and Marie.
The movie's most upbeat song is probably "Ev'rybody Wants To Be A Cat," which is led by the feline Benny Goodman, Scat Cat. In addition to interesting lyrics, the renditions of this song in the film proper include some catchy visuals, most notably the lighting, as well as funny dialogue.
Relationship to Other Disney Films
Disney movie fans will probably notice some familiar voices in The Aristocats.
Duchess is voiced by Eva Gabor, who played Miss Bianca in both The Rescuers (1977) and The Rescuers Down Under (1990).
Napoleon the dog, who wreaks havoc for Edgar, is voiced by Pat Buttram. Fans of Robin Hood (1973) will recognize Buttram as the voice behind that film's Sheriff of Nottingham.
Phil Harris, the voice of both Baloo from The Jungle Book (1967) and of Little John from Robin Hood, plays O'Malley.
Finally, the great Disney narrator Sterling Holloway provided the voice for Roquefort. Holloway narrated many classic Disney shorts including Susie the Little Blue Coupe (1952) and Ben and Me (1953).
Additionally, references to future Disney films such as Aladdin (1992) and The Hunchback of Notre Dame (1996) are made in The Aristocats. These references are probably coincidental, but O'Malley talks about flying on a "magic carpet," and Edgar travels past Notre Dame on his way to strand the cats.
In the Parks
While The Aristocats doesn't have a major place in Disney's theme parks, guests can meet Marie at Walt Disney World.
Overall
The Aristocats has its share of flaws. The animation is sketchy, and the plot is spotty. Nonetheless, I enjoy the film because I find the developing relationship between Duchess and her kittens and O'Malley to be touching, and the music to be excellent.
What do you think of The Aristocats? Let me know in a comment!
Sponsored Ad:  Would you like to help support The Mouse For Less website in continuing their mission of being THE Disney vacation planning resource?  You can do so by purchasing The Aristocats from our affiliate link through Amazon.
Incoming search terms:
https://www themouseforless com/blog_world/movie-review-aristocats/