This post may contains affiliate links for your convenience. If you make a purchase after clicking a link we may earn a small commission but it won't cost you a penny more! Read our full disclosure policy here.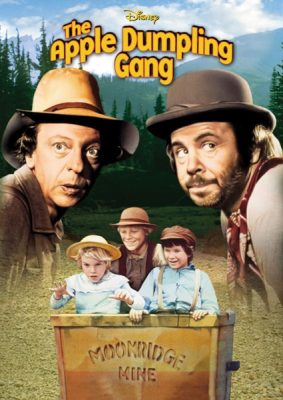 Based on Jack Bickham's 1971 novel of the same name, Disney's The Apple Dumpling Gang was theatrically released on July 1, 1975. The live action comedy-western is one-hundred minutes in length. A sequel to The Apple Dumpling Gang, The Apple Dumpling Gang Rides Again, was theatrically released on June 27, 1979.
Plot Summary
In 1879 Quake City, California, a formerly prosperous boomtown decimated by recent earthquakes, one John Wintle (Don Knight) reveals to a group of town notables, including Sheriff Homer McCoy (Harry Morgan) and Mayor Leonard Sharpe (John McGiver), his intention to immediately depart for San Francisco. The townsmen are not disappointed by Wintle's revelation, but the traveler has one last request: he needs somebody to secure "some valuables" that will be arriving via stagecoach the following day. Not thinking too much of the ambiguity of the term "valuables," Russel Donavan (Bill Bixby), an aimless wanderer and old acquaintance of Wintle, agrees to the request in exchange for five dollars. Little does Donavan know that he has been tricked. When the stage arrives, Wintle's valuables, far from being packaged goods, turn out to be three young children, Bobby Bradley (Clay O'Brien), Clovis Bradley (Brad Savage), and Celia Bradley (Stacy Manning), from Boston, who were assigned to Wintle, their uncle, after the death of their parents.
Now, the disinterested Donavan is entrusted with three children—termed "the Apple Dumpling Gang" after their favorite snack—who he neither wants nor has the means to support. Their mischief notwithstanding, however, Donavan takes a liking to the lads, and, after the children discover gold in a mine partially owned by their late parents, Donavan seeks to protect them from the greed of the townspeople. To this end, Donavan tries to convince the stagecoach driver, a respectable young woman named Magnolia "Dusty" Clydesdale (Susan Clark), to marry him and care for the children. At the same time, two bumbling bandits, Theodore Ogelvie (Don Knotts) and Amos Tucker (Tim Conway), who were banished from the notorious gang of Frank Stillwell (Slim Pickens) after Amos accidentally shot Stillwell in the leg, are set on stealing the gold for their own enrichment. Who will come out ahead in this proverbial game of Russian roulette, and will specie be the real grand prize?
Love
People's motives for doing what they do are not always pure. For example, after exuding no interest in adopting the children when first asked by Donavan, the townspeople change their tune after the children discover the gold. At that point, the ladies literally fight over Celia, ripping her new dress in the scrum. These people want the children to line their pockets, not to warm their hearts.
Reality
Frank Stillwell was an actual late-nineteenth century Wild West outlaw. (1)
About thirty minutes into the film, Dusty's father, Colonel T.R. Clydesdale (David Wayne), who owns the local stagecoach line, tells his daughter "I should have heard from Jay Gould regarding my amalgamation proposal." Jay Gould was one of the greatest robber barons of the United States' Gilded Age, amassing a fortune through railroad speculation and shady political deals. (2)
Action
The Apple Dumpling Gang features several action scenes, which are among the most fun in the flick. For example, an engulfed carriage is chased by a fire engine through downtown Quake City; the children ride a runaway mine car off its tracks, down a hill, through a settlement, through a mirror, and into an expensive music machine; an earthquake consumes the mine with the children attempting to escape; Dusty battles Donavan in the saloon; multiple armed robberies occur simultaneously at the bank; and Stillwell leads Dusty on an exciting chase across varied terrain.
Music
The Apple Dumpling Gang features a ballad, "The Apple Dumpling Gang," which is first played over the children's journey to California toward the beginning of the film and is reprised in the flick's very last scene. The song is catchy, although I find the ballad from Disney's 1978 comedy-western Hot Lead and Cold Feet, "May the Best Man Win," superior. Hot Lead and Cold Feet also has a second excellent lyrical number, "Something Good Is Bound to Happen," which The Apple Dumpling Gang lacks.
The Apple Dumpling Gang's background music is excellent and helps to foreshadow later events on several occasions. For example, during the children's literally stormy first night with Donavan, the music changes from ominous to enchantingly beautiful when Celia awakes and walks into her caretaker's arms—behind his brusque façade, Donavan truly loves the children. Later, as Dusty and Donavan walk to their wedding ceremony, a non-romantic version of "Here Comes the Bride" is played, indicating the reluctant nature of the proceedings—the marriage is for the welfare of the children, not, at least at this point, out of true love between bride and groom.
Humor
McCoy is a man of many hats, serving as Quake City's sheriff, justice of the peace, and barber. When Dusty and Donavan arrive at his office for their wedding, McCoy abruptly ejects the man he was shaving from the premises.
As Theodore reveals an insidious plan to steal the children's gold to Amos, who is smoking a cigarette, the sheriff walks by and casually says, "Your rear end's on fire Theodore." Ah, thanks!…What?! Yow!…Darn cigarette!
Theodore and Amos hardly function as a well-oiled machine; Theodore's plans consistently falter due to Amos's inability to follow instructions. The incompetence of these bandits is at least entertaining; they can't shoot guns, they can't use ropes, they can't coordinate plans, but Theodore can do a mean owl impersonation. Hoot, hoot! Ah yes; many viewers, human as well as owl, find this film a hoot.
Clovis and Celia have reoccurring habits, the former kicking anyone who touches him and the latter needing to use the restroom.
Relationship to Other Disney Films
The Apple Dumpling Gang was the second of five Disney films to feature Tim Conway, who was named a Disney Legend in 2004. Conway had previously appeared in The World's Greatest Athlete (1973) for Disney, and he subsequently appeared in Gus (1976), The Shaggy D.A. (1976), and The Apple Dumpling Gang Rides Again for the studio.
The Apple Dumpling Gang was the first of six theatrically-released live action Disney films to feature Don Knotts, preceding No Deposit, No Return (1976), Gus, Herbie Goes to Monte Carlo (1977), Hot Lead and Cold Feet, and The Apple Dumpling Gang Rides Again. Knotts also voiced Mayor Turkey Lurkey in the animated film Chicken Little (2005).
Harry Morgan had previously appeared in The Barefoot Executive (1971), Scandalous John (1971), and Snowball Express (1972) for Disney, and he subsequently appeared in The Cat from Outer Space (1978) and The Apple Dumpling Gang Rides Again for the studio.
Slim Pickens had previously appeared in The Great Locomotive Chase (1956), Tonka (1958), Savage Sam (1963), and Never a Dull Moment (1968) for Disney.
Susan Clark subsequently appeared in The North Avenue Irregulars (1979) for Disney.
In the Parks
The respective "Frontierland" sections at Walt Disney World's Magic Kingdom and the Disneyland parks in California and Paris; the "Grizzly Gulch" section at Hong Kong Disneyland Park; and the "Westernland" section at Tokyo Disneyland Park exude Wild West themes.
As the children in The Apple Dumpling Gang ride a minecart, guests at the Magic Kingdom and Shanghai Disneyland can do the same on the "Seven Dwarfs Mine Train" roller coaster.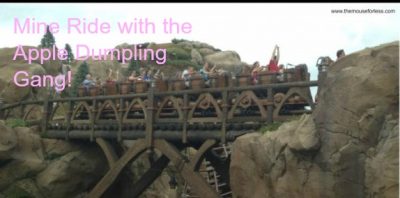 Although The Apple Dumpling Gang is a Disney film, for years, visitors to Florida could see the Clydesdales at SeaWorld Orlando and Busch Gardens Tampa Bay but, inexplicably, not at Walt Disney World!…Err, never mind; those were the Budweiser Clydesdale horses, not Dusty and T.R. Clydesdale.
Overall
Like many other Disney comedies of its era, The Apple Dumpling Gang is an unassuming yet satisfying effort, filled with action, laughs, and even some heartwarming moments.
Notes
1) Wild West Outlaws and Lawmen: Frank Stillwell. (n.d.). Retrieved December 20, 2017, from http://www.thewildwest.org/cowboys/wildwestoutlawsandlawmen/189-frankstillwell.
2) Jay Gould: American Financier. (n.d.). Retrieved December 20, 2017, from https://www.britannica.com/biography/Jay-Gould.
What do you think of The Apple Dumpling Gang? Let me know in the comments!
Incoming search terms:
apple dumplinggangplot summary
asple fumpling gang review