This post may contains affiliate links for your convenience. If you make a purchase after clicking a link we may earn a small commission but it won't cost you a penny more! Read our full disclosure policy here.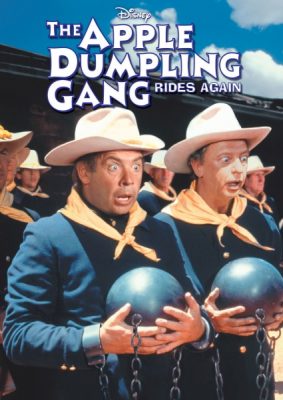 A live action comedy-western and sequel to The Apple Dumpling Gang (1975), Disney's The Apple Dumpling Gang Rides Again was theatrically released on June 27, 1979. The film is eighty-eight minutes in length.
Plot Summary
At the end of The Apple Dumpling Gang, that film's two inept bandits, Theodore (Don Knotts) and Amos (Tim Conway), renounce their long lives of crime and join the newly-formed family of Russel Donavan (Bill Bixby); Donavan's wife, Dusty (Susan Clark); and the couple's three adopted children, Bobby Bradley (Clay O'Brien), Clovis Bradley (Brad Savage), and Celia Bradley (Stacy Manning). Although they love the family, Theodore and Amos still crave historical fame, a legacy unlikely to arise from working on a family farm.
In an effort to attain such everlasting notoriety, Amos and Theodore, at the beginning of The Apple Dumpling Gang Rides Again, complete a journey through the desert and arrive at a boomtown called Junction City. Here, the duo plans to somehow accumulate a vast fortune through legal means. Any hopes of achieving this vague goal evaporate within hours of the duo's arrival in Junction City. Attempting to deposit their limited funds in the local bank, Amos and Theodore unknowingly walk in on a robbery and surrender their money to one of the perpetrators (Cliff Osmond), who casually portrays the teller before fleeing with his gang. Although Theodore quickly realizes what has happened, he and Amos are the only people remaining in the building when the extravagant local sheriff, Woolly Bill Hitchcock (Kenneth Mars), enters to make an arrest. Amos and Theodore successfully escape town on the back of a wagon bound for the United States Army post at Fort Concho, but their problems persist. Indeed, Hitchcock can easily track the duo, which he has sentenced to death, by following Amos's pesky mule, Clarice. Furthermore, Amos and Theodore are conscripted into service upon arriving at Fort Concho by the Fort's officials, Major T.P. Gaskill (Harry Morgan), Sergeant Slaughter (Richard X. Slattery), and Lieutenant Jim Ravencroft (Robert Pine). Not surprisingly, Amos and Theodore quickly begin to aggravate their superiors with their ineptitude.
Although Amos and Theodore prove unable, if not unwilling, to properly follow orders, their eccentricity may prove useful. You see, Fort Concho has endured a string of robberies against supply trains on its territory, and all surveillance efforts have failed. Captain Phillips (Tim Matheson), who kidnaps Gaskill's daughter Millie (Elyssa Davalos), is a prime suspect, but his guilt cannot be proven. Can Amos and Theodore solve the mystery and receive positive press attention?
Real Life
Fort Concho was an actual United States military post in Texas.
In worrying about their historical legacy, Amos and Theodore resemble prominent and secondary American statesmen, including John Adams, Thomas Jefferson, Alexander Hamilton, and William Maclay. (1)
Music
Although the lyrical theme song from the original Apple Dumpling Gang is not included in Rides Again, some of the background music is reprised. For example, the whimsical western tune that is prominently played at both the beginning and the end of Rides Again was incorporated more subtly throughout its predecessor, including in the scene where Amos and Theodore try to drop a bucket on Donavan's head, in the scene where Amos and Theodore first ponder a plan to steal the children's gold, and in the scene where Theodore and Amos attempt to straddle a fire ladder onto the roof of the bank.
An instrumental version of "The Man on the Flying Trapeze" is played over Theodore's daring attempt to return money to the Junction City bank. Disney had previously utilized this number in another 1970s sequel, The Strongest Man in the World (1975).
Action
The Apple Dumpling Gang Rides Again features numerous action sequences. Along the way, Junction City endures a bank robbery, Clarice the mule wreaks havoc on a photo session, Fort Concho slowly but surely burns down, and Amos and Theodore inadvertently provoke an Indian attack on a train.
Relationship to the Original
In The Apple Dumpling Gang, the antics of Amos and Theodore played a significant but ultimately secondary role in a story dominated by the evolving relationship among Donavan, Dusty, and the Bradley children. In The Apple Dumpling Gang Rides Again, however, Amos and Theodore are the unquestioned stars, none of the other human characters from the original film appearing on screen—Donavan, Dusty, and the children are only mentioned, never seen.
Aside from Knotts and Conway, Harry Morgan, who portrayed Sheriff Homer McCoy in the original Apple Dumpling Gang, is the only actor to appear in both Apple Dumpling Gang films. Morgan looks significantly different in playing Major Gaskill because that beleaguered officer is cleanshaven and hatless—McCoy sported a large mustache and a sheriff's hat.
The omission of Donavan, Dusty, and the children from The Apple Dumpling Gang Rides Again renders the sequel's title somewhat misleading. In the original Apple Dumpling Gang, Amos and Theodore are never expressly incorporated into "The Apple Dumpling Gang," though such an inclusion is implied through the final scene. Throughout the original film, Amos and Theodore referred to themselves as the "Hash Knife Outfit." The duo afforded the moniker "Apple Dumpling Gang" to the children late in the film such as to make the Hash Knife's dealings with Bobby, Clovis, and Celia sound more sophisticated in the history books. The "Apple Dumpling Gang" designation is thereafter extended to the children's entire family, which definitely includes Dusty and Donavan and presumably includes Amos and Theodore, but the appellation still feels more geared towards the children.
Both Apple Dumpling Gang movies incorporate amorous subplots, but the love story in the original is superior to the related subplot in the sequel. The relationship between Dusty and Donavan in the original film appeals to the audience largely because of that duo's mutual concern for the children. Conversely, the relationship among Millie and her lovers, Phillips and Ravencroft, in Rides Again is not as appealing because this subplot is developed sporadically and with largely brusque characters. Thus, whereas The Apple Dumpling Gang is both heartwarming and funny, Rides Again is largely just funny….and it is very funny.
Humor
An elderly lady in Junction City, Kate (Ruth Buzzi), perpetually screams and runs. She may have drunk too much coffee for breakfast.
After displaying a bizarre inability to shoot a gun in the original Apple Dumpling Gang, Amos and Theodore have the opposite problem in Rides Again.
Hitchcock can be demoralized, but he cannot be beaten. He survives a massive fire and repeated whippings at Fort Concho.
Clarice smells something funny. No, it's not the foul scent of the stable; it's the sweet aroma of Amos's Eau de Jasmine cologne, straight from Paris! As an aside, when the "Mickey's PhilharMagic" 4D show debuted at Walt Disney World's Magic Kingdom in 2003, the scent of Jasmine's perfume—the Jasmine from Aladdin (1992)—was released as an effect. Unfortunately or otherwise, Amos did not appear in this scene, and the effect was, in any event, quickly eliminated because of sneezing guests. (2)
Theodore and Amos sleep through morning inspection at Fort Concho. They are not military material.
With the fire having almost completely destroyed Fort Concho and everyone in a state of panic, Amos still wants to follow directions. Remembering the chef's order from hours earlier to put the punch bowl on the table, Amos says, "Theodore, better get that punch bowl back on the table. That cook's gonna get mad!"
Amos shows great concern for Hitchcock's feelings. With the sheriff having just arisen from the remnants of Fort Concho and demanding that Amos and Theodore return to Junction City for execution sans trial, Amos says, "Mr. Hitchcock has a point there, Theodore. We did put this man through an awful lot of trouble." Theodore quickly tells his partner to "shut up."
Amos and Theodore impersonate tough guys in Fort Concho's jail.
Trying to escape the robust Big Mac (Jack Elam) and other duplicitous prisoners, Theodore asks a saloon owner "Where's the back door?" The owner's answer: "In the back."
Theodore and Amos entertain an unsuspecting audience with a bizarre dance routine.
Theodore and Amos learn the grave dangers of trading mules for blankets. Oh well; at least Amos gets Clarice back when all is said and done!
Relationship to Other Disney Films
The Apple Dumpling Gang Rides Again was the last of five Disney films to feature Tim Conway and the last of six theatrically-released live-action Disney films to feature Don Knotts. Conway, who was named a Disney Legend in 2004, had previously appeared in The World's Greatest Athlete (1973), The Apple Dumpling Gang, Gus (1976), and The Shaggy D.A. (1976) for Disney; and Knotts had previously appeared in The Apple Dumpling Gang, No Deposit, No Return (1976), Gus, Herbie Goes to Monte Carlo (1977), and Hot Lead and Cold Feet (1978) for the studio.
Jack Elam had previously appeared in Never a Dull Moment (1968) and Hot Lead and Cold Feet for Disney.
The Apple Dumpling Gang Rides Again was the second Disney sequel to use the phrase "Rides Again" in its title, following Herbie Rides Again (1974).
In the Parks
Although guests at Walt Disney World will not find Fort Concho, they will encounter "Fort Langhorn" on the Magic Kingdom's "Tom Sawyer Island" and various western-themed activities and cabins at "Disney's Fort Wilderness Resort and Campground."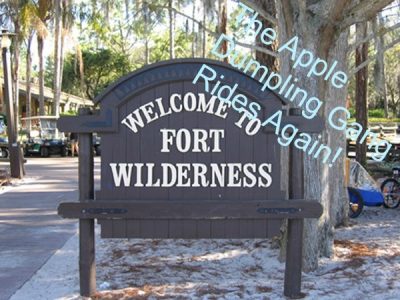 Overall
The Apple Dumpling Gang Rides Again features a more superficial plot than its predecessor, but this sequel still packs a punch with laughs and action.
Notes
1) See, for example, Joanne B. Freeman, Affairs of Honor: National Politics in the New Republic (New Haven, Conn.: Yale University Press, 2001), passim.
2) Jim Hill in Bob Sehlinger and Len Testa, The Unofficial Guide to Walt Disney World 2008 (Hoboken, N.J.: John Wiley & Sons, 2008), 517.
What do you think of The Apple Dumpling Gang Rides Again? Let me know in the comments!