This post may contains affiliate links for your convenience. If you make a purchase after clicking a link we may earn a small commission but it won't cost you a penny more! Read our full disclosure policy here.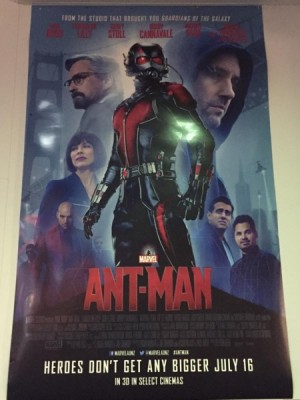 This is not your father's old Ant-Man.
When Ant-Man debuted in Tales to Astonish #27 (January 1962), he was one of a growing number of similar themed Marvel (and comic books in general) superheros.  Looking at those early Ant-Man comics, and the three characters to become Ant-Man, I was both excited and had trepidations about just how he was going to fit into the new Marvel movieverse.  After all, even Marvel classifies Scott Lang – Ant-Man number 2, and the hero to don the suit for this movie – as one of the biggest losers and one of the most unlucky people in the world.  But…
Let's not dwell on the past. ~ Dr Pym, Ant-Man movie
Step in Edgar Wright, Joe Cornish, Adam McKay, and Paul Rudd.  These men take the Ant-Man lore and modernize it to fit in with today's society.  Their screenplay is lighter than some of the more recent Marvel Avengers movies and, in turn, this makes for a much more light-hearted movie.  Think more along the lines of Guardians of the Galaxy, though nothing like that movie in style.
With a decent script and some rather high-end actors, director Peyton Reed has done a wonderful job of capturing the comedy of an imperfect antihero turned hapless hero who is down on his luck.  Cheers too, go to the editors, Dan Lebental and Colby Parker, Jr., who have managed to create action scenes that are easy to follow while still fun, fast paced, and comical.  The editing of the movie is not the flash-piece style of action intensive movie fare of the last decade, but relies on the long shot cinematography to carry the story.
A big congratulations and well done goes to Christophe Beck, who was the music lead on the movie.  Mr Beck captured the whimsy of the story beautifully by pulling in compositions we will know and by using Disney's considerable catalog of music.
The story itself is an origin story.  Here you meet Dr Hank Pym (Michael Douglas), the genius scientist who, in his younger days, creates the Pym Particle which enables him to shrink to the size of an ant (giving him the associated benefits of ants – extreme strength, small size).  You also meet Scott Lang (Paul Rudd) who is vying for the title of world's most unlucky man.  No matter his good heart, he finds himself constantly at the bottom of the heap and life never fails to kick him when he is down.  Along the way we also meet Hope van Dyne (Evangeline Lilly) and Darren Cross (Corey Stoll) who become change drivers in the movie.  As I am trying for a spoiler free (or at least spoiler-light) review of the movie, I won't include a more thorough synopsis.
Like with Guardians of the Galaxy, Ant-Man is a whimsical romp through the Marvel Universe.  While there might be concerns that the storyline could be an Iron Man knock off, this movie can stand on its own as it is nothing like the other 'suits' movies.  Those fans of the Marvel movies and television shows will find several Marvel related Easter eggs tie-ins.  Those fans of the original Ant-Man comics, if they can push aside the evolution stories they know, should find the truth of the characters shining through.
Marvel's new Ant-Man movie runs 117 minutes. It is rated PG-13 (US), PG (Australia), 12A (UK) due to mild science fiction violence and coarse language.  Like the rest of the recent Marvel movies, it is a fairly light ride for your pre-teen and older group.  There are fights in the movie, but they are handled with comedy and purpose (though you will not find a dance off in this movie).  Not surprisingly, the movie is listed as an Action, Adventure, Sci-Fi movie – it is a comic book movie after all.  The movie was released on July 17, 2015 in theaters world-wide and is currently doing well.
Ant-Man will return (in Captain America: Civil War).
Have you seen Ant-Man yet? What are your thoughts?
Incoming search terms: