This post may contains affiliate links for your convenience. If you make a purchase after clicking a link we may earn a small commission but it won't cost you a penny more! Read our full disclosure policy here.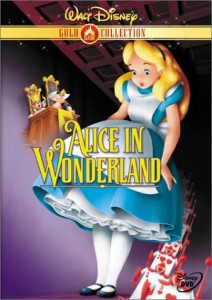 Released on July 28, 1951, Alice in Wonderland was the 13th full-length animated feature in Disney history. The 75-minute film is based on Lewis Carroll's 1865 novel Alice's Adventures in Wonderland.
Plot Summary
Alice in Wonderland begins in an outdoor setting, presumably in England, where the title character is enduring a history lesson from her older sister. Alice cannot keep attention, however, and she breaks into the song "In a World of My Own," which describes what things would be like in Alice's dream world. This song sets the stage for the locales that dominate the remainder of the film.
Upon seeing a watch-carrying white rabbit, who is "late for a very important date," Alice becomes curious, and she chases after him. The White Rabbit leads Alice through numerous strange settings such as his own house, Tweedledum and Tweedledee's forest, and the Mad Hatter's tea party.
Alice gradually becomes disenchanted with the "nonsense" she is encountering and wants to go home. Instead, however, she's forced to deal with the Queen of Hearts, a feared tyrant who wants to chop off Alice's head.
Connection to Package Films
In some ways, the film is similar to Disney's package films of the 1940s. These features incorporated numerous animated shorts, which were connected by a common theme instead of a single plot-based story. For example, Saludos Amigos (1942) contained four distinct South American-themed shorts.
The plot of Alice in Wonderland is much more cohesive than the package films, but it's more jumbled than other classics like Cinderella (1950) or Dumbo (1941). The plot is almost completely based on a single adventure by Alice, but I was more interested in the individual scenes than in the eventual goal or conclusion of the film as a whole.
If there's one scene in Alice in Wonderland that is especially reminiscent of the package films, it is the Tweedledum and Tweedledee sequence. Here, the two aforementioned creatures recount the story of "The Walrus and the Carpenter." This tale, which shows how curiosity can be harmful, is related to the theme of the film, but it has a separate feel.
Characters
Walt Disney himself was disappointed in Alice in Wonderland, and he admitted that a major reason why was because Alice "lacked heart." I can see where he's coming from with this comment. Though I shed tears when Alice was lost near the end of the film, I don't think she is a particularly likeable character. She seems to have a short temper.
The Wonderland characters in the film aren't very developed. You know they're bizarre and awkward, but that's about it.
Though most of the characters are strange, they are also thought provoking. Many puns and lessons are incorporated throughout, and I enjoyed searching for them. For example, in one scene, Cheshire Cat said that he wasn't "all there." Though he presumably meant this from a mental standpoint, he also wasn't all there physically, being partially invisible.
A few of the characters—most notably Caterpillar and Cheshire Cat—sounded philosophical in their approach. They reminded me of a university Philosophy Professor using the Socratic Method in an attempt to make Alice think about herself and her place in the world.
Aside from the Wonderland characters with speaking parts, numerous strange-looking creatures appear towards the end of the film. For example, there is an owl with an accordion neck and a dog with a broom for a head.
Music
The music in the film is outstanding. There are a plethora of songs, and I found each one catchy and worthy of singing aloud.
If there was one disappointing number, it was "All in the Golden Afternoon," and this is because of the placement rather than the actual song. The song is both catchy and beautiful, but I ironically felt that its beauty was a detriment. Alice and the flowers get into a fight shortly after the song, dampening what could have been a great moment.
In the Parks
Several Alice in Wonderland-based attractions exist at the Disney theme parks around the world.
Each Disneyland-style park has a spinning teacup ride based on the film's Mad Hatter scene. The attraction is known as "Mad Tea Party" at both the Magic Kingdom in Florida and Disneyland Park in California, "Alice's Tea Party" at Disneyland Park in Tokyo, "Mad Hatter's Tea Cups" at Disneyland Park in Paris, and "Mad Hatter Tea Cups" at Hong Kong Disneyland.
Disneyland Park in California has a dark ride, "Alice in Wonderland," where guests travel though rooms depicting the narrative from the film.
Disneyland Park in Paris contains an exclusive hedge-maze walkthrough attraction called "Alice's Curious Labyrinth." It is primarily based on the movie's Queen of Hearts scene.
Finally, diners can currently enjoy a buffet breakfast at the 1900 Park Fare restaurant at Walt Disney World's Grand Floridian Resort with Alice and the Mad Hatter each morning.
Overall
Alice in Wonderland isn't a perfect film, but it is one of my favorites. Though the overall plot leaves something to be desired, the wonderful music and numerous details and jokes provide for an engaging movie that also lends well to repeat viewing.
What do you think of Alice in Wonderland? Let me know in a comment!
Sponsored Ad:  Would you like to help support The Mouse For Less website in continuing their mission of being THE Disney vacation planning resource?  You can do so by purchasing Alice in Wonderland from our affiliate link through Amazon.