This post may contains affiliate links for your convenience. If you make a purchase after clicking a link we may earn a small commission but it won't cost you a penny more! Read our full disclosure policy here.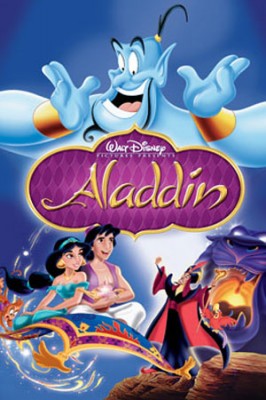 Aladdin, the 31st full-length animated feature in Disney history, was released on November 25, 1992. The film is based on the Arab folktale of the same name and clocks in at 90 minutes.
Plot Summary
In the fictional sultanate of Agrabah lives a homeless young man named Aladdin. On the surface, the title character would appear to be nothing more than a worthless "street rat," whose only chance for advancement in life is his farfetched dream of becoming a prince.
Simultaneously, at the palace, Princess Jasmine is enduring a different yet similar conundrum: she is miserable despite owning all the material possessions one could hope for.
As fate would have it, Jasmine runs away and meets Aladdin. The two fall in love at first sight, but there's no chance for marriage. You see, according to the law of the land, a princess can only marry a prince. It's too bad Aladdin can't just wish to become a prince because all would be well then. Right?
Morality
In contrast to the film's main antagonist, Jafar, Aladdin seeks to be a good person. Seeing that he frequently steals from the marketplace, Aladdin doesn't actually achieve this goal, but he does try. He gives a young boy and girl his loaf of bread, and he defends these same children from the wrath of an arrogant prince. Aladdin's golden rule is to "treat others the way you want to be treated," whereas Jafar's golden rule is "whoever has the gold makes the rules."
Aladdin also displays guilt when he has erred. His conscience—not Jiminy Cricket—tells him that lying to Jasmine about his background was a bad decision.
Power
Aladdin shows that power doesn't always lead to happiness.
Jasmine leads a pampered life in the palace, but she would rather have human friends and be free to move around as she pleases. It's a dilemma similar to the conundrum faced by Ariel in The Little Mermaid (1989), though the ocean is larger than the palace.
Also, although the Genie has more power than Jafar, the former is trapped in a lamp for 10,000-year periods. What good is power if it cannot be utilized?
Humor
Played by comedian Robin Williams, the Genie is one of the funniest characters in Disney history. His jokes are often hilarious, and his ability to impersonate is unparalleled. In a matter of seconds, the Genie can transform from a game show host to a pilot to Arnold Schwarzenegger. My favorite scene with the Genie involves him encouraging Aladdin to win Jasmine's love by calling her "punctual."
The Magic Carpet has an amusing personality. Its demeanor is basically a cross between a shy dog and Rocky Balboa.
Jafar's sidekick, Iago the parrot, exudes a sarcastic vibe. The bird has a love-hate relationship with its master and often questions the validity of Jafar's plans.
Abrupt shifts in Aladdin's thoughts provide for some funny moments. For example, while rushing to exit the Cave of Wonders, Aladdin scolds his pet monkey, Abu, "This is no time to panic." Moments later, the title character changes his tune, saying, "Start panicking!"
Animation
The Cave of Wonders stands out because of its computer animation.
Additionally, I love the look of the night sky throughout the film. It's beautiful and makes me nostalgic for some reason.
Music
As is the case with most of the films from the Disney Renaissance period (1989-99), the music in Aladdin is outstanding. I find all of the songs in the movie to be catchy and often struggle to remove them from my head.
"Arabian Nights" is a mysterious tune performed by the Peddler during the opening credits. Coupled with engaging visuals of Agrabah, this introductory number succeeds at setting the stage for the film. It's reminiscent of a travelogue.
Alternatively soothing and silly, "One Jump Ahead" is a whimsical song at the marketplace. Similar in tone to "Belle," the song, not the protagonist, from Beauty and the Beast (1991), this number helps introduce Aladdin as a character.
"Friend Like Me" and "Prince Ali" are both triumphant and energetic songs involving Aladdin and the Genie.
Finally, "A Whole New World" excels as the flick's flagship song. It's both beautiful and exhilarating. I do prefer the single version, sung by Peabo Bryson and Regina Belle during the end credits, to the in-film version, however.
Relationship to Other Disney Films
Several notable Disney characters, including the title character from Pinocchio (1940), Sebastian from The Little Mermaid (1989), and Goofy, make cameos in Aladdin. Look for them around the Genie.
Speaking of the Genie, he transforms Abu into an elephant. Similar-looking elephants can be seen in Dumbo (1941) and The Jungle Book (1967), respectively.
Abu's squeaky voice reminds me of the voices of Jaq and Gus from Cinderella (1950).
When pondering an adjective to describe their respective lives, Aladdin and Jasmine simultaneously say "trapped." A similar scenario occurs between Anna and Hans during the song "Love is an Open Door" in Frozen (2013).
A couple of the settings from the magic carpet ride form the basis for two later Disney features: Ancient Greece is the locale of Hercules (1997), while China serves as the setting for Mulan (1998).
Finally, as the Peddler commences Aladdin with a flashback number, so too does Clopin in The Hunchback of Notre Dame (1996).
In The Parks
At Walt Disney World's Magic Kingdom, guests can ride "The Magic Carpets of Aladdin." Located in Adventureland, this attraction features "magic carpets" flying around a central hub amidst spitting camels. A similar attraction, "Flying Carpets Over Agrabah," is included at Paris' Walt Disney Studios Park.
The Hyperion Theatre at Disney's California Adventure houses a Broadway-caliber stage show, "Disney's Aladdin: A Musical Spectacular."
Guests can interact with Aladdin and Jasmine in Adventureland at the Magic Kingdom and in the Morocco Pavilion at Epcot.
The Cave of Wonders has its own scene in the "Storybook Land Canal Boats" attraction at both Disneyland Park and Disneyland Park Paris.
The "Arabian Coast" section at Tokyo DisneySea incorporates numerous minor attractions based on Aladdin.
"Le Passage Enchanté d'Aladdin" is a walkthrough attraction in Disneyland Park Paris' Adventureland that features dioramas based on the movie.
Finally, if you enjoyed the fireworks that encompassed the Chinese palace after "A Whole New World," be sure to check out the various firework displays at Walt Disney World and Disneyland: "Wishes" at Walt Disney World's Magic Kingdom, "Illuminations" at Epcot, "Fantasmic" at Disney's Hollywood Studios, and both a unique "Fantasmic" as well as rotating firework spectacles at Disneyland Park.
Overall
With often-hilarious wit, beautiful settings, and unforgettable music, Aladdin is an amazing film.
What do you think of Aladdin? Let me know in a comment!
Sponsored Ad:  Would you like to help support The Mouse For Less website in continuing their mission of being THE Disney vacation planning resource?  You can do so by purchasing Aladdin from our affiliate link through Amazon.
Incoming search terms:
https://www themouseforless com/blog_world/movie-review-aladdin/
https://www themouseforless com/blog_world/movie-review-aladdin/#:~:text=Aladdins golden rule is to the gold makes the rules "
https://www themouseforless com/blog_world/movie-review-aladdin/#:~:text=Aladdins golden rule is to background was a bad decision