This post may contains affiliate links for your convenience. If you make a purchase after clicking a link we may earn a small commission but it won't cost you a penny more! Read our full disclosure policy here.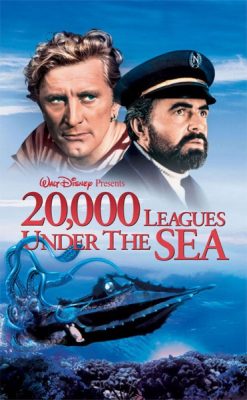 DVD Cover Copyright Disney
Based on Jules Verne's 1870 novel Twenty Thousand Leagues Under the Sea, Disney's 20,000 Leagues Under the Sea was theatrically released on December 23, 1954. The live action film is 127 minutes in length.
Plot Summary
In 1868 San Francisco, mariners are in a state of panic following the torpedoing of several vessels by an unidentified "sea monster." Coincidentally, during the height of the turmoil, a prominent Parisian academic, Professor Pierre Aronnax (Paul Lukas), is passing through San Francisco with his apprentice, Conseil (Peter Lorre). The duo's intended scientific voyage to Saigon is cancelled because of a crew desertion, but Aronnax accepts an offer by the United States government to sail aboard a government vessel, which will reach Saigon by a roundabout route, taken in hopes of locating the sea monster.
After nearly four months of fruitless sailing, a disgruntled Captain Farragut (Ted de Corsia) calls off the search and announces a direct sailing to Saigon. Hours after this call, however, the monster is not only located but experienced. Farragut's ship is torpedoed, and the trio of Aronnax, Conseil, and the upbeat harpoonist Ned Land (Kirk Douglas) are forced to take refuge in the monster…or at least in the monster's quarters: a scientifically-advanced submarine called the Nautilus, which is captained by the concurrently brilliant and evil Nemo (James Mason).
Nemo and his crew, repulsed by the ills of mankind, have constructed an utopian empire, centered on a deserted island, Vulcania, and fueled through the harnessing of the ocean and its resources. Most controversially, Nemo prides himself on destroying random warships, symbols of the world disowned by the captain.
At this point, Aronnax, Conseil, and Land diverge in their goals. While Professor Aronnax focuses on Nemo's genius and the potential that his innovations possess for the betterment of mankind, Land sees Nemo as a man of pure evil who cannot be bargained with; Conseil fluctuates in his leanings but tends to side with the more pragmatic Land. Nemo's innovations are indeed ingenious, but the captain exudes no interest in sharing his secrets with the larger world. So, is Land right? Is dealing with Nemo a lost cause, or can he be pacified for the good of humanity?
Production
20,000 Leagues Under the Sea was directed by Richard Fleischer, the son of one of Walt Disney's early competitors, Max Fleischer, who created Betty Boop, Popeye the Sailor, and other cartoon characters. Upon being asked by Disney to direct 20,000 Leagues Under the Sea, the younger Fleischer consulted with his father, who approved the idea and even enjoyed lunch with his son and Walt Disney at the Disney Studios in Burbank. (1)
The film's tropical scenes were filmed on location in the Bahamas and Jamaica. (2)
Marketing
Disney moderately marketed 20,000 Leagues Under the Sea prior to its release. The advertising campaign included radio spots; newspaper ads; theatrical trailers; clothing; toys; and an episode, "Operation Undersea," of ABC-TV's Disneyland show. The Disneyland episode was a one-hour behind-the-scenes look at the making of the film. (3) Related promotional toys and games released by Disney in 1954 included a pinball game, a trivia game with scientific questions, a coloring book, puzzles, and a diver costume. (4)
Cold War
20,000 Leagues Under the Sea exudes some Cold War undertones related to the nature of mankind. In running a repressive regime under the guise of humanitarian ideals, the actions of Nemo and his crew in the Nautilus parallel the cruel rigidity of the government of the Soviet Union.
Additionally, the common man is exalted at the expense of educated societal elites. Ned Land may be a layman, but his warranted distrust of Nemo and his individualistic endeavors to escape the Nautilus eventually triumph over Professor Aronnax's more idealistic plans to coax Nemo into sharing his discoveries with the world. (5) Land may not be brilliant, but he is practical, and practicality often trumps theoretical brilliance. Indeed, in the film's last scene, as Vulcania is exploding, Aronnax recognizes Land's wisdom, admitting, "Perhaps you did mankind a service Ned."
Action
Action scenes abound in 20,000 Leagues Under the Sea. Along the way, viewers witness naval battles, physical altercations among crewmen, a battle with an indigenous tribe on both land and water, an iconic battle with a giant squid, and the detonation of Vulcania. Unfortunately or otherwise for audiences, fried calamari is not included in the price of the film.
Music: Paul Smith, Hazel George, and Johann Sebastian Bach
The score of 20,000 Leagues Under the Sea was composed by Paul Smith, who was posthumously named a Disney Legend in 1994. Smith received eight Academy Award nominations over three decades with Disney and won an Oscar in the Best Original Score category for his work on Pinocchio (1940). (6) Smith appeared as a violinist in the live action orchestra in Fantasia (1940). (7)
Years later, another legendary Disney composer, Richard Sherman, recalled of Smith: "[He was] a sweet, gentle, quiet gentleman with great talent, cause he wrote so beautifully, but he wrote to service the film; he didn't write to service his own ego. Never were aware, oh, there's music going on, although it was going on, and it was wonderful because he made every scene come to life with his gentle magic." (8)
More specific to Smith's effort on 20,000 Leagues Under the Sea, Sherman said: "20,000 Leagues was one of his finest pieces of work. It was a majestic score. It had great scope. It went from the big, exploding feelings to the very subtle gentle things to scary things to eerie. He did a remarkable job on that film." (9)
On the intricacies of 20,000 Leagues Under the Sea's score, Composer Alexander Rannie expanded: "There are huge stretches of the film where it's nothing but Paul Smith's music and those amazing visuals. In 20,000 Leagues Under the Sea, Paul Smith makes enormous use of two basic musical ideas, and he varies each of them enumerable times throughout the course of the film. The first is 'Captain Nemo's Theme.' It was actually written to a piece of poetry that Hazel George, who was the studio nurse, [wrote], and you can see lyrics credited to 'Gil George.' That was her pseudonym at the studio. She wrote lyrics for a great number of his [Smith's] songs. Hazel George jotted down the phrase 'Deep is the mighty ocean,' and that became the basis for the theme that represents the ocean and the depths of Nemo's soul. He [Smith] modifies the oceanic Nemo theme for moments of attack. In order to achieve the underwater effect with the orchestra, Paul Smith used a combination of low strings, low woodwinds, up to five clarinets, piano, harp, gong, and bass marimba, an unusual addition to the orchestra. The second theme is the song Kirk Douglas sings. Paul Smith uses that theme whenever Ned is on screen or is like comedy, but it also represents Ned at his heroic when he saves Nemo." (10)
Of her efforts, Hazel George later said: "A lot of my words never materialize as anything except something to help Paul [Smith]. [While pondering music for 20,000 Leagues Under the Sea] he called me up and said 'see if you can write a poem or anything that might give me a kickoff on this.'" (11) Teamwork!
Music: Johann Sebastian Bach and James Mason
In one scene of 20,000 Leagues Under the Sea, Captain Nemo plays Johann Sebastian Bach's "Toccata and Fugue in D minor" on an organ. Although James Mason, the actor who portrayed Captain Nemo, did not know how to play the organ and a prerecorded version of "Toccata and Fugue in D minor" was inserted into the film, Mason managed to learn the requisite keyboard fingerings for the number, and he ably synchronized his hand motions with the tune. Mason achieved this endeavor so well, in fact, that a professional organist penned Director Richard Fleischer: "That's the best fingering I've ever seen of the Toccata and Fugue in D minor." (12)
Humor
Land's eccentric personality provides most of the film's comic relief. His musical interactions with the Nautilus's seals are priceless.
Relationship to Other Disney Films
20,000 Leagues Under the Sea was the first of five Disney films to win the Academy Award for Best Special Effects, now Best Visual Effects, preceding Mary Poppins (1964), Bedknobs and Broomsticks (1971), Who Framed Roger Rabbit (1988), and Pirates of the Caribbean: Dead Man's Chest (2006). (13)
Nemo is also the name of the young clownfish from Disney and Pixar's Finding Nemo (2003) and Finding Dory (2016).
The name of Ned Land's seal on the Nautilus, Esmeralda, is also the name of the female protagonist from The Hunchback of Notre Dame (1996).
A human also moves to an utopian environment, an uncharted volcanic island called Astragard, in The Island at the Top of the World (1974).
In the Parks
Respective submarine adventures based on 20,000 Leagues Under the Sea, "Submarine Voyage" and "20,000 Leagues Under the Sea: Submarine Voyage," operated in Tomorrowland at California's Disneyland Park from 1959 to 1998 and in Fantasyland at Walt Disney World's Magic Kingdom from 1971 to 1994. The former attraction was replaced with another submarine simulator, "Finding Nemo Submarine Voyage," in 2007, while the latter attraction occupied the current site of the "Seven Dwarfs Mine Train" roller coaster.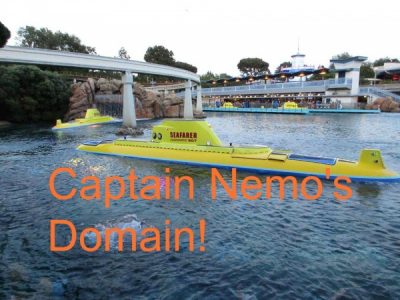 Photo Copyright Vikki Turner
"20,000 Leagues Under the Sea" currently operates in the Mysterious Island subsection of Tokyo Disneyland's Tokyo DisneySea park. Mysterious Island is based on Vulcania from 20,000 Leagues Under the Sea.
The organ played by Captain Nemo in 20,000 Leagues Under the Sea is preserved in the ballroom of Disneyland Park's "Haunted Mansion." (14)
Undersea exploration is the theme of "The Seas with Nemo and Friends" pavilion at Epcot. This pavilion, based on Finding Nemo, includes three interactive tours, "Dolphins in Depth," "DiveQuest," and "Aqua Tour." Reservations are recommended for these extra-cost experiences.
Overall
Seamlessly amalgamating intense action with equally intense periods of serenity, 20,000 Leagues Under the Sea is a classic that will likely hold your attention throughout its extended run time.
Notes
1) Smith, D. (2012). Live-Action Films. In Disney Trivia from the Vault: Secrets Revealed and Questions Answered (p. 129). New York: Disney Editions.
2) Ibid., p. 147.
3) Watts, S. (1997). Disney and the Culture Industry. The Magic Kingdom: Walt Disney and the American Way of Life (p. 371). Columbia, Missouri: University of Missouri Press.
4) "Movie Merchandise" [DVD]. (2003). United States: Disney. Approximately nine-minute segment featured on Disk 2 of 2003 Special Edition DVD release of 20,000 Leagues Under the Sea.
5) Watts, pp. 297-99.
6) "The Musical Legacy of Paul Smith" [DVD]. (2003). United States: Disney. Approximately 12-minute segment featured on Disk 2 of 2003 Special Edition DVD release of 20,000 Leagues Under the Sea, 0:24-0:29 (minutes and seconds into segment).
7) Ibid., 0:40-0:47.
8) Ibid., 0:48-1:06.
9) Ibid., 5:04-7:38.
10) Ibid., 5:22-5:29.
11) Ibid., 6:11-6:24.
12) Ibid., 8:48-9:26.
13) D. Smith, pp. 155-56.
14)  "The Musical Legacy of Paul Smith," 9:27-9:34; Savvas, G. (2014, December 17). The '20,000 Leagues Under the Sea' Connection to the Haunted Mansion at Disneyland Park. Retrieved October 12, 2016, from https://disneyparks.disney.go.com/blog/2014/12/the-20000-leagues-under-the-sea-connection-to-the-haunted-mansion-at-disneyland-park/
What do you think of 20,000 Leagues Under the Sea? Let me know in the comments!
Sponsored Ad:  Would you like to help support The Mouse For Less website in continuing their mission of being THE Disney vacation planning resource?  You can do so by purchasing 20,000 Leagues Under the Sea from our Affiliate Link through Amazon. Thanks so much for your support!
Incoming search terms:
30 000 leagues under the sea 2007 review blog