This post may contains affiliate links for your convenience. If you make a purchase after clicking a link we may earn a small commission but it won't cost you a penny more! Read our full disclosure policy here.

By Carol Garcia
It's that time again.  No, not a December holiday, but MouseFest!  This year, like last, my family and I made the trip to Walt Disney World for the annual gathering of Disney fans.  Although the purpose of our trip was to be a part of MouseFest, the great thing about all of these meets is that they are constantly going on, so it is possible to hit one, hit a few, or even more.  It can be the experience that fits you.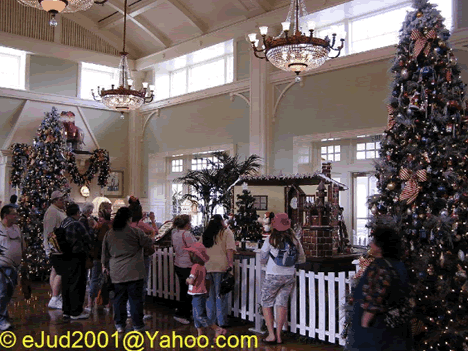 Everyone gathered to check out the Gingerbread House at the Boardwalk.
The first meet of our trip was TheMouseForLess Welcome Meet.  This was a tour of the Christmas decorations around the Epcot area resorts (except for the Caribbean Beach, which we couldn't walk to).  This was a great time to greet old friends and make some new ones.  What did I learn from this meet?  Well, going to Epcot and walking through to the Beach Club with three kids and only a Disney bus to get us there was not going to make this trip easy!  We arrived; albeit a bit late (you will notice a theme here!). We admired the decorations and gingerbread houses and shared in some amazing goody bags.  Some MouseFest attendees hesitate to bring the kids to meets, but I have to say that they were welcomed by everyone and really enjoyed the gingerbread house and train at the Boardwalk.
| | |
| --- | --- |
| The children were glowing before the fireworks started. | Although many of us went our separate ways after the meet, we would not be apart for long.  The next meet we attended was that evening, during Mickey's Very Merry Christmas Party.  There was a large meet of multiple groups in the Rose Garden to watch the Holiday Wishes fireworks display.  What did I learn from this meet?  The kids have no concept of time!  They were in the Magic Kingdom and didn't care if we were going to see the fireworks; they wanted to ride it's a small world. Why, you might ask?  Well, I'm not sure!  But we did ride, and we did find some friendly faces before the fireworks started.  And what kid wouldn't love to attend a meet where adults readily give up their glow sticks and some kind soul passes out glowing Mickey Mouse lollipops.  It did briefly cross my mind that perhaps sticking a candy-coated light in their mouths wasn't the best idea, but hey, they were happy!  And anyone with kids knows that happy kids make for a more pleasant viewing of Wishes. |
There were quite a few people in the Rose Garden.  It was difficult to distinguish which group each person was affiliated with.  It didn't matter, as we were all having fun, but it does sometime make it difficult to realize that sometimes you already know that stranger next to you.  The fact that we were all in sweatshirts (and some in hats and gloves) doesn't make it easy to read name tags.  It was fun to see how many people we could jam into the Rose Garden, and although the view wasn't perfect, it was still breathtaking.
After a long night at Mickey's Very Merry Christmas Party, it was time to sleep in the next morning, right?  Well, maybe for some, but not this MouseFester (oooh, a new word)!  I got up and to the Animal Kingdom bus stop at my resort in plenty of time, but, alas, the bus gods were again not smiling on me (or the 50 other people wanted to get to Animal Kingdom.)
| | |
| --- | --- |
| When I finally did get on the bus and get into the park, I was running late for the Kilimanjaro Safari Meet that I was hoping to catch.  There were over 100 people who rode the Safari together.  I did miss the throngs gathering, although I heard about it via cell phone as I was entering the park.  It was a very cool morning, and, as a normal summer Florida traveler, I wanted to see how many animals were in view when it wasn't 95 degrees out, so I jumped in the stand-by line.  Well, the advantage to being at a meet with so many attendees is that the end of the group was actually just getting on the safari when I made my way to the jeep.  Although the two-week journey was still cut short by poachers, the number of animals who were wandering about made the whole thing worth it.  And I discovered that I could ride "by myself"(with no family or friends) and not spontaneously combust.  What did I learn on this meet?  You know the drill by now: Disney transportation and getting to a meet on time do not seem to mix well. | Animals, animals everywhere on the safari. |
After my Safari, I caught up with TheMouseForLess group and we all headed over to Expedition Everest for our meet.  This was a wonderful mix of people from all groups who had grabbed FastPasses before the Safari and were ready to face the Yeti.  We got some added pixie dust on this one, especially me, the perpetually late attendee.  The earliest FastPass time for our group was 10:20, so they let our entire group into the FastPass line at that time, as long as we had FastPasses.  This worked really well as mine wasn't good until 11:40 and I feared I would never get to ride (I have actually been through the queue twice on previous trips, but a kid always chickened out and I never actually rode the ride).
Well, my apologies to those in the stand-by line, but it was great to get all 45 of us on the ride together, and I got to ride!  A wonderful fellow MouseFester even took pity on me, being roller coaster challenged, and rode with me to ensure that I was safe and knew someone as I had my panic attack.  Well, the protection was probably unnecessary, as I survived without incident and actually liked it.  It was the smoothest coaster I've ever been on (though the list of coasters I've been on is admittedly rather short). I really enjoyed it and would ride again (shhh…don't tell anyone.  I have a petrified reputation to keep up!)
After the ride, we chatted with some Podcasters, and it was off to Nemo: The Musical.  Now, I seem to remember that this was actually supposed to be a meet, but our group never found any other MouseFesters.  No matter.  We were actually seeing an attraction before official opening!  And what a show this was!  It was honestly a bit longer than I expected, but it was fascinating.  The performers hold puppets (some of them quite large) and act out the story.  It is a bit like The Lion King on Broadway, if you've seen that.  For some reason, I noticed the actors' faces more, but I think that is the intention.  It is very entertaining and has some funny parts.  Only half way through did I remember, though, that Nemo didn't start out as a musical.  It sure does adapt well to one.
After a brief lunch with some friends who I hadn't even met before the last MouseFest, it was time for a nice rest.  Honestly, sometimes this is one of the highlights of a busy vacation: a little afternoon nap.  But, not too much time for napping, because there is yet another meet to attend (hmmmm, I'm starting to realize why I was tired when I got home).
Perhaps I didn't mention this before, but it was cold in Florida.  Yes, I'm from a northern state, and it was frigid when I left for Florida, but 50 degrees in Florida isn't what I expected.  Well, on this cold Florida day, what better way to spend an even colder Florida night than on a Fireworks Cruise?  Ah, the sacrifices I make for an article!
| | |
| --- | --- |
| We gather by the tree before getting on the boats. | We met at the Wilderness Lodge lobby to get to know each other, get boat assignments, and check for hats, gloves and other warm clothing.  There were 40 of us attending, and I have to point out, I wasn't the 40th person to arrive this time!  OK, I was staying here, but still, I wasn't late! |
We made our way out to the boat docks, another fabulous goodie bag in hand, and tried to get used to the temperature (impossible!).   After we had a sufficient number of glow sticks passed out and the boats were ready, we made our way on the Alaskan, er, I mean Wishes Cruise.  On our way to the viewing area, our driver chatted about Disney and gave us some trivia.  In spite of the cold, it was a wonderful time.  And then we stopped, right before the fireworks began.  I don't even think we noticed the cold!  This was the special Holiday Wishes we were seeing and it was amazing.  Since we were on a premium cruise, the music was piped into the boat, so we had the ultimate fireworks experience.  And afterward, our driver used all necessary speed to get us back to the warmth of the Lodge.
| | |
| --- | --- |
| The next day was Saturday, and that means the big event: the Mega Meet.  This is a trade show of sorts for all of those websites, book authors, podcasters, travel agents and anyone else you can think of using when talking Disney.  The greatest part (other than I seemed to have broken my late streak)?  When you register, you get a bag to fill with lots of freebies from the various vendors at the Meet, plus you get a raffle ticket that enters you into a drawing for some truly great prizes. There was also a nice kiddie area when the children could color and do crafts while the grown ups met friends, old and new.  If you want to meet all of those names you see splashed around Disney fan websites, this is the place to go!  And attendees are encouraged to list the community (or communities) they frequent, so it's easier to spot those friends you've never met face to face! | Binnie with a drawing winner! |
Well, there were quite a few fun meets scheduled for after the Mega Meet, but it was time to spend some quality family time.  I mention this because there are a few noteworthy things to mention.  First, it was ridiculously crowded this weekend.  Isn't it supposed to be the slow season?  It doesn't seem so.  Second, we were able to see the new and improved Osborne Lights.  Although they look similar to last year (they are all on New York Street), they do something new: dance!  It's a bit like standing in the middle of one of those emails that go around, showing people's Christmas decorations set to music.  There are lights and music and it is just amazing to see.  Finally we walked (yes, walked, we'd had it with Disney transportation and did I mention that the place is crowded?), over to Epcot.  We settled into a bench by the Lights of Winter (one of my favorite things: I could sit there for hours) and suddenly heard some cheering.  We turned to see the Space Shuttle lifting off through the night sky!  What a truly amazing experience.  Even above the music and noise, we could actually hear it, too.  Being at Disney, seeing that, it was just something that no amount of planning or research could create.  It was magic!
| | |
| --- | --- |
| We gather for one last meet. | The next day was departure day.  We were able to squeeze in one more meet before leaving (one that I was co-hosting, so it was good I made it).  During our Penny Saving Adventure, we played some games, answered some trivia, got some great prizes and goodie bags (I just love these goodie bags we've been collecting) and shared some money saving tips.  It was a great way to end our MouseFest experience. |
Although I missed the meet that TheMouseForLess sponsored at Give Kids the World, I was able to catch almost everything else I had hoped to see.   I've heard that the Give Kids the World meet was another great experience and something I hope to be able to do next year.
So, there were lessons learned, fun times shared and friendships made.  It was a great experience and something that my family and I hope to repeat for years to come.
To see more photos and to see a complete list of meets, visit the MouseFest website or the information on TheMouseForLess website.