This post may contains affiliate links for your convenience. If you make a purchase after clicking a link we may earn a small commission but it won't cost you a penny more! Read our full disclosure policy here.
From Our Magically Speaking Newsletter Archive – subscribe today!
By Erica Colmenares

Are you busily planning your December vacation to Walt Disney World? There's so much to do at Disney World during this holiday period- touring the resorts to see the Christmas splendor, fitting in Mickey's Very Merry Christmas Party, and choosing the perfect narrator for Candlelight Processional at Epcot. If your travel dates fall between December 7 and 12, you should also consider making time to meet your on-line friends at MouseFest! Huh? MouseFest?  What exactly is MouseFest?
Briefly, MouseFest's origins are in gatherings in the mid-90s of subscribers of the rec.arts.disney.parks newsgroup (RADP). This community held regional meets as well as annual gatherings at Walt Disney World. In 2003, the term "MouseFest" was coined and is now the official moniker for the largest annual gathering of Disney-related Internet communities, travel experts and authors. MouseFest alternates between the first and second week of December, and is preceded or proceeded by a Disney Cruise Line cruise.
This year, MouseFest is officially from December 3-12, starting with a cruise on the Disney Wonder from December 3-7, followed by the Walt Disney World events from December 7-12. The December 9 MegaMouse Meet is your opportunity to meet authors like Jennifer and Dave Marx of Passporter fame and Deb Wills from Allears.net, or exchange trivia with Lou Mongello, author of The Walt Disney World Trivia Book. TheMouseforLess's "List Mom" Binnie Betten will be attending, as well as Carol Garcia (editor of this newsletter!).
The Walt Disney World portion of MouseFest is organized by park- each day has a Park of the Day, where the majority of that day's meets will be held. For 2006, the Parks of the Day are:
Thursday 12/7– Magic Kingdom
Friday 12/8- Animal Kingdom(morning)/Disney-MGM Studios (afternoon/evening)
Saturday 12/9- Epcot
Sunday 12/10- Magic Kingdom
Monday 12/11- Disney-MGM Studios
Now that you've got the nitty gritty info, what else do you need to know? Well, there are some frequently asked questions we should address. First, Can I afford to add all these meets to my budget? This one is easy. Most of the meets cost nothing. Yep, zip! People meet to ride big attractions together, or to find Hidden Mickeys, that kind of thing. Any costs are clearly identified up front, like for the Wishes Fireworks cruise.
What if my family isn't interested in meets? My husband certainly wasn't interested, so I decided to pick meets carefully. I attended a few meets "solo," while my husband and son toured a park. My son joined me for another meet while his dad went and got a massage (lucky duck!). Our editor, Carol, dragged her husband to Florida just for MouseFest.  Normally, meets aren't a part of their vacations and her family doesn't get as interested in meeting people she knows online.  But they quickly found out that this isn't work to attend the meetings.  They were welcomed, even the husband who doesn't spend hours a day talking about the Mouse.  (By the way, her husband now plans on attending MouseFest again this December- success!)
Will my child be welcome? My son had a ball during the meet he attended; there weren't many kids, but those who came were welcomed, even pampered! As we all know, Disney World is kid-friendly, and so are the vast majority of the MouseFest meets.
What if no one talks to me? This is one friendly group of people. At my first meet, I was made to feel right at home. Couples attended, as did single folks, younger adults as well as older, parents, grandparents, and people without kids. Everyone fit in.
Can you give me some examples of the kinds of "meets" normally held? I thought you'd never ask. Every year there are new choices and old favorites. One group may sponsor a meet at the Magic Kingdom for Dole Whips, or at the Disney-MGM Studios for a Tower of Terror ride. I attended a handful of meets last year, and heard about others. Read on for more details!

The tree at the Grand Floridian started our visit out beautifully.
TheMouseforLess.com sponsored a Welcome Meet on the first day of MouseFest. We gathered at the Contemporary Resort with a goal of seeing the decorative holiday highlights of all three monorail resorts. Hostess Joyce gave all attendees original handmade tags, sporting our names in letter beads and a handsome Mickey Mouse. At the Contemporary, we spotted hidden Mickeys in the holiday workshop, then we hopped on the monorail to the Poly where we were so busy chatting we forgot to look at gingerbread long house, complete with encircling monorail. The Grand Floridian wowed us all with just how elegant and beautiful a hotel can be. The life-sized gingerbread house looked and smelled amazing. Everyone left this meet much better-acquainted, and in the holiday mood.  For lots of photos, see: https://www.themouseforless.com/community/mflfest/welcomemeet.shtml
I asked a number of the attendees of the Wishes Fireworks Cruise meet how it went. Cold seemed to be the operative word, followed by beautiful, fun and cold.   The cruise left from the docks of the Wilderness Lodge, which is a treat in itself to visit during the holidays.  Once on the boat and covered up in an appropriate amount of blankets, they were off on a jaunt around Bay Lake.  Then they stopped in front of the Magic Kingdom.  The music from Wishes was piped in so they could hear the whole thing along with see the fireworks from an amazing vantage point.  What a great way to spend an evening with new and old friends – and not have to fight the crowds after the fireworks! For photos and more details: https://www.themouseforless.com/community/mflfest/FireworksCruise.shtml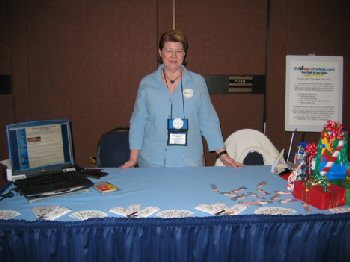 Binnie, TheMouseForLess list/site founder at the table before the crowds arrived
Saturday afternoon was the biggest meet of them all – the Mega Mouse Meet.  Here, gathered in a large meeting room in the Dolphin hotel, are people from all over the Disney community.  There are guidebook authors and webmasters.  Even the woman from whom the original Tinkerbell was modeled attended and signed autographs.  There is pin trading, an area for the kids to hang out and do crafts, and lots of giveaways.  As with all of the meets, everyone is friendly and lots of hugs were given and pictures taken.  This is the place where the most online communities gather at once, so if you want to meet and greet a diverse group of Disneyphiles, this is the place.  Other meets may be more intimate, but this one is the place to see everyone together.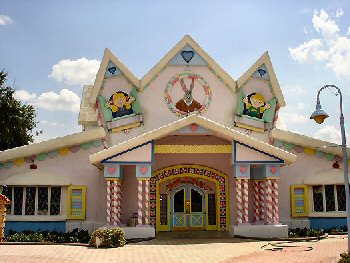 This is the Gingerbread House at GKTW. Meals here are provided by Perkins. In 1989 the house cost $600,000 to build. This was all raised by donations. Staffed by 16 full and part-time Perkins employees, breakfast, lunch and dinner are served.
It's hard to top the Mega Mouse Meet, but the Give Kids the World meet that followed may have managed it. Give Kids The World (GKTW) Village is a non-profit resort that creates magical memories for children with life-threatening illnesses and their families. Wish-granting organizations (like Make A Wish) coordinate transportation to Orlando, then GKTW provides accommodations at its whimsical resort, with donated attractions tickets, and meals for a week-long fantasy vacation. Mike Corbo from The Magic for Less Travel described the meet in glowing terms: "I just returned from our GKTW MouseFest Meet, which was a tour of the village, with our very own Beccy, her 3 wonderful sons (my new best buds in Florida, hey guys!) and several others from the MouseforLess list. Words and pictures really cannot describe it. The looks on the faces of the children as Beccy's son Michael was handing out the gift bags that our very own Wendy made and Beccy filled with donations from the list was just amazing.  The facilities they have available, if I were a 'wish child,' would make me never ever want to leave.  It's amazing what they do there for such deserving children and their families." For more information and photos of GKTW, see https://www.themouseforless.com/community/givekidstheworld.shtml and https://www.themouseforless.com/community/photoessays/GKTW.shtml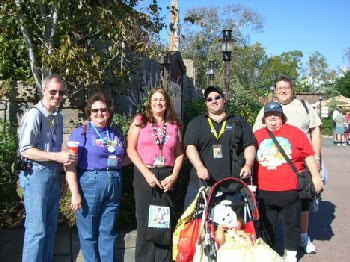 Eat and Drink Around the World Meet Attendees (left to right) James, Linda, Linda B., Nathan, Grace, Mike and little Victoria not in picture – Linda S.
Sunday saw a group of adventurers at Epcot's World Showcase, for the Eat and Drink Around the World Meet. No one could remember what they did. Just kidding, as eating figured more centrally than drinking during this meet which took MouseFesters around Epcot's World Showcase. Organizer Grace summed it up succinctly: "Drinks good, food great, very happy."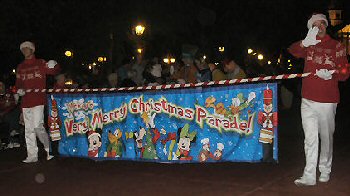 The banner, leading the parade.
Sunday night's host, Heather, went all out for the Mickey's Very Merry Christmas Party Meet at the Magic Kingdom, bringing holiday gifts for all attendees. Partygoers watched the second showing of Mickey's Very Merry Christmas parade. Everyone ate cookies, drank hot chocolate, and enjoyed those cute marching toy soldiers.
The meets described above are just a small fraction of the whole event. The organizers of MouseFest create a pocket guide of all of the activities sponsored by all of the groups.  I'll use the term "pocket guide" loosely, because you would need big pockets to fit it.  There are just that many activities.  The great thing, though, is that you can decide what you attend.  Some make the trip to Walt Disney World just for MouseFest and try to attend as many meets as possible. Some just try to include one meet into the plans they already have for their trip.  And some, like me, do a mix of the two.  Participants can attend almost any event, whether they are members of a particular community or not.  Some events were a small extra cost; some were in the parks and some in the resorts.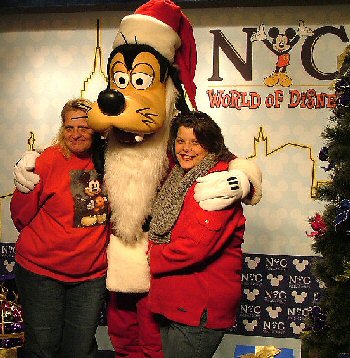 Posing with Goofy in New York City
For those of you who are sulking a bit right now, knowing that a December trip to WDW is not in the cards, maybe World Day is for you! Mouseforless.com members from all over the world are meeting up on December 9. So far, there are meets planned in the Boston, New York City, the Quad Cities, IL, in New Hampshire, Oklahoma and even at the Disneyland Resort in Paris! Join a meet already planned- or add one of your own in your neck of the woods! Here are some photos and reports from last year's World Day meets all over the globe:
https://www.themouseforless.com/community/mflfest/WorldDayPictures.shtml
For more information on World Day, see:
https://www.themouseforless.com/community/mflmeet/world-day-2006.shtml
Looking ahead, in case you can't make MouseFest this year, the MouseFest committee already has dates for MouseFest chosen through 2010! For the uberplanners among us, here are those dates:
2007: 4 Night Wonder Cruise December 2-6; December 6-10 Land Events; December 8 MegaMouseMeet
2008: 4 Night Wonder Cruise December 7-11; December 11-15 Land Events; December 13 MegaMouseMeet
2009: 4 Night Wonder Cruise December 6-10; December 10-14 Land Events; December 12 MegaMouseMeet
2010: 4 Night Wonder Cruise December 5-9; December 9-13 Land Events; December 11 MegaMouseMeet
MouseFest is a great time to meet people of similar interests (Disney). It brings the whole online Disney community together.  If you are at all thinking of attending in 2006, be assured that you will have a great time.  You and other participants may walk into a meet as strangers, but you will always leave friends.
If You Go:
For more information on the scheduled events, see these sites (please note that these pages will be updated in the coming weeks with specific meet events and times):
http://themouseforless.com/community/mflmeet/mouseforlessfest.shtml
http://mousefest.org/
Magically Speaking Featured Article
Library of Congress ISSN:1556-3863