This post may contains affiliate links for your convenience. If you make a purchase after clicking a link we may earn a small commission but it won't cost you a penny more! Read our full disclosure policy here.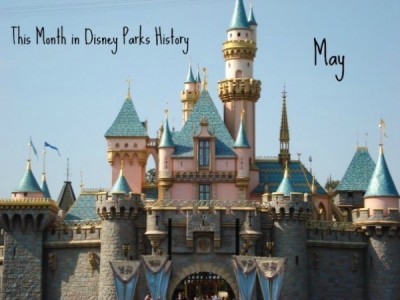 May brings us the beginnings of summer, as with such many openings in Disney Parks history, including Disney's-MGM Studios, Fantasmic!, and the lovable It's A Small World. May is also the month in which Disney kicked off its 50th Anniversary celebration back in 2005. I was lucky enough to be there for it, and it is definitely a memorable day!
May 1, 1977 – The Empress Lilly riverboat is christened, by Lillian Disney (Walt Disney's widow). The river boat sits in Lake Buena Vista, in the Walt Disney World Village. It was one of the first restaurants to have a "Character Breakfast".
May 1, 1989 – The Disney-MGM Studios Theme Park (now Disney's Hollywood Studios) opens to the public at Walt Disney World. Entrance prices are $29 for adults and $23 for children (aged 3-9).
May 4, 2004 – The Twilight Zone Tower of Terror attraction opens at Disney's California Adventure at the Disneyland Resort.
May 5, 2005 – Disneyland begins an 18-month-long anniversary celebration of its 50th birthday. As part of this, the film Disneyland: The First 50 Magical Years is released in the Opera House on Main Street at Disneyland. (I was actually in the park that day, and it was a blast!!)
May 6, 1988 – The Norway pavilion opens in World Showcase in EPCOT Center at Walt Disney World. Its official "grand opening", however, did not occur until June of the same year.
May 13, 1992 – Fantasmic! show debuts in Frontierland on the Rivers Of America at Disneyland.
May 16, 1991 – The Jim Henson's MuppetVision 3-D attraction opens at the Disney-MGM Studios (Disney's Hollywood Studios) at Walt Disney World.
May 17, 1991 – Disney's Port Orleans Resort hotel opens at Walt Disney World. It originally had 432 rooms but very quickly expanded to 1,008 as construction completed.
May 20, 1973 – Tom Sawyer Island opens in Frontierland in the Magic Kingdom at Walt Disney World.
May 25, 1990 – The Here Come the Muppets show opens at the Disney-MGM (Disney's Hollywood Studios) Studios at Walt Disney World.
May 28, 1960 – The "Western Mine Train Through Nature's Wonderland" attraction (previously the "Rainbow Caverns Mine Train") opens in Frontierland at Disneyland.
May 28, 1966 – "It's a Small World" opens in Fantasyland at Disneyland (and we have been singing the song ever since).
May 30, 1967 – Groundbreaking occurs in Florida for the construction of Walt Disney World.