This post may contains affiliate links for your convenience. If you make a purchase after clicking a link we may earn a small commission but it won't cost you a penny more! Read our full disclosure policy here.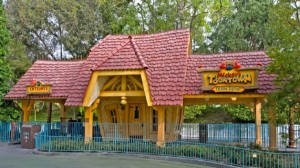 A New Year is upon us, and along with looking toward the future, we can also look back at what has come and gone during the month of January in Disney Parks History. January has had its fair share of ride/attraction closings, but it also brought us the openings of Mickey's Toontown and the Downtown Disney area at Disneyland! Enjoy this look back at Disney Parks in January!
January 1, 1973 – The original "Great Moments with Mr. Lincoln" closes on Main Street in Disneyland. (This attraction would later reopen and has gone through several changes over the years).
January 2, 1996 – "The World of Motion" ride in Future World at EPCOT closes. This is now the current location of the "Test Track".
January 2, 2001 – The Grand Californian Hotel opens as part of the newly expanded Disneyland Resort. It currently has 1,019 rooms and 44 suites. It also boasts its own park entrance for Disney California Adventure.
January 3, 1994 – The "Kitchen Kaberet" show in The Land Pavilion at EPCOT closes. It was a 13-minute audio-animatronics show focused on healthy eating.
January 6, 1997 – The "Rocket Jets" ride in Tomorrowland at Disneyland closes.
January 7, 1992 – "The Voyage of the Little Mermaid" a live action and puppetry stage show opens at Disney's Hollywood Studios.
January 8, 1962 – The Chicken Plantation Restaurant located in Frontierland at Disneyland closes. The building is torn down to make room for the building of New Orleans Square.
January 8, 1981 – Gert Schelvis is welcomed at Disneyland's 200-millionth guest.
January 9, 1987 – "Star Tours" officially opens in Tomorrowland at Disneyland. It was the first attraction that was based on a non-Disney produced film.
January 11, 1990 – As part of Disneyland's 35th Anniversary celebration, the "Party Gras Parade" begins running.
January 12, 2001 – Downtown Disney (a "shoppertainment" center) opens at the Disneyland Resort in California. Shops/restaurants open at the time: Café Catal Restaurant, La Brea Bakery, The Naples Ristorante and Pizzeria, The Rainforest Café, ESPN Zone, The Ralph Brennan's Jazz Kitchen restaurant, The Y Arriba Y Arriba restaurant, and The House of Blues nightclub.
January 12, 2003 – The official ground breaking ceremony is held for Hong Kong Disneyland.
January 13, 1990 – The Walt Disney World Swan resort hotel opens in Walt Disney World.
January 15, 1970 – The "Legacy of Walt Disney" exhibit opens on Main Street U.S.A. at Disneyland. It features various awards of memorabilia of Walt Disney.
January 15, 1975 – "Space Mountain" opens in the Magic Kingdom at Walt Disney World.
January 15, 1986 – "The Living Seas" attraction opens in Future World at Epcot.
January 15, 1990 – Michael Eisner (then-CEO of Disney) announces plans to expand Walt Disney World, with the addition of a fourth park sometime within the decade.
January 15, 1999 – The All-Star Movies resort hotel opens in Walt Disney World.
January 18, 1958 – The Ken-L Land Pet Motel (sponsored by Ken-L Ration Dog Foods) opens at Disneyland.
January 21, 1956 – The American Dairy Association exhibit and the "Dairy Bar" food location opens in Tomorrowland at Disneyland. The exhibit featured possible future technology to be used in the production and distribution of dairy products, one display even showed the "milkman of tomorrow" who travelled around in a helicopter style flying contraption.
January 24, 1993 – Mickey's Toontown opens in Disneyland. Attractions include: Mickey's House, Minnie's House, Daisy's Diner, Acorn Ball Crawl, Gaget's Go Coaster, Jolly Trolley ride, Donald's Boat, the Gag Factory, Pluto's Dog House, Goofy's Bounce House, Goofy's Gas Station, Chip & Dale's Tree House, and the Five & Dime shop.
January 26, 1994 – "Rodger Rabbit's Car Toon Spin" ride opens in Mickey's Toontown at Disneyland.
January 26, 2011 – The Disney Dream cruise ship begins its maiden voyage, leaving Port Canaveral, Florida.
January 27, 1996 – The "Toy Story Funhouse" opens in Tomorrowland at Disneyland. It was a temporary attraction that closed before the summer of that same year.
January 28, 1982 – Wally Boag gives his last performance in the "Golden Horseshoe Review" at Disneyland. He is estimated to have given between 39,000 and 40,000 performances with the show.
January 31, 1994 – "Future World" (Communicore West) and "Energy Exchange" (Communicore East) both close in Future World at Epcot.
Incoming search terms:
disney history january
https://www themouseforless com/blog_world/month-disney-parks-history-january/