This post may contains affiliate links for your convenience. If you make a purchase after clicking a link we may earn a small commission but it won't cost you a penny more! Read our full disclosure policy here.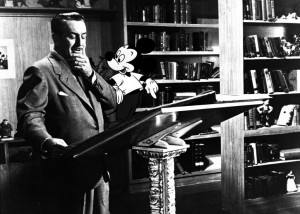 December brings us some exciting Park History moments, as well as the birth (in 1901) and sadly the death (in 1966) of Walt Disney. Walt's brother Roy O. Disney also passed in December of 1971, just months after he dedicated Walt Disney World.
December 2, 1984 – 20-year old Margarita Granados goes into labor while waiting for her husband and 2 sons to ride Space Mountain. Two park nurses assist in the delivery of her baby girl.
December 5, 1985 – The Skyfest Celebration salute to Disneyland is held in Anaheim, California. One million helium balloons are released over Disneyland, setting a world record.
December 5, 1901 – Walter Elias Disney is born at 1249 Tripp Avenue, in Chicago, Illinois, to parents Elias and Flora Disney.  The address was later changed to 2156 North Tripp Avenue.
December 9, 2011 – At the Meyer Werft shipyard in Germany, several water valves are left open (due to possible vandalism) on the Disney Fantasy cruise ship, under construction. Damage totaling about 1 million Euros is caused to about 40 cabins.
December 10, 1993 – The Living with the Land (formerly Listen to the Land) boat ride re-opens in The Land pavilion in Epcot Center.
December 12 (or 13th), 1989 – Disneyland raises entrance gate prices by $2 to $25.50 for adults and $20.50 for children (this is one part of the '80s that I wouldn't mind making a comeback).
December 15, 1958 – The Junior Autopia attraction at Disneyland closes for major remodeling; it would open a year later as the Fantasyland Autopia.
December 15, 1966 – At 9:30 AM in St. Joseph's Hospital, Walt Disney dies of acute circulatory collapse, caused by lung cancer, at age 65. He had won 32 Oscars and seven Emmys, and hundreds of other awards and honors worldwide. Following his death, his brother, Roy O. Disney, requests that Disney World (then in development) be renamed Walt Disney World to honor Walt's memory.
December 15, 1973 – The Pirates of the Caribbean attraction opens in Adventureland in the Magic Kingdom at Walt Disney World.
December 15, 1985 – Michael Eisner and French Prime Minister Laurent Fabius sign a letter of intent to build a Disney theme park twenty miles east of Paris, France.
December 18, 1994 – The Golden Horseshoe Jamboree closes at Disneyland.
December 20, 1971 – Roy Oliver Disney dies of a massive brain hemorrhage, at age 78. Roy became the first CEO of Walt Disney Productions in 1929 (although the official title was not given until 1968). He oversaw much of the construction of Walt Disney World and dedicated the park just months prior to his death.
December 21, 1958 – Disneyland debuts The Candlelight Procession and Massed Choir Ceremony.
December 25, 1955 – The Mike Fink Keel Boats attraction opens in Frontierland at Disneyland.
December 25, 1983 – The ABC TV network airs Walt Disney World's Very Merry Christmas Parade for the first time.
December 31, 1957 – Disneyland welcomes its 10-millionth guest, 5-year-old Leigh Woolfenden.
December 31, 1957 – The first New Year's Eve Party is held in Disneyland, with 7500 attending.
Incoming search terms:
disney history for december
december disney history