This post may contains affiliate links for your convenience. If you make a purchase after clicking a link we may earn a small commission but it won't cost you a penny more! Read our full disclosure policy here.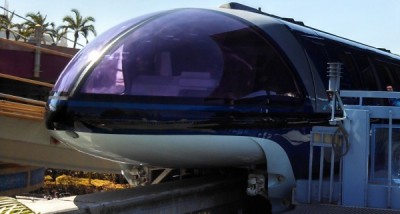 April is a very big month for the Disney Parks. Three new parks opened in the month of April: Tokyo Disneyland in 1983, EuroDisney (now known as Disneyland Paris) in 1992, and Disney's Animal Kingdom in 1998. April also brought us the opening (1957) and later closing (1966) of the Midget Autopia attraction in Disneyland. Fun Fact: after its closing it was sent to Walt Disney's hometown of Marceline, Missouri and operated in the Walt Disney Municipal Park, until cost and maintenance issues forced closure. One of the cars is still on display in the Walt Disney Childhood Museum, and there has been some recently announced plans for it to be rebuilt next to the Museum. There is also another car that has been bronzed and is on display in Disneyland in the current Autopia attraction. Here are some more April Parks History moments:
April 1, 1974 – Pioneer Hall officially opens at Fort Wilderness at Walt Disney World. It is built using 1,283 hand-fitted pine logs and 70 tons of stone.
April 1, 1995 – The Blizzard Beach Water Park opens at Walt Disney World. It is the third water Park at WDW and is the second most visited.
April 2, 1984 – Tokyo Disneyland welcomes its 10-millionth guest through the gates.
April 7, 2006 – Expedition Everest opens in Disney's Animal Kingdom at Walt Disney World. It was the first Disney roller coaster to switch directions (backwards and forwards) during a single ride, and it is also the tallest artificial mountain worldwide.
April 8, 1974 – The Treasure Island Nature Preserve opens in Walt Disney World near Disney's Wilderness Lodge Resort, was home to many exotic animals, and had one of the world's largest aviaries. It became Discovery Island on April 8, 1977 and was closed on April 8, 1999.
April 8, 2006, The Buzz Lightyear Laser Blast ride opens in Discoveryland at Disneyland Paris.
April 10, 1961 – The Monorail at Disneyland is temporarily shut down to complete an expansion that connects the park to the Disneyland Hotel. This allowed guests to go straight from their hotel to Tomorrowland inside the park, a definite perk to staying at the Disneyland Hotel! It also made the Monorail more of a mass transit system that it was originally imagined to be, as opposed to just a ride.
April 10, 1988 – The America Sings attraction in Tomorrowland at Disneyland closes. Several of its characters were moved to Splash Mountain, and the building was used as office space for a few years, until the arrival of the Innoventions attraction in the location.
April 12, 1992 – Euro Disney (currently named Disneyland Paris) officially opens in in Marne-la-Vallée located 32 km (20 mi) east of the centre of Paris. The resort opens with 29 attractions, in 5 themed lands and 6 hotels. Initial attendance was less than half of what was expected and remained low until summer of 1995, when new rides and attractions helped boost popularity.
April 15, 1983 – Tokyo Disneyland Park opens in Urayasu, Chiba, Japan, near Tokyo. It was the first Disney Park outside of the United States. It covers 115 acres and total cost to build was around 180 billion yen, almost double the original estimate.
April 16, 2001 – Disney's Animal Kingdom Lodge opens at Walt Disney World.
April 22, 1990 – Mickey's Birthdayland in the Magic Kingdom at Walt Disney World closes.
April 22, 1998 – Disney's Animal Kingdom Park opens at Walt Disney World. It is the second largest theme park worldwide and the largest single Disney Park covering 500 acres.
April 29, 1957 – The Sleeping Beauty Castle in Disneyland is opened for walk-throughs by Walt Disney.
Did you have any special Disney Parks moments this month?