This post may contains affiliate links for your convenience. If you make a purchase after clicking a link we may earn a small commission but it won't cost you a penny more! Read our full disclosure policy here.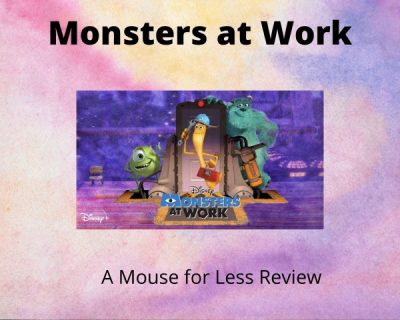 Currently streaming on Disney +
Picture this: You are a monster in Monstropolis who has been dreaming all your life of becoming a top scarer. You attend university, get your degree, and apply to be a scarer. And your dreams come true! You are accepted into the program at Monsters Inc.!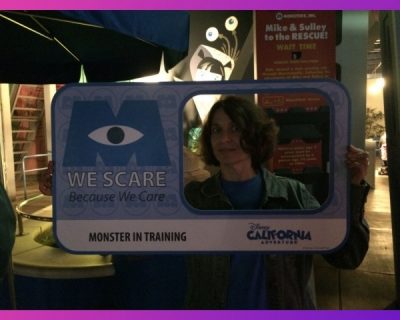 The author at California Adventure
And then, overnight, Monsters Inc. is no longer in the business of scaring, but of eliciting laughter from children. What do you do?

Monsters at Work is a new series now streaming on Disney + that explores this very idea. Billy Crystal and John Goodman reprise their roles as Mike Wazowksi and James P. "Sully" Sullivan, the two famous monsters who uncovered corruption at the aforementioned company. Tylor Tuskmon, the brand-new scarer who is forced to reevaluate his career choices, is played by Ben Feldman.
Monsters Inc.: Mike and Sully to the Rescue, California Adventure
The animation on this show is not as sophisticated and beautiful as the work done on Pixar's full-length features, but it's still a cut above what you would find in a typical children's cartoon. The score was written by Domonic Lewis, but includes many of the jazz themes written by Randy Newman. In particular, the opening credits theme is very appealing. Lewis recorded an a cappella version of the Monsters, Inc. theme song "If I Didn't Have You," providing all the voice tracks himself.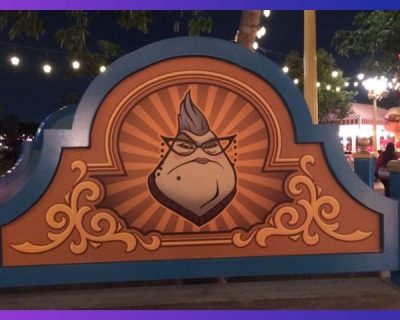 Bench in Pixar Pier, California Adventure
I watched the first two episodes of the show with my family to see what we thought. In general we found the show fun and entertaining. The humor you would expect from a show about monsters who are struggling to adjust to their new reality made us laugh several times. The plot is gentle, easy to follow and very family-friendly.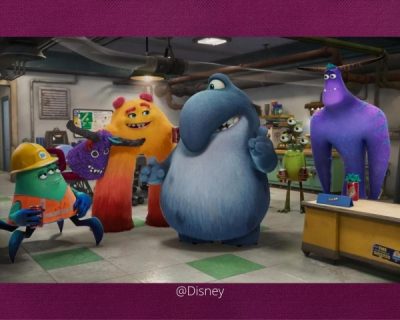 Meet the new monsters of Monsters at Work!
The character design on the new characters is quite good. You'd think that eventually the creators would run out of fresh ideas for monsters, but each new one we're introduced to has a physical quirk to match their personality. For example, Fritz, voiced by Henry Winkler, is large, round, cuddly and has a drooping nose.  This design perfectly fits the character's bubbly, warm personality. Val, voiced by Mindy Kaling, has a short, squat body and long, fuzzy legs, with bright, wide open eyes that communicate her enthusiasm for her work.

I found the show fun and appealing, but certainly not something I felt the need to sit down and binge. This show is definitely aimed at the younger set, and any kids that enjoyed Monsters, Inc. and Monsters University should be delighted to see their old favorites plus some newcomers in this series.

Monsters at Work is rated TV-G.
Have you caught Monsters at Work? What were your thoughts? Let us know in the comments or on Facebook or Twitter!
Did you like this article? Make sure to share it with your friends! Check below for easy ways to share!  
Want to visit a Disney Destination? Contact The Magic for Less Travel for more information and a free, no-obligation quote.