This post may contains affiliate links for your convenience. If you make a purchase after clicking a link we may earn a small commission but it won't cost you a penny more! Read our full disclosure policy here.
By Bret Caldwell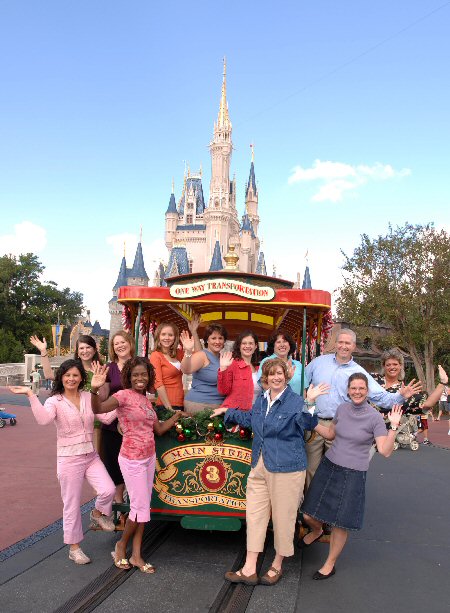 Well, we've finally made it to the last chapter of this adventurous trilogy. Glad that so many of you are sticking with me for the duration of this tale (Mom, you still there? Anyone?).
In the first chapter, we covered the selection process. In the second chapter, the Princesses were preparing their tiaras for a luncheon with Cinderella. So let me continue our tale from there…
We once again took our private horse-drawn carriage (OK, I lie – it was the same mini-bus, but that just doesn't sound as good, now does it?) over to the Magic Kingdom. We took a few pictures with Cindy inside the castle, and then headed upstairs for lunch at her Royal Table. The meal and entertainment was great, but I think most of us were eager to finish up and head over to the Castle Suite. One especially nice touch about the meal was that they served us a second dessert (is one dessert ever really enough?) – chocolate Cinderella slippers filled with chocolate mousse. Now that was a special treat!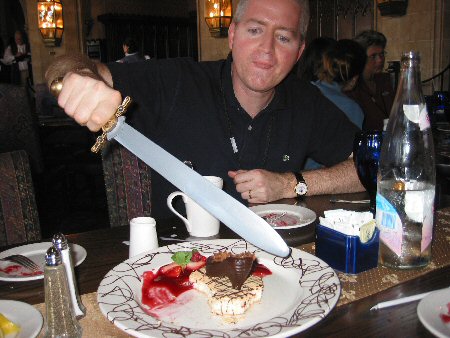 Bret slices off a piece of the dessert.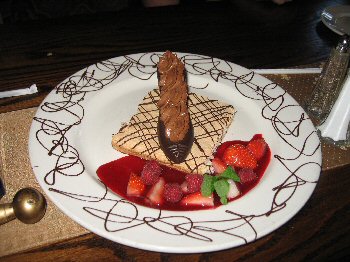 A surprise dessert.
After lunch we prepared for Surprise #2, the tour of the Suite in Cinderella Castle. (You might remember from Part 1 of this series that surprise #1 was a gift basket.) Since the Suite and its elevator are not very large, they needed to split us up into two groups, and each group got about 15 minutes to visit. The entrance to the Suite is the first door on your right as you walk under the castle heading toward Fantasyland.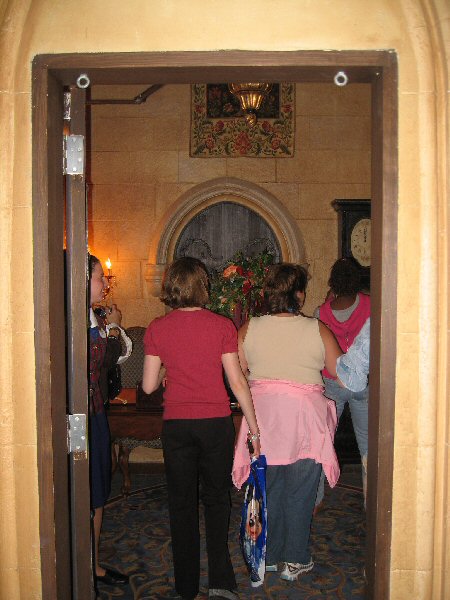 Entering the Castle Suite.
You enter into a small waiting room with a beautifully ornate carpet, a beautiful large wooden desk, and a grandfather clock that is permanently set to one minute before midnight (isn't that cute!). We were escorted the entire tour by a bubbly and knowledgeable Cast Member, Alexis, who clearly loved her job as the Castle Suite guide. She motioned us into the small but ornately decorated elevator to begin our tour of the Suite.
I should mention that it was about this time that a camera crew began to follow us around and film our every move and expression. This would continue almost full-time for the next day and a half. For a while it made all of us nervous and self-conscious, but amazingly it soon became easy to ignore and act as if they weren't even there. For a brief moment in time, I think we got a very small taste of what being on a reality show might be like. The experience helped me understand how it is possible to film truly candid shots of people, since it isn't humanly possible to always be "on" for the cameras.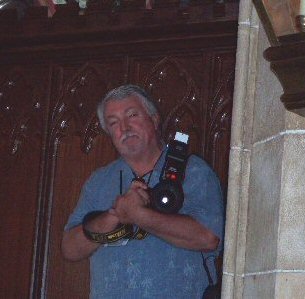 Photographers were all around.
But back to the Cinderella Suite. The tour was a treat for us all. We clowned around a bit, but were careful to respect the fact that real Year of a Million Dreams guests would be arriving there soon. In fact we were told that there is a very limited window of time each day to tour the Suite, since the guests are allowed to stay until around 9:00 a.m., then it needs to be cleaned like new, and the next day's guests arrive around 3:00 p.m. In the interest of brevity, I won't comment on the details or content of the Suite, since you can easily find videos and photos of it online (see, for example, the "Walt Disney World Resort: Plugged-in" video cast from 2/1/07). In fact you can also see some of our tour if you look at our group video at the Moms Panel website. (You can also read about the Castle Suite here.)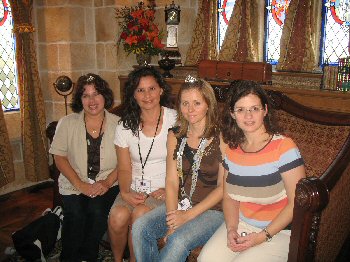 Moms in tiaras.
While touring the Suite, we learned that each guest is allowed to ask for pretty much anything their heart desires while they are guests. The most common request, it turns out, is to get family pictures taken in the parks with their pajamas on. Many have also asked for exotic foods to be delivered at any hour of the night, and at least one family all got manicures in the Suite (probably no dad in that group!). One other tidbit that may surprise you is that you really don't have a view of the parks from inside the Suite. All of the windows are stained glass (they tell the story of Cinderella), and none of them can be opened except for emergencies.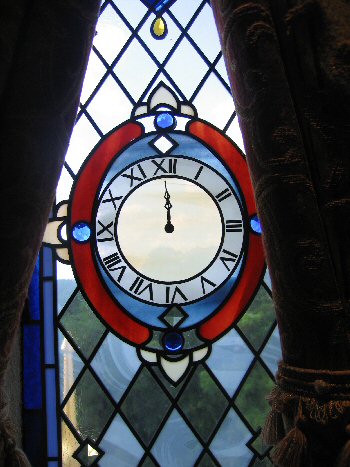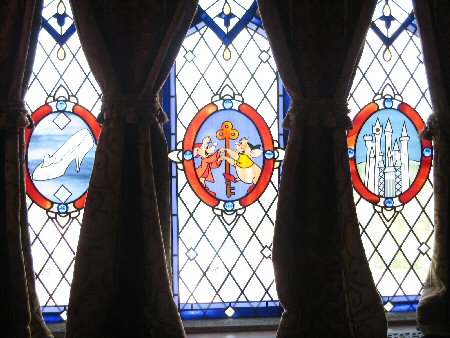 Beautiful windows, but they don't offer much of a view outside.
After we all finished the tour, they gave each of us a "Do Not Disturb – Princesses Sleeping" door-knob sign, as a souvenir. Très cute! It now hangs outside my youngest daughter's door at home.
After touring the Suite we met up near Tinker Bell's Treasures with Lisa, a Cast Member from the Disney Institute. For the next couple of hours she treated us to our own personal "Guestology" tour of the Magic Kingdom (mostly Fantasyland, Liberty Square, and Frontierland). Lisa tried her best to stump us, but I think she knew she was in trouble early on when we were able to answer the question "In what year was Cinderella's Carousel originally made?" (answer: 1917) Nevertheless we had a great time discussing the details of the park with her, and we were able to ride the Haunted Mansion and Pirates of the Caribbean with her pointing out storylines and details along the way. The rides and tour were excellent, and Lisa did a great job entertaining and educating us the entire time.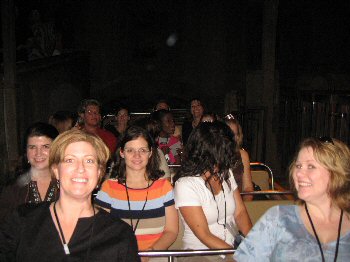 The Moms on the Pirates of the Caribbean.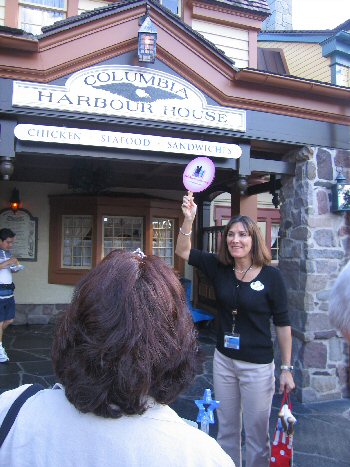 Tour Guide Lisa
After visiting Captain Jack Sparrow's ride, we went back to our bus in the backlot. After a quick pit-stop at the Resort to change clothes, we headed out to the Wilderness Lodge to eat at Artist Point. Our friendly camera crew arrived in advance and filmed our "red carpet arrival," as all of us got off the bus, now wearing our stylish pink (and blue) Moms Panel windbreakers. Definitely a Hollywood moment for us all. Dinner was tasty (I had the salmon – yum!), but unfortunately we were running behind a bit so we had to skip dessert.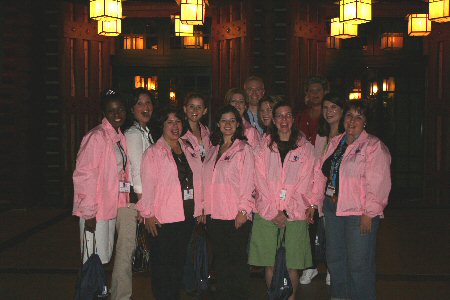 Our pink (and one blue) jackets.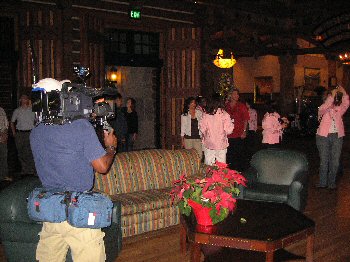 More camera crews.
Next stop was back to the Magic Kingdom to enjoy Mickey's Very Magical Christmas Party. We had our own large "VIP" viewing area for the 8:15 parade – basically they roped off an area above the steps in front of the train station. They brought us cookies, hot cocoa, and coffee for several of us (including myself) who were in need of a little extra boost to make it through the evening. Several of the panelists had come to the training session with their families (at their own expense) and this evening was one of the few times that they could spend any significant time with them. Laura's daughter Ariel (yes, named after The Little Mermaid) was there and got a heartfelt "Merry Christmas to You Princess" greeting from Santa himself as he passed us in the parade. Truly magical!
After the parade, we were given the option to return early or stay a few more hours. About half the group left, but I stayed with the rest to enjoy the fireworks and a few attractions. In retrospect, I think there may be a correlation to our performance the next day during the individual video shootings, and how much sleep we got that evening (or at least that's my excuse, and I'm sticking to it). The fireworks were great to see this time from close up (vs. my viewing on Friday night from the Poly beach). We watched the fireworks from the Tomorrowland bridge, almost exactly below Tinker Bell's flight path. We mostly stayed around Tomorrowland, going on Buzz Lightyear (don't tell anyone, but I was beaten…by a girl. Shame on me for sharing the Buzz tips I've learned from many sources, but kudos to Michelle for being such a fast learner).
My highlight of the evening was spotting the profile Hidden Mickey in the clouds of planet Earth on the ceiling of Space Mountain. Wow – it's truly amazing when you first see it. Best Hidden Mickey I've seen to date.
Sometime slightly after 11:00, I got a call on my BlackBerry from one of the Disney organizers "Ummm, are you guys about ready to leave? The bus is waiting for you guys." Oops. We hustled down Main Street and took a side "Cast Member Only" exit over to our bus. The ride was fairly quiet this time as we were pooped and in need of some rest before our big photo shoot the next day. When we got to our rooms, we found Surprise #3, a plate of giant cookies and a full carafe of milk to go with it. I managed to eat a full cookie, and was out cold in minutes. This should have been the time when I worked hard on finalizing what I planned to say for my individual video, and even practice it a bit. Oh well. Didn't happen. At least I got a little extra sleep.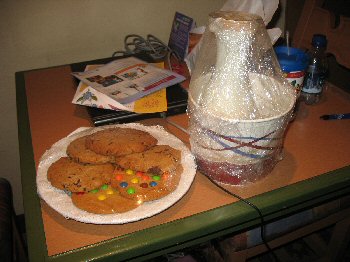 Milk and cookies…a great way to end the evening.
Morning came far too quickly. Breakfast was at 8:00 a.m. in the training room. After a few cups of coffee, I started to feel mildly awake. Our first topic of the day was live training on the computers with a demo of the Moms Panel website. This was our first glimpse of what we would see from the administrative side, as well as the live website side. All of us were thrilled to finally see the site, and start to better understand what we were signed up to do as Panelists.
We were given a chance to answer some pre-loaded questions that had been collected from Cast Members who shared the most common questions they get from their friends. We were told that this was just practice, and none of the answers would be used.
While everyone else seemed to seriously go about selecting questions, and answer them the best they could, I decided to have some fun. I chose the question "Does the monorail connect to all of the resorts?" I quickly responded with "Yes, WDW has just completed the expansion of the monorail to connect all of the on-site resorts, as well as provide transportation from Orlando airport. We currently are working on a new tele-transportation system, and hope to have it working by the end of next year. Hope you have a Magical day!"
Imagine my surprise to read by e-mail in early January that they decided that these original training session answers were so good, that they would use them to populate the system for the day the Moms Panel site was launched. What?! Quick follow-up with Leanne, and crisis averted…my "smart aleck" response had already been spotted and changed to be just ever so slightly more factual.
Just as we were wrapping-up our computer training, we were greeted by Ivanna Dream (Surprise #4). She was a hilarious trainer/entertainer dressed in a blue Fairy Godmother-like outfit, with a falsetto voice and somewhat British sense of humor. She played games with us, quizzed us, and basically kept us in stitches for the last portion of our training.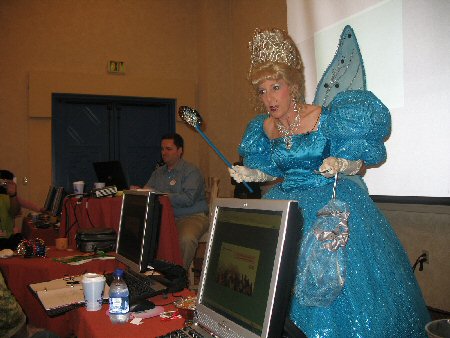 Ivanna Dream.
After Ivanna left us, we had a buffet lunch in the room. All of the "Moms" put some food on their plates and quickly headed back to their rooms to get ready for the photo and video shoot at the Magic Kingdom. I basically just hung out with the Disney folk and had a casual long lunch. It was great. Dads rule!
We then took the bus back to the Magic Kingdom and walked up Main Street as a group. We first were instructed to pose on a trolley car that was pulled up for us in front of the Castle. It took us a few attempts to make sure that all of us appeared in the photo (a good rule of thumb I learned: if you can't see the camera, it probably can't see you). After that relatively painless experience, we headed to a large grassy area in front of the castle where four video camera areas were set up. I think I was in one of the earlier groups to shoot my video. I'm sure I was just a tad bit overly confident about my ability to do this well. Soon that bubble would be burst loudly. We were instructed to sit, look straight in the camera, and try to do the entire video in one shoot. We were to answer the following:
Introduce yourself
Describe your family
Explain why you are an expert WDW planner
Share some advice to a family coming to WDW for the first time
Share one of your favorite tips about WDW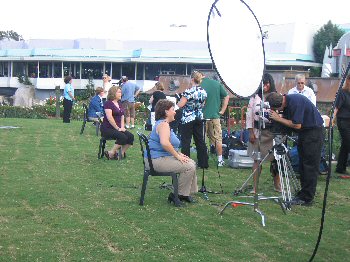 Photo shoot.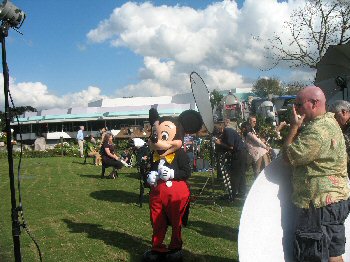 Mickey preparing for his photo.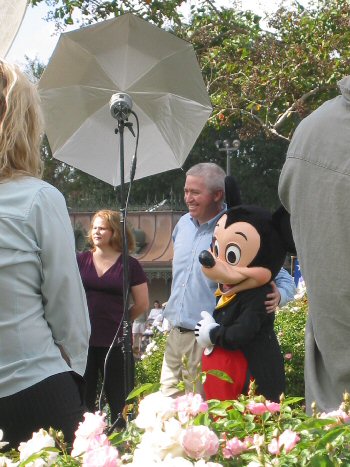 Bret and Mickey.
So, the camera was set up and rolling and I started my monologue: "Hi, my name is Bret…Cut!…What was the next question?" Oh, boy. This was going to be fun.
If I had known that they were going to splice the videos, and perhaps gotten a little more sleep over the last few days, I think it might have gone better. Instead, as I tried to answer the questions with the right tone and wording, while trying to remember the next question, I failed miserably. Some parts went better than others, but overall it was a truly humbling experience. And the best part is that the entire world can see the outcome online whenever they like. Oh joy. On the positive side, whenever I feel my ego getting a tad too big, I can view the video again, and poof! Humility settles back in.
We were at the video shoot for a long time, as there were four shifts of us doing the individual videos, and another station was used for a more casual interview with Candice Coleman, an interviewer from the Disney News Bureau. My interview with her was probably one of my favorite parts of the afternoon. Even if that video was also not so stellar for me, I had so much more fun talking with her, rather than the cold stare of a camera during my individual monologue. She was great at helping me forget that a camera was even filming. It felt so much more natural, and was not the least bit stressful.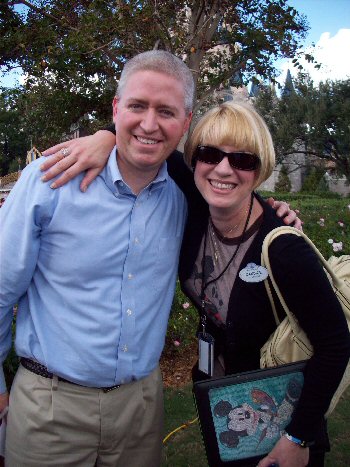 Bret and interviewer Candice Coleman.
In addition to the videos, we also took some group photos with two special guests…Mickey Mouse, and (Surprise # 5)…Meg Crofton, President of Walt Disney World Resort. It was an honor to meet her, and to find out how excited she was about our website. I was especially impressed at how much she had learned about us in advance. It really made us feel appreciated.
As a reward for good behavior, we then had about two hours of free time to play in the Magic Kingdom. Although we were given the option to go back to the hotel early, this time all of us opted to stay and have some fun. Most of us stayed together and enjoyed Space Mountain, the Jungle Cruise, a few other attractions, and then spent some time just walking around and hitting a few shops. Before we knew it we were back on the bus headed to the CSR. After a brief break at the resort (just enough to change clothes, if desired), we were back on the bus and headed to Epcot. We were dropped off near the back of the American section of the World Pavilion, and went to dinner at Tutto Italia (recently renamed, refurbished, and looking quite nice). Dinner was great but a bit rushed, as we needed to head over to the Candlelight Processional where we had VIP seating.
Side note here about "VIP" seating: My impression overall is that "VIP seating" at Disney is good seating, but the best seating is still "reserved" for the general public. Don't get me wrong, I am not complaining at all. In fact, I'm pleased to see this is the case. It's nice to know that although Disney wants to treat "special" guests well, it seems they still reserve the best treatment for their general guests. The main benefit of the "VIP" areas, from my limited experience, is that you don't have to wait for hours to get those spots. In the case of our seating for the Candlelight Processional, we were in the first few rows on the right side. We had a great view, but I think the general public that was seated a few rows back and closer to the center had even better seats.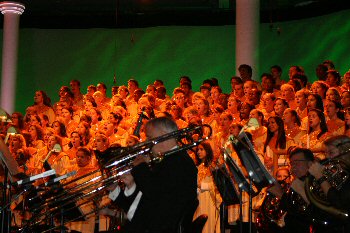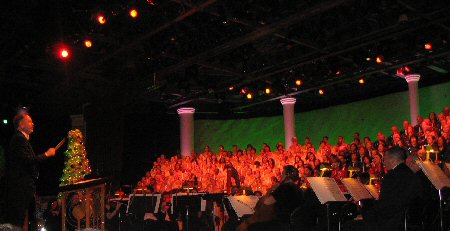 Candlelight Processional
This was my first time seeing the CP, and I was captivated by it all. In fact the next day I bought the CD, and enjoyed it over again countless times over the holiday season. Hard to not feel the holiday spirit as you leave the performance. It's definitely an experience I plan to repeat.
After the CP, we all walked over to Morocco to another "VIP" area. This time, a dessert Illuminations viewing area had been set aside for our group. This was the only time since Friday that I was able to coordinate with my sister Erica and a few of the moderators from TourGuideMiKE.com that she was hanging around with. They were welcomed into our little clique and blended in with all the other obsessive-compulsive planners without a problem. I'm not sure if we got to this area late, or if time just passed incredibly fast, but I'd swear we were there about ten minutes and the fireworks were over, and we were sent on our way toward the bus. I suspect there was just so much going on, and I was torn between catching up with my sister and spending quality time with the Moms Panel for our last night, that time slipped away from me.

Bret, his sister Erica (right), and others from TourGuideMiKE at the Illuminations VIP viewing area.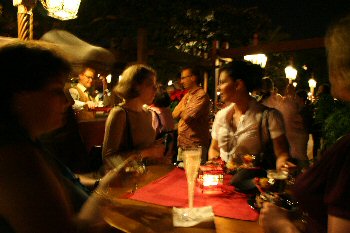 A wonderful evening slipped by too fast in our private Illuminations viewing area.
When we got back to the resort, many of us hung out at the bar for a while as we tried to extend the moment for just a bit longer. And when that was done, we went and chatted some more in the hallway near our rooms. A thousand apologies to the mother who had to stick her head out of her room and tell us, "Can you please be quiet?! We're trying to get some sleep here!" We felt soooo bad. Clearly this was a sign that we should go get some sleep.
Waiting in the rooms for each of us was Surprise #6: a beautifully framed copy of our Osborne Lights group photo! Simply amazing. Disney rocks!
Before I slept, I had quite a bit of packing and organizing to do. At around 2:00 a.m. I finally fell asleep. The next day we were on our own. Several of the Moms were headed home early, but six of us agree to hit EMH at Epcot. Were we nuts? I was 100% sure that I would be the only one waiting for the bus at 7:30.
After only four hours of sleep, I somehow managed to get out of bed and take a cold shower to try to wake up a bit more. By 7:00 a.m. I had checked my luggage and had plane tickets in hand (boy, that flight check-in service is SUCH a good idea!), and was ready for a quick bite to eat at the Pepper Market. At 7:25 I was headed to the Epcot bus stop, where I found…Heather R., Heather M., Michelle, Kara, and Erin all bright-eyed and ready to hit the attractions! Clearly we are all crazy for WDW. We are also all simply crazy!
Like good Epcot planners, we hit Soarin' first. "Area B, row 1, pretty please!" And, of course, all of us saw the unmistakable Hidden Mickey on the golf ball as it zoomed right past us. We then all hit Test Track.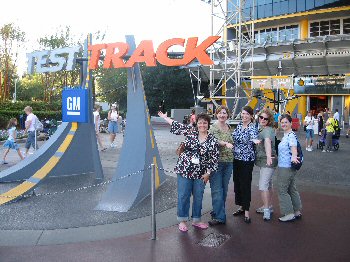 Preparing for test track.
For this one, I just have to share the ride photo, as it is simply hilarious. I call it "After four days of training, only one was still fully awake!"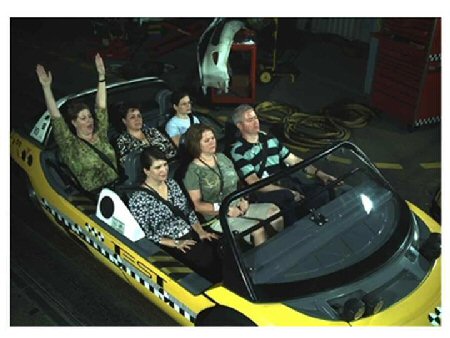 Quite a lively bunch.
We then began to split off, as we all had different goals and timing for the day. I hit Mouse Gears for a bit, and then took the Monorail to the Magic Kingdom. My one goal was to re-visit an old friend…the Carousel of Progress. Sure it's corny and outdated, but to me it simply "oozes" Walt Disney. Such a classic ride. And this time I spotted a new (to me) Hidden Mickey – in this case a real stuffed Mickey doll, hidden under the Christmas tree. How very clever and cute!
Time ran out, and I had to head toward the park exit. It was a somewhat sad feeling, made better by the notion that the entire Moms Panel website experience was still waiting in my future. The connection to WDW and all the Moms Panelists would still be there.
I took the bus back to the CSR, and as I got close I saw what I can only describe as Surprise #7. Guess who was waiting to take me back to MCO? Yep…it was none other than my VIP Cast Member friend from Brazil, Luiza. My camera was out in no time. I was not going to miss the photo opportunity this time. To me it was a perfect storybook ending. In fact more like bookends – I'd got to tell the same person who brought me to this adventure the entire story I just detailed to all of you, as we drove back toward the airport. She smiled the entire way.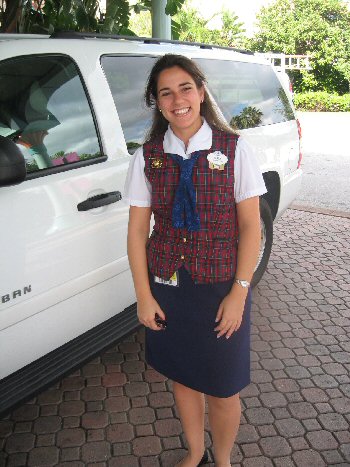 Finally, a photo of Luiza.
As the plane started to ascend out of Orlando, I had one last magic moment of the trip. "Hey Mommy, a Hidden Mickey!" I heard from the row behind me. Sure enough, I looked out the window and saw the Richard Petty racetrack. There in the middle of the infield, cut into the grass, is a perfect three-circle Mickey Mouse head. I didn't take a picture, but I still had the clear image in my head as we passed over Mickey, the Magic Kingdom, Epcot, and continued on toward Chicago. The training was done for now, but I suspected the magic was far from over.
Epilogue
By now you may have visited the Moms Panel site. Perhaps some of you have even submitted some questions. If you have, thanks (even if you were the one who asked, "At what time is the 3:00 parade in the Magic Kingdom?"). If you haven't, I hope you will consider it sometime soon when you have a planning question you can't figure out on your own.
At this point we have almost three weeks of Moms Panel experience and over 1,000 questions answered. There have been a few interesting bumps along the way (like when Leanne showed up as a panelist for a few hours — oops), but overall it has gone extremely well.
I think most of us on the Moms Panel have been a little humbled by the breadth and depth of the questions, and the difficulty of providing robust (and factually correct) answers within a 200-or-so word limit. We aren't perfect, but I know everyone's heart is in the right place and we are filling in our gaps of knowledge at an astounding rate.
Before I sign off here for good (or at least for a long while), I hope you don't mind if I share a few "insider" observations that Moms Panel users may find helpful and/or interesting to know:
The site is targeted at relatively inexperienced WDW planners. It isn't meant to be a place for rumors, timing of future events (e.g. "When will attraction 'X' be open?" or "When will tickets for 'Z' be available?"), trivia, or other Disney assets (Disneyland, Disney Cruise Line, etc.) Of course questions are welcomed from everyone!
The "Moms" have no special resources or knowledge at their disposal, except their prior experience. We use the WDW website, other websites, guidebooks, and phone numbers just like you all do to answer many of the questions. We also try to use our own experience, but there aren't many questions, it seems, that can be answered purely based on experience.
Our responses are not fact checked by anyone except ourselves. The overall concept for the site is to be as "real" as possible, and not to have any third-party monitoring us. We are trying our best, but it's probably impossible to be 100% perfect.
The "scores"/"ratings" we receive sometimes help us spot errors/issues, but often are quite confusing. Does the reader not like my opinion? Did I not answer the question? Did I miss part of the question? Do I have my facts incorrect? Personally, I care the most if the facts are incorrect, but there is currently no way to know the real reason for the scores.
If you ask more than one question in a post, it can be much harder for us to answer. We may only know one of the answers, or we may need more space to provide answers to all of the questions.
If you want to submit a question to a specific "Mom" you can, but you need to go to his or her bio page. Once you are there, you will find a link to submit a question directed to that person.
Well, that's all for this adventure! I hope you found the tale interesting and informative, and even entertaining at times. I definitely exceeded the 100-word answer limit allowed in the original contest! For me it's been great to re-live the training with you through words and pictures. I know it's been a long journey — certainly longer than I ever planned. I sincerely appreciate you coming along for the ride, and I look forward to seeing questions from you on the Moms Panel site. ºoº