This post may contains affiliate links for your convenience. If you make a purchase after clicking a link we may earn a small commission but it won't cost you a penny more! Read our full disclosure policy here.
By Bret Caldwell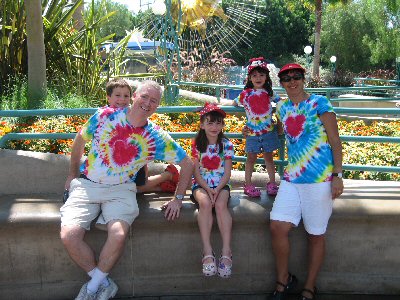 Once upon a time, a long, long while ago, a contest was launched. To be more specific, it was September 6 and Disney sent forth a press release…
"Calling all moms…As part of 'The Year of a Million Dreams,' Disney announced today the launch of a nationwide search for moms who have mastered the art of planning a Walt Disney World vacation. Twelve finalists will be selected to serve on the first-ever online Walt Disney World Moms Panel. Those 12 parents who have a passion for the Walt Disney World vacation experience will have the opportunity to share their vast knowledge of the resort and personal secrets of success with other families who are considering this magical vacation experience.

" '…Through our consumer research we know that there are aspects of a Walt Disney World vacation that can be challenging to the primary vacation planner, [and] most often that means mom,' said Meg Crofton, President of Walt Disney World Resort. 'We could not think of a better way to provide vacation planning advice than to create an online forum. This will assist guests who are looking for real and reliable vacation recommendations that fit their family's travel needs.' "
Some other guys might have noticed that the word "mom" appeared just a few times in this blurb, but not me. Instead I focused on the next statement:
"Disney realizes that the person who serves the 'mom' role differs from family to family."
Aha! They don't mean the female adult member of the family…they mean the WDW planner in the family! So, I was off to the races, or more exactly off to provide 100 word responses to three topic areas.
1. Tell us about yourself


I am a [XX]-year-old male who is comfortable enough with "labels" to be on a "Moms Panel"! I am a partner at a mid-sized consulting firm in the Chicago, IL area. Born in California, and grew up in Madison, WI. I have a BA in Economics from Stanford, and an MBA from Wharton. Hobbies: running (have run three marathons), gardening, cooking, and planning vacations (or helping others plan trips to WDW or DLR). I spend at least an hour a day on TourGuideMiKE.com's forum reading, answering questions, and socializing with other WDW fans.

2. Tell us about your family
I have been married for 20 years to my dear wife who is from Lima, Peru. We have three children [DD7, DS5, and DD2]. My oldest two love playing soccer, and reading. Although they all love Disney, my youngest is the most "addicted" – asking to watch the Disney planning DVD every single morning and evening! For the last four years my wife has taken the kids to school in Lima for four months each year, so they learn Spanish and are exposed to Peruvian culture. We are all fluent in English and in Spanish.

3. What makes you a qualified for the Moms Panel?
We've been to WDW and DL countless times since 1974 (my first trip to WDW). Most recently I went with my family to WDW last October and DLR last month. I joined TourGuideMiKE.com for our trip last year (my sister is a forum moderaor there), and have since been hooked on planning and helping others plan trips to DLR and WDW. I believe I have developed a good sense of how to help plan a fun and relaxing vacation, while experiencing the best of the best, and accommodating specific needs/tastes. I also believe my fluency in English and Spanish could be very helpful.
If I spent more than 10 minutes coming up with these answers, I would be surprised. "I haven't a chance, but no harm in trying," I thought as I submitted my responses before going to bed that evening.
Within moments I received the confirmation e-mail that was sent to all participants:
"Dear Bret,

Thank you for submitting your application to become an online panelist for the new Walt Disney World Moms Panel question and answer forum at disneyworld.com.

As a reminder, applicants who are selected for the next round in the hiring process will be contacted by a representative from Walt Disney World® Resort. We are sorry, but due to the high number of submissions, we will be unable to reach out to applicants not chosen to advance.

Thank you once again for your time and interest in the exciting new program."
A nice and unexpected confirmation. Stored it in an e-mail folder, and quickly forgot the whole process.
Meanwhile, I now understand that behind the scenes at Disney, the applications were coming in far faster than anyone ever predicted. The hope was to receive 5,000 applications between September 6 and October 5, but instead they received 5,000 within the first few days, and closed the application process upon receiving 10,000 responses by the end of the first week. During the month of September they detected over 40,000 individuals attempting to submit applications. Now, at first it might seem unfair that the process was closed so early, but it makes more sense when you consider that real people (and a small group at that) had to read and make "go/no-go" decisions for every single one of these applications within a short period of time.
Fast forward to October 17. I land at O'Hare in the evening after visiting a client in New Jersey for the day. I check my BlackBerry immediately for messages, like the good little Consultant that I am. There is an odd e-mail from "Walt Disney World Moms Panel" with the innocent subject title "News from the Walt Disney World Moms Panel." Upon opening it I see the words…
"On behalf of Walt Disney World® Resort, we would like to congratulate you on making it to the next phase of the selection process for the first ever Walt Disney World® Moms Panel!

"After receiving and reviewing thousands of applications, you are among a special group whose knowledge of – and passion for – Walt Disney World® made an indelible impression on the judging panel…"
Of course I am thrilled, but then immediately some doubt enters my mind. Hmmm, how many others made the cut? Does this really mean anything? I quickly went online to check out some Disney forums to get a sense of how many others were accepted. Much to my amazement, it appeared that indeed, only a limited few appeared to have made this cut. I now know that a little over 100 applications were selected for this second round. So, in fact, this was arguably the most difficult hurdle to clear in the entire process…now I had approximately a one in 10 chance of getting on the panel. More work, stress, and lots of waiting would follow.
Next stop: Three more questions and 100-word answers.
I took more time for this stage, but still managed to submit my replies the day after I received the congratulations e-mail. The rules allowed over a week for replies, but I figured it wouldn't hurt to show interest and enthusiasm by answering promptly…
1. Please give us your best theme park and/or resort tip for a family planning a vacation at Walt Disney World Resort

One important piece of advice that I give to friends is to involve everyone in your family/traveling party in your planning. Discuss everyone's expectations and their "must sees," so you can accommodate and balance the different preferences. It is simply not possible to experience all of the activities, rides, restaurants and shows that Walt Disney World offers during a single visit. So, instead, try to plan a balanced vacation that takes into account everyone's needs, while still reserving time for relaxation and the flexibility to "course correct" if things change once you are there.

2. Please tell us your best memory of your most recent Walt Disney World vacation

Many of my fondest memories relate to times when I learned more about my children's personalities as I got to see them learn and grow during our vacation. The best example took place at Turtle Talk. My 5-year-old son sat up front by himself, raised his hand high, and displayed no fear as he asked Crush a question in front of a large audience of kids and adults. I had no idea he would be able or willing to do this. It was a proud and priceless parenting experience to share that moment with him.

3. Please tell us what part of Walt Disney World Resort you would most recommend a family visit and why

This may sound odd, but I would recommend that they make sure to visit "the details." By that I mean that they should take the time to notice the incredible attention to detail throughout the parks and hotels. This includes Hidden Mickeys, decorations and designs in queuing areas, Mousekeeping towel animals, Miyuki's patter as she makes beautiful candy animals at Epcot, music accompanying almost every experience, etc., etc., etc. Walt Disney World is so much more than an amusement park, and to appreciate everything the resort has to offer, you need to visit "the details."
I felt that the first two responses were decent, although probably not interesting enough to help me stand-out from others. I did, however, believe the third response was more unique and just might give me a chance to pass through this round. I hoped that at least some of the Disney folks would feel the same.
It was October 18, and the only timeline information I knew was that the cutoff for responses was the end of day on Octoer 23 and the phone interviews were scheduled to start October 29. It was time to hurry up and wait, and wait, and wait! Impatience got the better of me, and I started to Google for others to share the moment with. Several "hits" came up from several of the more popular Disney-related boards. And off I went to the forums. Being a dad, and having very few posts on some of the boards, made me a bit reluctant to discuss my status, but I did post a few innocent "congratulations" notes to other semi-finalists, and did a lot of lurking to see what everyone else was thinking about the process and the opportunity to be on the Moms Panel.
For a little while the scene was less than "magical" as several participants that didn't make the semi-final cut posted rather negative words about some aspects of the contest. "Why didn't they even write me a reject letter?" "I have been to WDW more than 50 times, how could they NOT pick me?", and my favorite "Shame on you dads [for applying]." I wasn't personally offended, and figured it just showed that people were very interested in the opportunity, and were releasing their disappointment/venting in many different ways. For the record, my understanding is that Disney did send an e-mail to all participants, using the e-mail they had on file, but many of the e-mail addresses were bounced back, and there was nothing further they could do. Personally, I was impressed they even tried, as their original confirmation e-mail specifically stated that they wouldn't respond.
Fortunately, public opinion on the forums quickly turned back toward the positive as "wounds" healed as time passed. On October 23, I finally felt comfortable to share my status of being a semi-finalist on the forums and received some very positive and understanding feedback from other forum members. It was from this point on that I began to feel more and more a part of a very special and admittedly lucky group of Disney fans. Despite the pain of waiting, this was a fun period as many of us got to "virtually" know each other better as we waited and hoped for good news, discussed the achievement of simply getting as far as we had, and wagered friendly bets on when we would receive our next notification (I don't think I won, and perhaps even owe someone a Dole Whip?…or was it a turkey leg?).
The winning bet would have been around 5:00 p.m. on October 26. I was at my office with the entire family at our annual Halloween party. This time the message on my BlackBerry reads (selected text):
"On behalf of Walt Disney World® Resort, we would like to congratulate you on making it to the final phase of the selection process for the first ever Walt Disney World Moms Panel!

"….For this final phase, we are asking that you participate in a phone interview with Walt Disney World representatives….We expect the phone interview to last approximately 15 minutes.…Once all phone interviews are completed, the judges will be making final selections. You will receive notification regarding whether or not you have been selected for the Walt Disney World Moms Panel on or around November 7, 2007.…As a reminder, please continue to save the dates of December 8-12, 2007, for training at Walt Disney World Resort should you be selected to participate in the Walt Disney World Moms Panel. It is important all panelists be able to attend this session."
Woohoo! This was starting to feel real. Part of my job involves interviewing candidates, and public speaking, so this wasn't a hurdle that worried me as much. Nevertheless, anything could happen, and I didn't want to be overly confident. That weekend I set up my interview for Tuesday October 30 at 1:00, and put together some notes on what questions I thought they might ask, and key points to try to get across. The woman who set up the interview time also mentioned that there were 26 people who would be interviewed. If math serves me right, as sometimes it does, I was now very close to a 50/50 shot at being on the panel. This was starting to feel VERY real.
Fortunately things were busy at home and at work.  Time passed quickly, and before I knew it I was waiting a bit nervously by my phone in my office with all of my notes spread across my desk. Just before 1:00, the phone rang. I answered and was asked to hold for "the team doing the interviews." I was placed on hold, and soon heard the Space Mountain soundtrack playing over my speakerphone. Must be a good sign! I loved that ride at Disneyland. A few minutes later, the interviewers come on the line and begin the interview.
The first voice I heard was a soothing British accent: "Hello, Bret. This is Duncan. As a fellow dad I want to congratulate you on making it this far." I'm touched. I thought it was such a nice detail that they tried to make me feel more at ease about the whole "mom" thing.
For any readers who might have been involved in any aspect of applying for the Moms Panel, I want to also share that Duncan mentioned during the interview that Disney was staggered by a) how many entries they received, b) how passionate the responses were, and c) how knowledgeable people are about Disney. In fact he said something like "we thought if we went head-to-head with everybody who entered the competition, we would have had far less knowledge about the Walt Disney World Resort than anyone who had actually entered the competition." Needless to say, the decision process wasn't easy for Disney.
OK, thanks Duncan for the ego and confidence boost. Then it was on to the questions (and deflation of my ego back to its rightful size!) Soon the entire team of six Disney folks had introduced themselves. (Yep, SIX, not a typo.) We then began the real interview. Duncan let me know that he was going to ask two or three questions that he had been asking all finalists, and then would open up the floor to see if anyone else had questions to add. Fortunately my guess on the likely questions was spot-on for the first two: "Tell us why you should be selected for the Panel?" and "Why are you interested in being on the Panel?"  I'm sure I rambled and went on far too long, but somehow I managed to get most of my key points into the conversation. Although I can't recall everything, I think my responses were similar to my written responses to the first-round questions.
Duncan next asked me to share a tip I had recently shared with a family member or friend. I think they were mostly interested to make sure that we were not only passionate about planning our own trips, but that we enjoyed sharing with and helping others. Fortunately I had very recently helped out a co-worker in planning for a 2008 Spring-break trip, so I shared some tips with the interviewers on what aspects of a trip should be planned six months out (or more) vs. what can wait until you get closer to your travel date.
The next question was clearly customized, as I was asked: "What advice would you give to a mom, who is trying to convince her husband to take a trip to WDW?" This was a little tricky for me, because I have a hard time relating to that dad. But it quickly dawned on me that it is similar to what I sometimes face with my wife, who isn't always as gung-ho as I am for our next trip to WDW. Before I knew it, I had finished that response at least somewhat coherently.
The last question related to any recommendations I might have for someone looking to go to WDW on a tight budget (I think Duncan's words were a bit more British. Something about "pinching pennies" I believe). I can't say my answer was stellar, but I managed to share some thoughts about the Value resorts, travel during the low seasons, and ways to save some money through dining choices.
Before I knew it, the questions were done. Duncan asked me if I had any questions, and I completely blew it. "No, nothing right now." Doh! A clear interviewing mistake. Now they are going to think I'm not really interested, I thought. Drat and double drat. My only excuse that I can come up with is that I concentrated so much on trying to be concise in my answers, I didn't want to take up extra time with more questions. I even had a prepared list of questions ready for them. Definitely an "ice-cream-cone-in-the-middle-of-the-forehead" moment for me.
Oh well. Life went on. Duncan passed me on to Leanne for next-step logistics. She let me know that they would get back to us the next Wednesday, and we politely ended the call. Wait, did she say Wednesday?! Eeek, now I get to wait for another week before ending this one way or another?
Now, in case you are interested, the one question that they didn't ask, which I had sorta hoped they might was "What is one of your favorite Disney quotes?" What was my planned response? Glad you asked (I'm sure you can guess the source*):
"Well you can't never let anything happen to him. Then nothing would ever happen to him. Not much fun for little Harpo."

[Hint: It comes from the movie which was recently made into a musical at Animal Kingdom]
Long-story short (what do you mean it's WAY too late for that?!)…the next week was painfully slow. I continually hoped that the news would come earlier than Wednesday, but that never panned out. Midday on Wednesday I got the call from Duncan and Leanne. As I heard their cheerful voices, I knew their news was good. Woohoo, yipeee, and all other similar expressions were felt or verbally expressed. Fortunately the blinds were closed in my office, or my co-workers would have seen me almost fall off my seat from the shock and joy. I even think I might have felt a tear in my eye (hmm, maybe I do have a "mom" side of me, after all!). Then they dropped the bomb: "We also have some slightly bad news….you are the ONLY "dad" on the panel."
What? Did I hear that right? Impossible. How could they do this?
I was in utter shock.
But it was only temporary. I soon realized that this wasn't bad news at all. I would not only be one of the first panelists on the "Moms Panel", but I would be the only dad. I was humbled, honored, and slightly nervous were the feelings that soon settled in. Now I had just a few short weeks to get my life in order so I could take my first solo trip to WDW for training and meeting the other panelists.
How would this all turn out? What surprises were in store for the training session in December? Would my friends and family think I was crazy? Would the other moms form an alliance and vote me off the island? Stay tuned for the next episode in next month's Magically Speaking. In the meantime, you can visit the official Moms Panel website, which debuts on January 7, at www.disneyworldmoms.com.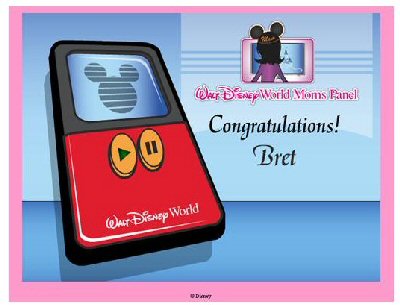 * The source of the quote is Finding Nemo.
Incoming search terms:
https://www themouseforless com/blog_world/moms-panel-selection-from-a-dads-point-of-view-part-1/