This post may contains affiliate links for your convenience. If you make a purchase after clicking a link we may earn a small commission but it won't cost you a penny more! Read our full disclosure policy here.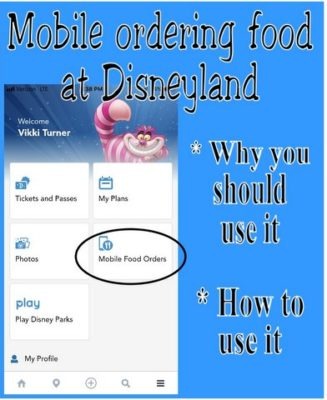 Based on my experience, mobile ordering meals at Disneyland will save you time and frustration during your visit. This free feature of Disneyland's app is like having a FastPass for your meals!
The mobile order area is accessible from several places on your Disneyland app home screen. Before going to the park, be sure you have a Disney account attached your app along with a payment method. You'll need this to buy MaxPass as well
I'll walk you through our trial run ordering food so you can see just how simple and fast mobile ordering food at Disneyland can be. My son and I had just finished riding Grizzly River Run and were hungry as grizzlies for a late lunch. So we wandered toward Smokejumpers Grill. Even though it was a later lunchtime, we knew "offpeak time" can still mean very long lines to order.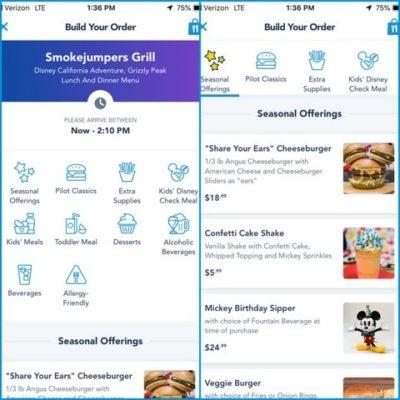 We opened up the app while we walked and chose the current arrival window for our order. Then we built our order using the menu choices. All of the menu items have pictures and descriptions, along with options to customize the order with sides or toppings. You'll see more information here than on the in-restaurant menus boards, which is great for getting picky eaters just what they want.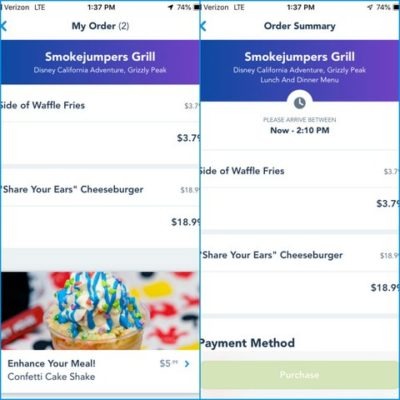 My son and I chose to split a specialty cheeseburger and an order of waffle fries. Disney will (of course) make sure to offer you a dessert to go with your order! We then confirmed our payment method (the credit card attached to my Disney account). If you look at the screenshots you will see the whole process took us less than two minutes since our order was simple.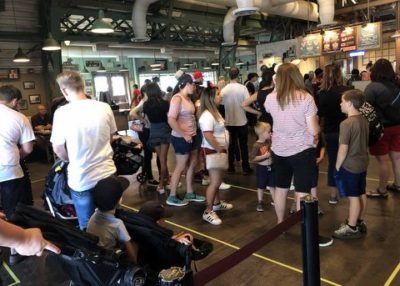 When we arrived at the restaurant a few minutes later, this was the line to order, even at 1:40 p.m. Mobile order skips this entire line and the cash register, placing you beyond it into the food prep stage.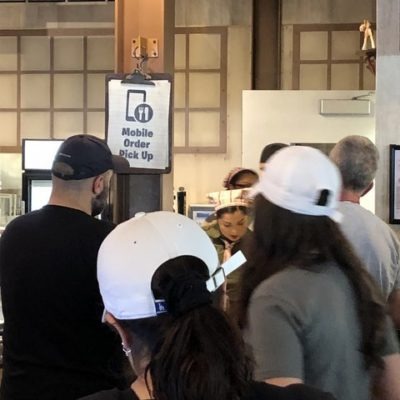 The mobile order pickup area is next to the registers. Once you're in the restaurant you hit the button onscreen that says "I'm here, prepare my order." We waited with a few other savvy mobile orderers. I scored a late-afternoon Soarin' MaxPass while we waited.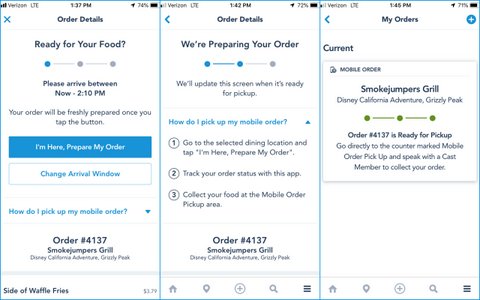 In about five minutes, the dots on our order screen turned green and told us our food was ready and to approach the counter. I estimate mobile order saved us at least 20 minutes of waiting in line, giving our order to a cashier, and paying.
I was so enamored of the process that we repeated it again for dinner. We stood just outside Pacific Wharf Cafe and placed an order for bread bowls of soup. After ordering, we moseyed inside and headed straight for the marked mobile order pickup area, skipping the long line again.
Here's how I'd recommend using mobile order:
Open up the app when you get in line for your last attraction or show before a meal break and decide on a food location
Pick a window of time appropriate for your estimated wait and walking time to the restaurant
Let everyone in your group peruse the menu and make their selections (without the pressure of standing at a register holding up the line)
Pre-order the food and enjoy your ride
Walk to the restaurant and tell the app you have arrived
On a moderately busy day, I sometimes feel like I spend as much time in food lines as attraction queues. No more! I appreciate being able to read the menu at my leisure, customize my order, and not have to drag out my credit card to pay. The app also will apply annual pass discounts.
Have you tried mobile ordering food at Disneyland? Any tips to share? Let us know in the comments, or on Facebook or Twitter!
Did you like this article? Make sure to share it with your friends! Check below for easy ways to share!
Want to visit the Disneyland Resort? Contact The Magic for Less Travel for more information and a free, no-obligation quote.