This post may contains affiliate links for your convenience. If you make a purchase after clicking a link we may earn a small commission but it won't cost you a penny more! Read our full disclosure policy here.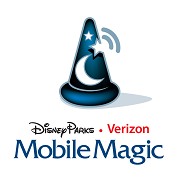 By: Dena Burkett
Every Disney fanatic knows how important time is and how important it is to keep a schedule when you only have a week to see as much as you can in Disney. Now you can do all those things much easier with Disney's Mobile Magic App!  You can have access to a park map, restaurants, meet and greet times, attraction wait times, including Fast pass and trivia games right on your cell phone!  No more maps to carry around or mulling over whether it would be better to head to Frontierland to get in line for Splash Mountain or stay in Tomorrowland at Monster's Laugh Floor. With the Mobile Magic app, you can find out in an instant.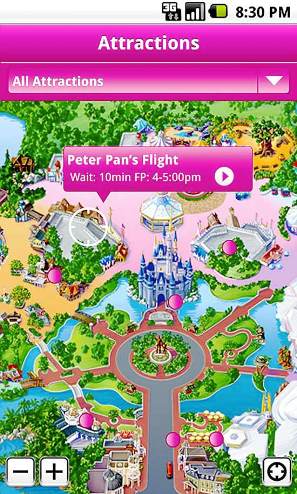 The one caveat about the app is that Mobile Magic was created specifically for Verizon phones. However, since coming out other apps have been created for other phone companies as well.   If you have an iPhone, iPod Touch or iPad here's a link for Disney apps: http://www.stitchkingdom.com/iphone/
I just returned from Walt Disney World this past June and we used the app for the very first time. My boyfriend wanted to download the app on his phone and being cost-conscious I said, "I don't think that is necessary, how much does that cost?" So, I went online and read reviews on it. People were saying that it was not accurate and not worth it.  Despite my findings, the app was only going to cost $1.99, so my boyfriend downloaded it.
Boy am I glad he did!!  It was a great thing to have during our trip! The best feature was the WAIT TIMES.  We were able to see what the wait times were while riding over to the parks on the bus, so that we could decide where to go first. Then, while in the parks we checked the wait times of popular attractions to determine what to do next.  Also, using the dining part of the app, we made an early dinner reservation for Tony's Town Square while standing in line for a ride.  Talk about doing two things at once and saving time!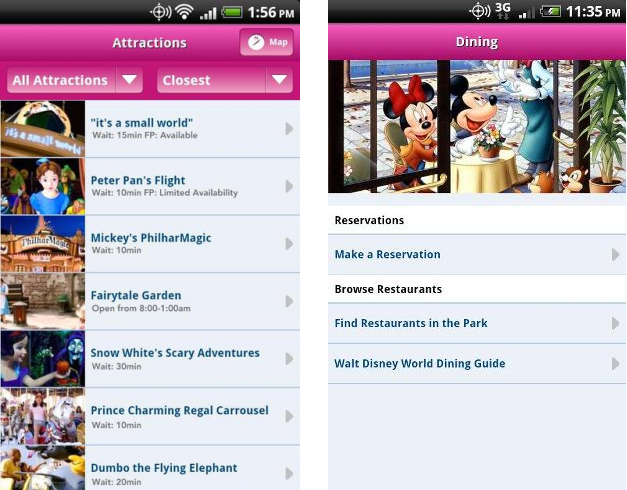 Each time we left a park and headed over to another park the Mobile Magic app updated itself automatically. (So much for the reviews! Though I did hear that Mobile Magic just got updated recently.) Even when we left Disney the Mobile Magic app still had us in Magic Kingdom, since that was where we were last. What a great thing to take home with you!!
One suggestion I would have is to make sure your phone is charged completely before heading to the parks. We personally never had a problem with the Mobile Magic app draining the battery, but it is always best to make sure your phone is fully charged anyway.  For more information check out this website for FAQs regarding Mobile Magic: http://disneyparksmobile.com/faq/