This post may contains affiliate links for your convenience. If you make a purchase after clicking a link we may earn a small commission but it won't cost you a penny more! Read our full disclosure policy here.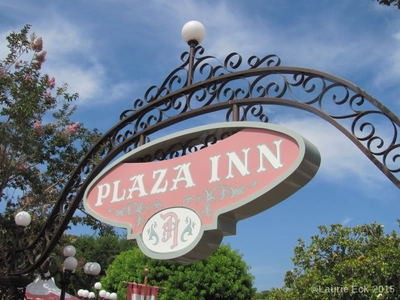 Disneyland offers five character meals, with only one of them inside Disneyland Park.  The Minnie & Friends Character Breakfast is held at the Plaza Inn Restaurant, located near the Hub and Tomorrowland.  The Plaza Inn is a Victorian styled restaurant that hosts the character breakfast and American-fare lunch and dinner.
If you get an early morning reservation, prior to park opening or at park opening, head to Gates 1/2 and look for the Minnie & Friends signage.  These gates will be open, only to those that have an early reservation.  Check in with the CM and give them the name used on the reservation.  The CM will send you into the empty park to head down Main Street to the restaurant.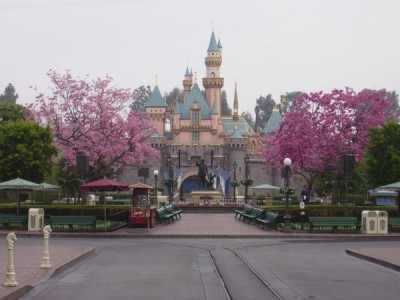 When you arrive at the Plaza Inn, check in at the podium and they will hand you a slip of paper with your reservation on it.  You will head up to the patio area for a PhotoPass picture.  This picture does not include any characters.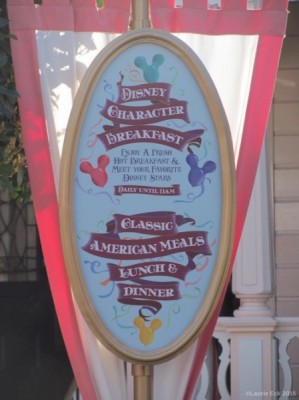 After the photo, you will head inside the restaurant to pay for your meal.  At the time of this writing, the current pricing is $30 per Adult 10+ and $14per Child 3-9. A host or hostess will show you to your table.  There is seating inside the restaurant, on the covered patio or outside under pink table umbrellas.  Outside also has wrought iron lampposts and chairs.  Don't worry if you're seated outside, the characters will come table to table to spend time with you.
The inside of  the restaurant is beautiful with the ornate molding and columns, the floor to ceiling curtains, mirrors and crystal chandeliers and scones, as well as stained glass and marble floors.  If you are lucky to get an opening reservation, make sure you take a look around and notice all the details.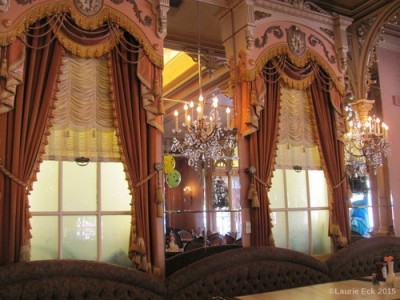 The breakfast is buffet-style at the center of the restaurant.  Once seated at your table, you are free to head towards the buffet to pick your favorites.  Make sure you check out the bronze drink stations.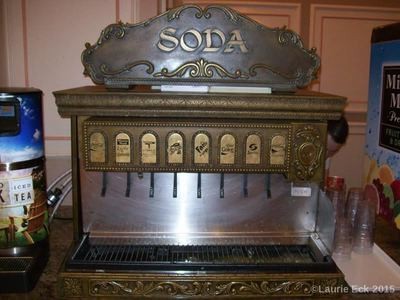 There are lots of food choices available:  Made-to-Order Omelets, Scrambled Eggs, Hash Browns, Sausage, Bacon, French Toast, Mickey Waffles, Biscuits & Gravy, Oatmeal & Cream of Wheat for the hot selections.  The cold selections include:  Breakfast Breads, Muffins, Croissants, Danish, Fresh Fruit and fruit toppings for the French Toast & Waffles.
The best part of this meal is the variety of characters we have seen over the last 5 years.  Minnie Mouse is the hostess and she has invited some of her friends.  We have seen anywhere from 5-12 characters at our meals.  There is no guarantee of who will be available, but this is a list of who we've seen:  Winnie the Pooh, Tigger, Eeyore, Chip, Dale, Rafiki, Max, Captain Hook, Peter Pan, Alice, White Rabbit, Mad Hatter, Honest John (Pinocchio), Brer Fox, Suzy (Cinderella) and Mary Poppins.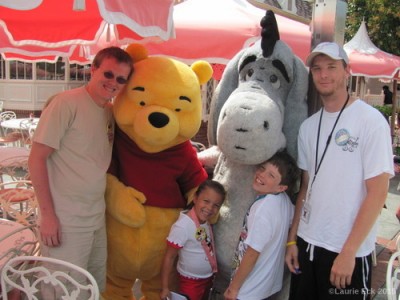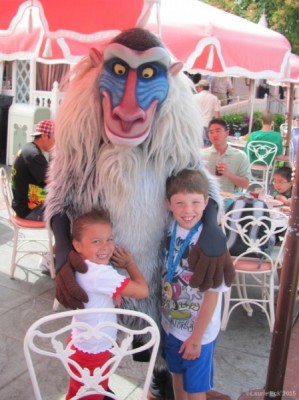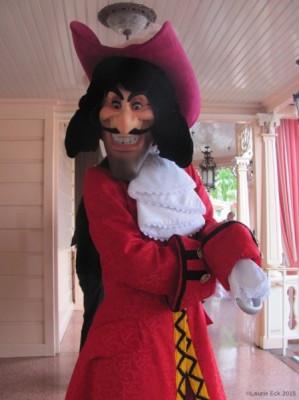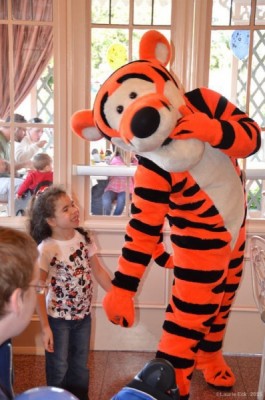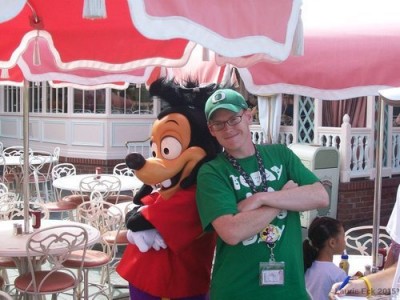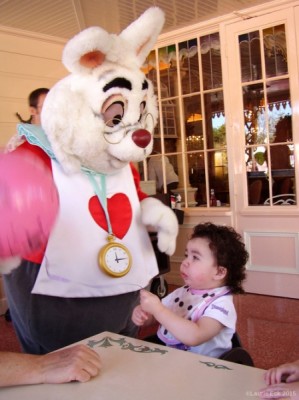 We love the setting of this meal and really enjoy getting to walk down Main Street with little to no people around with our early reservations.  The food is pretty standard for Disney buffets.  The made-to-order omelets are always a good choice.  We have found that they are "hit & miss" on keeping the selections filled and fresh.  Our favorite part of this meal is all the different characters we get to see and interact with.  This meal is a must for our family.
Have you ever dined at the Minnie and Friends Character Breakfast? What are your thoughts?
Incoming search terms:
minnie breakfast disneyland
breakfast with minnie mouse
disneyland breakfast with minnie mouse
how much is the Breakfast with Minnie buffet at disneyland