This post may contains affiliate links for your convenience. If you make a purchase after clicking a link we may earn a small commission but it won't cost you a penny more! Read our full disclosure policy here.
By Jane Jones
What to do, what to do…you've hit the parks for a few days straight and you just need a day off. How about a day of golf? You don't golf? Well, read on…and you might find you're a golfer at Disney.
Both Fantasia Gardens and Winter Summerland contain two courses with eighteen holes each making four courses available for your mini golf experience. The differences simply are in location and theming. All are a perfect addition to your Disney vacation.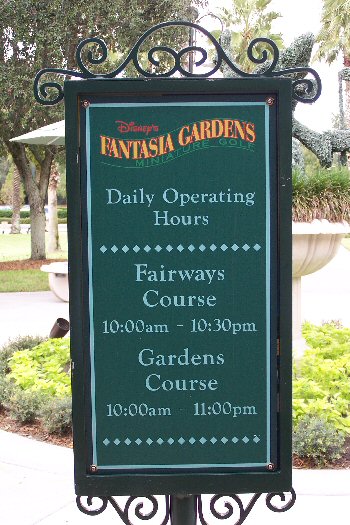 Fantasia Gardens times (subject to change, of course).
Next to the Swan Resort is Fantasia Gardens. This miniature-golf locale is perfect for the more "serious"-minded mini golfer! The "Gardens" course is themed from the classic Disney movie Fantasia (water-tossing brooms and all!). Throughout the Gardens, you visit stone statues at each hole representing a different scene from the movie. Of course, all the proper music (from the "Sorcerer's Apprentice" to the "Rite of Spring") is playing while you putt! Take time to look at the decorations and read the signs throughout…and bring your camera. This is a lovely place to take some beautiful pictures.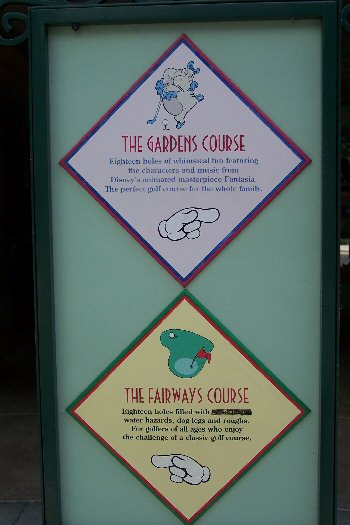 Which way to go? Play them both!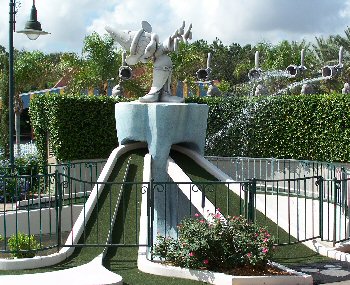 A Sorcerer Mickey at Fantasia Gardens.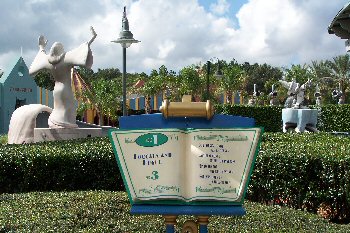 Makes you want to hum along!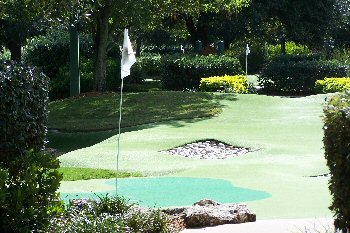 The more professional look of the Fairways course.
The second course at Fantasia Gardens is the "Fairways" and is most like a real putting green. Each hole looks like it was taken off a professional course. It is quite peaceful and seems to be a favorite for the more serious golfer.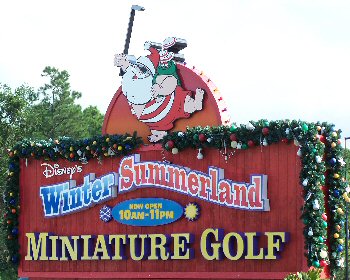 Summer and winter collide at this course.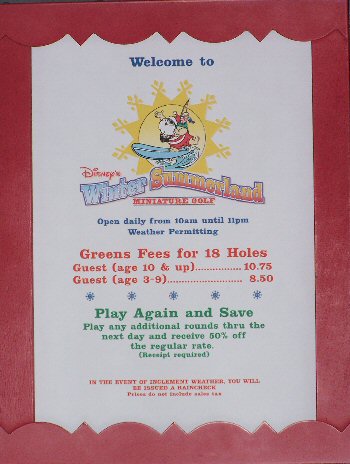 For the more whimsical minded, try Winter Summerland! Located next to Blizzard Beach, the theming takes off where the water park stopped. The story goes that Santa and his elves were looking for a place to vacation in the off season, so the elves built the pint-sized Winter Summerland. Again, there are two courses: the "Winter" (or snow) side and the "Summer" (or sand) side. Bring your camera, as this is a fantastic place to take your family's holiday photo!
The "Winter" course is not as much Christmas themed as it is snow and winter-fun themed. Here among the pine trees and 18 holes, you'll find snowmen, a snow castle, hockey ring, and a slalom course for your golf ball. The great part of this course is that you feel cold, even in the middle of the summer. Classic winter songs play throughout as you play (think "Sleigh Ride" and "Winter Wonderland")!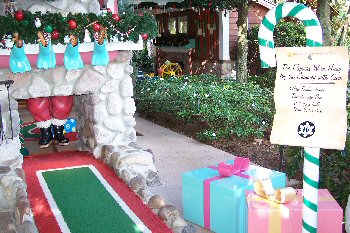 "The flippers were hung by the chimney with care."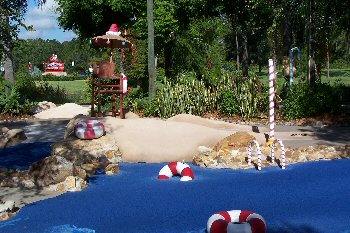 Peppermints floating in ponds create obstacles for golfers.
Ever wonder what Santa and his elves do the rest of the year? While playing the "Summer" course you'll come across the elves' mobile winter homes, their surf boards, a sand castle, and a pool filled with candy-striped floats. Favorite fun seasonal songs can be heard as you putt – listen for the Beach Boys crooning "Little Saint Nick" and "The Man with All the Toys." Shhhhhh! Don't wake Santa!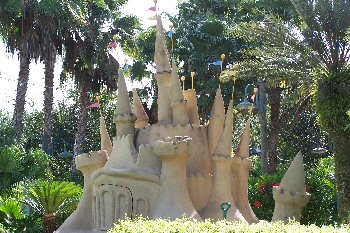 Sand castle at Summerland.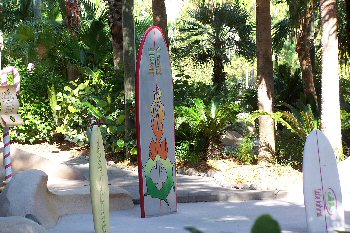 Santa's surf board.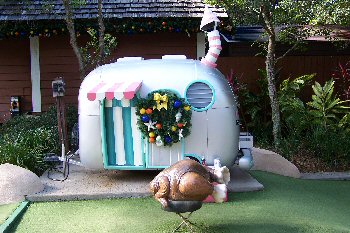 A motor home for the elves.
Here is all you need to know to make your visit to either of the miniature golf courses a perfect fit into your vacation:
You can get to each location indirectly via the Disney bus system. Use the Blizzard Beach bus to get to Winter Summerland, and the Swan/Dolphin Resort bus to get to Fantasia Gardens. There is plenty of parking if you drive.
The courses are open seven days a week.
The course hours vary slightly, but basically the times are 10 a.m.–11 p.m. Check your chosen course's times before planning your day.
Green fees are $10.75 per adult and $8.50 per child. Note: Annual Passholders and Disney Vacation Club members can get a steep discount. Be sure to check this out!

Want to play more than one course? Buy one regular-priced round and receive 50% off ALL additional rounds through the next day. YES, it can be transferred to either course site. Be sure to save your receipt if you are course hopping!
If the weather is bad, the courses close. Happily, you can be issued a rain check!
Like other mini-golf courses, you are provided with the appropriately sized putter and colored ball of your choice.
Keep your score card! Every once in a while there is a special "prize" for a certain score on a particular hole. Ask when you return your clubs.
Snacks are available for purchase (drinks, ice cream bars).
As with all things Disney, you can buy souvenirs at the courses! There is a fairly large selection of golf-themed items.
There are restrooms, drink vending machines, and water fountains throughout the courses.
If you are bringing a large group, there is a limit of four players who can tee off together (although I've seen five). You are able to split your group and play either course at either location!
During peak season you might have a wait to play, but usually the wait is minimal. The best time to play is when the course opens.
You can have a party at Winter Summerland! Just call 407-WDW-BDAY to make arrangements. The private picnic area just off the course area is decorated with balloons, and you have a "party planner" who stays with you throughout the two-hour event. The cost is $19.95 per child (minimum of 10/maximum of 40) and includes pizzas, drinks, cake (snowman shaped!), and a take-away gift. Adults/chaperones are free, unless they want to play golf. Extra pizzas are available to order for $14.95 each. (Note: I did this with my Brownie Troop last December with parents and had a fantastic time. I couldn't have asked for a better event for the kids OR adults!) This could be a lot of fun as part of a family gathering or other special family celebration.
As a "locals," we go to these mini-golf courses often. We never get tired of the theming, the cast members are great, and it is always a lot of fun. Whether you're already a golf fan or a novice, I would highly recommend taking advantage of Winter Summerland or Fantasia Gardens during your next Walt Disney World vacation.
Incoming search terms:
https://www themouseforless com/blog_world/mini-golf-at-wdw/