This post may contains affiliate links for your convenience. If you make a purchase after clicking a link we may earn a small commission but it won't cost you a penny more! Read our full disclosure policy here.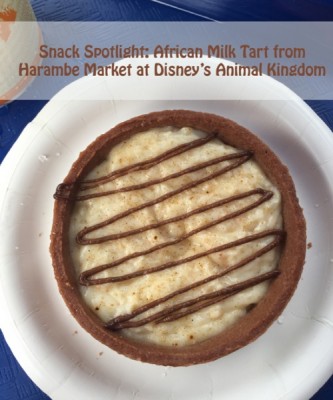 I have to say, ever since Disney's Animal Kingdom has being it's nighttime experiences, I have fallen in love with that park. I love that it isn't so hot, I love the entertainment, and I love the attractions at night. Of course, I also love dining here too. It's just all so much fun to experience.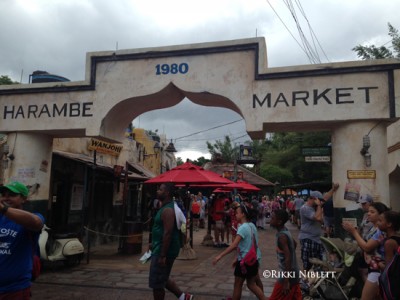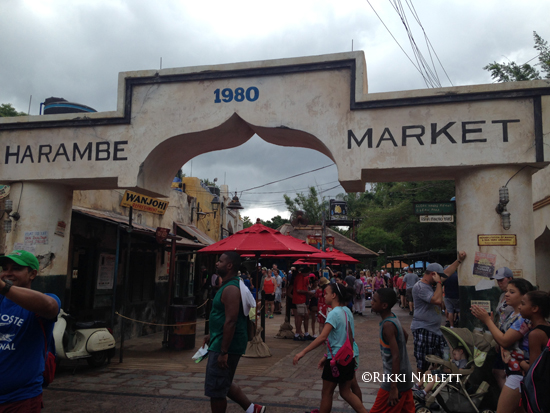 One of the newest dining offerings for the park is Harambe Market. I love this quick service dining location due to the unique food offerings that are completely unusual for a theme park. But what I love about them are that they are not super scary…instead they are safe options that allow Guests to experience culinary delights that are close to main stream dishes. For example, you have the Beef and Pork Sausage fried in Curried Corn Batter and the Spiced-rubbed Karubi Ribs. See…not your traditional counter service theme park dining! But let me tell you…it's so so good.
Now, say you're looking for a great snack or dessert to grab from Harambe Market…well look no further than the Milk Tart found at the walk up windows.
The African Milk Tart features Coconut Custard in a Chocolate Tart Shell that's then dusted with Sugar and Five Spice Powder then drizzled with Dark Chocolate Ganache. Let me tell you…it's really good.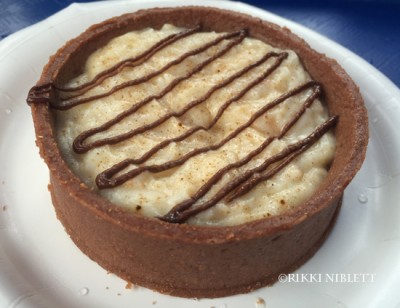 I will say, you do have to like coconut to enjoy this dish. The coconut custard features a pretty coconutty taste. The custard is smooth and creamy though with a sweet flavor. The chocolate crust is like a graham cracker crust; just crunchy enough. It didn't have on overly rich chocolate taste, instead it was just enough to add flavor. In addition, the spices were very light. I actually didn't notice them much.
The Milk Tart was actually pretty decently sized. I couldn't finish it all. I thoroughly enjoyed it though.
The one disappointing part about Harambe Market though is that if you are stopping at the walk-up windows, the Milk Tart is your only option for a dessert choice. So if you are on the dining plan and don't like coconut, you are out of luck. I am surprised that the area hasn't included an additional dessert because of this.
As for me, I'm looking forward to my next stop at Disney's Animal Kingdom so I can enjoy the delightful African Milk Tart.