This post may contains affiliate links for your convenience. If you make a purchase after clicking a link we may earn a small commission but it won't cost you a penny more! Read our full disclosure policy here.
By Kristi Letsinger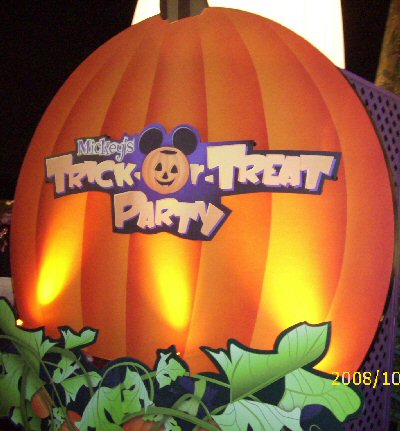 My family and I hadn't been to the California parks in quite a while, and were very excited to make a fall visit to experience Halloween Time at the Disneyland Resort. The highlight of our Halloween festivities was Mickey's Trick-or-Treat Party at California Adventure. I had been to Mickey's Not-So-Scary Halloween Party at Walt Disney World in the past, so I was interested to see how this party compared.
I attended the first Trick-or-Treat Party of the season. California Adventure closed at 6:00 p.m. to prepare for the arrival of partygoers at 7:30 p.m. I was amazed that at 6:00 p.m., people began to line up at the front gate waiting to get in. Signs said that the party was sold-out, so we were worried that it might be very crowded!
The fun and festive décor greeted us as soon as we approached the gates. Much of the entrance area was candy corn themed! Large candy corn pieces in place of the large "A"s that help to spell "California" welcomed us at the entrance. The Mickey-shaped pumpkin and ghost balloons and other seasonal decorations also helped set the spooky-but-cheerful mood.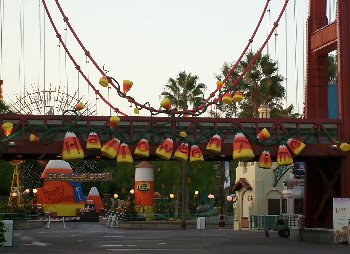 The gates opened at 7:00 p.m., and we were relieved that it took us only about 10 minutes to get into the park. Then we were directed to another area where we waited for about 15 minutes while the excitement built. At that rope drop it was everyone for themselves: on to the candy stations, off to the rides, ready to see the sites.
There were about 13 candy stations that were marked on the map and 12 that were secret locations that you had to find. We found most of the secret stations that were hidden in buildings or on back trails. We did not encounter any huge lines for candy and ended up each getting a bag full of sweets to take out of the park. The candy included some chocolate.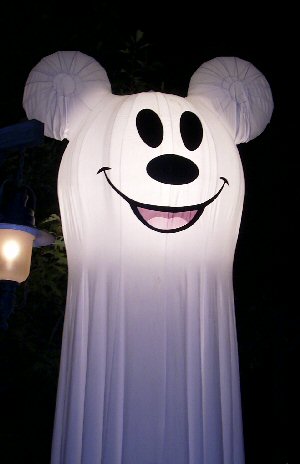 In the sea of costumed partygoers, there were also characters out and about, including Mickey and Minnie, the Evil Queen from Snow White, and Anton Ego, the critic from Ratatouille. PhotoPass photographers roamed the park. There were crafts for the whole family, characters and street performers interacting with guests, and a few dance parties throughout the park.
We felt there were some areas that could be improved for future Trick-or-Treat parties: Many of the restaurants and stores were closed during the party. Maliboomer and Grizzly River Run were closed, and all of the shows were dark. Unlike the party in Disney World, the parade that we were excited to see turned out to be just one float with characters. During the route they would stop at designated areas and have an interactive dance party, which was great. The kids loved it when Chip and Dale pulled them into the party to dance! The mini–dance party only lasted about 10 minutes and Chip and Dale moved on to their next stop. We loved watching the kids having fun with the characters, and hoped for more of this kind of interaction. In comparison, the parade at Mickey's Not-So-Scary Halloween Party is a full-length parade. In fact, it is arguably one of the better parades to watch. The parade during the Trick-or-Treat Party was more like the Block Party Bash that appeared at California Adventure and at Disney's Hollywood Studios.
We also had fun people-watching during the event. Guests wore costumes ranging from cute (princess attire) to frightful (masked creatures). In a noticeable difference between this event and Walt Disney World's, we did not encounter this kind of creepy costuming at the Not-So-Scary Halloween Party. Interestingly enough, the Disneyland website says that costumes should all be kid-friendly. This is the only opportunity for guests over age 9 to dress up in costume at the parks.
Though this party was sold out, California Adventure was still free of large crowds. We enjoyed walking around, seeing the Halloween sights, and, of course, getting candy! We would definitely go back and do this party again. To paraphrase "Grim Grinning Ghosts," the happy haunts materialized and made this a definitely Disney-fied "swinging wake."
[Editors' note: Dates for Mickey's Trick-or-Treat Party are Oct. 3, 10, 16. 17, 22, 23, 24, 28, 29, 30, and 31. Tickets are $29 per person when purchased at least one day in advance, $37 per person for tickets purchased day-of, and for all Oct. 31 tickets. They may be purchased online at www.disneyland.com or by calling (714) 781-4400.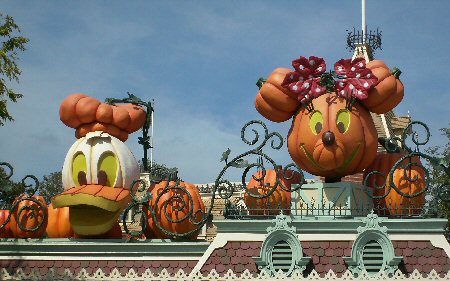 For more information on Halloween Time at the Disneyland Resort, visit towww.disneyland.com/halloween