This post may contains affiliate links for your convenience. If you make a purchase after clicking a link we may earn a small commission but it won't cost you a penny more! Read our full disclosure policy here.
By Chris Johnson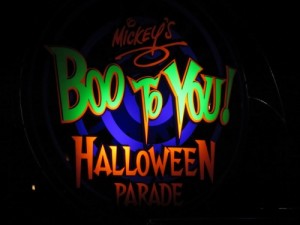 Are you a fan of Halloween? I am, but mostly only because I met my wife at a Halloween party. LOL
In general I was never a fan of the holiday. As a life-long Disneyphile however, I can say, without a doubt, that Mickey's Not-So-Scary Halloween party is easily my favorite event or party that occurs regularly in any of the Walt Disney World parks.
For those that might not be familiar, Mickey's Not-So-Scary Halloween Party (MNSSHP) is a hard ticket event that takes place on certain nights each year starting in mid-September and ending in early November. A hard ticket means that guests who would like to attend will need to purchase another ticket in addition to their regular park ticket in order to do so.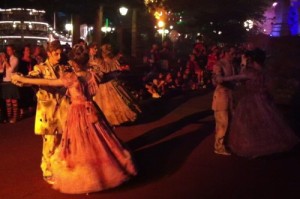 Tickets start at $62 per person and the party starts at 7:00 pm. What does that mean? It means that after that time, the park is closed to the day's guests that are not attending the party. There are a limited number of tickets sold for each party. I know, I know. What does that mean? That, my ride-loving friends, means shorter lines. Think of it as even more limited Extra Magic Hours. You will be issued a wrist band and only those wearing those bands will be allowed to enter ride lines after 7. As a side note: Guests who are not attending the party but were in line before the closing time ARE allowed to finish out that ride. No one is coming out with the Mouse-eared handcuffs. ; )
Ok, ok. Shorter lines are good and something that all of us can agree on. What else makes the party so cool? Oh, my friends…..
Guests are encouraged to dress up for the party. How cool is that? You get to dress up and go to Magic Kingdom! This provides even more interaction with Cast Members and they are amazing when it comes to talking to younger ones that are dressed up. It is so much fun. Oh, and let's take a moment to talk about people watching. You think that normal people watching in a theme park is fun? Imagine being able to check out some of the amazing costumes that people come up with. It's a blast!
Whether you dress up or not, you will be issued a bag for trick-or-treating. Disney sets up trick-or-treat stations all throughout the park (that are CLEARLY marked) for guests to stop at and get their fill. The range of candy that you will get is a very wide range.  There are raisins. There are candies. There are gummies. There are even tiny candy bars at times. I even got a foil-wrapped chocolate toe once. I'm not kidding. I didn't eat it. LOL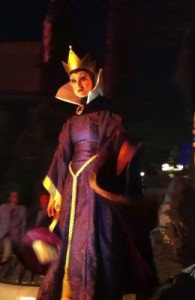 There is a Villains Dance Mix and Mingle where some of the villains from your favorite Disney films get things started with a small introductory show. There is some of the usual baddie wickedness that we've come to expect from these characters set to music and including lots of fun. When the show is over the villains will make their way out to the crowd for meet and greets.
There is a parade exclusive to the party and that is Mickey's "Boo-to-You" Halloween Parade. As a note, this is my FAVORITE part of the party and my favorite anywhere in any of the Disney parks (and I've been to DL and DLP). The parade starts with a ride by the Headless Horseman and he is amazing. Whatever you do, keep your feet on the curb!!! The parade is ghoulishly themed and features some of our favorite Disney characters clad in their Halloween costumes. Best of all (if you ask me) the parade includes the Gravediggers. They are a small group of gentlemen with silver shovels that spark against the street as they drag them through a choreographed routine. In the dim light of the park it is quite a sight!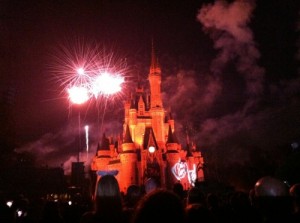 But the best part of MNSSHP for many people is, of course, the FIREWORKS!!!
HalloWishes is the fireworks show that takes place during each of Mickey's Not-So-Scary Halloween parties. The show is narrated by a Ghost Host and features, of course, villains that take us through each part of the amazing display.  The finale is like no other you will ever see in MK and even has fireworks in the round (launched from all around the park).
If you've never tried one of the Disney parties and you only try one, I would completely recommend the Halloween party. You will ride attractions with shorter waits, dress up, see an amazing parade and fireworks display and, best of all, you will end up with a bag full of candy! Actually, the best part is that you will have an amazing time with your family.