This post may contains affiliate links for your convenience. If you make a purchase after clicking a link we may earn a small commission but it won't cost you a penny more! Read our full disclosure policy here.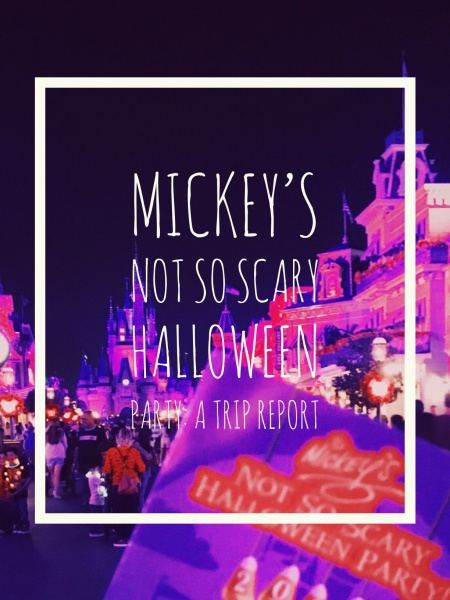 I love all things fall at the Magic Kingdom. From the decorations adorning Main Street USA to the delicious fall-themed treats, there's nothing better! I recently got to take a quick weekend girls trip to Walt Disney World with my best friend, and we decided to go experience Mickey's Not So Scary Halloween Party. Here, I'm bringing you my trip report, tips, and favorite parts of the party!
ARRIVAL AT MICKEY'S NOT SO SCARY HALLOWEEN PARTY
Because vacation days are so precious, we decided to fly to Orlando on Friday afternoon and head straight to the party from MCO. Unfortunately, my friend's flight from Boston was about 2 hours delayed (though I made it from NYC on time!), so we got off to a late start.
We headed straight from the airport to the Magic Kingdom, and even with her delays, we still managed to arrive by 8:00 p.m. (The party starts at 7:00 p.m.) We decided to wear some cute Halloween-themed shirts and ears in lieu of costumes, since it was about 85 degrees out, and we were very happy with that decision!
Unfortunately, we did miss some of the Trick-Or-Treat stations, and some restaurants had closed already, but we decided to just enjoy everything we could and make the most of our (albeit short) party night! We scanned our tickets, got our wristbands, and were off!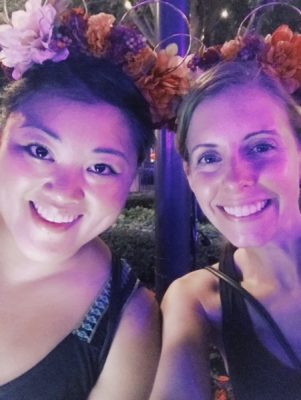 TRICK-OR-TREAT
There's nowhere else on earth two almost 30 year old adults can go trick or treating, so we knew we had to experience trick or treat in the most magical place on earth! This year, there were 14 trick or treat stations, though the Main Street USA location closed at 8:00 p.m. and we just missed it!
We headed into Tomorrowland to our first station located at Monsters, Inc. Laugh Floor, where we got to enjoy two candy stations! Each station gives you at least 1 big handful of candy (the good stuff, like Snickers, M&Ms, Dove Bars, etc.), and our bags filled up after hitting only a few stations! We went on to the Storybook Circus Railroad Station, Ariel's Grotto, and a few more stations before we started to get hungry!
We noticed that there are also allergy-friendly treat stations located throughout the park (one on Main Street USA, and two in Liberty Square). Teal trick or treat bags are available to indicate any food allergies and keep things simple and safe!
DINING OPTIONS
Having come straight from the airport, we were both starving by the time we had finished a little trick or treating! Our original game plan involved gourmet tots from The Friar's Nook in Fantasyland, but due to our late arrival, it was already closed. We wound up enjoying old reliable, nachos from Pecos Bill Tall Tale Inn and Café.
We also had to indulge on some specialty Halloween treats; we tried the candy corn milkshake from Auntie Gravity's Galactic Goodies in Tomorrowland, and enjoyed a Jack Skellington push pop. We agreed that the milkshake was as sweet as you'd expect (between two of us, we only finished about ¼ of the shake!), and that the push pop was delicious and adorable!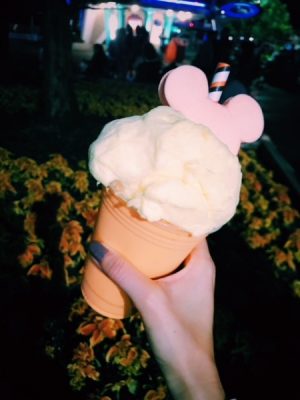 ATTRACTIONS
One of the best parts of any after-hours ticket event is the opportunity to experience all of the attractions at shorter wait times, so we made a point to hit a few rides before the parade and fireworks! The party offers three attractions "filled with Halloween fun" during the party, so we knew we had to check some of those out!
We rode Pirates of the Caribbean and spotted Gunpowder Pete, a real live pirate! My friend rode Space Mountain, as well, which was completely pitch black for the party. She said it added some extra thrills, for sure! We also enjoyed some of our favorite attractions, including Under the Sea ~ Journey of the Little Mermaid, and Buzz Lightyear's Space Ranger Spin, to name a few. The lines were extremely short, and we walked onto everything in less than 10 minutes, despite longer posted wait times!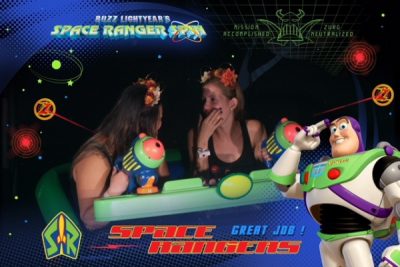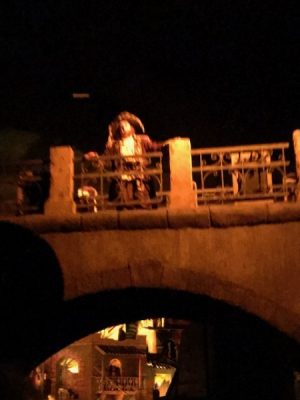 SPECIAL ENTERTAINMENT
Of course, we had to experience the Happy Hallowishes Fireworks Show. We walked over to the hub in front of the castle for the 8:15 p.m. show, about 5 minutes before the show began, and had no trouble finding an excellent viewing location.
The show was a great combination of projection, fireworks, and fun music, and concluded with a 360 degree firework grand finale, which is definitely worth experiencing!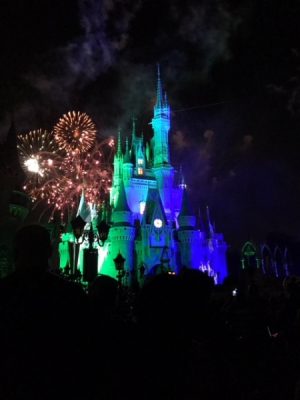 My favorite part of the night was definitely the Mickey's "Boo-To-You" Halloween Parade (for those that have seen the show, I'm sorry for getting the song stuck in your head!). The parade is offered at 9:15 p.m. and 11:15 p.m., and we chose the later show since we were so busy!
We stood right on Main Street USA and had no trouble finding a prime viewing location. The Headless Horseman opened the show, setting the mood and getting everybody excited! The parade was great, and well worth taking time away from attractions to experience.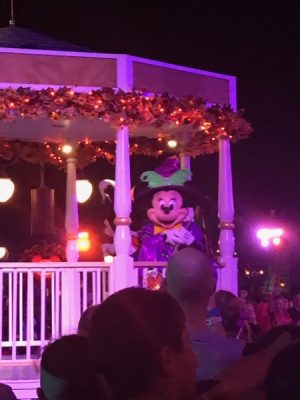 On our way out of Mickey's Not So Scary Halloween Party, we stopped at the castle forefront stage to see the Sanderson Sisters and other villains performing in the Hocus Pocus Villains Spelltacular. We were exhausted, and left halfway through to try and beat the monorail crowd, but we really enjoyed the show!
FINAL THOUGHTS
Though we made this mistake of flying in on party day and ultimately showing up late, we still had an absolutely magical time at Mickey's Not So Scary Halloween Party! We trick or treated, rode a bunch of rides, enjoyed some themed treats, and watched some fantastic entertainment! We agreed that we will definitely be back for another girls trip next year!
Have you attended Mickey's Not So Scary Halloween Party before? What are your favorite aspects? Share in a comment below or on Facebook or Twitter.
Did you like this article? Make sure to share it with your friends! Check below for easy ways to share!
Want to attend Mickey's Not So Scary Halloween Party? Contact The Magic for Less Travel for more information and a free, no-obligation quote.

Incoming search terms:
mickeys not so scary trip report