This post may contains affiliate links for your convenience. If you make a purchase after clicking a link we may earn a small commission but it won't cost you a penny more! Read our full disclosure policy here.
By Michael J. Hewell (fondly known as TourGuideMiKE)
Planning on going to Mickey's Not-So-Scary Halloween Party this year? Or next? If so, MAXimize your experience before you even hit Magic Kingdom by reading our insider article from TourGuideMiKE, with ticket, timing and dining details for MNSSHP.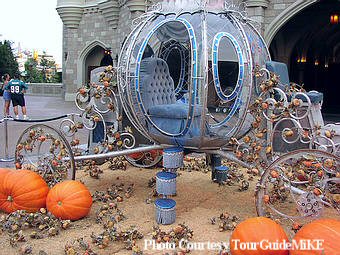 I so-o-o look forward to these fun-filled parties in the Magic Kingdom to enjoy a night of family-friendly Halloween festivities that include a very cute Halloween parade, special fireworks, trick-or-treating, and even costumed-wearing Disney characters. The entire park is themed to the special night, including a very spookily decorated Main Street, U.S.A. at the entrance. Gone are the white twinkling lights and playful, jazzy music. They're replaced with green, blue, red, and orange lighting, and haunted-themed music (from the Haunted Mansion, 'natch).
Part of the fun is simply walking around looking at everything throughout the park. (And wondering how Disney pulls it off in the short span of time they have available between the park closing to day guests and opening for the night's festivities!) In addition to all [most] of the attractions being open, there're TONS of Halloween-themed activities scheduled and waiting.
Let's go over the basics you need to know before attending Mickey's Not-So-Scary Halloween Party (MNSSHP).
Dates for 2005: Sept. 30 (Fri), Oct. 2 (Sun), 6 (Thu), 7 (Fri), 11 (Tue), 13 (Thu), 16 (Sun), 20 (Thu), 21 (Fri), 23 (Sun), 25 (Tue) 27 (Thu), 28 (Fri) 30 (Sun) and 31 (Mon)
Party Hours: 7 p.m. to Midnight
Arrival Tip: The park closes to day guests at 6 p.m. on these nights. You can begin arriving as early as 4 p.m. and they'll allow you in with your MNSSHP tickets (and provide a wrist band so everyone knows you can stay). Please remember that I'm former MK Guest Relations so I know this 'stuff,' but if it makes you feel better, know that I confirmed it again this year, 2005 – the tickets are programmed to allow entry at the turnstiles beginning at 4 p.m. (This is also true for the Mickey's Very Merry Christmas Parties.)
Let's emphasize that tip! Beginning at 6:01 p.m. the cast members will begin checking for the brightly colored wrist bands. As the day guests exit rides, they'll be directed to the park exit if they're not staying for the MNSSHP. In 2005, MNSSHP guests in the park at 6 p.m. are directed to Frontierland, where on October 2, three attractions remained open: Big Thunder Mountain, Splash Mountain and Country Bear Jamboree. Tomorrowland opened by 6:45 p.m. On October 2, it was wonderful then: absolutely no lines because no one's there yet.
2005 Advance Purchase Price Tickets: Adults $37.23 (tax incl) and Children $29.77 (tax incl) for every night EXCEPT October 31. IF there are any remaining tickets on the day of the party, they'll be $42.55 per adult and $35.10 per child, and only available at the host park – the Magic Kingdom. BTW, they're not available with any Disney Resort package and must be purchased separately. October 31, Halloween Night will cost Adults $42.55 (tax incl) and Children $35.10 (tax incl) — same price as the 'day-of' tickets.
Tickets went on sale May 1, 05. They are nonrefundable and nontransferable. Tickets for these parties DO sell out, but it usually takes quite some time before that happens. Even the most popular party night, October 31, is not an 'instant sell-out.' (But don't put it off either!) What's another hot selling date? After Sept 30, the first night of the party, the next dates to go are those closest to Halloween night, and then Friday nights.
Annual Pass Holder Discounts: Annual Pass Holders get a 25% discount on selected tickets and may purchase up to a total of 4 discount tickets. The discount is only available on selected nights, it's based on a limited availability, and does not apply to the "Advance Sales" admission price. (i.e. the 25% discount is on the non-discounted 'day-of' prices) The party dates the AP discount is available: Sept 30, Oct 2, 6, 20 23, & 25. Tickets are $31.90 per adult and $25.90 per child on these nights.
"Where and how can I buy tickets?" These parties are very popular and many will sell out. However, if there are tickets still available, you can buy them prior to the day of your selected party date at:
Disney Reservation Center, 407-934-7639
http://disneyworld.com/
All official Walt Disney World Resorts
Hotel Plaza Gift Shops (DD Resorts)
Downtown Disney Guest Relations
All 4 Theme Parks Vacation Planners (ticket booths)
All 4 Theme Parks Guest Relations
Note: If you wait until the day of the party, the ONLY place that will have any remaining tickets will be the host park, Magic Kingdom Guest Relations at either City Hall inside the park, or the Guest Relations Windows to the right of the turnstiles outside the park as you face the entrance.
"How do I receive my tickets?"
They will be mailed to you. Don't forget to check the date on the tickets once you receive them! If you order them less than 14 days from your vacation departure date, they will have them waiting for you at the Magic Kingdom's 'Will Call' windows. These are the park's Guest Relations windows that are on the far right side of the turnstiles as you face the entrance. The person whose name is on the order is the only one authorized to pick them up, and she or he must have photo ID. Why is this so important? The paperwork/receipt that is inside your envelope has sensitive personal information. Be glad they ensure they hand it to the right person! ;>)
"Will this take a long time to pick up our tickets?"
If you're there earlier in the day, know that these Guest Relations windows are seldom busy between 1 p.m. and approximately 5 p.m. – you'll be able to walk right up to them then. Lines will develop after 6:15 p.m., but they will have all of their windows open and fully staffed. Everything is preprinted and waiting to be quickly handed out. You shouldn't have to wait very long at all!
By the way, you don't need any help! It only takes one person from your party to pick up the tickets. The others can wait over by the side or in front of the turnstile area. (There are restrooms to the immediate right of the windows. Maybe 'now' instead of later with the crowds?) Oh, and don't forget your photo ID!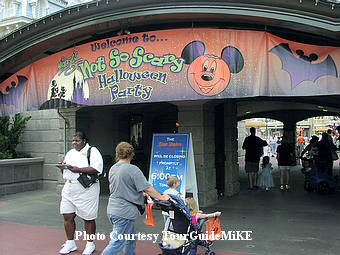 "Where do I pick up the wristbands for the party?"
You can exchange your tickets for the wristbands at the entrance turnstiles to the Magic Kingdom. The exchange begins at 4 p.m., and they're usually pretty good about having everything set up, but you may wait a few minutes too. There's no 'rule' that they have to be on time as this is simply a courtesy for guests arriving early for the party.
"If we're already in the park for the day, do we have to leave?"
No, as long as you have your MNSSHP tickets to trade in for the ID bracelets. Although … I'll be concerned about you being in the park for too many hours. I want you to MAXimize your evening by staying as late as possible, and visiting the park too early reduces the likelihood of that happening …
"What about dinner? Where should we eat?"
Wow! You're asking all the right questions! You should be proud of yourself! ;>) Tonight's dinner should be 'quick & casual' because the emphasis for the evening is the party, not a 'restaurant experience.' You agree? We just don't have time for a major 'dining event,' you know? ;>)
If I were hosting a family inside the park for one of these parties, I would have us entering our favorite counter service restaurant around 5:45 p.m. (no later) to order our salads, burgers, chicken sandwiches, and French fries before they close at 6 p.m. Make sure you have enough plastic trays or helpful (trustworthy) hands to carry your food to the nearest point of where you want to be when the party begins at 7 p.m. You can eat there, (I DO hope it's not too cold!), and be ready for a fun-filled evening! Arrive by no later than 5:15 p.m. IF you wish to dine inside the park, and 5:50 p.m. if you wish to have supper outside the park BUT still maximize your attractions at 6 p.m.!
"When is the best time to dine at a sit down restaurant?"
I only recommend that you dine at a full service restaurant here if you can do so between 4 p.m. and some time that has you out the door before 6:30 p.m. at the latest. Why? Because although the party is advertised with a start time of 7 p.m., you can enter with your MNSSHP tickets as early as 4 p.m. When the park closes to day guests at 6 p.m., the MNSSHP guests (with their displayed ID bracelets) will be invited to enjoy any of the Tomorrowland attractions, and the others open around 6:45 p.m.
"What is the deal about the Liberty Tree Tavern?"
The Liberty Tree Character Dinner accepts Advanced Dining Reservations for this party between 5 and 9 p.m., and this can be arranged by the same Disney DRC cast member who helps you over the phone when you order your tickets. The meal is the normal price of $21.99 per adult (12+) and $9.99 per child (3-11), and this was the only table-service restaurant choice inside the park during the party.
In 2005, we also have Tony's Town Square Restaurant for those who want table service but don't care about dining with the characters. They have seating times between 6 and 8 p.m. (although the regular dinner times earlier in the day still apply), and their menu is a la carte as usual.
Let's chat for a moment … 'Disney Vets' make a HUGE deal about the Liberty Tree Tavern being open during the 'transfer period' of 6 to 7 p.m., and I've never understood why they do. (Well, other than Liberty Tree being a really cool place to eat — I understand that part.) The other restaurants have advance dining reservations available all the way up until just before the park closes to day guests just like always. So where are you during this same transfer period? Inside eating … just like at Liberty Tree Tavern … ;>) "Yeah, but the Liberty Tree is open DURING the party," they say. Hmmm … let's think about this for a moment … The party is only five hours long, and you've paid over $40 per adult, and $30 per child, to be there. Are you re-e-eally going to spend that precious time in a restaurant? I have a hard time seeing everything I want to, and that's with my VIPs and I downing our meals at a casual dining location. Something to think about, eh? Oh, and guess when my favorite time is to maximize the attractions with minimal lines? Between 6 and 7:15 p.m. … ;>)
"What Else is open for dinner?"
The other table-service restaurants in the Magic Kingdom will be available BEFORE the party begins, and can be booked with advance dining reservations at the normal Reservation Windows of 90 days. (There are multiple counter-service locations available too, so I included them also). The following restaurants were open in 2004 from 7-11 p.m.:
Pecos Bill Cafe, Frontierland: Cheeseburgers, hot dogs, wrapped sandwiches, salads
Westward Ho, Frontierland: Chips and beverages
Turkey Leg Cart, Frontierland: Turkey legs only (very tasty)
Scuttle's Landing, Fantasyland (behind Dumbo): Frozen sodas and caramel corn
Mrs. Potts' Cupboard (Fantasyland): Soft-serve ice cream, floats, sundaes, shakes
Cinderella's Royal Table (Castle): Full service, ADRs available 90 days out, closes at 7 p.m.
Cosmic Ray's Starlight Cafe (Tomorrowland): Cheeseburgers, veggie-burgers, rotisserie chicken, soups, sandwiches, salads
The Lunching Pad (Tomorrowland): Smoked turkey legs, snacks, frozen drinks
Crystal Palace (Hub off Main Street): Full Service Character Dinner, ADRs available 90 days out, closes at 7 p.m.
OK, we've covered the 'must know' basics. Now, there's no time like the present. Choose your MNSSHP date, get those tickets, pick among your dinner options, and enjoy this not-to-be-missed special event at Walt Disney World! I know you'll have a great time.
The above was adapted, with permission, from the TourGuideMiKE Automated Vacation Planner™. For the complete scoop on Mickey's Not-So-Scary Halloween Party, including more MNSSHP advance planning tips and sample party tour articles, as well as day-to-day Walt Disney World itinerary planning advice, detailed sample park tours, and much more, visit http://www.tourguidemike.com. Our Magically Speaking readers receive a $3 discount off the $21.95 price by using code A82E8-2AH.
Magically Speaking Featured Article
Library of Congress ISSN:1556-3863