This post may contains affiliate links for your convenience. If you make a purchase after clicking a link we may earn a small commission but it won't cost you a penny more! Read our full disclosure policy here.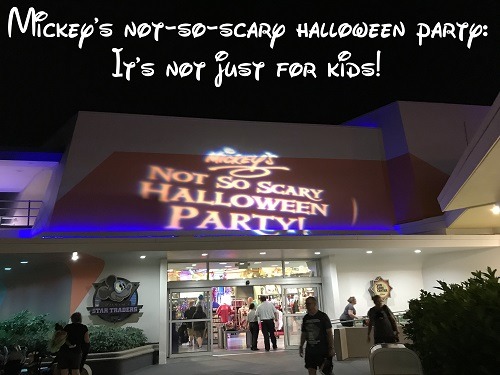 Mickey's Not-So-Scary Halloween Party has always sounded like the perfect way to celebrate the start of our favorite season. So, my grown daughter and I didn't hesitate to get tickets when we found out the party would be taking place during our late August trip. Who says you have to be a kid to have Halloween fun?
Sanderson Sisters! Jack Skellington! Maleficent! We couldn't wait to see them all, and trick-or-treat our way through the Magic Kingdom.
We carefully planned our outfits – coordinating witch hat headbands and a Halloween color tie-dyed shirt for my daughter and an "I put a spell on you" shirt for me. We'd be headed to the party on August 27, the first full day of our girl's only Disney adventure.
We spent the morning at Hollywood Studios getting in some rides we had FastPass+ for because I can't miss Toy Story Mania or Rock N Roller Coaster! Then we headed back to our resort to rest a bit and get ready for Mickey's Not-So-Scary Halloween Party. For us that included some bat and spider tattoos to complete our not so spooky look!
Party guests could enter the Magic Kingdom and get their wristbands at 4:00 p.m. That's about when we headed over, even though the actual party runs from 7:00 p.m. until midnight. The first thing I noticed is that not many people, even kids, were in costumes. We saw some here and there, but for a Halloween party? It was pretty costume-less. It made me glad my daughter and I did *something* but that we didn't go for full-on costumes.
The second thing I noticed is that there wasn't a lot of guidance from Cast Members. We headed over to the Firehouse on Main Street U.S.A. after entering because I knew we could get a party-exclusive Sorcerers of the Magic Kingdom card. It was only from that Cast Member that we learned if we headed to the backstage area just past Tony's Town Square Restaurant that there were photo ops and trick-or-treat bags. A little guidance at the front gate about this would've been nice.
We made our way through and got our bags, along with our first helping of candy. The bags are cute but not super Halloween-ish. The featured a promo for Maleficent: Mistress of Evil on one side and Frozen II on the other. Still, it is a nice sturdy bag and a cute keepsake from the party.
Bags in hand, we made a beeline through the park to Aloha Aisle. Why? Because it's not a Disney vacation until we've had a Dole Whip float!
After that, we began our Mickey's Not-So-Scary-Halloween Party grown up adventure by trick-or-treating our way to Splash Mountain and Big Thunder Mountain Railroad. Of course, we hit up some more trick-or-treat stations along the way. They are easy to find with large lighted blow up markers showing you where to go.
Next up? The Haunted Mansion! This is where things slowed down a little. It probably took us closer to half an hour to ride, which is more like what we experience during normal park visits. However, we did enjoy the "ghost" on the lawn while we waited in line and thought the mansion looked extra spooky.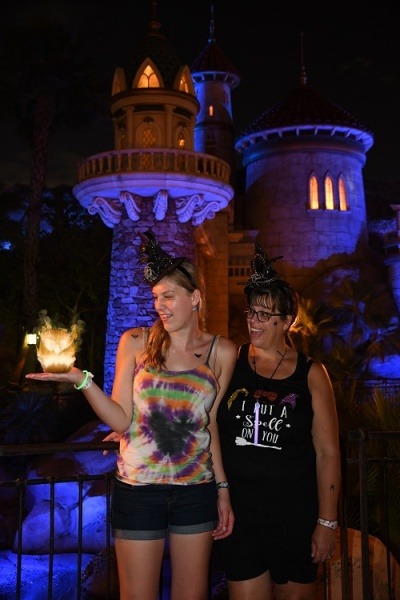 After that, we continued our way around the park, getting magic shots, riding some rides and loading up on candy. At some point during the night, we each acquired a second bag for all our sugary loot. I think my favorite candy of the evening was the pirate's gold coins. These are the same ones given out on pirate's night during a Disney cruise and a fun little treat.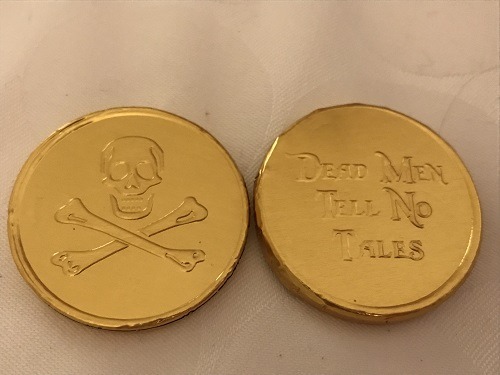 Midway through the party, we checked out the line to meet the Seven Dwarfs, but didn't want to wait an hour. Instead, my daughter and I wanted to ride all the rides that had special party touches – real pirates on Pirates of the Caribbean, special lighting on the Mad Tea Party, and Space Mountain the pitch dark! We enjoyed the live pirates and Space Mountain was a crazy thrill in absolute darkness. We were least impressed with the teacups, but still had fun.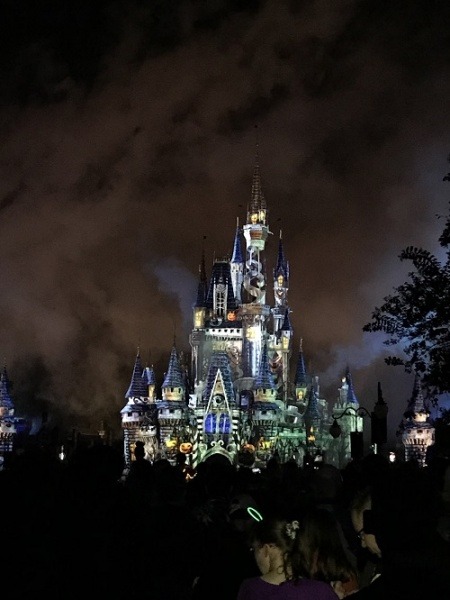 The Sanderson Sisters show was what I was most looking forward to, and in spite of three different show times, I never made it to one! We also missed most of the parade and found we just didn't want to huddle that close with thousands of our best friends for a glimpse of the castle show. It's true. We missed out on ALL the entertainment during the party.
We found that we just couldn't do it all. There was no way to ride rides, do the special magic shot photos, meet characters, watch the parade and watch the shows in one night. At least not for us. Instead, our priorities were rides, photos, and we really wanted to meet the Seven Dwarfs. We did accomplish that goal around 11:30 p.m. as the party was winding down.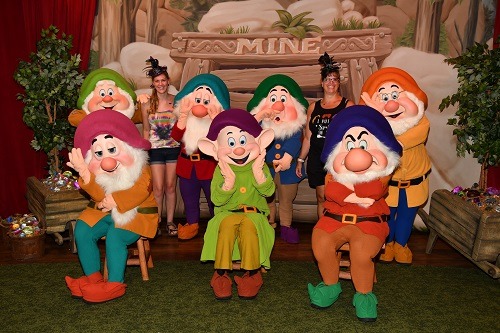 Our last party stop of the evening was outside the main gates, where we got two last spooky magic shots before catching the bus back to Pop Century.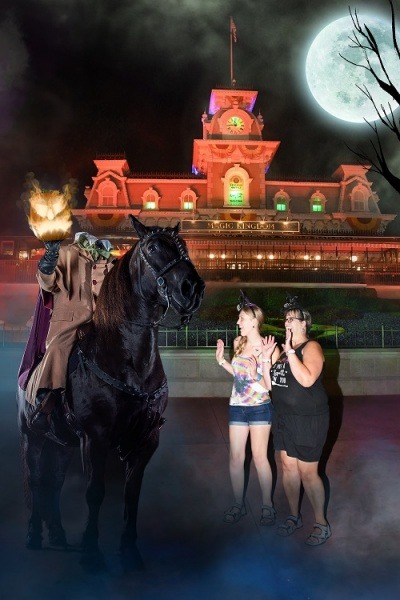 What's our takeaway from the event? It was fun – and exhausting! We're so glad we did it, but we've firmly put it on our one-and-done list. It was more crowded than I expected for August. We had also made the mistake of visiting another park that morning. When the day was over, we had logged more than 27,000 steps for just over 11 miles!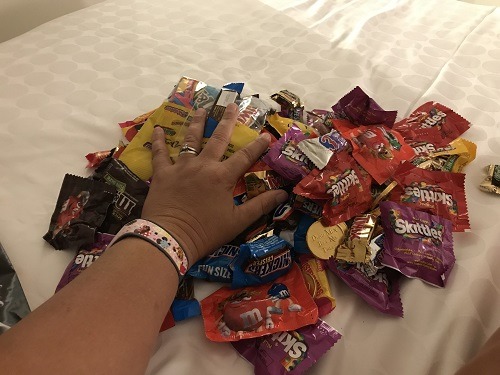 It's definitely fun. The magic shots alone are worth it. And we had candy for days to snack on back at the resort. (We *still* have candy to snack on!) Now we can cross that one off the bucket list.
Mickey's Not-So-Scary Halloween Party is a special ticketed event. Prices start at $79 per ticket, and the party runs select nights until November 1.
Have you attended Mickey's Not-So-Scary Halloween Party before? Let us know your thoughts in the comments, or on Facebook or Twitter!
Did you like this article? Make sure to share it with your friends! Check below for easy ways to share!
Want to visit the Walt Disney World Resort? Contact The Magic for Less Travel for more information and a free, no-obligation quote.