This post may contains affiliate links for your convenience. If you make a purchase after clicking a link we may earn a small commission but it won't cost you a penny more! Read our full disclosure policy here.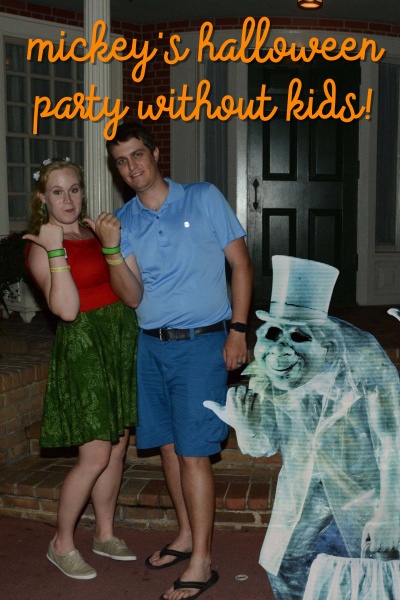 Last year, my husband and I got the chance to go to Mickey's Not So Scary Halloween Party and we enjoyed it immensely, even though we brought no kids!
We are not the type of people that get into the more gruesome or horror filled Halloween type festivities. We enjoy the fall season immensely and we love dressing up (well, at least I do) for parties. Overall, we just want to have fun! This is why we love the Halloween party at Disney so much. I think we are not alone in that desire. Based on my observations, this party draws quite a few adults that like to come even without kids.
TV Shows like Once Upon a Time and Decedents show a trend where Disney audiences crave the backstories of their favorite characters, even villains! Mickey's Halloween Party allows for villains to be featured unlike other nighttime shows and experiences.
So what to do at the party even if you have no kids?? Here's how we had fun while we attended!
First off, we arrived at 4:00 P.M. We did not buy a ticket for the day and we were able to take advantage of some extra time at the party by arriving as close to 4:00 P.M as possible. Upon arrival, you will get your wristband for the party and a small trick-or-treat bag (tip – bring your own bag if you want more candy). We enjoyed taking in the fall decorations and getting our photos taken on Main Street before going further into the park!
We wanted to hit some of the popular attractions, so were able to ride Space Mountain, Seven Dwarfs and Jungle Cruise. We also really wanted to try the Skipper Canteen for dinner and ate around 6:00 P.M. so that we would not miss any party specific events that began around 7:00 P.M.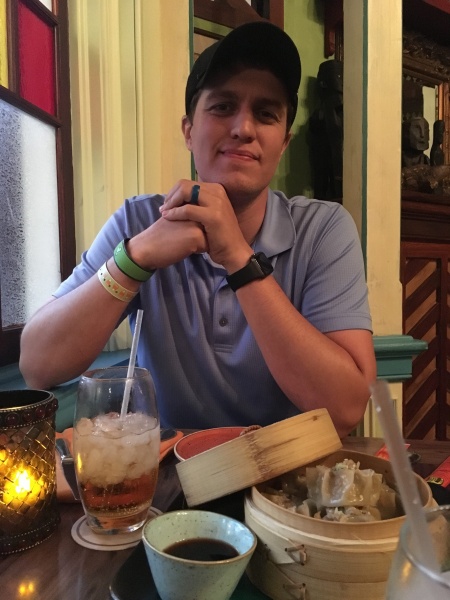 Another tip we think is really key is make sure you dress up in some sort of costume! In fact, you will feel left out if you don't. There were guests that went ALL OUT on their outfits. We preferred a more comfortable and subtle approach by Disneybounding as Lilo and Stitch. Cast Members love interacting with guests that are dressed up and it adds to the magic of the evening.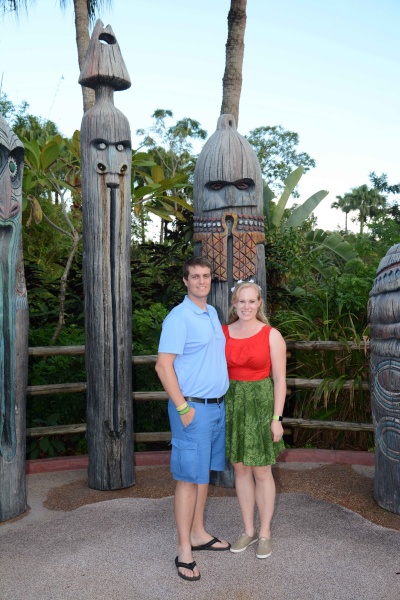 We also believe that Disney PhotoPass is a must for the party. Not only are there tons of PhotoPass photographers around the Magic Kingdom that night, there were also several special Magic Shots that were specific to the party. We had so much fun trying to collect them all as we Trick-or-Treated around the park!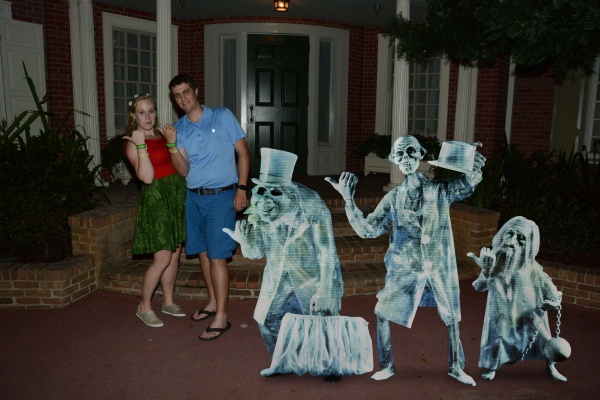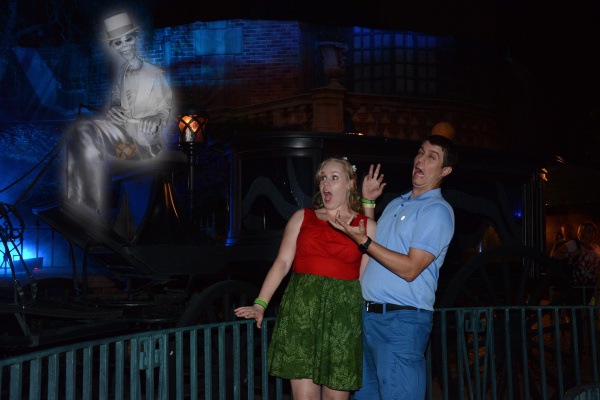 As we collected our candy throughout the night, we tried to find all the fun "extra" things at the park. Madame Carlotta or Madame Renata can be found on the lawn of the Haunted Mansion greeting guests who were coming to the ride. The Cast Members inside the Haunted Mansion were especially creepy as they escorted you to your Doom Buggy. The Dapper Dans are replaced by a "less lively" group, if you catch my drift! Not only did we get a ton of fun Disney magic, we were able to still enjoy many rides that we loved with little wait.
One thing we did not do is wait in line to meet many characters. Standing in line for an hour to meet a character wasn't something we wanted to invest our time in. But if you do want to meet those characters, the best practice seems to be to try to jump in line before the party begins for your must do character. That way you can meet your favorite character and then still enjoy most of the party! (Editor's Note: Keep in mind that even if you jump in line prior to the beginning of the party, due to the somewhat rare nature of many of the characters, lines do grow quickly, oftentimes getting to 2 hours or longer before the party even begins!)
By the end of the night, with full Trick-or-Treat bags, we took a quick ride on the Peoplemover before finding a spot for Hallowishes. One advantage of attending the party without kids is that you can arrive "late" and find a small empty spot in the hub that two people sans stroller can occupy. I personally like the Christmas fireworks over Hallowishes, but Hallowishes were still excellent and fun!
We caught part of the Hocus Pocus Villian Spelltacular show. But after five minutes, we decided to headed over to Frontierland to find good spots for the Boo To You parade. That's another tip – without kids, we could stay up for the late parade and we ended up getting fantastic spots! There was no one in front of us or behind us and we got some great character interactions as the parade went by! The Headless Horseman is not to be missed and I loved the Haunted Mansion grave diggers and dancers. This parade is my second favorite behind Paint the Night!
To sum up the night, it was so much fun! You don't have to have kids to enjoy the many offerings of Mickey's Not So Scary Halloween Party as long as you have a childlike heart of your own that just loves to play in the Magic Kingdom. We were definitely not the only ones enjoying the night without kids!
What about you? Have you attended the Halloween Party with just adults? What were your favorite parts? Share your thoughts in the comments.

Did you like this article? Make sure to share it with your friends! Check below for easy ways to share!