This post may contains affiliate links for your convenience. If you make a purchase after clicking a link we may earn a small commission but it won't cost you a penny more! Read our full disclosure policy here.
By Teresa Pitman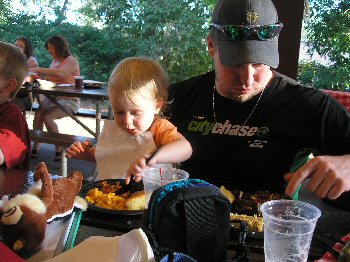 I'm sitting at a picnic table under the big pavilion roof, listening to the same conversation over and over. A cast member is tending the bar just a few feet away, and every time a guest approaches this is how it goes:
"How much are the drinks?"
"They're included with the meal, sir."
"Really? How many can I have?"
"As many as you like, sir."
"Really? This is the best event in the whole park."
So, in an effort to save that bartender from even more endless repetition, I will start by confirming what seems to be the most important information about Mickey's Backyard Barbecue: yes, beer and wine are included with the meal and, yes, you can have as much as you like.
But let me add that Mickey's Backyard Barbecue is about lots more than just beer and wine. It's a night of hearty down-home food, entertainment and interaction with the characters in a very informal setting that everyone in our family thoroughly enjoyed.
We rode over from our Fort Wilderness cabin in the golf cart, but you can also take the boat from Magic Kingdom to get to the campground – Mickey's Backyard Barbecue is a short walk from the boat dock. If you're coming by bus from another park, or driving, leave lots of time, as you'll be dropped off or have to park at the far end of FW and take an internal bus to get to the BBQ pavilion.
As we arrived, cast members instructed us to pick a table and then go up to the buffet to get our food. (It's good to arrive early so that you can grab a good spot and start eating before the entertainment begins.)The tables are rows of wooden picnic tables – nothing fancy. The food isn't fancy, either: some salads, that same great cornbread that they serve at Trail's End, barbecued chicken and ribs, cheeseburgers and hot dogs, baked beans, mac and cheese, corn on the cob. My grandchildren each ate two or three large slices of watermelon for dessert – and then followed up with Mickey ice cream bars as a second dessert. This is the kind of meal when second desserts seem entirely appropriate.
While we were enjoying our meal, a very good live band onstage played country music for us – a mix of new and older songs. And before we'd finished eating, out came Mickey, Minnie, Goofy and Chip and Dale, dressed in Western outfits and enthusiastically greeting the guests. They soon headed to the dance floor middle of the pavilion where the kids (and some adults) joined them in lively country dancing. It was crowded on the dance floor and pretty chaotic but my grandchildren (ages 2 and 5) absolutely loved it. They still talk about how much fun it was to dance with their favourite characters. The characters took breaks but returned after a short time.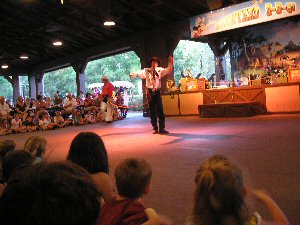 Next the dance floor was cleared, children were invited to sit around the edge, and a cowboy appeared to do a series of impressive rope tricks. The children were quite captivated by this, and at the end he brought up two audience members – who looked to be about 10 years old – to try a few of the tricks themselves. They got plenty of cheers and applause, especially when the cowboy had them do the "wedding ring" trick and then explained that this was how a cowboy would get a girl to be his wife – which rather horrified the junior ropers.
The atmosphere is what you'd expect from the name: imagine you're at a backyard BBQ with Mickey and his friends.  Everyone's pretty relaxed, the kids are playing, the food is casual but plentiful and good, and the entertainment celebrates the old west and country life.
And oh yeah, don't forget – the beer and wine come with the meal and you can have as much as you like. Really.
If you go:
Mickey's Backyard Barbecue runs every night from 6:30 to 9:30 (but get there early) in the outdoor pavilion in Fort Wilderness, near Trail's End and the boat docks.
Call WDW-DINE to book, full payment is required at the time of booking.
The cost is $44.99 for ages 10 and up or $26.99 for children 3 to 9. If you use the Disney Dining Plan, two table service meal credits will be deducted.