This post may contains affiliate links for your convenience. If you make a purchase after clicking a link we may earn a small commission but it won't cost you a penny more! Read our full disclosure policy here.
From Our Magically Speaking Newsletter Archive – subscribe today!
By Susan Kirby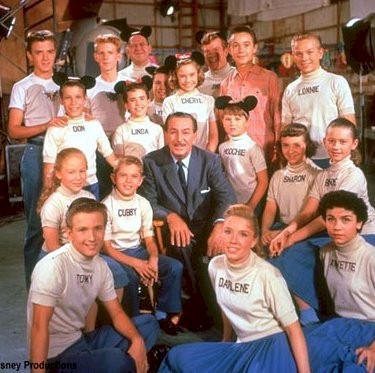 1957, with Walt: Left to right, rear: Tim Considine, David Stollery , Roy, Jimmie, Tommy Kirk, Me; Don Agrati (later, Grady on "My Three Sons" with Tim C.), Linda Hughes, Lynn, Cheryl; Seated: Karen, Cubby, Walt, Moochie (standing), Sharon, Bonnie Lynn Fields (there were two Bonnies on the MMC). Foreground: Tommy, Darlene, Annette
Photo Copyright Disney
"Now it's time to say goodbye to all our company.  M-I-C- See ya real soon- K-E-Y, Why, because we like you! M-O-U-S-E!"   Fifty years ago this is how a popular television show ended every episode.  For four seasons a group of kids came singing and dancing into America's homes, many of them becoming well known to the viewing public. So what happened to the original Mouseketeers after singing this for the last time in 1959?
To start, let's take a quick look at where they started. There were thirty-nine total Mouseketeers during the original series. Out of that number, only nine were part of the entire series. Twenty-five of the Mouseketeers were only on for one season. There were 360 episodes filmed, according to Disney, but NONE of the Mouseketeers appeared in all of them. The schedule would not allow, for the coordination of 3 hours of school, 1 hour of lunch and 4 hours of work a day. At that time, six days allowed for kids and no school, thus, 7 hours of work on the 6th day – which meant they would be in different episodes, some schooling, some rehearsing/wardrobe fittings etc. and some shooting.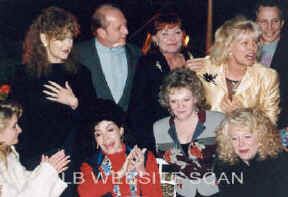 Some Mouseketeers and friends gather for a surprise birthday thrown by Cheryl for Annette in 1995
Top: Shelley Fabares, Lonnie, Doreen, Cheryl, Johnny Crawford
Bottom: Annette's daughter Gina, Annette, Sharon, Karen.
Photo Copyright Lonnie Burr
Probably the most well known Mouseketeer is Annette Funicello.  She managed to capture the essence of the things Americans in the 1950's and 1960's wanted to believe about themselves.  After the Mickey Mouse Club, Annette went on to make a few records, have her own TV show, and of course star in movies.  Walt Disney refused most film offers that were made to Annette; however he approved the Beach Party movies.  It was at his request though that you never actually see her belly button in the movies. This meant viewers only saw Annette in a one piece swimsuit (or a two piece that covers the belly button), which complimented her "good girl" at the beach image. In 1992 Annette announced she had been diagnosed with Multiple Sclerosis.  A year later she opened the Annette Funicello Fund for Neurological Disorders at the California Community Foundation. Annette is married and has three children.

Lonnie Then and Now – as a Mouseketeer and in 2004
Photo Copyright Lonnie Burr
Lonnie Burr went on to a successful career on many levels after the Mickey Mouse Club ended its run.  He graduated from high school and entered college by the age of fifteen.  By the time he was twenty he held a MA in Theater from UCLA.  Since then he has continued in show business.  Lonnie made over sixty guest appearances on television shows such as Chicago Hope, Murder, She Wrote, and Saved by the Bell, to name a few.  You can also find him in Police Academy VII: Mission to Moscow, Hook, Lionheart, Hans Christian Anderson, Oscar winning The Greatest Show on Earth (directed by Cecil B. de Mille and staring Jimmy Stewart, Betty Hutton and many other stars) and several other movies.  He was the only Mouseketeer to appear with Annette in the TV movie Lots of Luck.  In addition to performing in front of a camera, Lonnie has appeared in forty-nine plays from the Pasadena Playhouse to Broadway and worked as both a director and choreographer.  Just as importantly he has worked as an educator in many performance areas and is a published writer as well.  Lonnie and his wife will be celebrating their 36th anniversary this September.
Karen Pendleton left show business.  In 1983 she was in a car accident resulting in a spinal cord injury that left her a paraplegic. Karen was led to counseling as she recovered and that resulted in her attendance at Fresno State and achieving her AB and MA in counseling in her 50s, only one of two Mouseketeers to earn a graduate degree. Along with counseling, she has worked in women's shelters and taught classes on single parenting for over 20 years.  Karen has one daughter.
After the Mickey Mouse Club ended, Carl "Cubby" O'Brien continued playing the drums as a professional.  He has played the drums for Annie Get Your Gun, The Producers, and Gypsy on Broadway.  Most recently he is playing in a touring production of Chicago.  Other appearances were performances with Andy Williams, Bernadette Peters, and The Carpenters, just to name a few.  Cubby has one daughter as well.
In 1961, Bobby Burgess won a Calcutta dance contest sponsored by Lawrence Welk.  The prize was to appear on The Lawrence Welk Show where Bobby and his partner Barbara Boylan continued to make guest appearances and eventually became a part of the cast.  Today he has his own dance studio and tours with other stars from The Lawrence Welk Show. Bobby is married with four children.
Tommy Cole is another Mouseketeer who stayed involved with show business.  Currently he's a business representative for make-up artists.  Before shifting to behind the scenes as a make-up artist, he worked for sixteen years as a singer, dancer, and actor.  As a make-up artist he worked for both ABC and NBC and received six Emmy nominations for his work, winning for the mini series, Backstairs at the White House.  Tommy is married with two children.
Sharon Baird has continued to do some work for Disney.  She was involved with the Disney Channel shows Dumbo's Circus and Welcome to Pooh Corner.
Doreen Tracy toured in Vietnam during the war performing in an act she developed.  During one performance during this time she found that the power of the Mickey Mouse Club held magic for at least some of the troops when a pair of mouse ears appeared at the end of a concert.  The result was the audience, which had been drunk and rowdy just a few minutes before began singing the Mickey Mouse Club song.  Doreen also worked on one of the Power Ranger shows.  Her work now is in anti-piracy efforts at Warner Brothers.
Darlene Gillespie left show business shortly after high school and went into nursing.  She is divorced and has two children.  Unfortunately, in 1997 she was arrested for fraud, obstruction of justice, and perjury with her fiancé, now husband, resulting in a sentence of three years jail time and probation.
Although Cheryl Holdridge was not one of the original Mouseketeers, she was quite popular. She was only one of two to last two seasons.  After the Mickey Mouse Club, she appeared regularly on Leave it to Beaver and The Ozzie and Harriet Show.  When she married she became a countess.  Currently Cheryl is a philanthropist and lives in Santa Monica.
There were other Mouseketeers as well.  At least one of these, Don Grady (Agrati when on the show), still has a working relationship with Disney.  He was one of the composers for the Disney Princess Tea Party DVD as well as composing Songs of Wonder for The Lion, the Witch and the Wardrobe. Previously, Don starred for 12 seasons in "My Three Sons" after his one, the last, season on the Mickey Mouse Club. Johnny Crawford (who is pictured in the party photo above) after appearing in the first season of Mickey Mouse Club, starred in "The Rifleman" with Chuck Conners as his dad.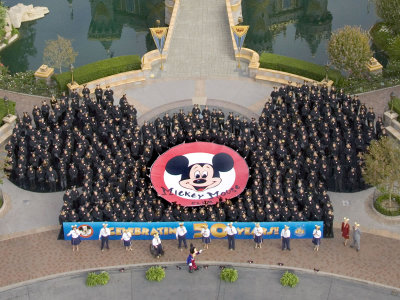 Photo Copyright Disney
Perhaps the most remarkable part of the original Mickey Mouse Club phenomenon is that most of the Mouseketeers remain close today.  At Karen's suggestion, several of the Mouseketeers appeared at a DC function to publicize the needs of those with disabilities called "Barrier Awareness Day" in the mid-1980's, taking on some of the symptoms of people with disabilities. Many of them also assembled for a special event in celebration of both the Mickey Mouse Club and Disneyland's 50th Anniversary.  Lonnie missed the occasion due to a rotator cuff injury, and Annette was absent due to health issues.  Darlene was also not in attendance.  Most of the event was a question and answer session, but several Mouseketeers also sang and danced together once again.  It appears that Walt Disney was correct when he said, "There's something magical about these ears.  Just put them on and all at once, you belong.  You've joined the most magical club in all the world-and in this club, your membership lasts forever.  Once a Mouseketeer, always a Mouseketeer!"
Magically Speaking would like to thank Lonnie Burr for his assistance with photos and facts for this article. Additional photos of his career both as a Mouseketeer and after can be found at www.mouseketeerlonnieburr.com.
Magically Speaking Featured Article
Library of Congress ISSN:1556-3863
Incoming search terms:
https://www themouseforless com/blog_world/mickey-mouse-club-where-are-they-now/
https://www themouseforless com/blog_world/mickey-mouse-club-where-are-they-now/#:~:text=Although Cheryl Holdridge was not two to last two seasons
https://www themouseforless com/blog_world/mickey-mouse-club-where-are-they-now/#:~:text=There were thirty-nine total appeared in all of them