This post may contains affiliate links for your convenience. If you make a purchase after clicking a link we may earn a small commission but it won't cost you a penny more! Read our full disclosure policy here.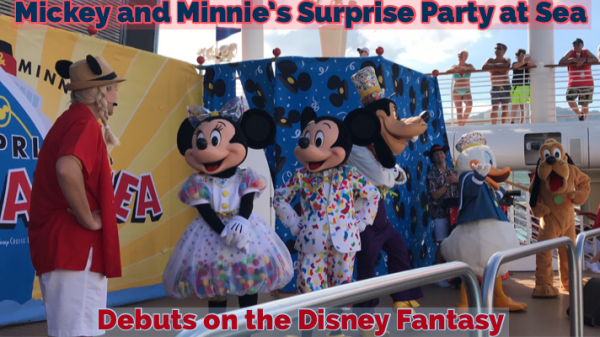 Disney announced back in January that they would be adding a new event, Mickey and Minnie's Surprise Party at Sea, to summer sailings on the Disney Fantasy to celebrate Mickey's 90th birthday. I was a little disappointed that my May 4-11th Eastern Caribbean cruise was not included in the celebration time line.
Surprise!
On Wednesday, May 8th, I checked my Disney Cruise Line Navigator App to discover the Mickey and Minnie's Surprise Party was scheduled for 3:00 p.m. at the Deck 11 stage! This was the St. Thomas Port day and we weren't scheduled to need to be on board until 4:00 p.m.
Party on Deck 11!
At 2:40 p.m. I headed to Deck 11 to discover the area adorned with party decorations. The stage was set up, but I was also surprised to see the Donald Pool still open. During other stage events up on Deck 11 the pools are covered to allow for more room for guests to stand. I found out later that this would allow for some fun games. Entertainment crew members were in Mickey Ears and found on Deck 11 and 12. Mickey birthday sippers were at all the bars, and crew members were walking around asking if guests wanted to purchase the sippers. I did not find out the cost, as I didn't want to be tempted to find out how to fit this sipper in my already over stuffed suitcase.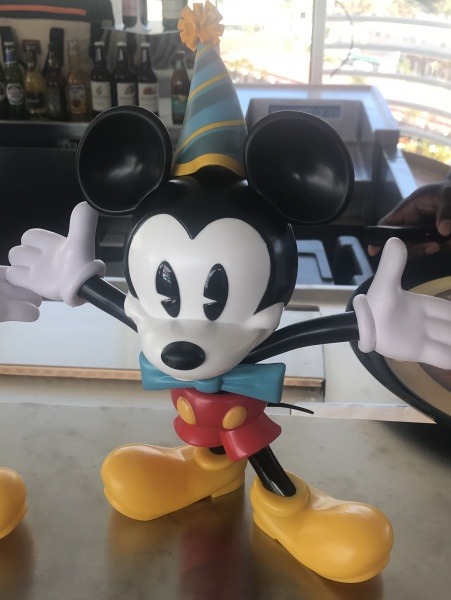 At 3:00 p.m. the crew member hostess announced that Minnie was throwing a surprise party for Mickey Mouse and we were all invited. She let us know that there would be games on deck 11 and 12 and Mickey bars for all! I wasn't too close to the games but I did see pin the tail on the Mickey being played on deck 12.
Opening acts
Then a musical act, Belle Adventure, came on stage. This duo performed many new and old pop hits in the Atrium on Deck 3 throughout the cruise. They are very talented and fun to listen too, but the pool crowd wasn't quite paying attention yet.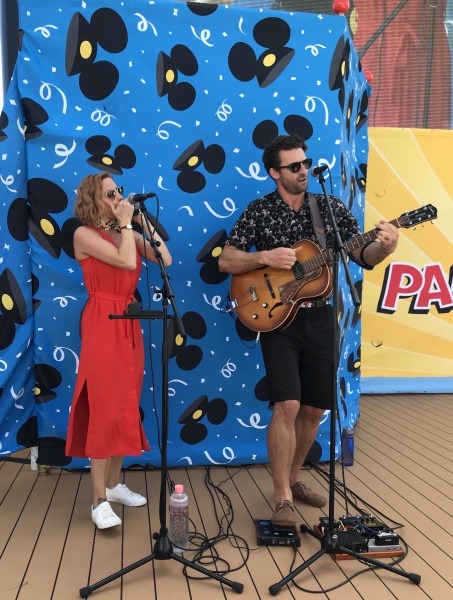 After about 15 minutes our hostess introduced us to another act on stage. This was the ventriloquist, Taylor Mason, that performs for the main stage show later in the cruise. My 5 year old son thought this part was hilarious. He was thoroughly entertained!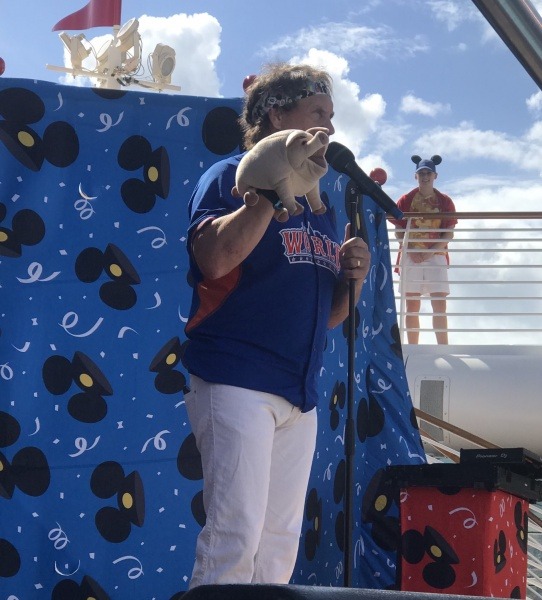 About 15 minutes later our hostess was back on stage to get things pumped up a notch. She taught us how to yell "Surprise" when Mickey showed up and introduced DJ Dustin to start a dance party. Cameras showed all the kids dancing in and around the pool. After about 5 minutes Minnie and Pluto stopped by to say "Hi." They were in their celebration best that can be seen during all of the 90th celebrations at Walt Disney World and Disneyland.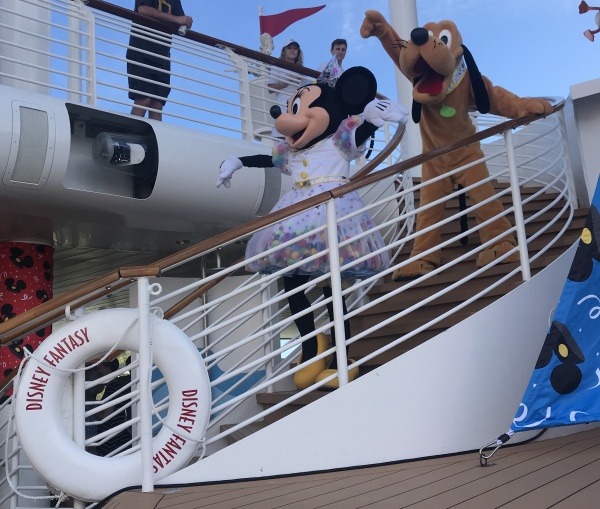 Minnie and Pluto were gone as quickly as they came and the dance party continued. They continued to show kids dancing in-between snippets of the new Mickey Mouse cartoon shorts. Goofy stopped by in his party best to help us practice saying surprise, except he couldn't quite say the word correctly. His version involved lots of "spitting" (or crew members spraying water from deck 12).
Games!
It was then time for a big game, and one of the reasons the pool was left open. Kids were asked to line up on both sides of the pool deck. They were then each given a cup. They had to pass water from the pool down the line to the kid nearest the stage, who then had to pour it in the big bucket. The team that filled the bucket first was declared the winner. My son said he didn't want to play, but got roped in by a crew member. He ended up right by the bucket. He got really into the game and his team ended up winning. From this point on he was fully into the event and wanted to participate in everything!
Donald then appeared for "his birthday celebration". The hostess had to convince him that Mickey deserved the party for all he did for everyone else. Donald finally conceded that the party wasn't for him and left the stage. The dance party continued and the kids in and around the pool really seemed into it.
Another game was played near the stage. A lot of kids seemed to want to participate since it involved being on camera and near the stage. This one involved trying to move a hula hoop from one end of the line to the next and back without letting go of each others hands. It was fun to watch, but my son was very disappointed his team didn't win this time.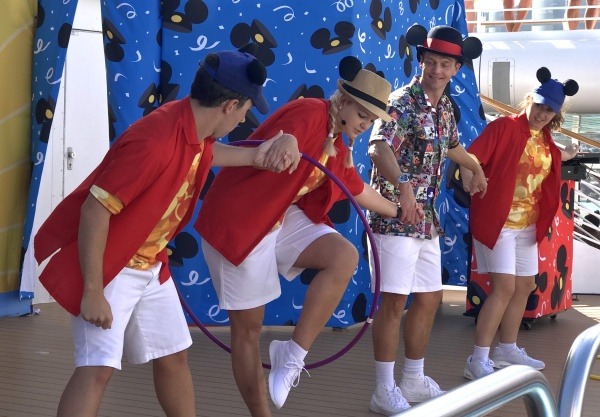 The main event
It was then time for one more dance. Finally Pluto, Minnie, Goofy and Donald all came out to get us ready to surprise Mickey.
Mickey came out watching the video screen and was of course surprised by the huge crowd there for him.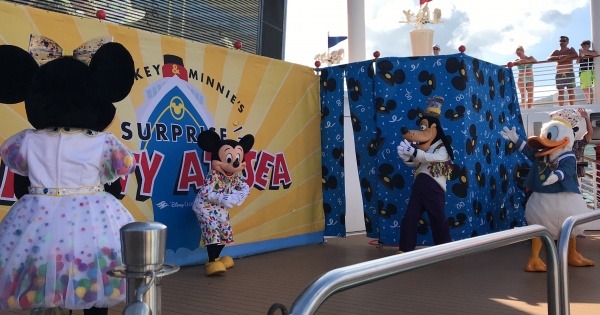 Mickey was shown a video of guests on the cruise explaining what makes Mickey special. This was apparently recorded earlier in the week from guests on this cruise, but no one seemed to get excited by seeing themselves on the screen (and no one looked familiar to me). It was a cute and sentimental video.
Then as a finale to Mickey and Minnie's Surprise Party, all the characters danced to "It's a Good Time" that has been used in the commercials for Mickey's 90th birthday celebrations in the parks. It was a fun dance and the crowd seemed excited to see all the characters.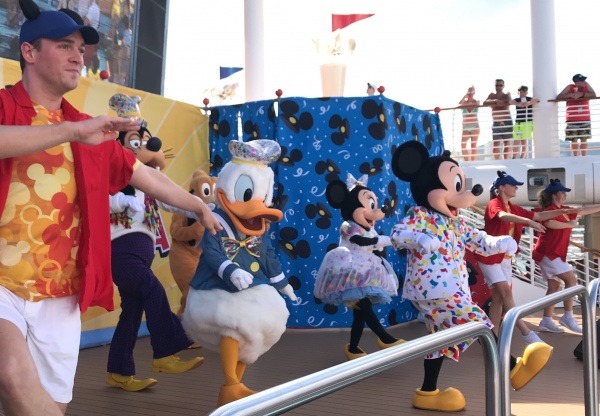 Streamers flew out at the end…which didn't seem like a great idea around the pool as the paper quickly became a soggy mess. But, the kids seemed to love the streamers. After the dance the characters left one by one and the party was over.
Take a look at at the finale video.
Mickey sippers could still be found around Deck 11 and Flo's Cafe was offering Mickey pretzels.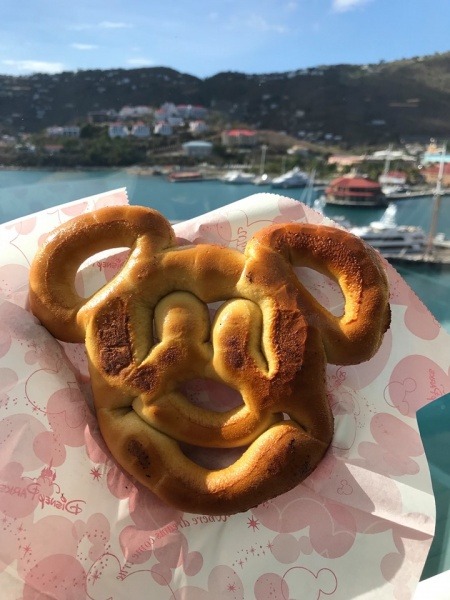 I think the Mickey bars were gone by that time. My son seemed to really enjoy the whole party. If you are just wanting to see the main part at the end, show up around 3:45 to find a spot to watch the fun dance.
After the party the fab five did their meet and greets in their 90th celebration outfits. The lines got long quickly for Mickey and Minnie once guests figured out they were in these clothes. Crew members made sure to let the guests know that this was the first time they were meeting on a cruise in these outfits. I personally love Minnie's dot skirt, but I'm not so sure about Mickey's capri/shorts. What do you think?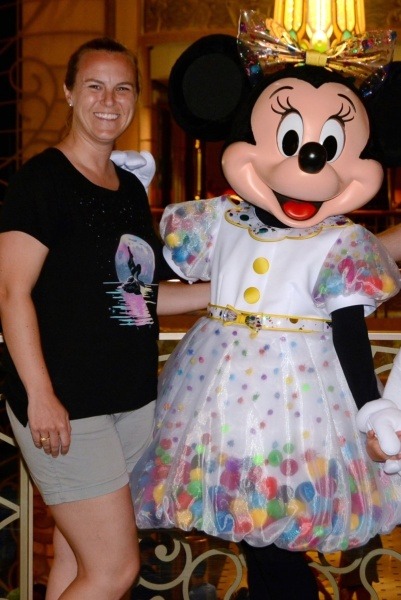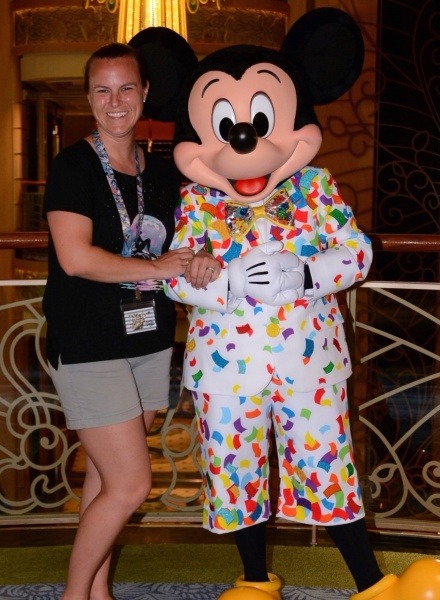 All in all it was Mickey and Minnie's Surprise Party was a event. I liked the deck party idea, and I think the kids had a lot of fun while still being able to enjoy the pool. The special treats and Mickey sippers were a nice touch. Since this was the very first event, I'm sure the layout will be adjusted during the following cruises. If traveling on the Disney Fantasy this summer, make sure to "Get Your Ears On" and celebrate the Mouse that started it all!
Did you like this article? Make sure to share it with your friends! Check below for easy ways to share!
Want to sail on Disney Cruise Line? Contact The Magic for Less Travel for more information and a free, no-obligation quote.

Incoming search terms:
https://www themouseforless com/blog_world/mickey-and-minnies-surprise-party-at-sea-debuts/