This post may contains affiliate links for your convenience. If you make a purchase after clicking a link we may earn a small commission but it won't cost you a penny more! Read our full disclosure policy here.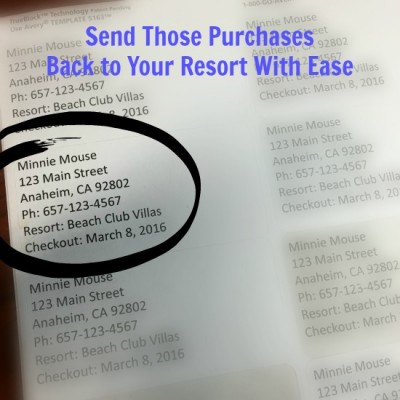 The merchandise options at Walt Disney World Resort are endless.  You can purchase anything from your favorite plush character to clothing to jewelry to park themed trash can salt & pepper shakers.  There's something for everyone somewhere on property.  But what happens when you see that perfect souvenir first thing in the morning and don't want to carry it all day?  Or you make a large or bulky purchase that would be difficult to easily transport back to your resort?  The Walt Disney World Resort offers a few options.  You can have your purchase(s) shipped to the front (or back, in the case of Epcot's International Gateway) of the park you're in; if you are a guest of any of the Walt Disney World Resort Hotels, you can have it delivered to your resort; and you can also opt to ship your purchase home.
All of these options are wonderful and you should think about taking advantage of them.  Let's go through each of them.  Shipping items to the front of the park can be very helpful if you're one of the guests who doesn't have a stroller with them (aka a built in mule horse).  Much of the merchandise throughout Walt Disney World is mass-produced and can be found in numerous locations.  There are however, those items that you find, and will kick yourself later if you didn't but them when you saw them.  There could be many reasons you chose to hold off on your purchase, but if not wanting to carry it all day is one of them, use the Package Pick-up option!  At the time of your transaction, tell the Cast Member assisting you that you want to ship the item(s) to the front of the park.  They often ask you if want to take advantage of any of these services before you have to ask.
In the Magic Kingdom, you would pick up your packages at the Main Street Chamber of Commerce; in Epcot, either at The Gift Shop located in the very front of the park or The World Traveler located at International Gateway; in Hollywood Studios, Oscar's Super Service; and in Animal Kingdom, Garden Gate Gifts.  Keep in mind that if you make a purchase at 9:00 am, it will not be at the front of the park by 10:00 am.  Usually they tell you sometime after 3:00 pm.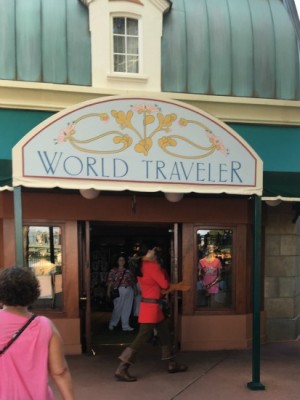 If you're a guest at one of the Walt Disney World Resorts, you can choose to ship your items back to your resort at the time of purchase.  Typically the Package Pickup at the Resorts is located in your resort's gift shop area and identified by a sign.  This is also nice when you simply don't want to carry something you've bought, but also if your purchase is large, or perhaps a surprise you won't want anyone who is with you to see.  I've personally used this option often, sending future Christmas and birthday gifts back to our resort unbeknownst to my children!  Again, timing is important here.  You don't want to use this option if you are checking out within the next two days so if you plan on doing some serious shopping for gifts to give at home, shop early on during your vacation.  Many times your package will arrive the next day, but sometimes the extra day is needed and if you're checking out before the afternoon, you may miss your package arriving at your resort!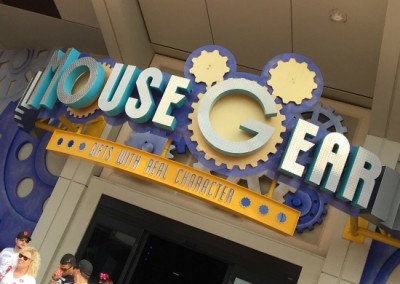 We always do some serious shopping here!
One of my favorite tips for the Resort Delivery is to bring your own pre-printed labels.  Disney used a triple-form type receipt for this service and you need to fill in your name, address, phone number, resort, and check-out date.  I print a sheet of labels that includes all this information and carry about a dozen in my bag at all times.  Even though that's not an enormous amount of information, it can take a while to fill out the form but I quickly stick a label to each page of the receipt and am good to go!  This little trick impresses even the seasoned Cast Members!  It expedites the process and the information is clearly printed.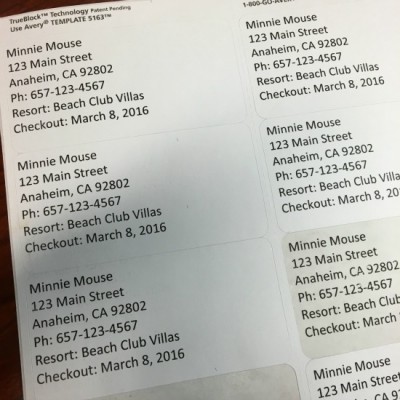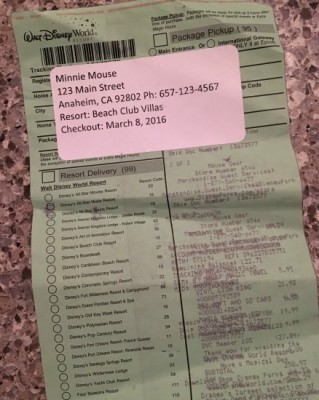 Another tip I have is to remember if you've sent purchases to the park entrance or your resort!  There have been more than a few times that we've almost forgotten to pick up our packages because of the hustle & bustle of our vacation.  Either keep your receipts in a place that will remind you before you depart from your resort, set a reminder alarm in your phone, or leave a note on your door, to pick up any packages you had delivered!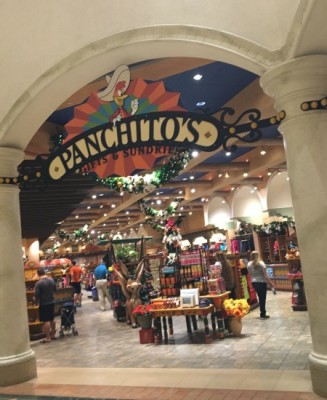 Package Pick-up at Port Orleans Riverside is located inside Panchito's
What happens if you are purchasing more than one item and want to hold onto some things and send the rest back to your resort or the front of the park?  Disney will allow you to do this.  This is especially convenient when you're in a larger store such as the Emporium or Mouse Gears and your child must hold onto their new plush, but you bought 5 mugs that you'd like to not carry around all day and risk breaking.  In fact, that's another great reason to utilize these services – when you purchase fragile items.  They will wrap and pack your purchases so that they can withstand the travel and you won't worry about carrying them around all day and potentially breaking them.
Other than avoiding shopping the last day or two before you leave, I cannot see any reason you wouldn't use these complimentary services.  Yes, they are complimentary and there is no additional fee!
Your other option (other than taking your purchase with you) is to ship your purchase directly home from your point of purchase.  The Cast Members will package your goods and ship them to your desired destination for a rate based on the total amount of your purchase, not the weight or size of it.  While we were there in the Fall of 2015, Walt Disney World was offering free shipping to your home which we did take advantage of.  Also, if you use the new Disney Parks Shopping App, they sometimes have a free shipping on ground orders promotion going on.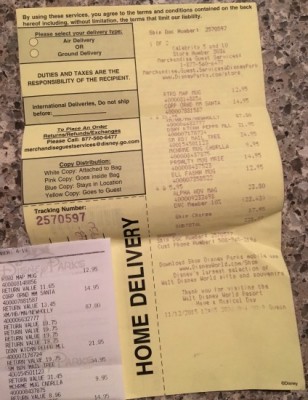 So the next time you make a purchase at Walt Disney World but would rather it appear at the front of the park or back at your resort via a little pixie dust, remember to take advantage of the Merchandise Delivery & Package Pick-up options!
Have you utilized Merchandise Delivery or Package Pick Up? What are your best tips?
Incoming search terms:
https://www themouseforless com/blog_world/merchandise-delivery-package-pick-walt-disney-world/
https://www themouseforless com/blog_world/merchandise-delivery-package-pick-walt-disney-world/#:~:text=You can have your purchase to ship your purchase home
disney world resort merchandise shipping
Disney world send purchases back to resorr
does disney deliver purchases to your disney resort?
https://www themouseforless com/blog_world/merchandise-delivery-package-pick-walt-disney-world/#:~:text=Typically the Package Pickup at is with you to see