This post may contains affiliate links for your convenience. If you make a purchase after clicking a link we may earn a small commission but it won't cost you a penny more! Read our full disclosure policy here.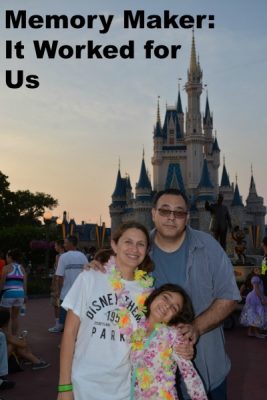 Our very first Memory Maker Photo!
One of the questions I see frequently online is whether or not Memory Maker is a good thing to add to a Walt Disney World vacation. The answer is going to be different for everyone. However, I wanted to share with you why my family was very pleased that we got Memory Maker on our most recent Walt Disney World trip.
WHAT IS MEMORY MAKER?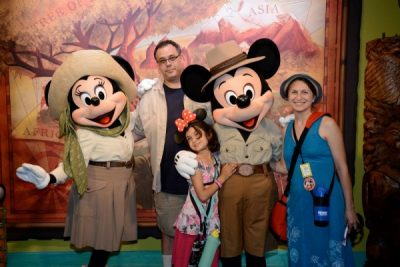 PhotoPass photographers are at many character meet and greets
Memory Maker is a service offered to Walt Disney World vacationers. It gives you the digital files to every photo that a PhotoPass photographer takes of your family for your entire trip. PhotoPass photographers are scattered throughout the parks and resorts, and can most commonly be found in front of park icons, at character meet and greets, and in some restaurants. All you do is have the photographer scan your MagicBand or card and the photo will be linked to your account.
Currently, if you purchase Memory Maker at least 3 days before your stay, it costs $169. If you purchase it while on vacation and want to begin using it immediately, it costs $199. Our family purchased it in advance, and got over 50 photos over the course of our eight night vacation.
GET YOUR WHOLE FAMILY IN THE SHOT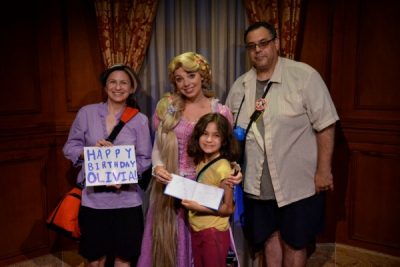 My husband joined us for this photo birthday card for my niece
My husband is usually the family photographer on vacation, and one of the major reasons we got Memory Maker is so he could be in the photos, too. Mind you, there are other ways to accomplish this. In the days before Memory Maker, my family would swap photo taking with other families. We would say, "Hi, strange family we've never met before. How about we take your photo in front of the castle? And then you can take our photo?" It worked out well. However, with Memory Maker, we got many photos of our whole family, hassle free.
ENJOY THE MOMENT INSTEAD OF TAKING THE PERFECT PHOTO
One of the surprise benefits of using Memory Maker was that my husband got to relax and enjoy watching our daughter meet the characters instead of being stuck behind his phone trying to take the perfect photo. It was not something he thought about often, but he later told me that he hadn't realized how enjoyable it was to just sit back and watch the fun interaction. It took the pressure off of him to capture the moment, and instead he got to ENJOY the moment.
TAKE BREAKS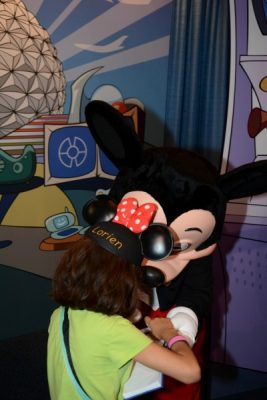 Taking a break in the air conditioning to meet Mickey
Another benefit of Memory Maker is that it made us take breaks so that we could get our photo taken in different locations. In general, my family takes a shark approach to touring theme parks: Keep moving. If you stop moving, you die. It was nice to take a break in during the day to find a PhotoPass photographer and have him or her take a fun family shot, instead of running from attraction to attraction.
All in all, we were very pleased with our decision to add Memory Maker. We feel we got our money's worth, and every time I scroll through my photos I smile, remembering how happy we were at the Most Magical Place on Earth!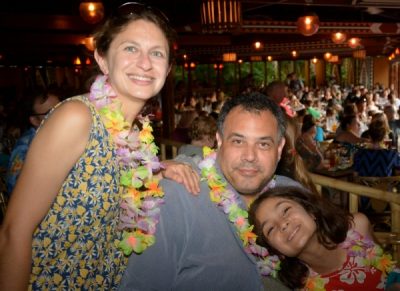 Aloha from the Luau at the Polynesian Resort, courtesy of Memory Maker!
What are some of your tips and thoughts about Memory Maker? Did you find it worth the money? Share in the comments section!
Did you like this article? Make sure to share it with your friends! Check below for easy ways to share!