This post may contains affiliate links for your convenience. If you make a purchase after clicking a link we may earn a small commission but it won't cost you a penny more! Read our full disclosure policy here.
The Reception
By Amy Moorby
I concluded the prior installment with our post-ceremony photo session. While we were happily posing for pictures, our guests made their way over to the Atlantic Dance Hall, either on foot or by bus, for our cocktail hour. Since the Atlantic Dance Hall is a two-level building, we opted to have our cocktail hour on the upstairs level and then the guests would head downstairs for the reception. During the cocktail hour, the harpist who played during our ceremony played for the guests. We had chosen several appetizers: brie and raspberry puffs; chicken brochettes; crab Rangoon; spring rolls; assorted cheese plate; and a fruit plate. (If you want to see pictures of the appetizers, you can go back and check out part 3 of this saga where I shared pictures of the proposed appetizers from our menu tasting.)
We had also opted for an open bar consisting of beer and wine, plus a signature drink that we chose. Incidentally, you can choose to have a cash bar or a fully open bar with mixed drinks – we decided to only have a signature drink. The signature drink turned out to be quite a decision for us. I had gotten it in my head that I wanted a blue drink so that we could call it "Something Blue" and thought that I had picked out a perfect one. Then the night before out final pre-wedding meeting with our planner, I tested the drink at the Tambu Lounge at the Polynesian and I hated it! So, I asked the bartender if he could recommend something and he suggested a drink that had been created from the Year of a Million Dreams and was new at the time, although now it has been around for a while – it was the Blue Glowtini. It was a tremendous hit at the wedding and it was fun to see everyone walking around with glowing drinks: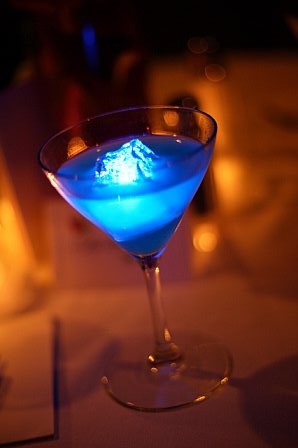 After we had finished taking all of the pictures at the Yacht Club, we jumped into the Rolls Royce and were driven over to the Atlantic Dance Hall. When we arrived there, we were greeted by this message on the marquee: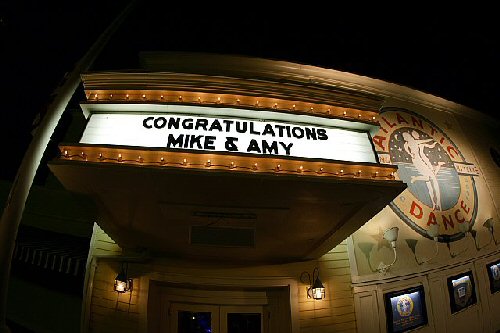 After a few more pictures, we went inside the Atlantic Dance Hall and met back up with our wedding planner and took a look around the beautifully decorated room: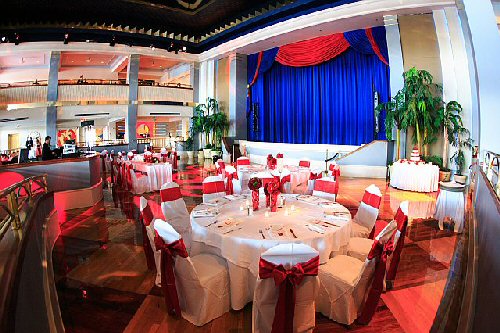 It may be difficult to tell from this picture, but we had several tables placed on the outskirts of the dance floor for our wedding party and immediate family, and the remainder of the guests were seated at tables that were a couple steps up from the dance floor. In order to create our centerpieces, the florists took the flower balls that adorned the Wedding Gazebo during the ceremony and placed them on top of tall glass vases. Rounding out the place setting was a menu that we had a calligrapher create and our wedding favors of customized M&Ms that said "Amy & Mike" on one side and "WDW 1/12/07" on the other.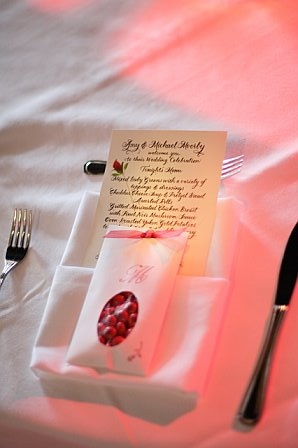 We were able to sit down and relax for a few minutes on a sofa and Karen (our wedding planner) brought us a plate of appetizers from the cocktail hour. After about 10 minutes, it was time to get the reception started, so Karen and her assistants asked everyone (except our parents and wedding party) to make their way downstairs. Mike and I snuck up the back staircase so that we could be announced. Once everyone found their tables, the DJ started playing "Give a Little Bit" by the Goo Goo Dolls and announced our parents, wedding party, and us. I have to tell you, I was terrified to walk down the staircase because I was sure that I was going to trip on my heels or my dress, but I made it down safely!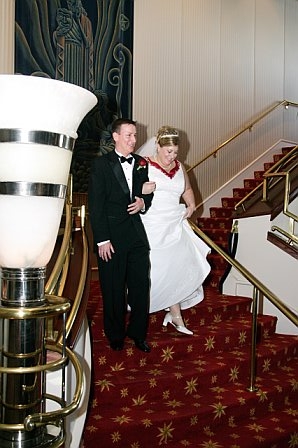 Mike and I immediately started our first dance to "Still the One" by Shania Twain. At this point I would like to mention one little detail that I really loved about the Atlantic Dance Hall. Since it is a dance club on most nights, they have a great lighting package, so we had a "disco ball" going, as well as other lighting features – it just added a little extra magic to the evening, especially as day turned into night.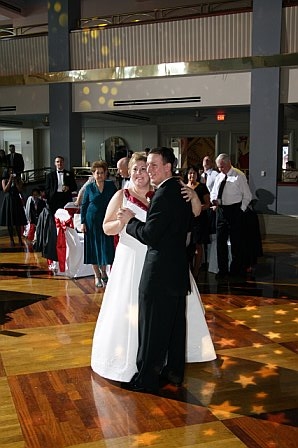 After our first dance, we returned to our table and our Best Man and Matron of Honor gave their toasts. Then dinner was served! At Atlantic Dance Hall, the only option for dinner is a buffet. Now I have to admit that I not the biggest fan of buffets; however, Disney pulled this one off beautifully and the food was fabulous. Here's our menu (as best I can remember): cheddar cheese soup and pretzel bread (imported from Le Cellier); tossed salad with a variety of dressings and assorted rolls; chicken with a Merlot mushroom sauce; roasted potatoes; roasted asparagus; garlic green beans; gnocchi with sundried tomatoes; prime rib carving station; and pasta with choice of marinara or alfredo sauce.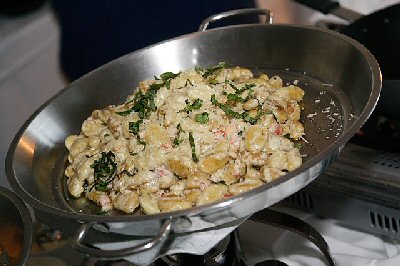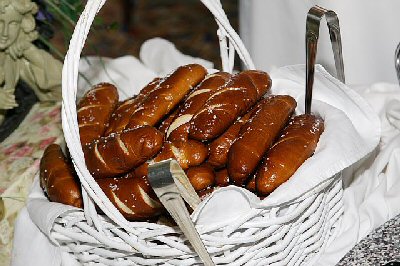 Once we thought everyone was close to finishing up dinner, the DJ started the dancing for the evening. We began with my dance with my dad to "I Loved Her First" by Heartland and the Mike's dance with his mom to "I Hope You Dance" by Lee Ann Womack.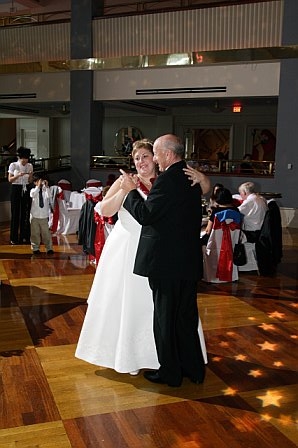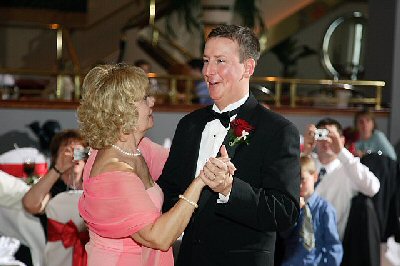 Then to get the party started, he invited our wedding party to join Mike and me on the dance floor on started playing "Get Down Tonight" by KC and the Sunshine Band. After a minute or so he asked everyone else to hit the dance floor and we danced the night away…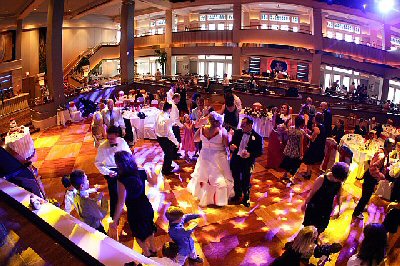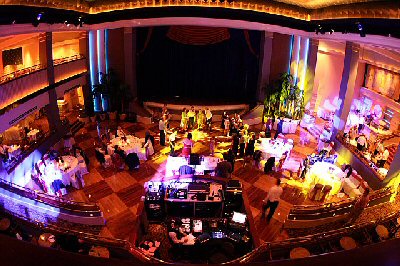 At some point in the evening, Mike and I cut the cake to the tune of "For Once in My Life" by Michael Buble and then the cake, coffee, and tea were served to everyone. People had a choice of white cake filled with vanilla custard and fresh raspberries or almond cake filled with almond mousse.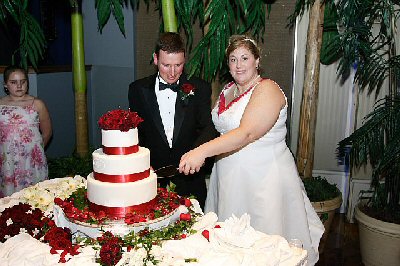 With about an hour left in the reception, the waiters began passing out the glow necklaces (we had brought those with us and given them to the wedding planner during our pre-wedding meeting) in preparation for our Illuminations Dessert Party. People really had fun with the glow necklaces and they looked great in the darkening room. Around 8pm, our Epcot escorts arrived and starting gathering up the guests and leading them to the buses that were bringing us over to Epcot for the Illuminations Dessert Party. It seems kind of silly, since we were at the Boardwalk, but we had to board buses and drive "backstage" and enter as a group through a door near the UK Pavilion and be led to the terrace in between the UK and France Pavilions for our Dessert Party. Even though we were at the Boardwalk, the drive from there to backstage Epcot seemed really long, but it was worth it! I will never forget as we were all walking from the "backstage door" to the terrace, people who just happened to be hanging out near the Rose & Crown Pub at the UK Pavilion began clapping for us and shouting congratulations as we walked by – it was just a magical moment!
We had chosen to have chocolate fondue served during our dessert party (we had originally wanted a chocolate fountain, but we were told that Disney doesn't allow chocolate fountains at outside events because the wind can cause the chocolate to spray all over everything – makes sense!). Here's what we saw when we arrived at our terrace: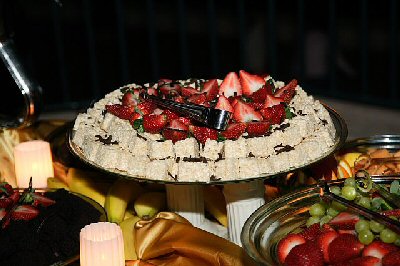 Everyone hung around, drank, and ate fondue until Illuminations began. This leads me to the one and only regret from our wedding day. We had asked the photographer to take pictures of us during Illuminations so instead of enjoying the fireworks with everyone else, for much of the show we were standing posed and trying not to move. The pictures didn't come out great and we look exhausted in them. I really wish that we had told the photographer to just take candid photos of everyone during the party.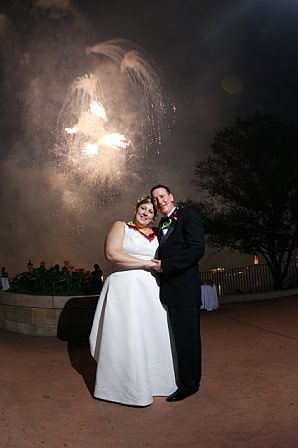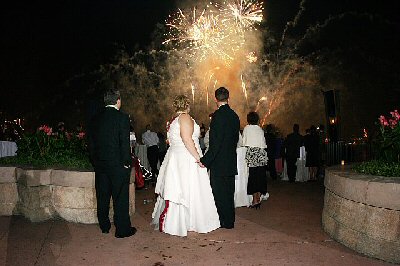 My regret aside, the dessert party was such an amazing way to end the day! However, we learned that if the guests chose, their evening didn't have to be over. Since the night of our wedding was an Extra Magic Hour Evening at Epcot, the Epcot escorts passed out wristbands to any of our guests (about 95% of them) who wanted to hang out in Epcot for the evening. For those of us (there was no way I wanted to traipse around Epcot in my wedding dress) who chose to call it a night, we were taken back to the buses and brought back to our resorts. Mike and I ended the evening with a few of our guests on the beach at the Polynesian Resort drinking champagne. Although Mike and I chose not to take advantage of the Extra Magic Hours, the guests who did had a great time; in fact, many of them received some special "pixie dust" from the cast members because they were dressed in their wedding attire. For example, my mom and the people with her were seated in the front center row of Soarin' and were allowed to stay on for an extra ride.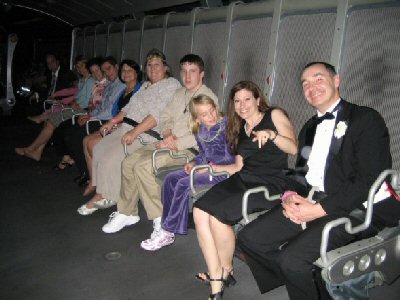 And then, the Cast Member at Test Track saw them about to get in line and he gave them some Fast Passes so that they didn't have to wait. As you can see, they really did stand out from your average park guest!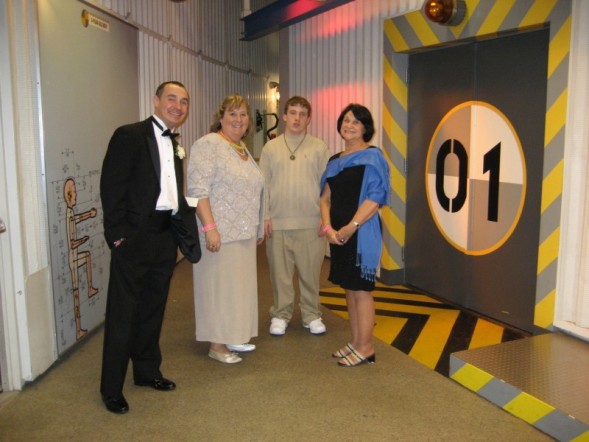 And then all too quickly, our wedding day was over…
However, the fun didn't end there. We had told everyone that we were spending the next day at the Magic Kingdom in the morning and afternoon and then heading over to Epcot for the evening and asked people to meet us for Drinks Around the World. Almost everyone wore the T-shirts that we had given them at the Welcome Dinner and it was so much fun to meet up with people throughout the day. Drinks Around the World was a blast, even though we didn't quite make it all the way around.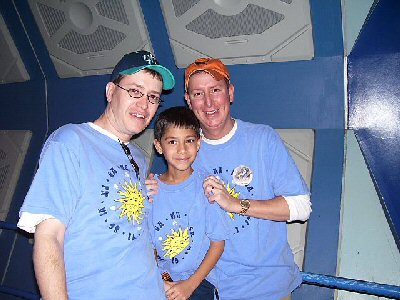 Since we weren't quite ready to call it a night just then, after Illuminations, we left Epcot and went over to Jellyrolls at the Boardwalk for some more fun. It was so great to continue to celebrate with our friends and family even the day after our wedding.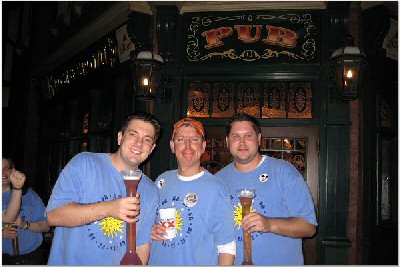 So, that's about it! We had a couple more days of fun at Walt Disney World and then it was time to go home. One last tidbit for future Disney brides and grooms: We chose not to spend our honeymoon at Walt Disney World. Rather, we planned a honeymoon in Hawaii three months after our wedding. It was perfection. We had a chance to get back home after our big event, and the upcoming honeymoon gave us something to look forward to.
Thanks so much for sticking in there with me – I hope you enjoyed reading this as much as I enjoyed reliving my memories and sharing this all with you!