This post may contains affiliate links for your convenience. If you make a purchase after clicking a link we may earn a small commission but it won't cost you a penny more! Read our full disclosure policy here.
The Wedding!
By Amy Moorby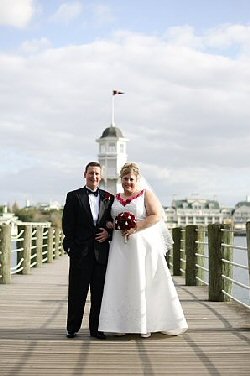 In the last installment, we were participating in our pre-wedding festivities, up to the actual wedding day. Now we begin our special day.
I woke up on the morning of January 12, 2007 with the realization that my wedding day had finally arrived. I had spent hours and hours planning, preparing, and dreaming of this day and it was finally here! I honestly could not believe it. I took a few moments to sit out on the balcony of our room at the Polynesian Resort, but only a few minutes because there was a lot to do this morning.
First thing on the agenda was to meet my family and bridesmaids at 'Ohana for a pre-wedding breakfast. We checked-in around 7:30 a.m. and the place was almost empty, which meant that my nephew, Ben, got to spend lots of quality time with his favorite character: Mickey Mouse! (As an aside, here is a character tip which was new to us as Ben is the first child in my family. My sister wrote his name and the fact that it was his first trip to Walt Disney World in the front of the autograph book. I noticed Mickey glancing at the first page and he wrote Ben a nice message about how it was nice to meet him and hoped that he enjoyed his first trip to Walt Disney World. It's a great little keepsake from his first trip.)
Someone mentioned to our waiter that I was getting married that day and next thing I knew, Mickey comes over to our table with a lei and has me stand up so that he can put it on me and then gets down on one knee to kiss my hand – very sweet!
Once we were full from the delicious 'Ohana breakfast, all of the ladies congregated in my mother's room to have our hair and makeup done. Disney used to provide hair and makeup services through the Disney Fairy Tale Weddings office (DFTW); however, they no longer offer this service. There are currently three options available: (1) the Disney salons at several of the resort hotels; (2) off-site salons in the area; and (3) a stylist who will come to your room and do the hair and make up. I chose option 3 because it seemed the most convenient. DFTW maintains a list of "approved" vendors and will provide it to you upon request. We chose Lisa Pena of Lisa's Magical Weddings based on several recommendations and it turned out that Lisa used to work for the DFTW styling department. She was the perfect choice. It was so easy to deal with her and she did an amazing job. I had previously scheduled a trial run while we were in Walt Disney World for our planning session in August and she tried out about 3 different hairstyles. I knew I had made the right decision since Lisa was not satisfied until I was completely happy with the style at our planning session. Lisa arrived at 9:30 a.m. the day of the wedding with an assistant. We needed to be ready for pictures at 1:30 p.m. It seemed like a long time, but they had to do hair and makeup for our mothers, my two bridesmaids, and, of course, the bride. We finished exactly on time. Honestly, the time seemed to fly by.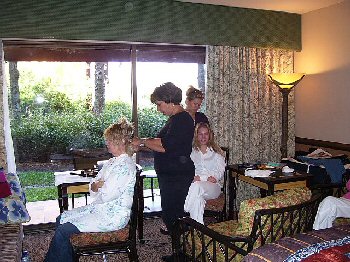 Getting Ready.
The other thing that we had to accomplish that morning was having our dresses steamed. We had arranged for a bridal shop to come to our rooms that morning to steam and/or iron my dress, the bridesmaid dresses, and our mothers' dresses. It was incredibly painless and very convenient. What was great was that we didn't have to worry about wrinkling our dresses during transportation on the airplane. Just getting the dresses there was a feat in and of itself without having to worry about getting the dresses wrinkled. In case anyone is interested in my recommendation, we used Carolyn Allen's Bridal and Tuxedos for this service, as well as for the tuxedo rentals.
Fast forward a little and we are getting close to wedding time. It is time for the pre-wedding pictures. My then-fiance, now-husband, Mike, and I had opted not to see each other before the ceremony so we were doing separate pictures. Mike was going first and then he would head over to the Yacht Club. Even though we used the DFTW services for everything else, we had opted not to use a Disney photographer. This was not based on anything negative with the Disney photographer, but rather in our research we found Gary Fox's website and fell in love with his style of pictures. He had done tons of Disney weddings, so it was very easy to insert him into the mix. We had also decided to have our pre-wedding pictures taken at the Polynesian, since it is our favorite resort and we wanted to incorporate it into our pictures.
Mike and his groomsmen were having their pictures done first; however, before doing so, they had to meet Karen, our wedding planner, and her assistants in the lobby of the Polynesian to get their boutonnieres.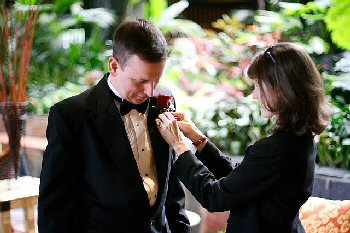 Karen pins the flowers on Mike.
Once they were fully pinned, they headed out the Polynesian grounds for some photos: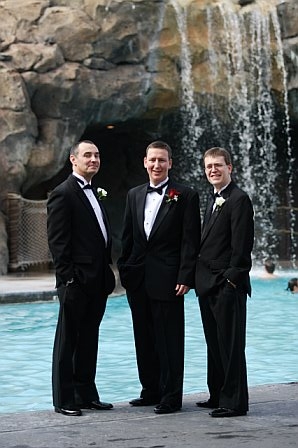 Mike, John and Brian in front of Poly pool.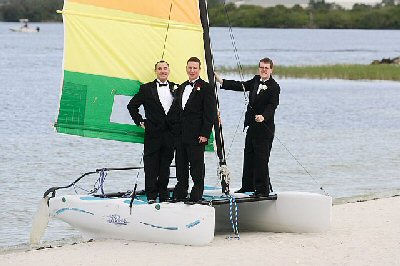 At the Poly beach.
During their photo session, they met up with some of our guests getting in a little bit more fun before the wedding.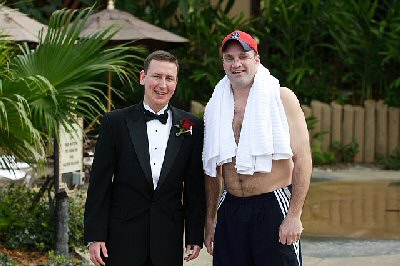 Mike and Pat at the Poly.
When the guys finished up, they met up with our parents and got into the limousine to make their way over to the Yacht Club, which is where we were having our ceremony. We had chartered buses through DFTW to pick up all of our guests at their respective Disney resorts and bring them to the Yacht Club and all subsequent wedding events and then back to their resorts at the end of the evening.
Once Mike and our family were safely tucked into the limo and the charter bus picked up all the guests staying at the Polynesian, I got a call from Karen telling me that the coast was clear. I could meet Gary in the Polynesian with my bridesmaids for our photo session. But first, we had to pick up our flowers. A quick side note about my flowers – although we fielded offers from several outside floral vendors, we decided to go with Disney Floral for all our wedding flowers. During our planning session, we met with a representative, who seemed to immediately grasp the concept that I was looking for and showed me pictures of a previous wedding she had done. I fell in love. Before you see my flowers, which I could not have loved more, here's my concept: I tend to like things simple and its no different with flowers. I prefer monochromatic arrangements to multi-color arrangements; our colors were red & white. I really only wanted to use roses & gerbera daisies, which are my favorite type of flowers. So with that, here are the bouquets and the posies that our mothers were carrying: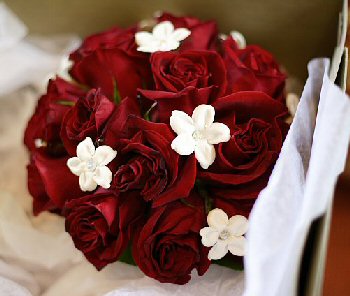 My bouquet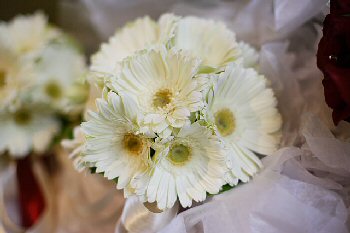 Bridesmaids bouquets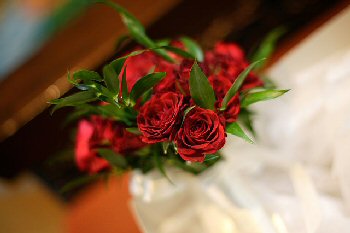 Mother's posy
Okay, back to my photo session. The bridesmaids and I were able to take some great photos near the pool and the on the beach of the Polynesian Resort. The results were a wonderful, tropical backdrop.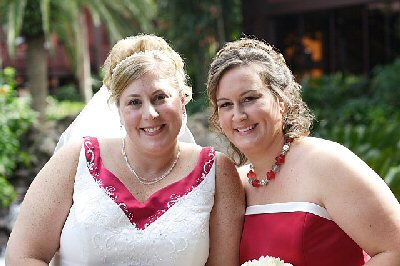 Amy and Heidi at the Poly.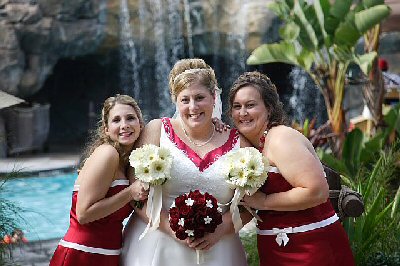 The girls near the Polynesian pool.
Once our photos where taken, we made our way through the Polynesian lobby to our limo. Along the way, just about everyone we passed stopped and wished me congratulations. It was so nice to have so many good wishes surrounding me that day. DFTW has a wide variety of limos available to choose from. For instance, you can have Cinderella's Royal Carriage, a vintage car or regular limos. We had decided that for Mike's limo, we would use just a regular limo and for mine, we would use a vintage Rolls Royce. I was sitting in the limo, so I was able to watch everything proceed until it was time for me to make my entrance — that was great!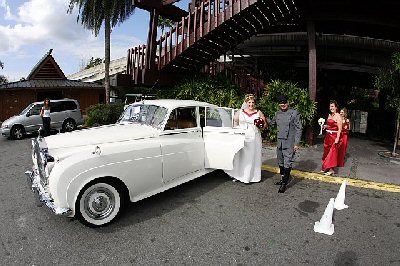 Getting into the Rolls Royce.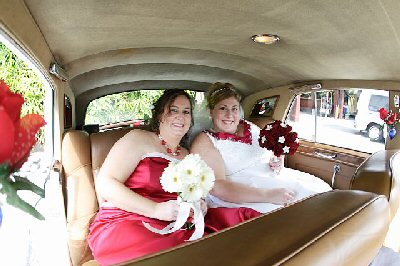 Inside the car, ready to go.
We had opted to have our wedding outdoors at the Wedding Gazebo at the Yacht Club. It was a wonderful setting with the gazebo for our ceremony and the boardwalk close at hand. Disney Floral created alternating flower balls of red and white roses and gerbera daisies and lined pathway and gazebo with them. As you will see at the reception, these balls have a second use as they are transformed into our centerpieces.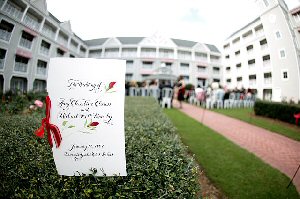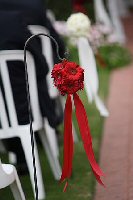 The Wedding Program and floral balls that adorned the aisle.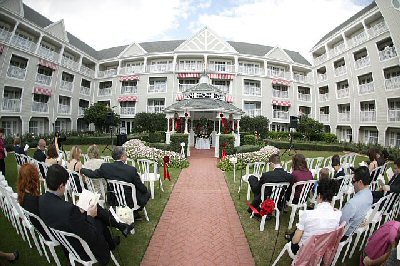 The Wedding Gazebo before the ceremony.
While our guests were arriving, we had a harpist playing a variety of classical music. Mike and our families were waiting in the Yacht Club lobby (and garnering their own series of well wishes from a bunch of people) until it was ready to move to a holding room (actually a stair well!) once things were ready to begin. When my limo arrived, the ceremony could officially begin. An added benefit was that because I was sitting in the limo I was able to watch everything proceed until it was time for me to make my entrance!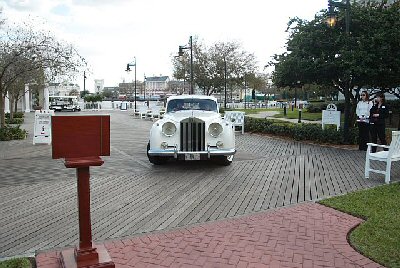 Limo arriving at Yacht Club.
The ceremony started out with our mothers entering from the side door and pathway and each lighting their Unity Candle. Next came, Mike and the groomsmen entering with Reverend Jack Day, who was performing our ceremony. Reverend Day was a minister who was recommended by DFTW and has performed countless Disney weddings and did an amazing job – even though he had only recently met us, he made us feel like we had known him forever. Incidentally, if you are Catholic, as I am, and thinking of having a Disney wedding, please note that the Catholic Church will not allow its priests to perform a wedding at Walt Disney World because it is not inside a church.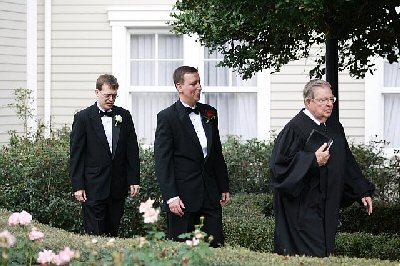 Rev Day, Mike and John entering.
Now it was time for my bridesmaids to exit the limo and make their way down the path to the gazebo.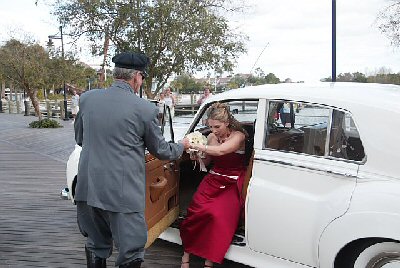 Eliza getting out of limo.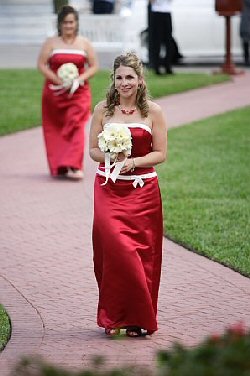 Walking down the aisle.
Everyone was now in place and it was time for my Dad to walk down the aisle and collect me at the limo and then escort me down the aisle.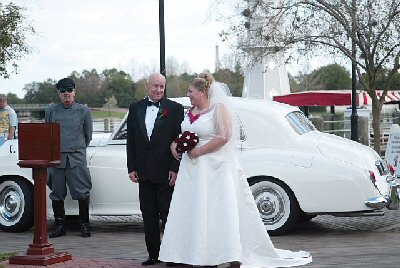 My Dad meets me at the limo.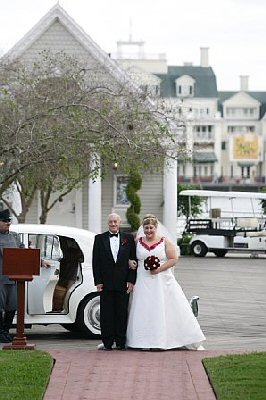 We begin our walk down the aisle.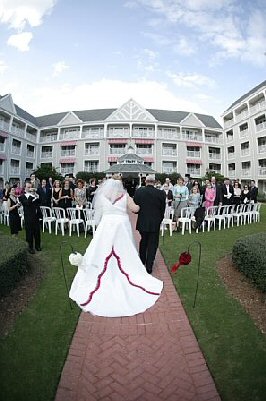 Walking toward the gazebo.
And then, the ceremony began and included readings, the lighting of the Unity Candle and of course the vows and our first kiss!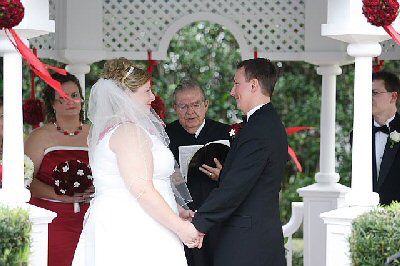 Taking our vows.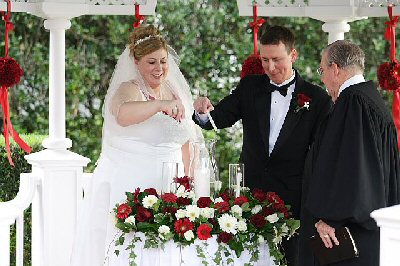 Lighting the unity candle.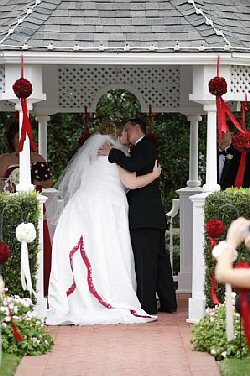 Our first kiss as husband and wife.
And just like that it was over…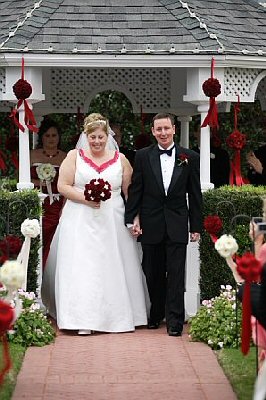 All smiles after the ceremony.
We began the processional back down the aisle and got into the limo and "drove off" – actually we just drove a little bit down boardwalk and turned around so we could return to the Wedding Gazebo for pictures once our guests left.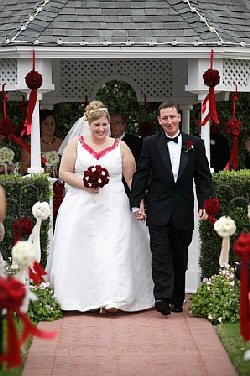 Exiting the ceremony.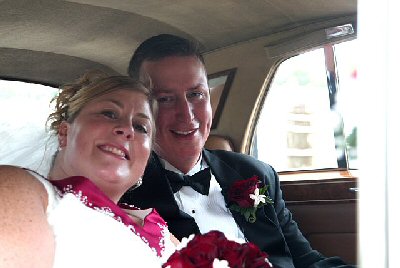 Inside the limo after the ceremony.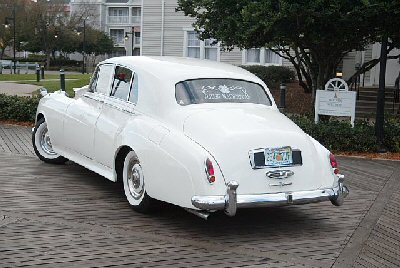 Driving Away.
I will leave you with some more pictures from our photo session at the Wedding Gazebo, Yacht Club, and boardwalk. In the next (and final) installment, I will cover the the reception and Illuminations Dessert Party.