This post may contains affiliate links for your convenience. If you make a purchase after clicking a link we may earn a small commission but it won't cost you a penny more! Read our full disclosure policy here.
By Amy Moorby
In the last installment, I promised to take you through our wedding day. But before we can get to the ceremony, we need to cover our wedding trip and some pre-wedding activities. To give you an idea of our plans, our wedding day was Friday, January 12, and we arrived in Walt Disney World on Tuesday, January 9, and stayed until Tuesday, January 16. So, here we go…
We flew to Orlando on JetBlue, and the magic began with our fabulous flight crew. They found out about our wedding (probably because I was hauling around my wedding dress) and pretty much treated us like rock stars during the whole flight. In fact, they let us board the plane before anyone else and one of the flight attendants guarded the overhead bin where I placed my dress and wouldn't let anyone else put anything in it. As we were approaching Orlando, they asked if we would take our picture with them and then they presented us with a "goodie" bag filled with all sorts of JetBlue items, snacks, and wine!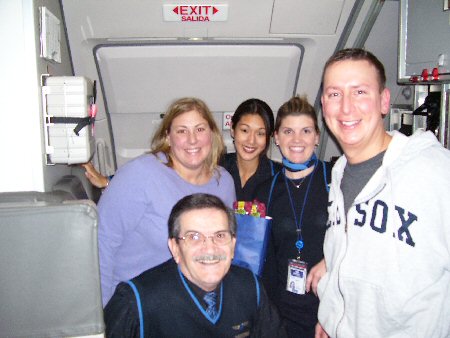 We arrived in Orlando on Tuesday morning and spent Tuesday evening and Wednesday morning at Epcot and the Magic Kingdom – it was a nice "calm before the storm," since the majority of our wedding guests were arriving on Wednesday afternoon and that would be when the madness (in a good way) would really begin.
Our "official" wedding events started on Wednesday afternoon with our final sit-down meeting with our wedding planner, Karen. Once my mom arrived at the resort, we grabbed her and everything that we had to give Karen and drove over to Franck's, which is Disney Fairy Tale Wedding's office over by the Wedding Pavilion. During our meeting, Karen confirmed each and every detail of the wedding day and we gave her everything that we had brought down for the wedding, i.e., programs, place cards, favors, etc. I can still recall the feeling of absolute relief that washed over me at that moment that not only would everything be taken care of, but also that it would be taken care of perfectly. We ended Wednesday by gathering with a bunch of our family and friends to watch Wishes at the Magic Kingdom. Standing there with my future husband watching the fireworks surrounded by friends and family, I realized one of the best parts of a Walt Disney World wedding was sharing the place that we both love with all of these people that we love. I made a mental note at that time to relish every minute of this experience because it would never happen again.
When I woke up on Thursday, it hit me that the next day I would be getting ready for our wedding! We had a bunch of stuff to do that day, but we started it with a leisurely character breakfast, since it would be one of the last few times during the next couple of days that we would have time together as just the two of us.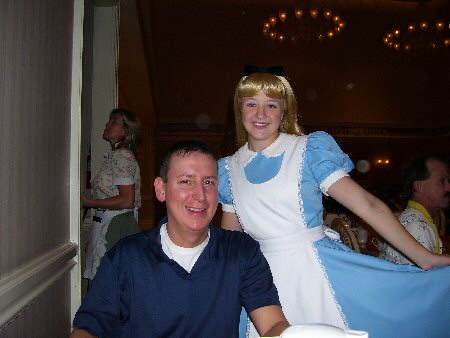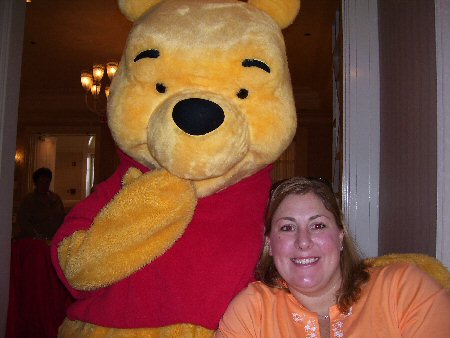 After breakfast, we had to meet the groomsmen back at our room for the tuxedo delivery and final fittings. Here's a good tip for any future Disney brides and grooms: there are several tuxedo rental companies in the Orlando area that will deliver the tuxes to your resort, as well as pick the tuxes up from the resort's bell services the day after the wedding. All we had to do was go to the tux store while we were in Orlando for our planning session. At that time we selected the tux style and then our wedding party just had to fill out a form with their measurements. It was completely hassle-free. After the tuxes were all set, the guys decided to take a spin on the Sea Racer boats while we were waiting for the rehearsal.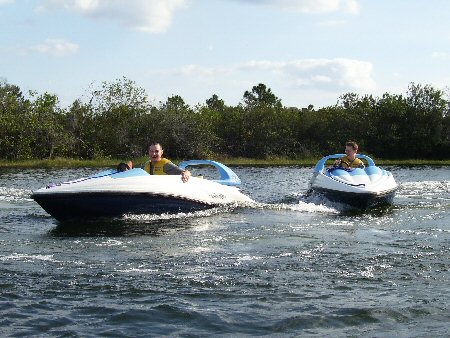 Eventually, the time came for our rehearsal. Even though our wedding ceremony was going to be at the Wedding Gazebo at the Yacht Club, we opted to have our rehearsal at Sunset Pointe at the Polynesian because we were staying there and our rehearsal/Welcome Feast was going to be at 'Ohana. Since we didn't even have our wedding party at the rehearsal, we thought we might as well make it easy on ourselves. A quick aside: we had opted not to have our wedding party present at the rehearsal. In fact, our minister wasn't even there because he was performing another wedding at that time. Our thinking was that we had a small wedding party and everyone involved had been in multiple weddings in the past. Additionally, our wedding planner had told us that there would be a bunch of people at the wedding from her office, so everyone would have plenty of direction. Most importantly, we had asked a lot of everyone attending our wedding by making them travel, so we wanted our wedding party to be able to enjoy every moment at Walt Disney World. In the end, we were so glad that we made the decision we did – our wedding ended up going off without a hitch and everyone got to have fun at the parks the day before the wedding! In fact, my mom still talks about the fact that the day before her daughter's wedding, she was touring Epcot.
For our rehearsal, we had a very informal meeting with Karen, our wedding planner, and briefly discussed how things would go the next day and then we headed over to the Great Ceremonial House and 'Ohana for our Welcome Feast. We had decided that since we had asked everyone to travel for our wedding, we would invite all our wedding guests to our rehearsal dinner and call it a Welcome Feast. We choose to have this dinner at 'Ohana because it is our favorite restaurant at Walt Disney World. This was such a great option – our guests couldn't stop talking about how great the evening was. Since we had about 75 people attending the Welcome Feast, we were placed at two long tables in the middle of the restaurant.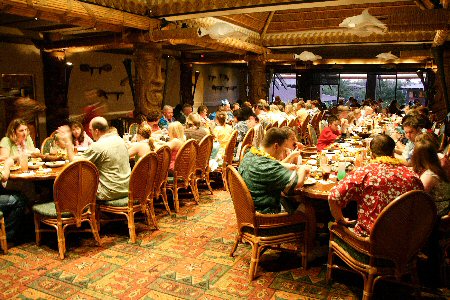 The management at 'Ohana had let my mom go in prior to beginning of our event and place our personalized menus and a small favor at each place setting. Additionally, we were handing out leis and welcome bags to each guest and the management gave us places to put everything. They really could not have been more helpful or accommodating.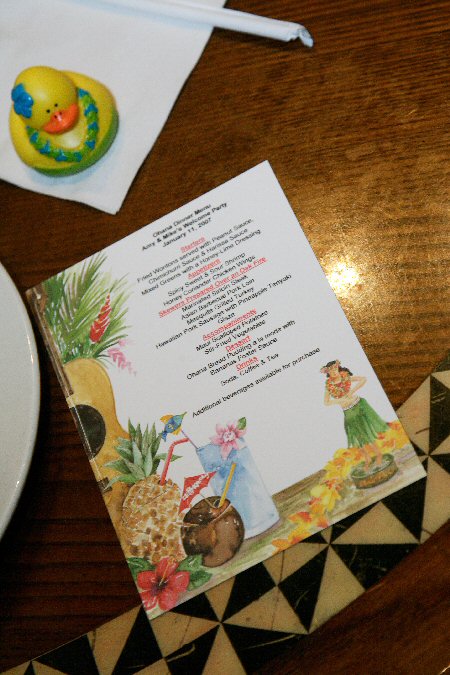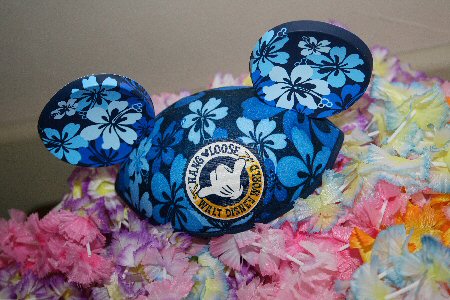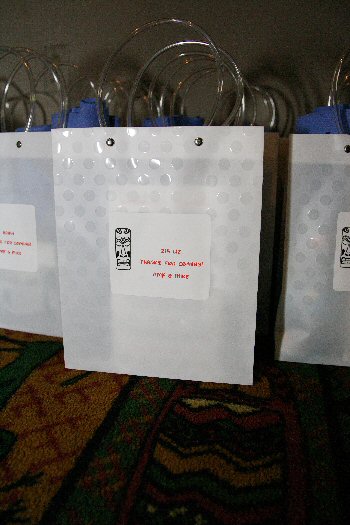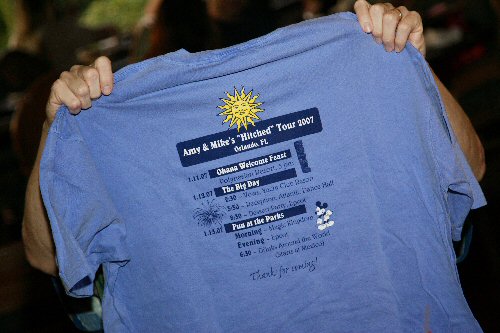 Inside our welcome bags, we put a variety of items, including maps, Mickey mints, Disney character Pez dispensers, CDs that we made of all of our favorite Disney music, and T-shirts that we made for everyone. The front of the T-shirt included a sun and snowflakes (the majority of us were traveling to sunny Florida from cold weather climates) surrounded by the abbreviations of all the states from which our guests were traveling. The back of the T-shirt contained a schedule of all of the wedding events. We asked everyone to wear the T-shirts to the parks the day after the wedding.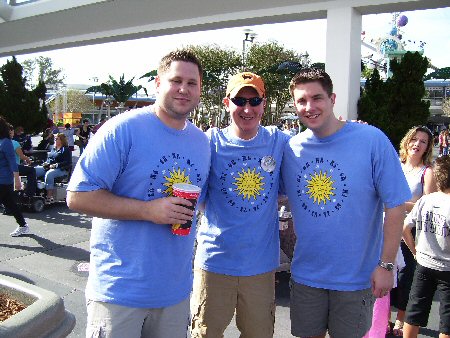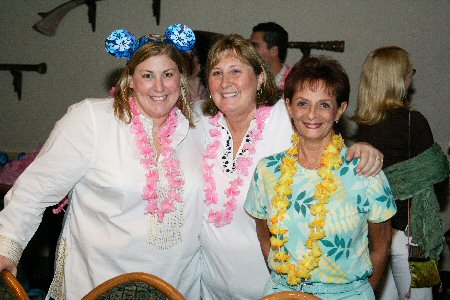 One of the best parts of the evening was that everyone had an opportunity to meet each other prior to the wedding. Because we had guests attending from all different phases of our lives, prior to this trip they didn't even know each other. Getting to know each other the day before helped to make the wedding more intimate and friendly, since people were already friends! Here's another good tip – we asked our wedding photographer to come and photograph our Welcome Feast. It was such a relief to know that the picture taking was taken care of so that we could just enjoy the evening.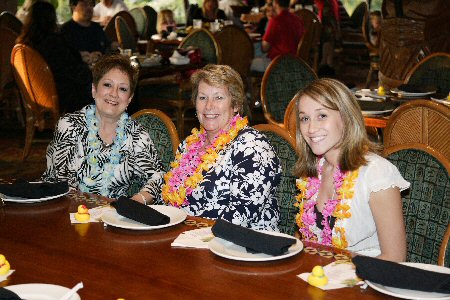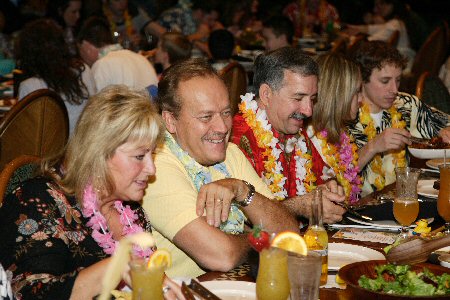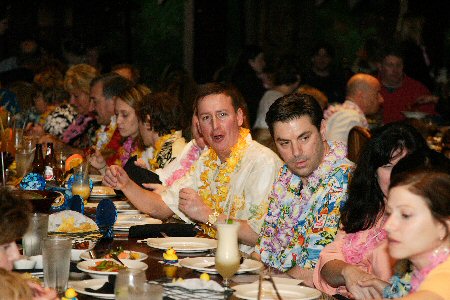 Even the bride and groom were relaxed the night before the wedding.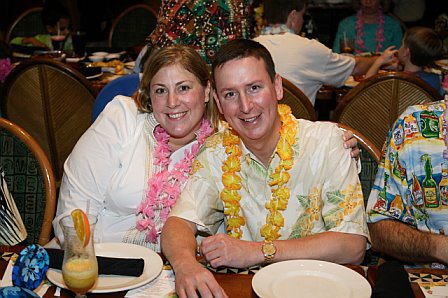 We probably spent longer than the 'Ohana staff wanted in the restaurant (even though they never let on that we were overstaying our welcome!) and after we decided to leave, we all headed out to the beach to watch Wishes. And, just like that…the evening was over – it was time to go back to our room and rest up for the next day. This whole day was amazing, but it went by so fast. I, once again, had to remind myself to slow down and live in the moment so that I could savor every single moment of our wedding day.
So, that's where I will leave it for now. Stay tuned for the next installment, in which I promise to finally get to the wedding!