This post may contains affiliate links for your convenience. If you make a purchase after clicking a link we may earn a small commission but it won't cost you a penny more! Read our full disclosure policy here.
Planning Session and Menu Tasting
By Amy Moorby (formerly Amy Clauss)
Okay, I admit that in the past two installments (Location, Location, Location and Contracts and Room Blocks), I have dealt with some technical (and possibly boring) details involved in planning a wedding at Walt Disney World. However, now we get into the fun stuff – the planning session and menu tasting!
Although they don't require it, Disney Fairy Tale Weddings ("DFTW") suggests that all couples schedule a planning session at Walt Disney World to meet with the wedding planner and go through all the details surrounding the wedding. I was told that they like to schedule these planning sessions approximately four to six months prior to the wedding date. So, since our wedding date was January 12, 2007, we headed down to Walt Disney World at the beginning of September 2006. But, before we get to the planning session, which was a blast for me and not so much fun for my future husband, we had to deal with some details prior to leaving home.
First, we had to decide whether or not we wanted to schedule a menu tasting in conjunction with our planning session. Umm, let me think for a minute – yes! And for those of you thinking this might be a fun way to get cheap eats at WDW, remember that by this point we'd signed a contract with Disney and paid a non-refundable deposit. Since we were having our reception at the Atlantic Dance Hall at Disney's Boardwalk Resort, we were provided with the standard catering menu from the Boardwalk Resort. This menu was comprised of pages upon pages of delicious-sounding food from which we were able to choose a number of options for our cocktail hour and dinner. We then sent our list to our wedding planner a couple of weeks before we arrived so that we could taste these items after our upcoming planning session.
Another thing that we did to prepare for our planning session was to contact some non-Disney vendors for photography and floral ideas. DFTW has photographers and florists on staff; however, couples are not obligated to use Disney for these services. So, we wanted to be armed with other proposals to compare costs and ideas.
Now that we had everything all set, we flew down to Disney World for our planning session (and a couple days of vacation!) We arrived at Franck's Bridal Studio, a re-creation of the wedding studio from Touchstone's 1991 movie Father of the Bride. Franck's is located at the Grand Floridian Resort & Spa next to the Wedding Pavilion. Walking into Franck's was like walking into bride heaven. The lobby was filled with sample wedding dresses, wedding cakes, place settings, and reception chairs. Once we arrived and sat down with our wedding planner, the fun really began!
We first went through the logistics of the wedding day: when photos would be taken, how many limos we needed, who was in our wedding party, who our officiant was going to be, music for the ceremony and reception, how many buses we would need to transport our guests to the various wedding locations. These things would be changed many, many, many times before the actual wedding date, but it certainly felt good to have the initial parameters set. After going through all these painstaking details – and, believe me, DFTW does not leave any stone unturned – we moved to a more fun and delicious part of the day: choosing our cake.
To choose our cake, we were presented with a tray that had pieces of four different types of cake – white, almond, marble, and chocolate – and a bunch of cups of different fillings including butter cream, amaretto mousse, tropical mouse, chocolate mousse, Bavarian cream, strawberry mousse, fresh strawberries, and raspberries.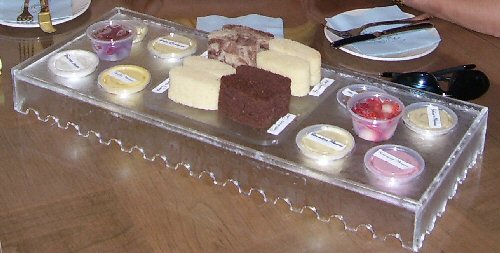 We ended up choosing three different layers: almond cake with amaretto mousse filling; white cake with amaretto mousse filling; and white cake with Bavarian cream and fresh raspberry filling. After picking the fillings, we discussed the style of cake we wanted. I was prepared with pictures from magazines and websites of cakes that I liked. After discussing it with our wedding planner, this is the cake that we chose: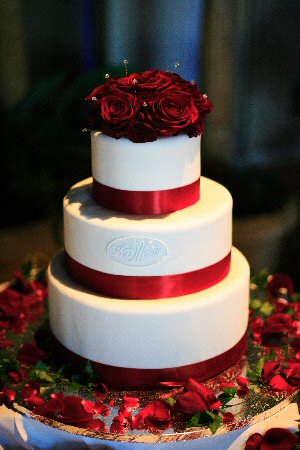 After getting the cake decisions all settled, we met with someone from Disney Floral. Although we had gotten proposals from several non-Disney floral vendors, we ultimately chose to go with Disney Floral. The woman we met with blew us away. She understood exactly what I was looking for – the fact that I really wanted only two types of flowers (roses and gerbera daisies) and only two colors (red and white), and the fact that I wanted things to be simple and elegant, yet kind of different. After talking with us for about an hour, she showed us pictures from a wedding that she had done for another bride (who happened to be a Disney executive) and it was exactly what I was looking for. I can't even tell you how much I loved my flowers. Here are a couple of pictures of the finished arrangements.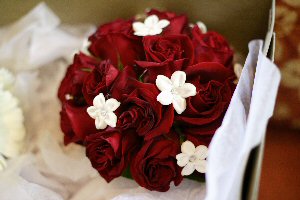 My bouquet.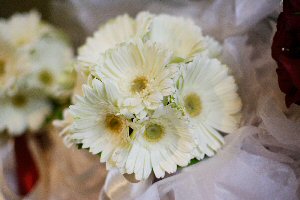 The bridesmaids' bouquets.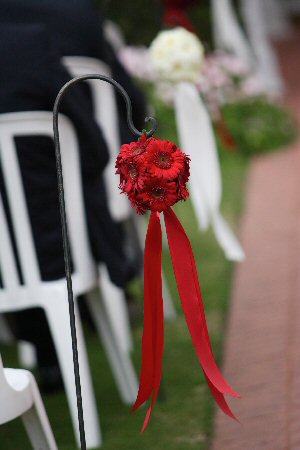 Red and white flower balls lined the aisle and gazebo. They were later placed on top of tall glass vases for the centerpieces.
After selecting the flowers, we headed on over to the Boardwalk Resort for our menu tasting. The menu tasting wasn't in the Atlantic Dance Hall, but in the convention side of the Boardwalk Resort. When we walked into the convention lobby, we saw that our menu tasting was listed as one of the events of the day on the plasma screens! Then, when we walked over to our conference room, we noticed a sign that said "Clauss-Moorby Wedding Menu Tasting." These are just a couple of the little touches that Disney uses to make every bride and groom feel special.
Once we entered the room for our menu tasting, we were greeted by one of the Boardwalk Resort chefs and a waitress in formal dress. The table was set with two full table settings and several different napkin styles for us to choose from.
The waitress brought out our cocktail-hour selections followed by our dinner entrees one by one, and we discussed each with our wedding planner and the chef.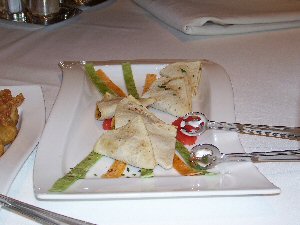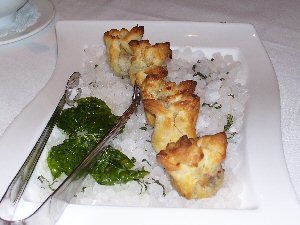 Beef quesadilla (left) and Brie and raspberry puffs (right) for the cocktail hour.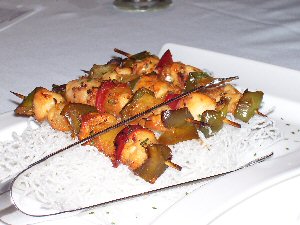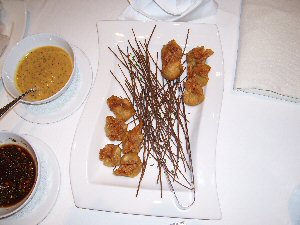 Chicken brochettes (left) and Crab Rangoon (right) for the cocktail hour.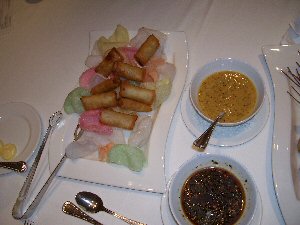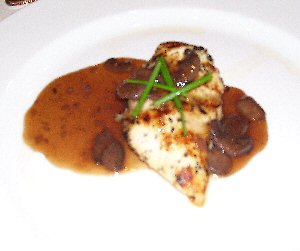 Spring rolls for cocktail hour and chicken with mushroom sauce for dinner.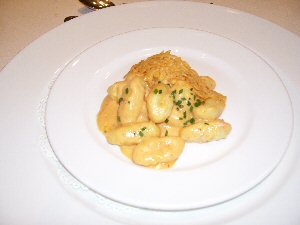 Potato gnocchi for the pasta station.
Once we got our fill (and I do mean fill) of all the great food and made our choices for our reception, we went over to the Atlantic Dance Hall to have a look around inside the space. And, then, sadly, the day was over. All in all, we spent about four or five hours with our wedding planner and we had the main plans in place.
A couple of weeks later we received a Banquet Event Order (BEO), which contained every single detail of the day. I think that we ended up reviewing and revising the BEO about 50 times over the course of the next few months, since it is the book that everyone would work from on the wedding day, and it had to be perfect. We also received our proposed budget, which was also tweaked over the next several months, with our final payment due 30 days before the date of the wedding. (For some general pricing information, visit the Disney Wedding's website.)
Now, all we had to do was sit back, relax and wait for the wedding day – yeah, right! In the next installment I'll take you through the wedding day – complete with pictures!