This post may contains affiliate links for your convenience. If you make a purchase after clicking a link we may earn a small commission but it won't cost you a penny more! Read our full disclosure policy here.
From Our Magically Speaking Newsletter Archive – subscribe today!
By Amy Clauss
This is the first in a series of articles following me as I plan our wedding at Walt Disney World.  If you are like our friends and family, you probably have some initial questions for us – let's get those out of the way:
Is Mickey Mouse performing the ceremony? No.
Is Goofy going to be the ring bearer? No.
Is the wedding going to be on Space Mountain? No.
Is your marriage going to be legal? Yes.
I wish I were kidding, but I'm not.  We really were asked these questions.  The first step in planning a Disney wedding is to listen to, and politely answer, the questions of all of those who just don't get it.  The simple fact is that our wedding is just a regular wedding that happens to be at Walt Disney World. When we got engaged, we decided that we wanted a destination wedding.  We chose Walt Disney World because (1) we love it; (2) it seemed like it would be a fun place for everyone; and (3) it was centrally located for all of our guests.  For us, it's the perfect spot!
Once we decided to have a Disney wedding, I immediately called Disney's Fairy Tale Weddings (DFTW) – the department that handles all wedding and vow renewals at Walt Disney World.   Initially, DFTW directed me to their website (Disney Weddings) to begin my planning before speaking to a Wedding Coordinator.  The Disney Weddings website has a planning tool called a "Wish Book" that allowed me to browse through all of the standard ceremony & reception locations, as well as other item such as flowers, entertainment, transportation.
Step One:  Location, Location, Location
Once I got some ideas from the Wish Book, I spoke to the Coordinator to select the perfect locations!  Since I was dealing with Disney, I knew that the Coordinator would be knowledgeable and helpful; however, he exceeded my expectations.  First of all, he was so nice and he quickly understood our vision of our wedding and did everything he could to match up our wishes to the perfect locations!
The ceremony location for many Disney couples is The Wedding Pavilion, located near the Grand Floridian.  While this is an absolutely beautiful location, we really wanted an outdoor ceremony, so we quickly passed on the Wedding Pavilion.
In selecting an outdoor location, I was told that the locations available are dependent on the size of your wedding.  We are having what is called a "Custom Wedding," which means that our guest list exceeds 20 people.  (Under 21 people, the wedding is called "Intimate").  Since the Polynesian Resort is my favorite Disney resort, I really wanted the ceremony to be on Sunset Pointe, which is the peninsula between the two beaches at the Polynesian sticking out into Seven Seas Lagoon.  However, I learned that this location is only available to Intimate Weddings.  Oh well.
Our Coordinator then suggested two alternate locations:  The Wedding Gazebo at the Yacht Club and Sea Breeze Point at The Boardwalk.  After looking at the pictures he sent to us, we decided on the Wedding Gazebo at the Yacht Club.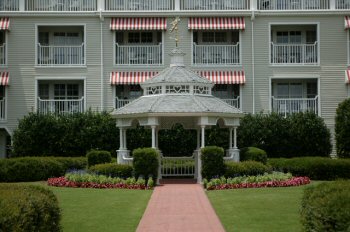 Part of what played into our decision is that both of us grew up in New England and I have spent almost every summer going to Cape Cod, so the feel of the Yacht & Beach Clubs is exactly right for us.
Next we needed to pick a reception location.  Since our ceremony is at the Yacht Club, the obvious choice for the reception is either at Epcot or the Epcot Resorts.  (This is not to say that we couldn't have had the reception at any place on WDW property; however, we liked the idea of everything being centrally located.)  One of the suggested reception locations was the Living Seas VIP Room at the Living Seas Pavilion at Epcot.  Unfortunately, this location was already booked for an event on our wedding day because it looks very cool as it overlooks the main aquarium at the Living Seas!  Moving on, our coordinator suggested two alternatives:  Ariel's at the Beach Club (a former restaurant now reserved for private functions) and the Atlantic Dance Hall at the Boardwalk.  Since we estimate our guest list to be between 50-75 people, the Atlantic Dance Hall, which is generally reserved for larger weddings, was a little bit too big for us, so we decided on Ariel's for both our cocktail hour and reception.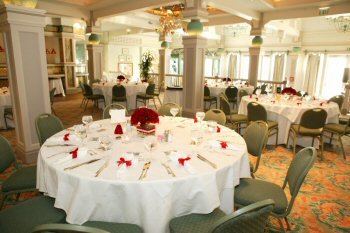 Finally, the part of the wedding day that was an absolute MUST DO for both of us, a private Illuminations Dessert Party to cap off the entire event.  Essentially, for this dessert party, you get a private area sectioned off at Epcot to view Illuminations while everyone enjoys dessert, coffee and cordials.  Because of the size of our group, our Coordinator suggested French Terrace, Upper Section as the location – it looks just about perfect.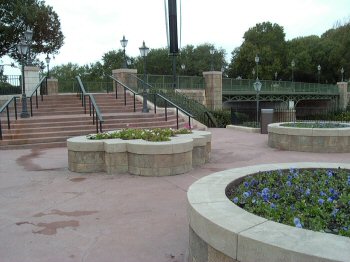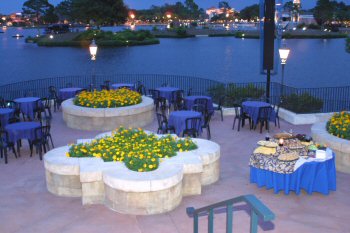 So, we have all of our locations picked, next up contracts, room blocks & Save the Dates (oh my…)
Look for the next of Amy's planning updates in a future issue of this newsletter.
Magically Speaking Featured Article
Library of Congress ISSN:1556-3863