This post may contains affiliate links for your convenience. If you make a purchase after clicking a link we may earn a small commission but it won't cost you a penny more! Read our full disclosure policy here.
By Kristi Letsinger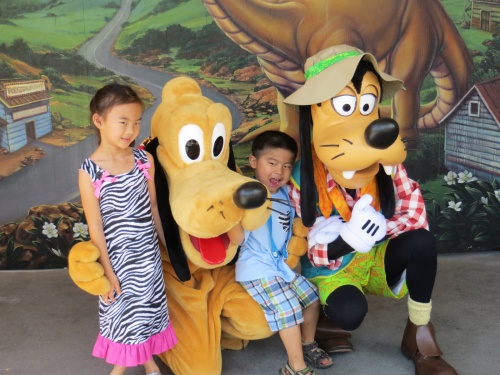 My family and I have been visiting Disney since I was little.  I remember when the characters would roam the park and kids could go up and visit with them no matter where they were!  Though you now have to wait in line or make a reservation for a meal, meeting the characters is still one of our favorite family activities.
I love meeting the characters. I love the special way that each character interacts with my children and makes them feel like they are the only one in the room.  I have seen many smiles on my kids faces after a hug from a favorite character.  The characters and cast members are always very friendly and nice to the kids.  I remember a time when my daughter (age 4) made Mickey some pictures on small cards.  We carried them into the parks and when we met Sorcerer Mickey in Hollywood Studios she handed them over.  Like any mother I was worried with what Mickey might do but what he did was magical.  He stopped what he was doing, took the cards, looked at each one slowly, held them in his hand and put them over his heart.  Then he handed them to the cast member who said that she would put them in a special place for him so he could get them later.  My daughter beamed.  Wouldn't you?
One of the easiest ways to meet the characters, especially the more mainstreamed characters, is to schedule a dining reservation.  There is something special about sitting down to a meal and seeing Chip and Dale heading your way!  I love the experience of having the characters all to ourselves, if only for a moment.  During these character dining experiences the characters are often playful and will spend a few extra seconds with you before they move on to the next guest.  I think that we have eaten at about every character meal on property!  I like not having to wait in line to see the characters, plus we have to eat at some point, so doing them at the same time makes sense to us.  We tend to do one or two character meals each trip now that the kids are getting a little older.
One of the other options for meeting the characters is to watch the times guide and to find the places that they will be.  Many of the characters will come and go during the day at different times.  I have been in many lines where we were told that the character would be right back and within minutes they were.  Waiting in line can be hard on kids but the end result is always fun. Many times we have walked by a character line with only one or two waiting families and were able to jump right in.  We like these lines because you can occasionally catch two characters together such as Jasmine and Aladdin or Peter and Wendy.  Most of these meeting areas also use the Photopass photographers so you don't have to rely on your own photography ability.
There are a few things to keep in mind while meeting the characters.  It is important to always have out the autograph book with the pen ready before it is your family's turn.  This cuts down on the wait time for both your family and the families behind you.  A few of the characters don't sign (King Louie is a good example) and it is good to prepare your kids by letting them know ahead of time.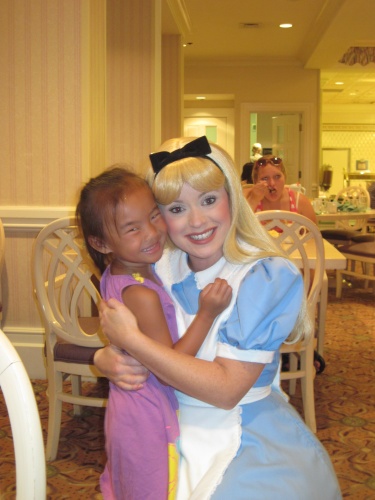 It is also good to make sure that your kids are ready to meet the characters.  It is okay to carry your child to the character and hold them in your arms while you get your picture made.  We had to do that our first Disney trip with our son because he was scared of them.  The characters did a great job of recognizing his fear and staying a safe distance away while still interacting with him.
Lastly, always keep in mind that there are other families waiting behind you.  Take the short time that you need while being courtesy to those still waiting.
With each passing trip I always think that my kids will no longer want to see the characters.  Then we pass by one and they say "let's go".  I love comparing the pictures of my kids when they were little with Mickey to the ones we took just a few short months ago.  The picture of my daughter with her very first character that she would allow to hold her is one of my favorite of all times.  We still get our picture made with Mary Poppins at each visit to Walt Disney World just to compare with that first picture.
No matter how old you are character greetings are for you.  There is something about that magical moment when a character holds your hand or greets you in their famous voice, that you can hold in your heart and mind for a very long time.  It is all part of the very, very real magic of Disney.