This post may contains affiliate links for your convenience. If you make a purchase after clicking a link we may earn a small commission but it won't cost you a penny more! Read our full disclosure policy here.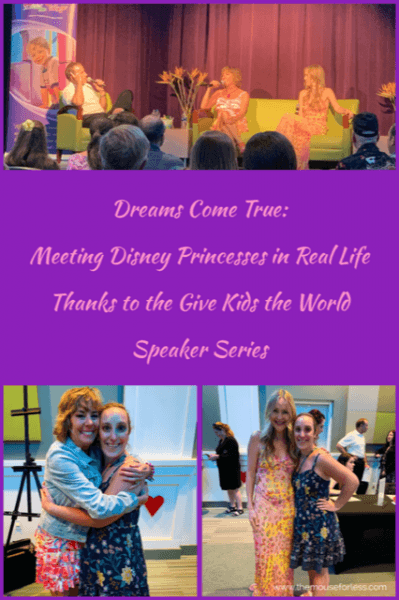 This past weekend, I had one of the most incredible experiences ever. I was lucky enough to have the opportunity to attend one of the Speaker Series events at Give Kids the World, located in Kissimmee, Florida.
For those who don't know about Give Kids the World, it is an organization that is near and dear to my heart. The Village is an 84-acre, nonprofit "storybook" resort in Central Florida where children with critical illnesses and their families are treated to week-long, cost-free vacations.
To help raise funds, the Village recently started offering these Speaker Series events. During these events, Disney dignitaries come and share stories with the audience and in some instances, you can even get photos taken or autographs. Recently Kylie got to experience the Speaker Series by hearing from Disney Legends, Tom Nabbe, Bill Sullivan, and Bill Hoelscher, who shared their stories of the development of both Disneyland and Walt Disney World.
Last weekend though, I finally got my first opportunity to attend one of these events after months of wishing that my schedule and the Speaker Series schedule would line up, and I can tell you, this most certainly won't be my last event! You see, I got to attend an event with Paige O'Hara and Linda Larkin.
Now their names may not sound familiar, but let me tell you, their voices will. That's because Paige O'Hara is the voice of Belle from the animated version of Beauty and the Beast and Linda Larkin is the voice of Jasmine from the animated version of Aladdin. These were two of the famed Disney Princesses!
Being a child of the 80s/90s, Belle and Jasmine were my Disney Princesses. (Though Ariel will truthfully always be my favorite, as she was the first.) I remember vividly seeing Aladdin in theaters. It wasn't the first movie I ever saw in the theater, but it is the one that I have the most clear memories of. I remember which theater we were at, still being able to picture being in the seats. I remember who we went with and I remember loving the film.
And of course, Beauty and the Beast holds another special place in my heart. Out of all the princesses, I was most like Belle. I was a bookworm and the outcast; I connected with Belle on a real level. (And of course, I have the other tie of having a podcast with a name that ties directly into the film.)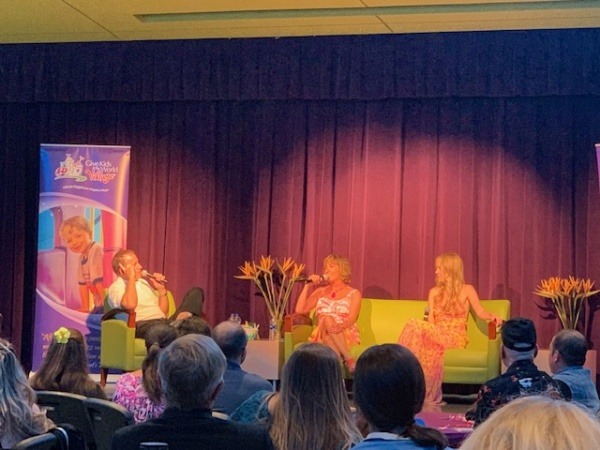 During the evening at Give Kids the World, Paige and Linda spoke about how they got into acting, how they landed their roles, what it was like being Disney Princesses, tidbits about the films themselves, what it was like to get that phone call saying that they would be made Disney Legends, and what it was like working on Ralph Breaks the Internet. The whole time, I was captivated by their stories. What was even more interesting was hearing those voices in person, who I had, of course, associated with their characters.
It was a shame when the evening was over. I could have listened to those two incredible women talk for hours longer.
At the end of the evening, I had the opportunity to go speak with each one of these women. I thanked them for the roles that they had played in my life. Because of the characters they portrayed, I am who I am. I grew up to be a strong woman because they both played such strong women whom I watched on the screen. Best of all, they both taught me that it was ok to be me.
Both of these women have had a profound impact on my life without ever knowing it. So, I wanted to make sure that I thanked them for that. Both Paige and Linda were so warm and generous with their time in speaking with me. (As I stood there teary eyed and trying to keep from just utterly bawling.)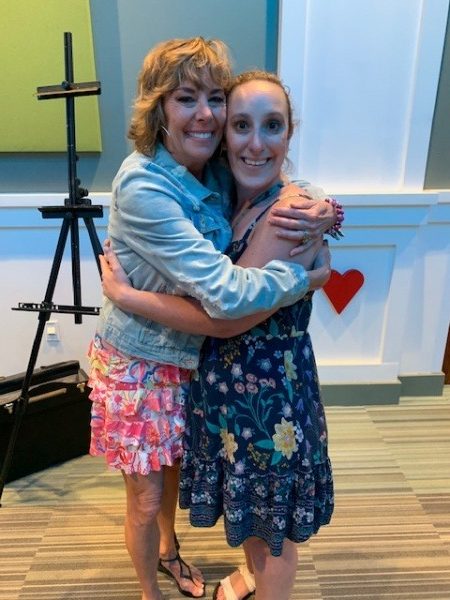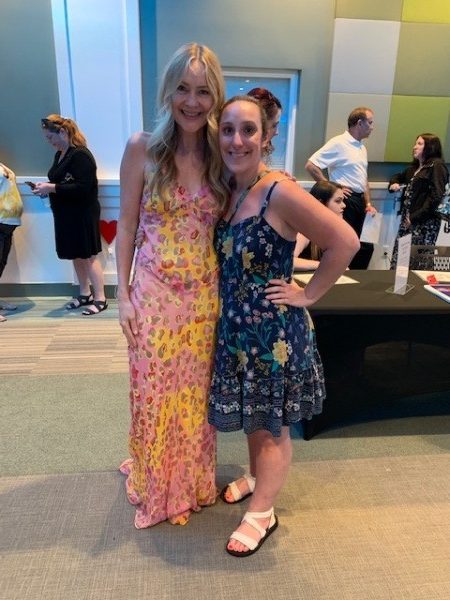 As I said, it was a night I will never forget.
Give Kids the World usually offers these Speaker Series events every couple of months, with a wide variety of guest speakers. Make sure you follow along with their events calendar to get notified of their next event. It is well worth taking a few hours out of your Walt Disney World vacation to attend one of these events, if you can. (And by the way….I hear that another one of the Disney Princesses, Jodi Benson, will be attending one soon….and you can bet your booty that I will do whatever it takes to be at that one!)
Does this sound like an exciting event to you? Have you attended a Give Kids the World Speaker Series event before? Let us know in the comments, or on Facebook or Twitter!
Did you like this article? Make sure to share it with your friends! Check below for easy ways to share!
Want to visit the Walt Disney World Resort? Contact The Magic for Less Travel for more information and a free, no-obligation quote.